Sponsored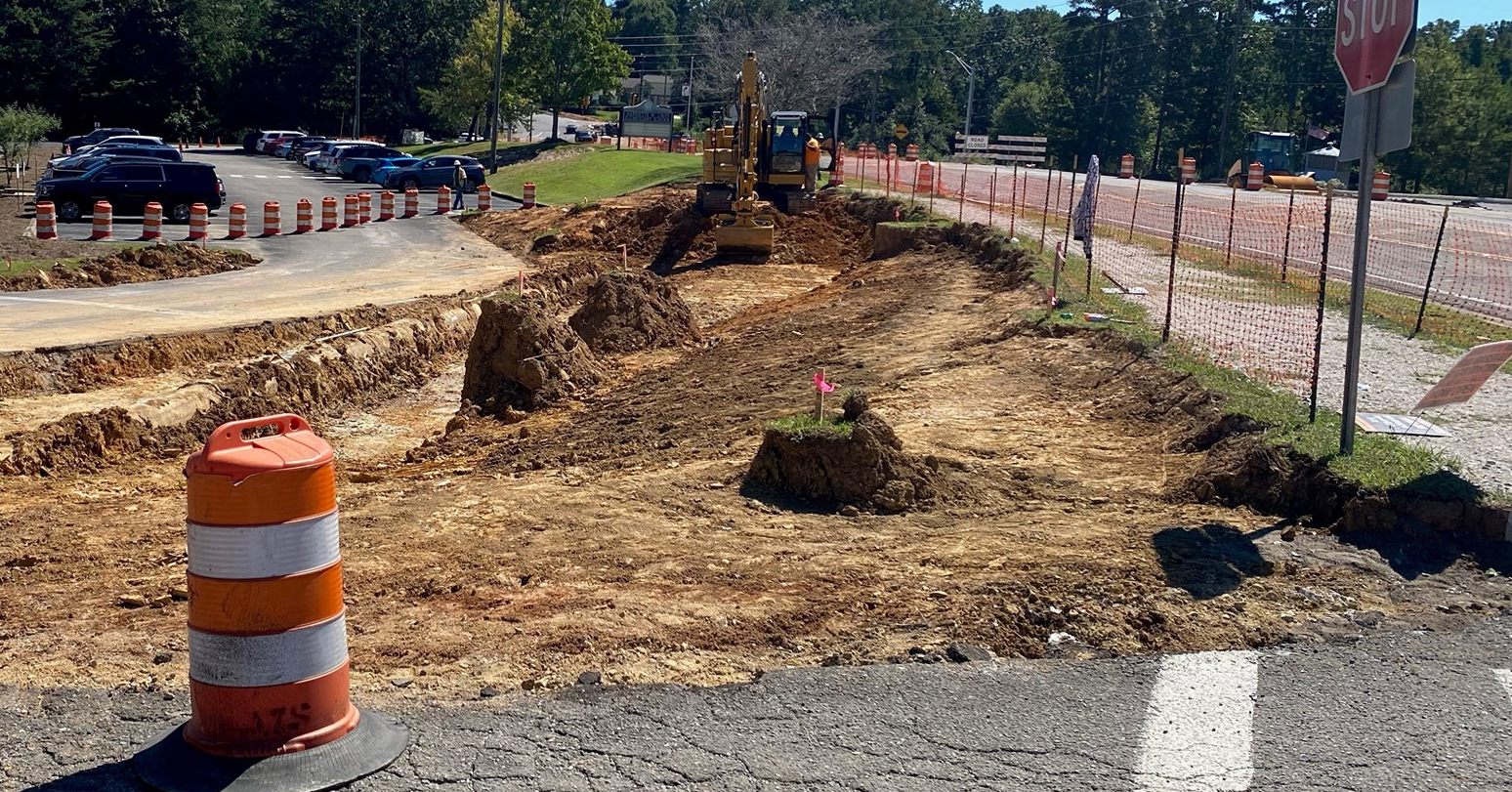 ICYMI, Jefferson County is growing, which means we need more and better roads and intersections to help people and businesses get where they're going. To make this happen, Jefferson County reached out to the Alabama Infrastructure Bank for grants. The result: six major new roads projects are starting in 2022, at least in the design phase. Keep reading for all the details.
A little backstory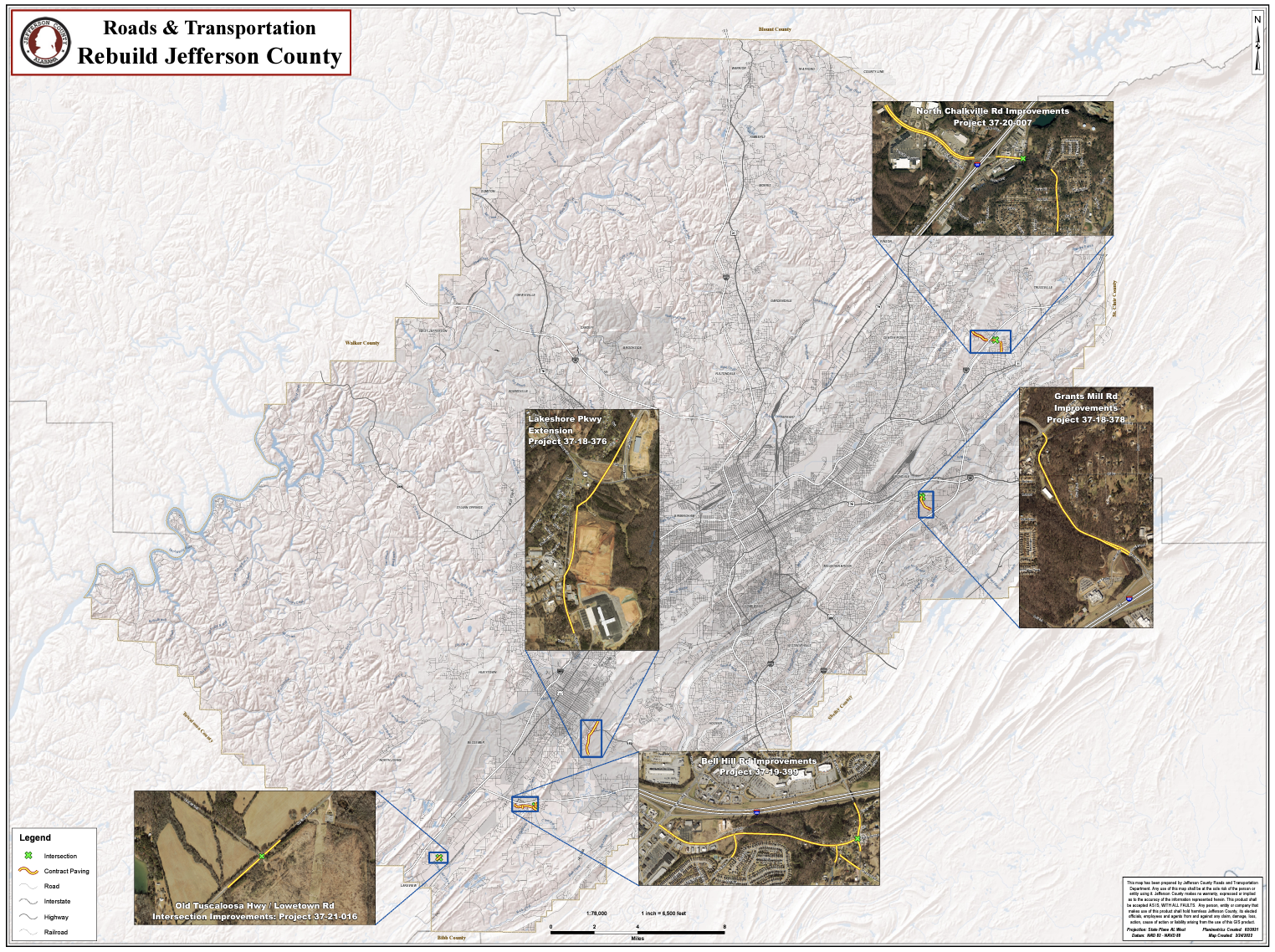 Every time you turn around, it seems like another major enterprise is coming to our area. Some examples: Smucker's $1B plant and Medical West's new $400M hospital are both coming to McCalla, and new developments are coming to Irondale and Trussville.
To address these needs, the County plans to spend a grand total of $71M on road improvement projects in 2022.
Of course, the minute anybody hears "road project" they hear "traffic delays." We get it. We don't like sitting in traffic either. Here's what Cal Markert, County Manager for Jefferson County, has to say:
"Because these projects are in high traffic areas, there's no way to avoid the inconvenience, but the end result will be worth it."
Now, for the rundown of the road projects, including where they are, when they'll start and their target completion date.
Stay in the know about what's happening with these road projects and more. Visit Jefferson County's website for updates.
1. Lakeshore Parkway Extension
This project will realign Morgan Road and Lakeshore Parkway to form a single intersection at Highway 150. It will also widen Morgan Road, beginning just north of Hopewell near the Carvana facility to Highway 150, from two lanes to five.
Design phase: Begins April, 2022
Expected bid date: 2023
Target completion date: 2025
Why? To upgrade the road to improve operational efficiency and safety.
2. Bell Hill Road
This road connects Pocahontas Rd with Eastern Valley Rd next to I-459. The new Medical West hospital will add even more traffic to this already congested area.
To accommodate this, the County is expanding the existing two-three lane roadway to five lanes. Not only will this help handle existing and planned growth, but it will bring the roadway design up to current standards.
Look for intersection improvements, too, where Bell Hill Road, Lou George Loop and Pocahontas Road meet.
The second project phase is currently in the permit approval process with Alabama Department of Transportation (ALDOT) and the Federal Highway Administration. This one will include interchange improvements at Exit 1: Eastern Valley at I-459.
Target start date: May 31, 2022
Completion date: October 1, 2024
The goal here is to improve access and the connection to Bell Hill Road while also easing interchange traffic congestion.
3. Grants Mill Road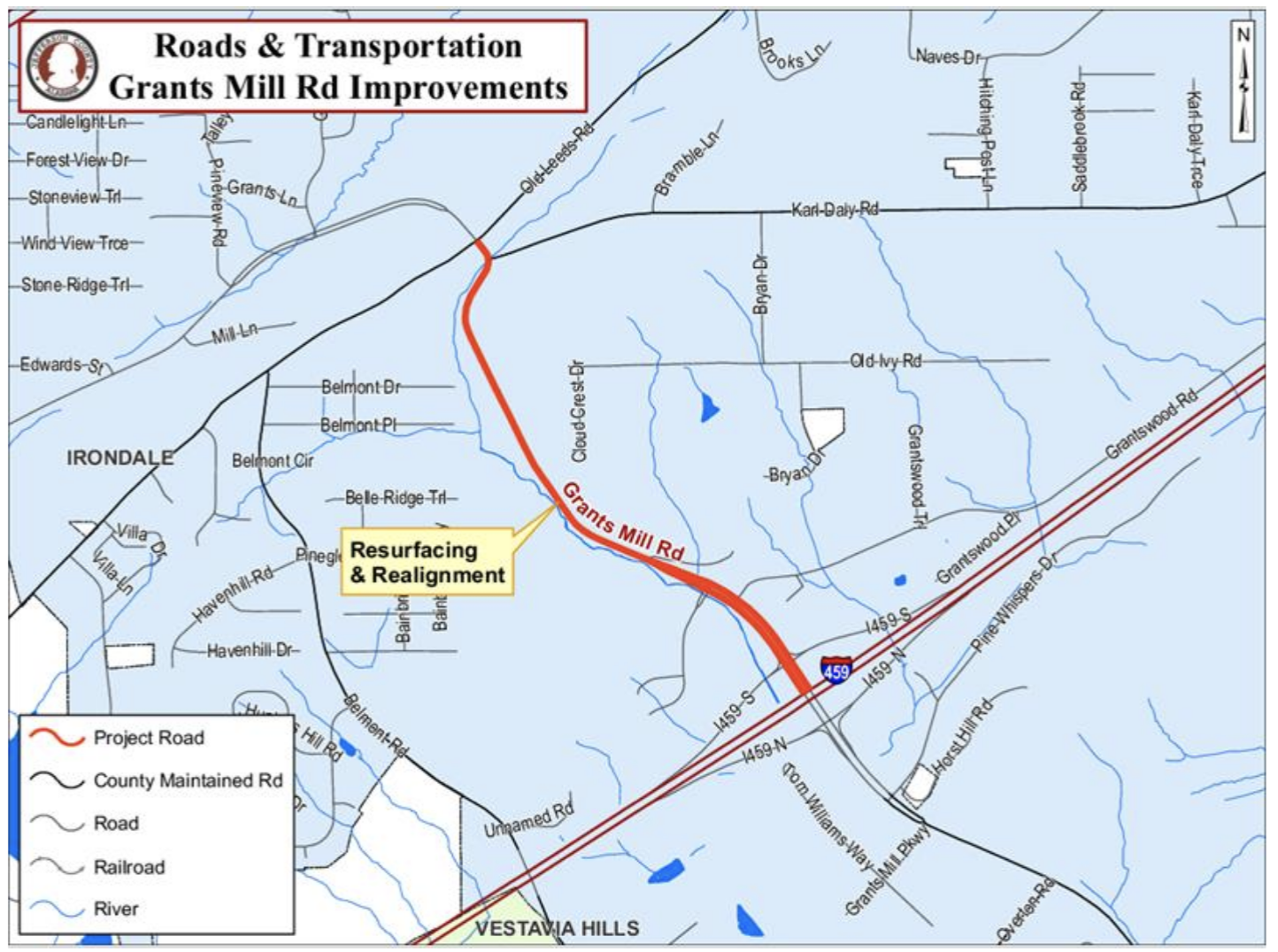 This portion of Grants Mill is located within the City of Irondale, but maintained by the County. It is a major connector between 1-20 and 1-459.
This project consists of widening Grants Mill Road from I-459 to Old Leeds Road from two to four lanes. It will include intersection improvements at Grants Mill and Old Leeds Rd in addition to Karl Daly.
The project will also include signal installation on the on and off ramps for I-459 at Grants Mill Rd. I'm personally hopeful that this will make turning left to go up the hill onto Grants Mill much easier.
The County has also partnered with the City of Birmingham to complete paving for the portion of Grants Mill Rd within the City limits. Once the project's done, the entire Grants Mill Corridor from Old Leeds Rd to Hwy 119 will be resurfaced.
This project is currently under construction.
Target completion date: September 15, 2023
4. North Chalkville Rd Widening
The area between Chalkville Mountain Road / North Chalkville Road between Old Springville Road and Woodland Circle's about to get a glow up.
The plan is to add driving lanes and get traffic signals working in a way that helps traffic flow best. This, as well as ALDOT's ramp improvement work in the area, should decrease ramp congestion getting off of I-59.
This project is currently in the design phase.
Target start date: January 20, 2023
Target completion date: January 5, 2024
5. Old Tuscaloosa Highway at Lowetown Rd and McAshan Road Widening near I-20/59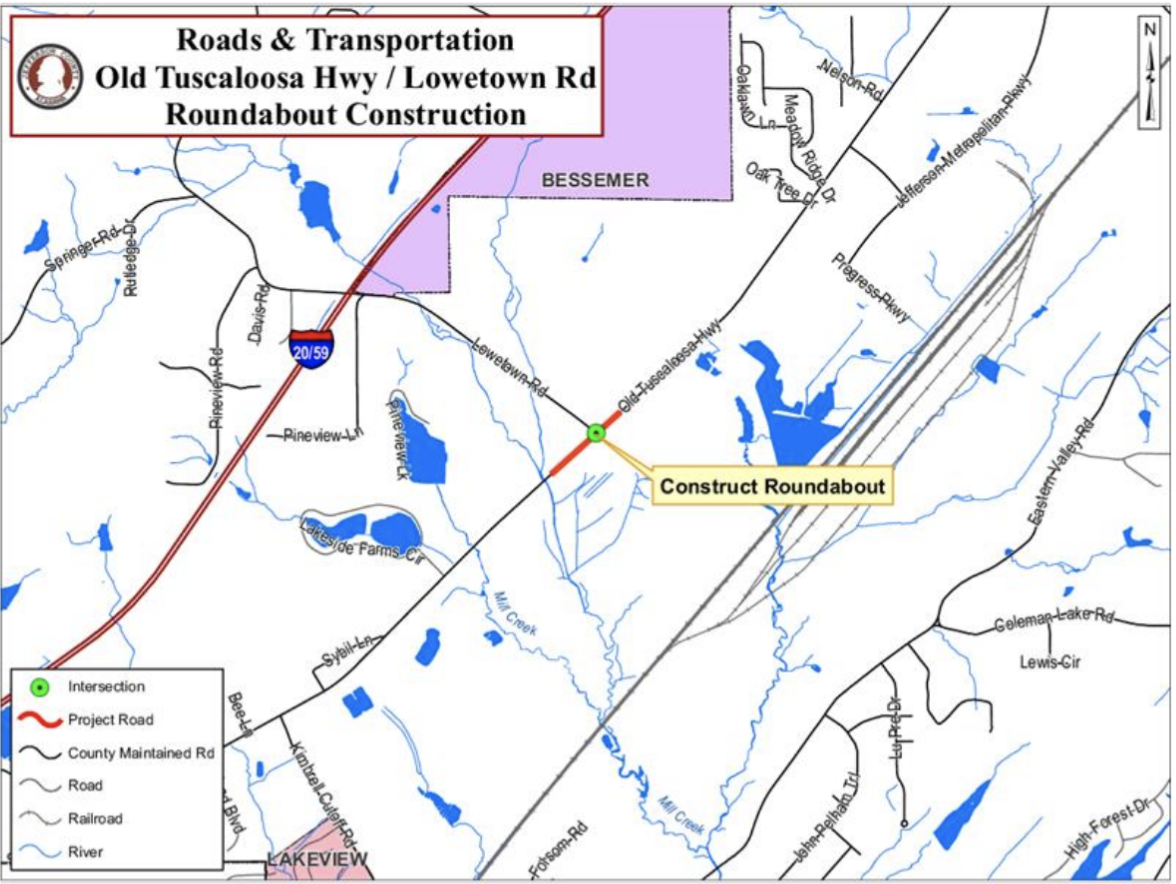 Old Tuscaloosa Hwy is a major corridor that runs parallel to I-20/59 between McAshan Drive and the County line. There are a lot of moving pieces to this project:
Widening the existing two-lane section of McAshan Road to a three-lane roadway, creating a continuous three-lane facility from I-59 to Old Tuscaloosa Hwy. Why: to accommodate industrial developments,
Widening the intersection at Lowetown and Old Tuscaloosa Hwy to include a roundabout that will also service access to Smuckers and Norfolk Southern.
Widening Old Tuscaloosa Hwy between the County line and McAshan Drive from two to five lanes.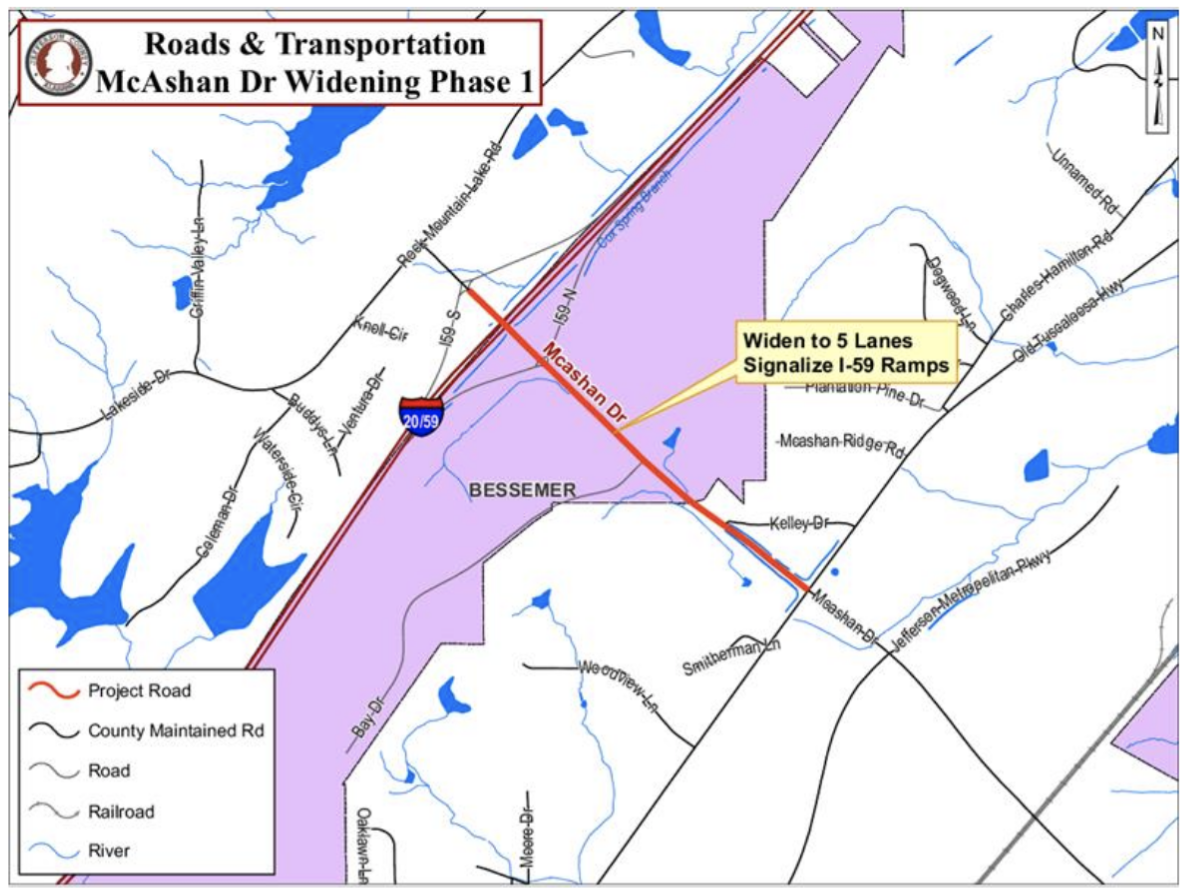 Jefferson County was also recently awarded a $2 million dollar Alabama Transportation Rehabilitation and Improvement Program (ATRIP) Grant from ALDOT and will be constructing interchange improvements at Exit 4 and I-59.
Here are the main features of this project:
Construction of a second bridge to provide additional capacity
Ramp improvements
Reconfiguration of the existing interchange into a Diverging Diamond Interchange.
The work is being coordinated with an Interstate Maintenance project being administered by ALDOT to improve the ramps, with construction planned for the fall of 2022.
Old Tuscaloosa Hwy/Lowetown Road: currently in design phase
Target construction start date: February 8, 2023
Target completion date: July 8, 2024
McAshan Phase 1/Phase 2 is currently in design.
Target construction start date: December 1, 2022
Target completion date: June 1, 2024
6. Walker Chapel Rd Bridge
Once upon a time, people built a temporary steel truss bridge over Black Creek, rated for ten tons.
The coming-soon bridge will be 200 feet long with three spans and a 32-foot travelway. Road alignment will be improved to meet current design standards.
Start date: February 14, 2022
Target completion date: November 23, 2022
Stay in the know about what's happening with Jefferson County's roads. Visit their website and follow them on social for updates: Facebook, Instagram, LinkedIn + Twitter + Nextdoor.
Sponsored by: