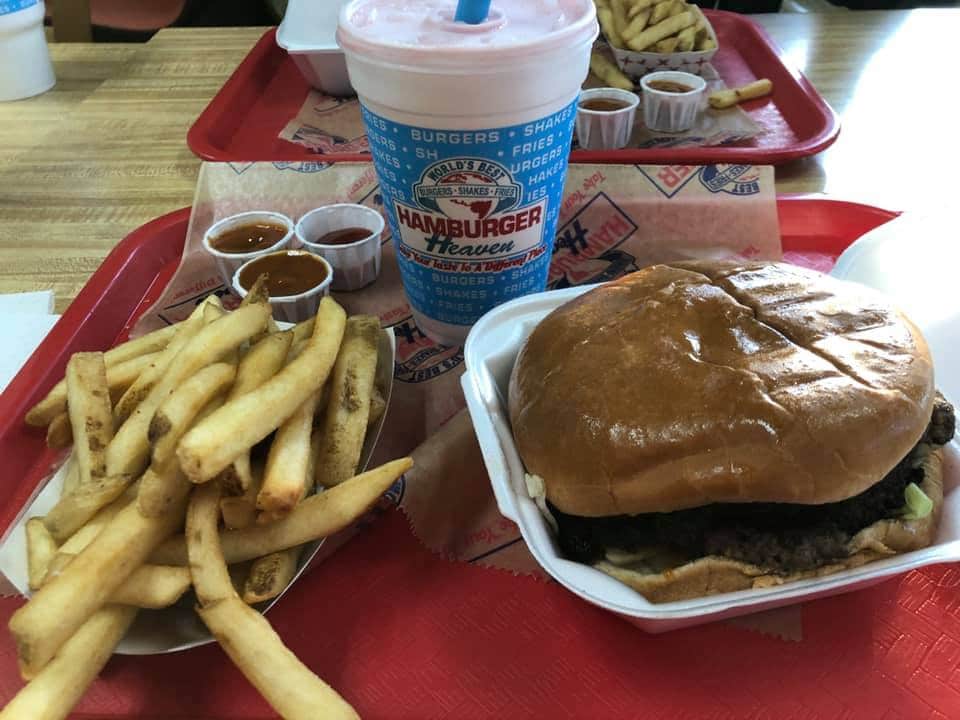 Even if you've never been to Irondale, you've definitely heard about places like The Golden Rule, The Irondale Cafe, and of course Ruffner Mountain. We've found seven new reasons to visit Irondale, including some fun upcoming events. Read on for all the details.
1. Did you know that USA Today voted Irondale's Hamburger Heaven the "best place to get a shake in Alabama."
I didn't either, but after spending the past little bit stalking @hamburgerheavenbhm on Instagram, I'm ready to visit their Irondale location for one of these hand-spun milkshakes everyone is raving about. I hear the peanut butter one is to die for.
Location: 1703 Crestwood Blvd, Irondale, AL 35210
Contact: Instagram | Facebook | 205.951.3570
2. A's Bakery will wow you with their creations.
People. Love. This. Place.
Not only can you get gorgeous cakes like this one, but you can get tamales, burritos, sandwiches, fresh bread, pastries galore and even ice cream (when it's not freezing outside.)
A's Bakery is run by a woman named Amelia, who is a true artist with pastries and cakes. Although they've only been open since September 2019, A's Bakery already has a loyal following.
Where: 2615 Crestwood Boulevard, Irondale, AL 35210
Contact: Facebook | 205.983.7324
3. PURA VIDA Healing Arts is your one-stop shop for alternative healing modalities in Irondale.
Whether it's yoga, meditation, massage, craniosacral therapy or even hanging suspended from the ceiling in your own little coccoon you're after, PURA VIDA Healing Arts has a cure for whatever ails you.
You can find some of the women in wellness we profiled a while back here, and plenty of events to keep you coming back for more.
Location: 3940 Grants Mill Road, Irondale, AL 35210
Contact: Website | Instagram | Facebook | 334.300.6952
4. Stop in to Marty's GM for a neighborhood bar…and cotton candy.
Marty's GM is a neighborhood bar with all sorts of comfort food, veggie burgers, and of course–beer. In addition, they also have regular trivia nights.
Bonus: they recently added cotton candy, which is exciting (especially for the smaller patrons)
Location: 5415 Beacon Dr, Irondale, AL 35210
Contact: Instagram | Facebook | 205.777.3852
5. Stop by the Spring Maker's Market at Studio By The Tracks in Irondale.
We're big fans of Studio by the Tracks here at Bham Now. Check out this piece we did on the grand opening of their Studio Store back in July 2019. Now, your best excuse to check them out is their Spring Maker's Market.
Look for artists, craftspeople, growers and makers selling their wares. There will be free all-ages art activities, and you'll be able to buy art at the Studio Store.
Did you know that artists at the Studio Store get 60% commission on all sales? Also, Ono Ice will be there with tasty treats.
When: March 14, 10AM-2PM (rain date: March 28)
Location: 301 20th St S, Irondale, Alabama 35210
Contact: Instagram | Facebook | danielle@studiobythetracks.org
Wanna become a vendor? Find out how.
6. If you are a mom, you need to know about Kid's Market + Mom.
If you have children or teenagers and have never been to Kid's Market and Mom, you've been missing out. It's a great place to pick up used baby and kid items at a steal. Right now, during the second week in February, they're receiving spring and summer items as well as prom and pageant dresses. 
If you contribute, you get access to early-bird shopping, which will happen at the end of February.
The market opens to the public for one week during the first week of March.
Location: 7845 Crestwood Blvd, Irondale, AL 35210
Contact: Facebook | Instagram | Website | 205.902.1367
7. Look for a new grocery store, shops and apartments at the intersection of Grants Mill and Old Leeds Roads.
While you used to be able to get groceries at Walmart or Sam's on Grant's Mill Road in Irondale, now you have to head down the hill to Publix or Winn-Dixie just off Montclair or Aldi on Crestwood Boulevard.
But the City of Irondale is hoping to develop the corner of Old Leeds Road and Grants Mill (on the side that heads down the hill toward Crestwood Boulevard) into a shopping destination.
Not only do they want a grocery store, but they're hoping for high-end retail and an all-inclusive concierge apartment complex with rents averaging $1500-2000 per month, according to WVTM13.
Irondale's mayor is hoping for construction by the end of 2020 and for the area to be open for business by the end of 2021.
Now tell us, Birmingham, what are your favorite spots in Irondale? Tag us on social @bhamnow and let us know.