Birmingham real estate revitalization is firing at all cylinders right now, and Bham Now-ers are not complaining. Here's a sneak preview of two historic buildings downtown reopening soon, and a quick update on one building in its second phase of development.
The Frank Nelson Building
The Frank-Nelson Building (commonly known as The Frank) was originally built in 1903 on the corner of 20th Street and 2nd Avenue. It was one of Birmingham's first "skyscrapers"–kind of a big deal, right?
Fast forward to today, and the Orchestra Partners have huge plans for this office space–starting from the ground floor and working their way up.
The ground floor will house a large upscale restaurant, in addition to smaller retail shops and dining options. From there, developers are creating a "vertical campus" office space to enhance occupants' experience and make The Frank more than just a place to sit at a desk, do your job and then go home.
"Traditionally, work is set to an individually with boundaries, and we want to open that up and offer flexibility. We want The Frank to have a work/live/play feel to it, not just a place you go to work, then go home." 

Jeremy Pearson, Development Associate at Orchestra Partners 

The usable rooftop, ground floor tenants and open floor plan set this office apart from most, making it perfect for start-ups and established big businesses alike. Add the space's flexible floor plan, shared amenities, usable rooftop, and indoor community courtyards–The Frank has all the aspects of a modern and dynamic workplace.
The Frank Building is located on 205 20th St North, Birmingham, AL 35203. The retail/restaurant floor of the building is set to open in February 2020. Check out The Frank's Facebook page for updates on developments on the project. 
The Theodore 
The Theodore is the latest renovated historic event venue helping to elevate event happenings in Birmingham. This warehouse-style spot is named after Theodore Swann, a historic Birmingham socialite who famously threw tons of extravagant parties. Sounds like he'd definitely be proud of this place.
This space hopes to be the next premier event venue in Birmingham and it has the tools to succeed. Their three large warehouse bays complete with brick walls, high ceilings and industrial accents will set the scene for any grand party. Everything from weddings, charity benefits, and even trade shows would boast a 1920's era vibe in The Theodore.
The Theodore is located on 3211 2nd Ave South, Birmingham, Al 35222. The space plans to open in January 2019. To start planning your big event at this historic building, head to theodorebham.com  and set up a private tour of this lavish and historic building.
Bonus Real Estate! An update on the Founders Station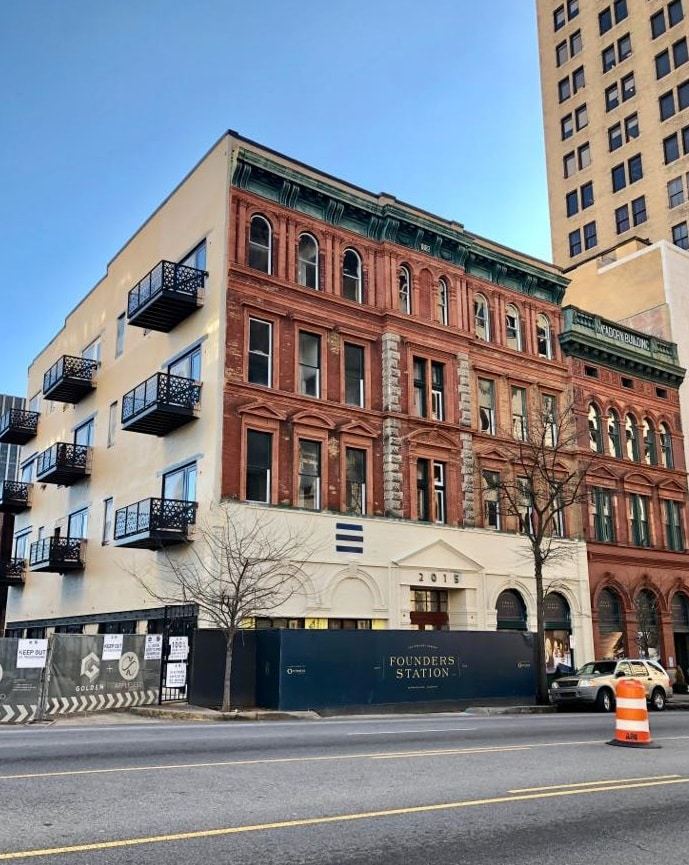 Last week, Orchestra Partners began its second phase of the Founder's Station development, which includes McAdory Taps (a self-serve beer gallery, so see ya there), condominiums and more office space. 
Named after the building owner, Chambers McAdory, McAdory Taps will feature 32 craft beer taps, four ciders and four wines on tap. It'll join The Essential and Pilcrow Cocktail Cellar as the newest openings in the area. 
Stay tuned for more information on Founders Station and its new occupants. 
Can you believe the strides Birmingham is taking to revamp historic buildings downtown? What project are you most excited to see open?