Sponsored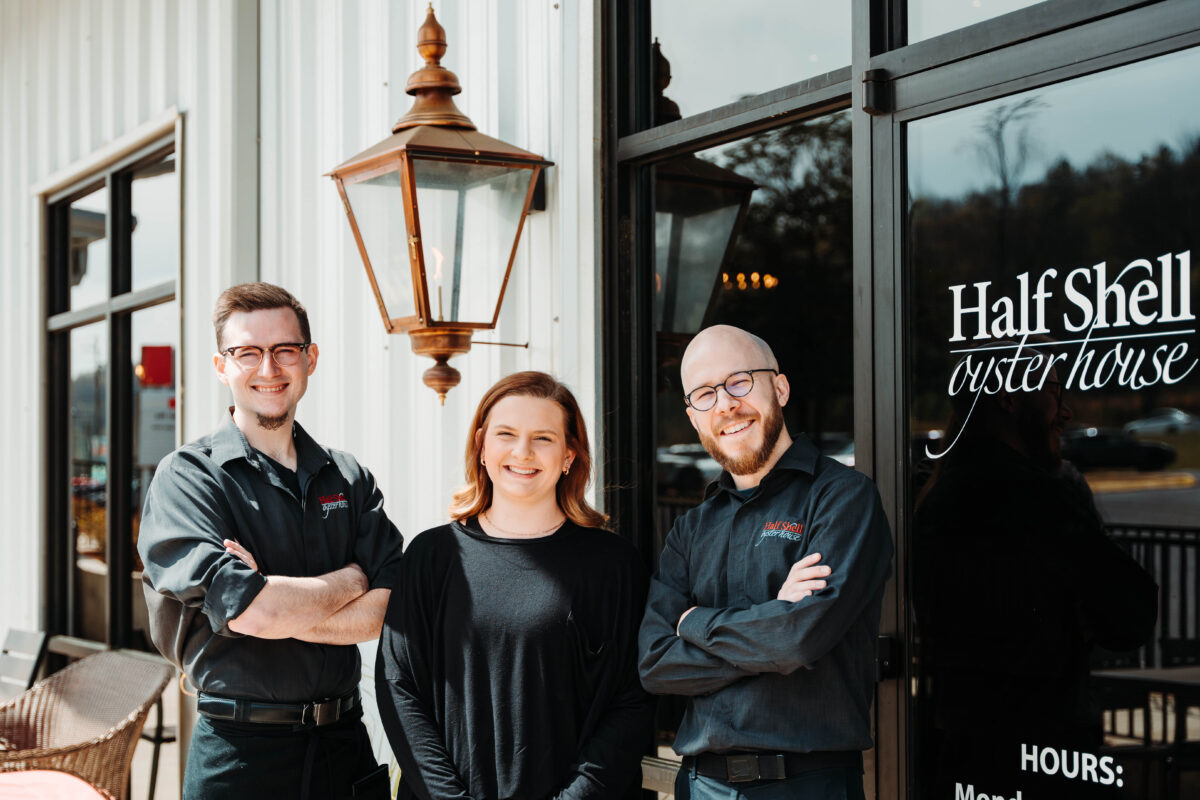 Chances are you've been to Half Shell Oyster House for their fresh and delicious seafood dishes. If you're looking for a job, you should know it's also an incredible place to work. From competitive pay to positive co-working relationships, read on to meet three Half Shell employees and what they love about their job.
Looking for a stellar job in the restaurant and hospitality industry? Half Shell has multiple positions open now. Explore opportunities and apply today.
Olivia Pate—Hostess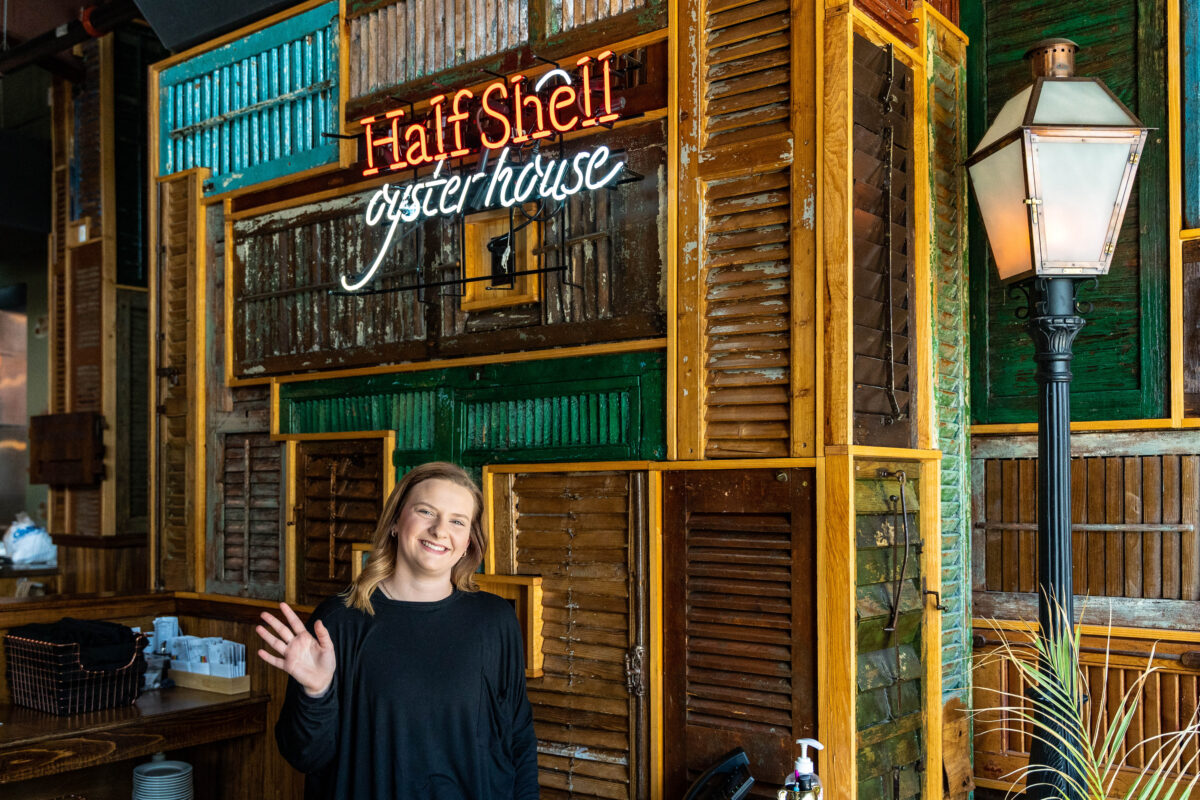 As the restaurant's hostess, Olivia Pate loves what she's learned at Half Shell Oyster House so far. Working as a hostess, she's the first face guests see when they walk through the doors.
"I love being able to come in and make somebody's day better. Even if it's just taking a picture for them while they're in a big party; giving them a good experience while they're here and brightening someone's day is awesome."

Olivia Pate, Hostess, Half Shell Oyster House
As a Samford University nursing student, she gets to build incredibly useful customer service skills and save money for the future. Her favorite part? The support she feels from the Half Shell team every day.
"The other day, I saw one of the servers having a hard time. I was able to give her a hug and some words of encouragement. She's been there to give me a hug when I need it, too. It's really sweet, like a big family."

Olivia Pate, Hostess, Half Shell Oyster House
Just because it's a hosting job doesn't mean it's a breeze, but the hard work certainly pays off.
"If you come here, be ready to work. It is a busy place, especially on the weekends, but it's also very rewarding. Especially when you get to see somebody so happy because of something you did. We're all doing our part to create a great experience."
Olivia's favorite menu item: Herb Encrusted Mahi—Herb and Parmesan encrusted mahi over a bed of sautéed spinach, topped with lemon butter cream, lump crab meat and Parmesan cheese.
Apply to be a host at Half Shell.
Drake Hancock—Bartender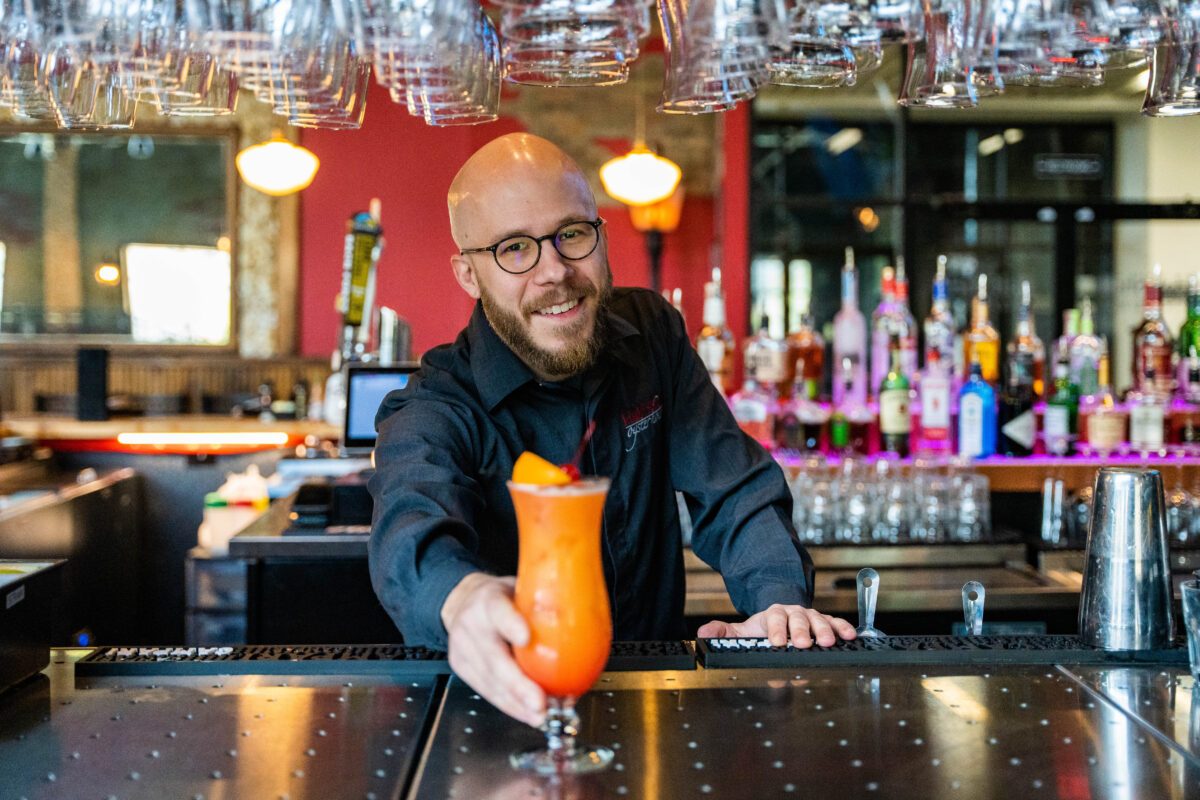 Working at Half Shell's Pelham location is a full circle moment for Drake Hancock—his former elementary school was in Campus No. 124, the building it's housed in. As a bartender, he serves up delicious cocktails for guests.
"I live nearby, so I've developed a nice bar culture and following here. We've got a big group of regulars, so coming in and being able to serve them and the community is amazing. I love to eat here as well. It's one of those things where I fully believe in what we do. There's nothing that's really comparable nearby."

Drake Hancock, Bartender, Half Shell Oyster House
Growing up in Pelham, Drake loves what Half Shell has brought to the community, and how liberating it is to work at his own pace.
"Half Shell has done a really nice job setting up systems and giving us all the tools and equipment we need to be successful in our positions. Any time I have a question, there's usually information readily available to help me figure it out. That's been a really nice change of pace for me."

Drake Hancock, Bartender, Half Shell Oyster House
With management experience and some experience behind the bar, Drake has been able to use his skills and bring a positive experience to Half Shell customers.
"Food is one of those things that can really change someone's day into a good experience. I try to do my best every day, enjoy what I do and pass that along to other people."

Drake Hancock, Bartender, Half Shell Oyster House

Drake's favorite menu item: Seafood Au Gratin Snapper—Bronzed snapper topped with Gulf shrimp and crabmeat in a creamy blend of six cheeses. Topped with toasted Parmesan and herb panko.
Drake's favorite drink on the menu: Blackberry Margarita, French Quarter 75
Apply to be a Bartender at Half Shell.
Zach Harris—Server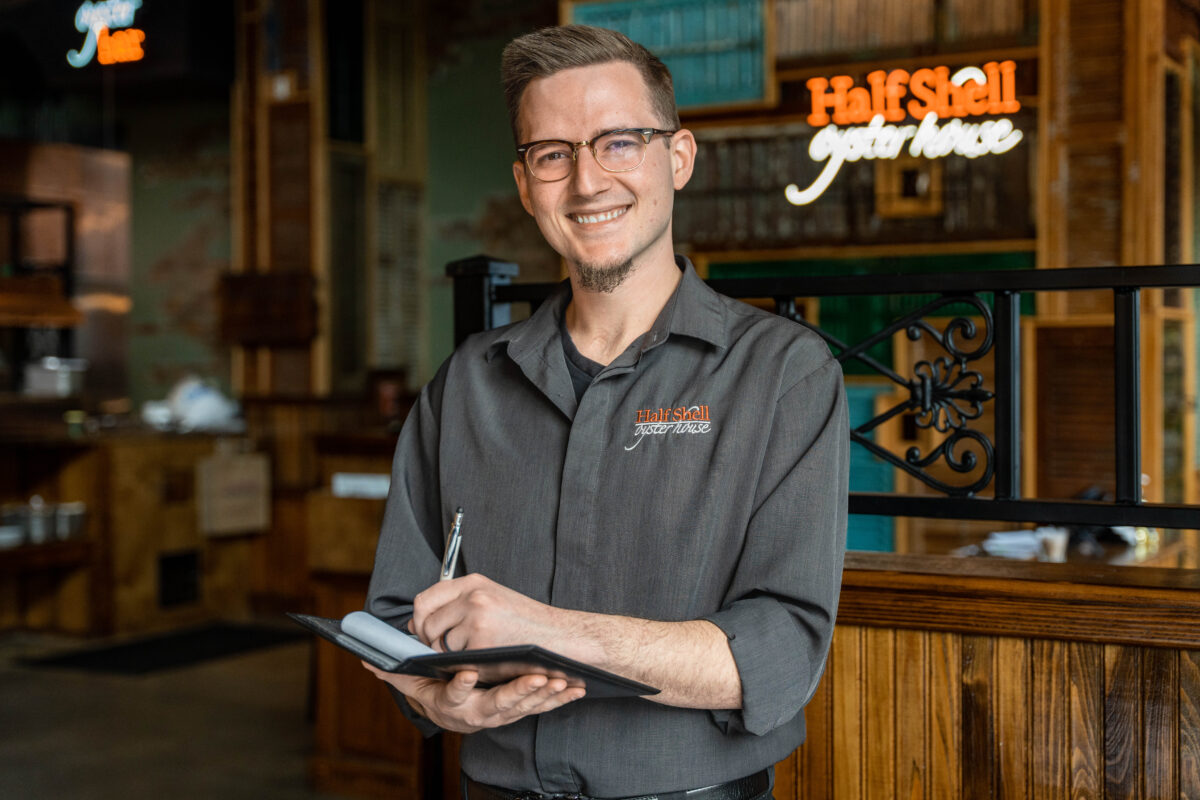 With 10+ years of industry experience, Zach knows a thing or two about working at a restaurant. He's been with Half Shell for over three-and-a-half years, starting at the location in Mobile and later transferring to Trussville.
"When I was out in Trussville training the new staff and opening the store, I fell in love with the community. I knew that Half Shell was a company that was going to look out for me as I made the move four hours from home. I'm definitely pleased with my decision."

Zach Harris, Server, Half Shell Oyster House
At Half Shell, the goal is to always provide a space where people can leave their troubles at the door and enjoy a one-of-a-kind experience. Zach enjoys being able to make that happen.
If you want a job with upward mobility, look no further. All of the Half Shell managers, directors and owners started at entry-level positions. They prioritize your passions and career goals and help you get to where you need to be.
"There's no shortage of opportunities at Half Shell. They are definitely big on molding leaders—developing people and their passions into somebody that can move up the chain if that's something they want to do. Anybody from a beginner in the service industry to a veteran can come in and work the level that they want to and make the money they need."

Zach Harris, Server, Half Shell Oyster House
Zach's favorite menu item: Redfish Orleans—Blackened redfish topped with shrimp sautéed in our original New Orleans style smoky
Cajun sauce. Topped with lump crabmeat and Parmesan cheese.
Apply to be a server at Half Shell.
Join the team!
Knowing what you know now, I'm sure you're ready to apply. Half Shell is currently hiring servers, bartenders, bussers, cooks and more. Paid training is provided for all positions.
All hourly team members have access to opt-in benefits after training and onboarding is complete, including telemedicine, dental and vision. Hourly team members also qualify for Blue Cross and Blue Shield of Alabama health insurance after working three months for an average of 30 hours worked per week.
Plus, all non-tipped team members start at a minimum of $12 per hour based on experience.
Explore available positions at Half Shell Oyster House and apply today.
Sponsored by: