Sponsored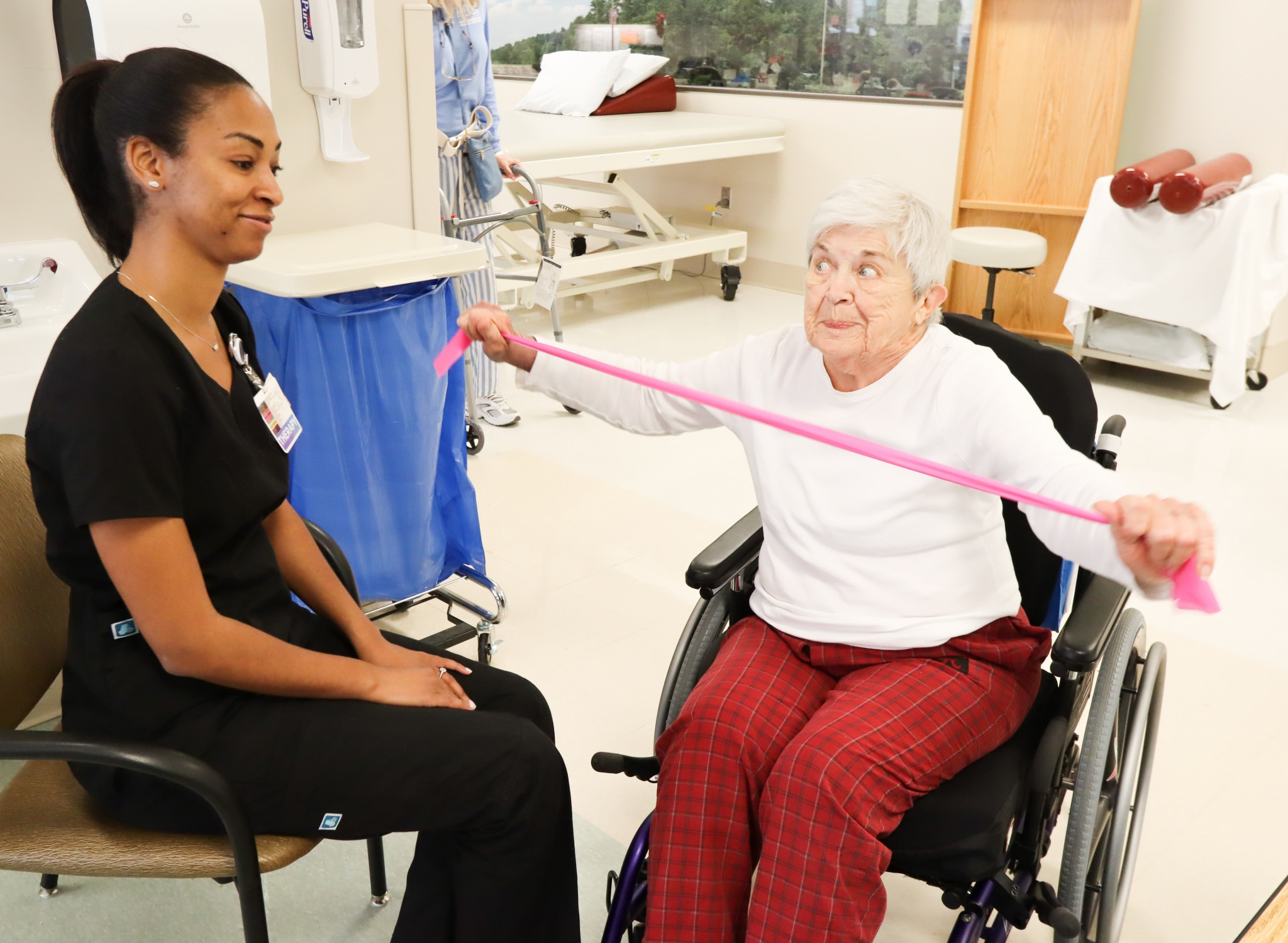 It's been one year since Encompass Health Rehabilitation Hospital of Shelby County opened their doors in Pelham. In honor of the hospital's one-year anniversary, Bham Now took a behind the scenes tour to get the inside scoop on what goes on day-to-day. Find out what makes the hospital stand out and and who's behind the exceptional care. *Caution: extremely heartwarming photos ahead.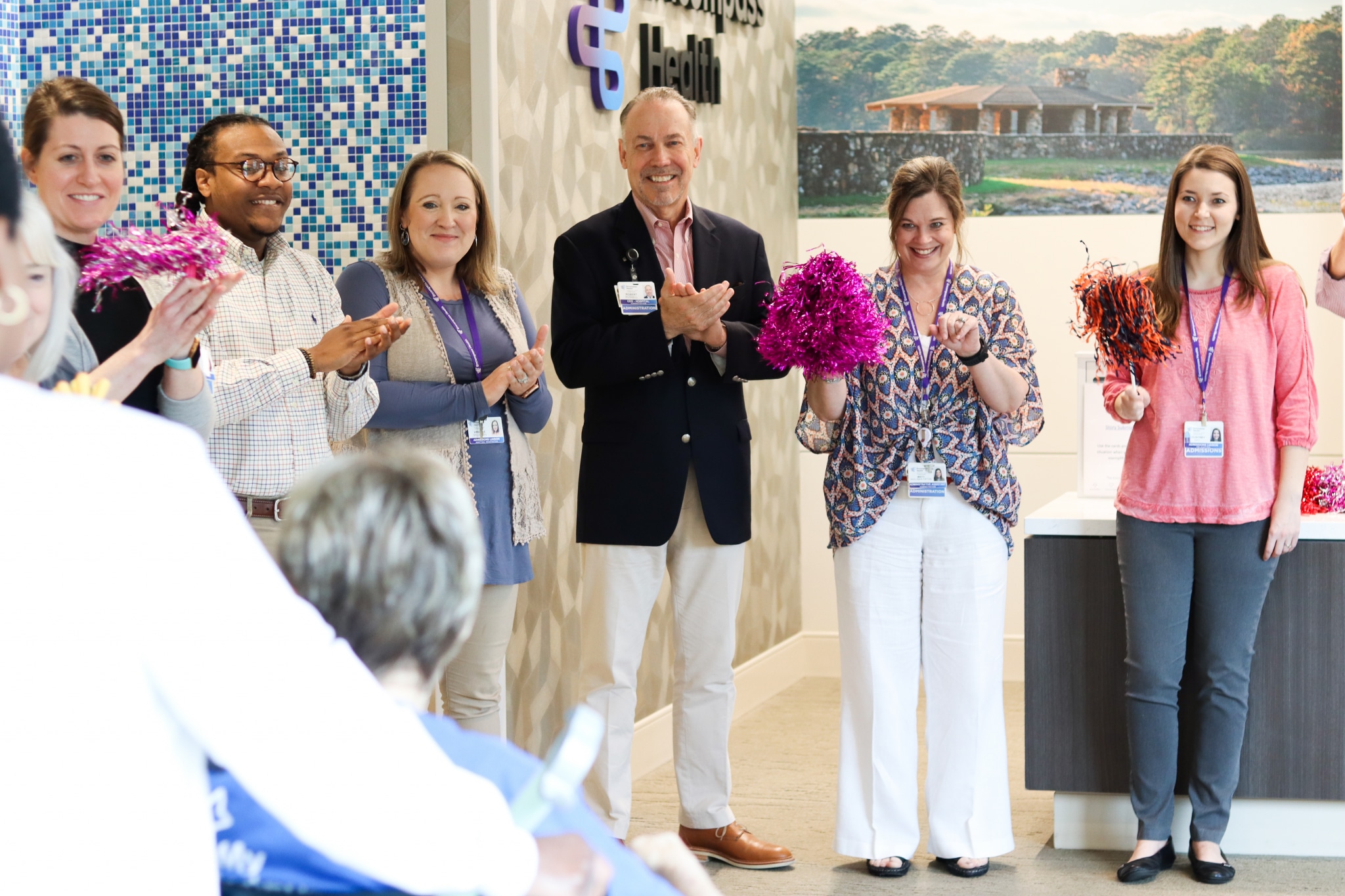 Celebrating One Year of Patient Care
Since opening in April 2018, this new hospital and its staff has aided in the recovery process of 618 patients from around the state, each needing treatment for various injuries, accidents or conditions that left them unable to function or perform day-to-day tasks.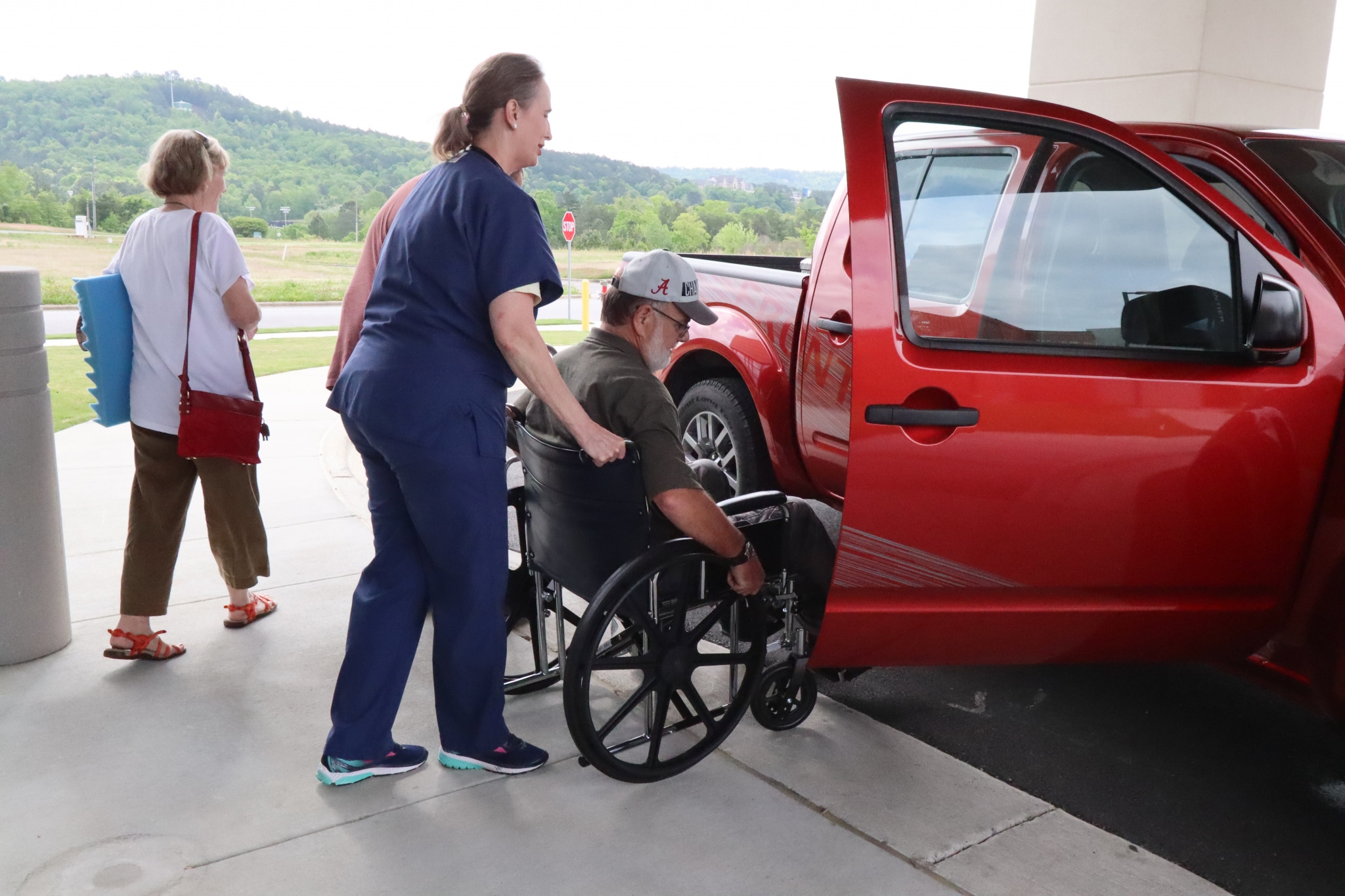 Through the 15 day (on average) physical rehabilitation program, many of these 618 patients seen over the past year were able to walk or wheel out of the facility and head back to their independent lifestyle—all thanks to the outstanding care the hospital offers through their various programs.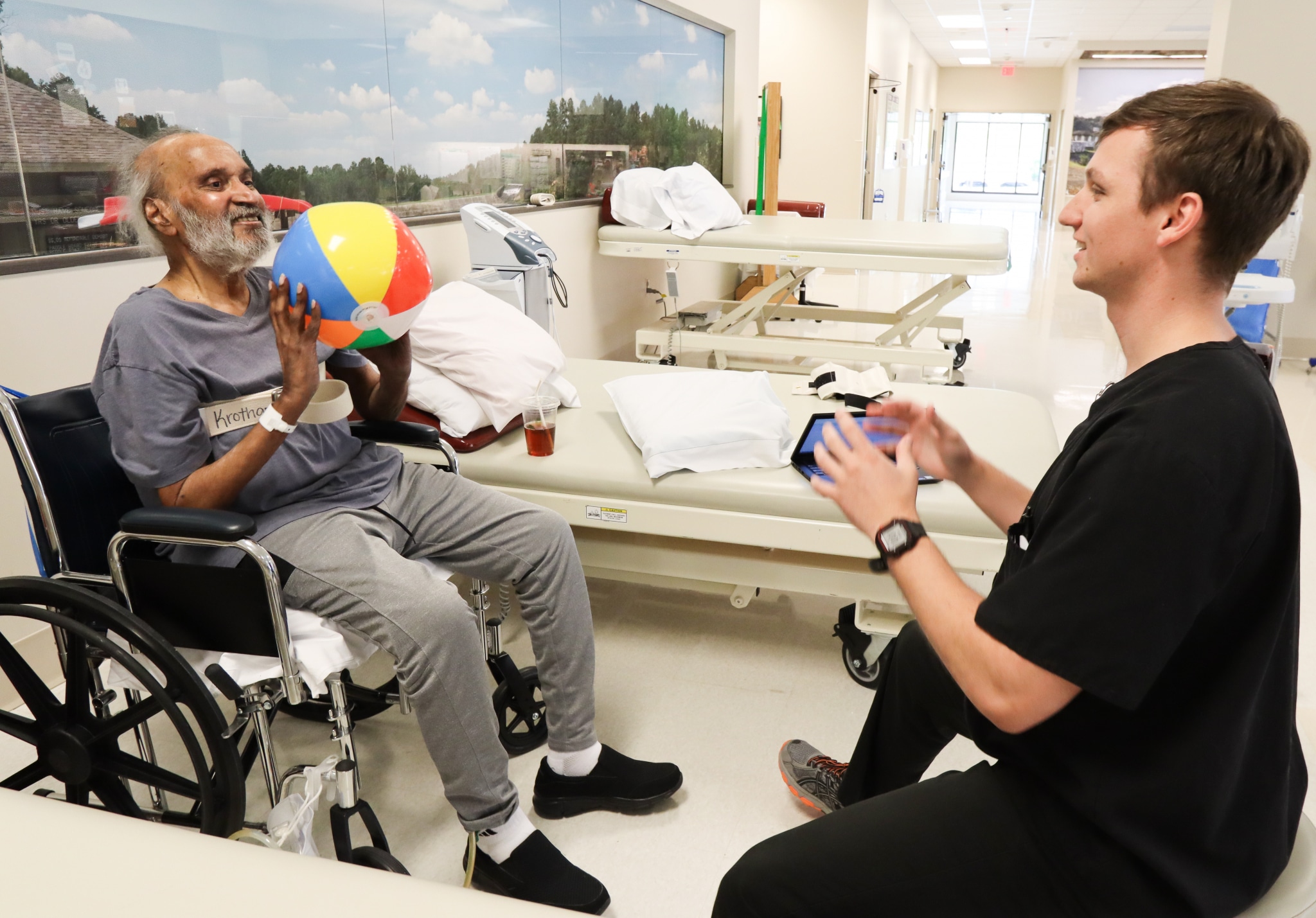 Leadership at Encompass Health Rehabilitation Hospital of Shelby County

One factor contributing to the greater success of the hospital is the collaborative work environment demonstrated by the leadership team.

We got the opportunity to follow along with CEO, Robert Russell, and Director of Therapy Operations, Shannon Wiggins while we were there. From our time at the hospital, it was obvious that their hands on work style positively impacts the whole operation.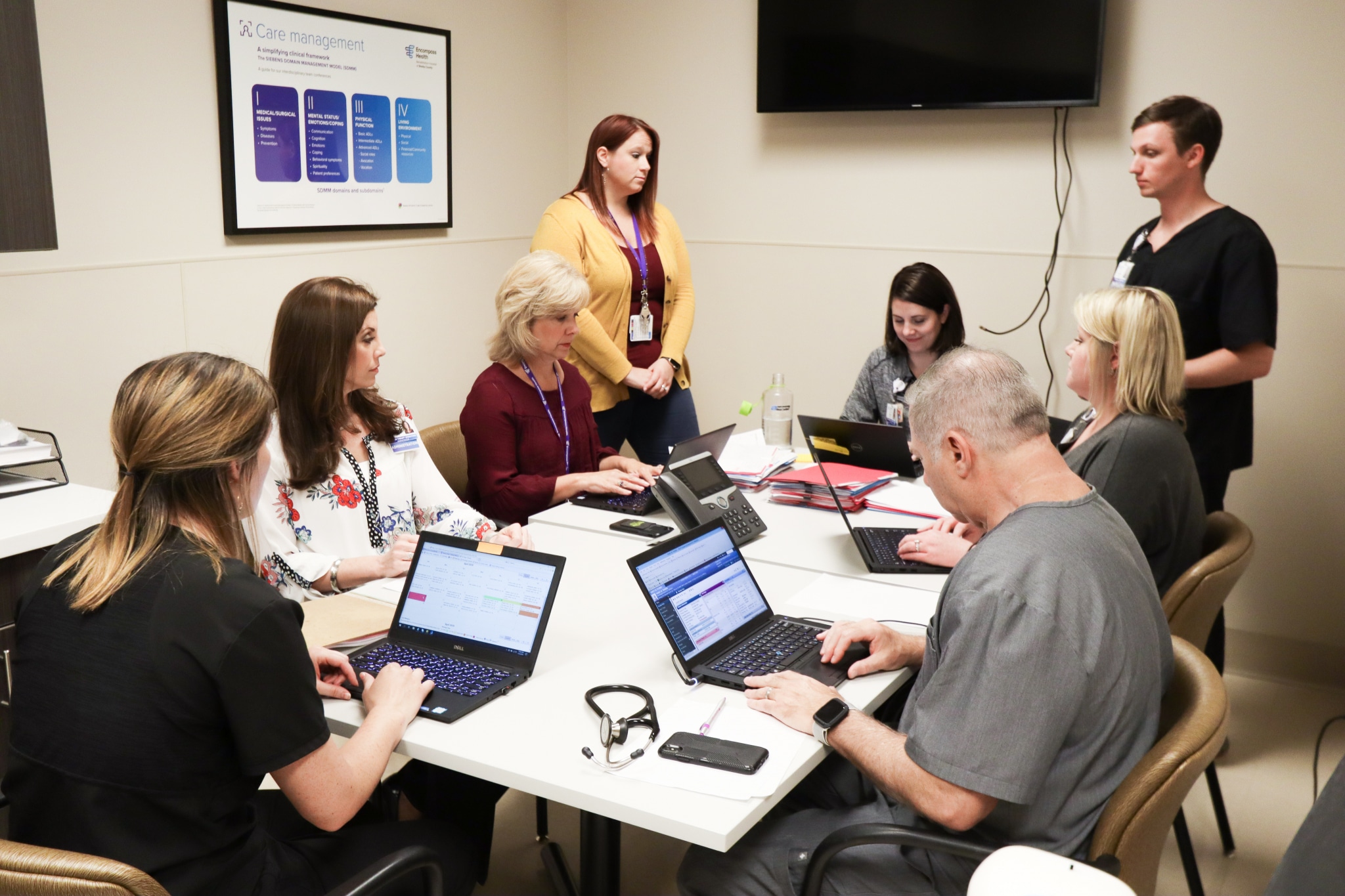 What It Really Means To Be A Leader

At Encompass Health, being a hospital CEO means so much more than being the head decision maker. Russell frequently reminds himself that in order to be an effective leader, he must not only have a view from the top, but also a view from the bottom up.

A Respiratory Therapist by trade, Russell makes it a priority to round on patients and employees so that he always remains engaged with hospital staff and is familiar with the patients being treated within his walls. He also acknowledges the importance of not being afraid to get your hands dirty sometimes, and that a little gesture will go a long way.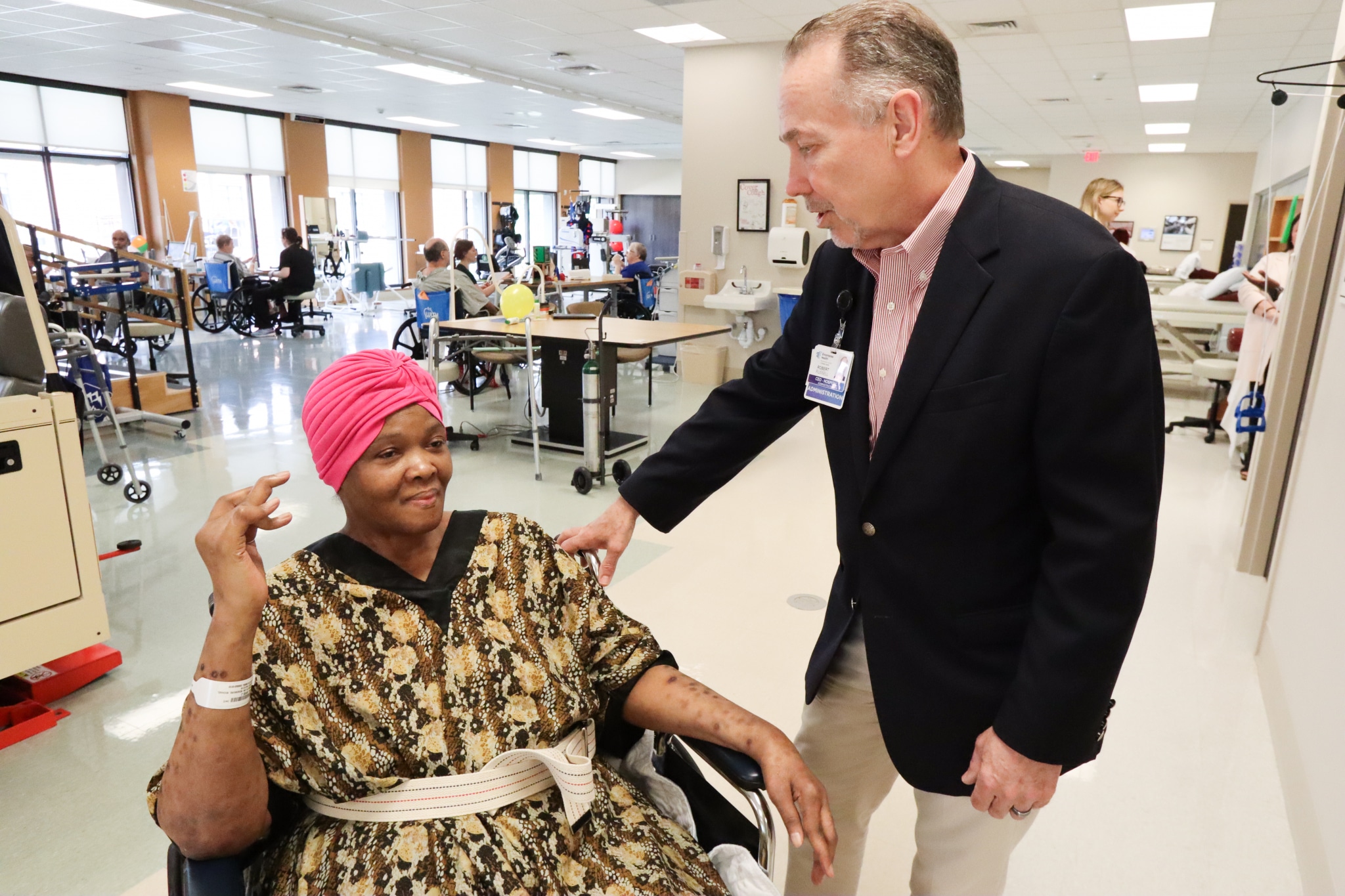 At the end of the day, he knows that exceptional patient care is the number one priority. To do that, he must be a leader and role model to his hospital staff who work tirelessly to put patients first. Although he is very proud of the successes his hospital has had in its first year, like any good leader he acknowledges that there is always room for improvement.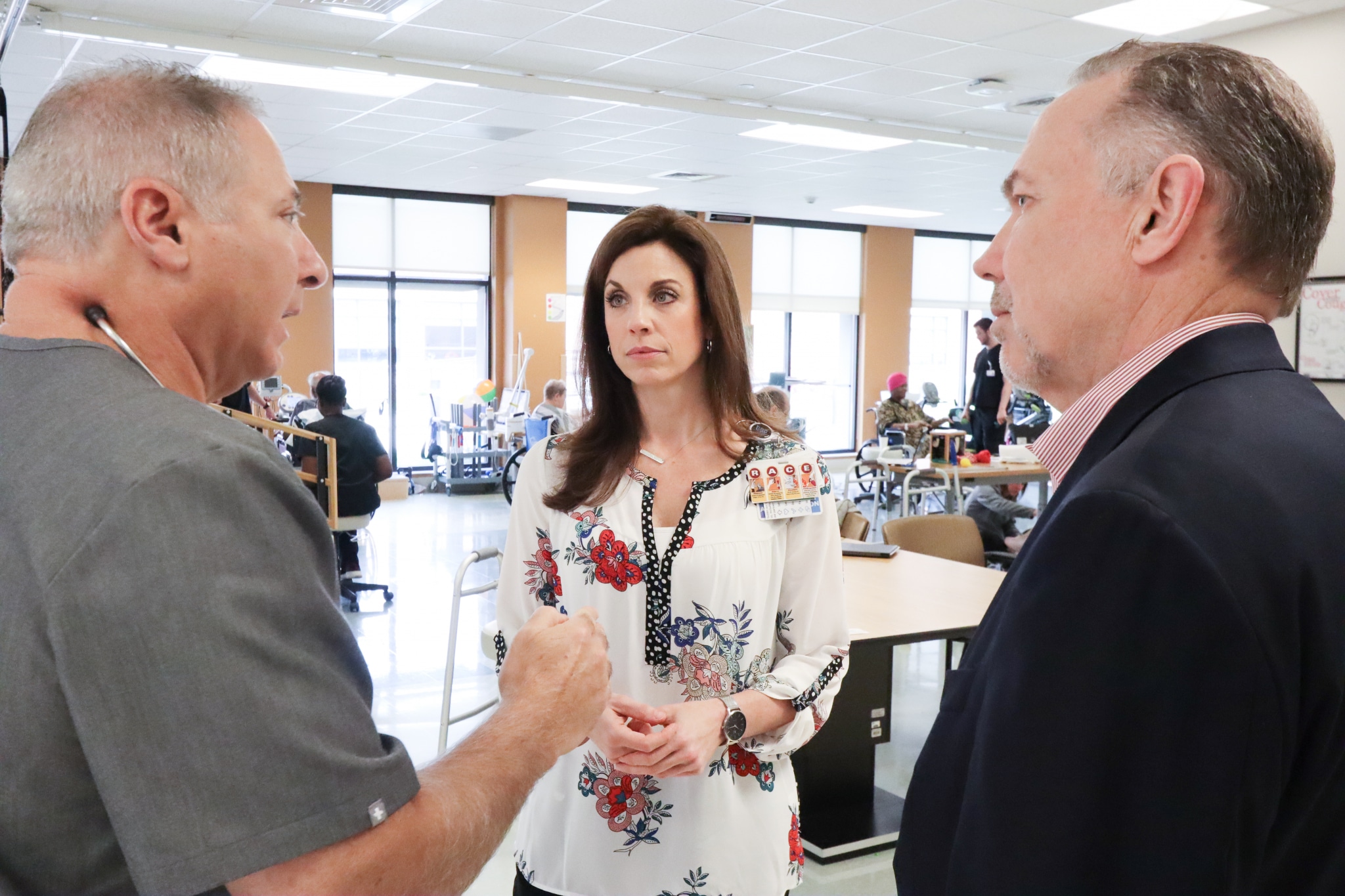 "If you avoid getting in the trenches with your staff, it is easy to forget the hard work that is being done by people at all levels."

Robert Russell, CEO
Making a Lasting Impact

When Shannon Wiggins first joined the Encompass Health team, she had no idea how much her job would positively impact her life. As a Director of Therapy Operations, she oversees the therapy team within the hospital, which is comprised of physical therapists, occupational therapists as well as speech therapists.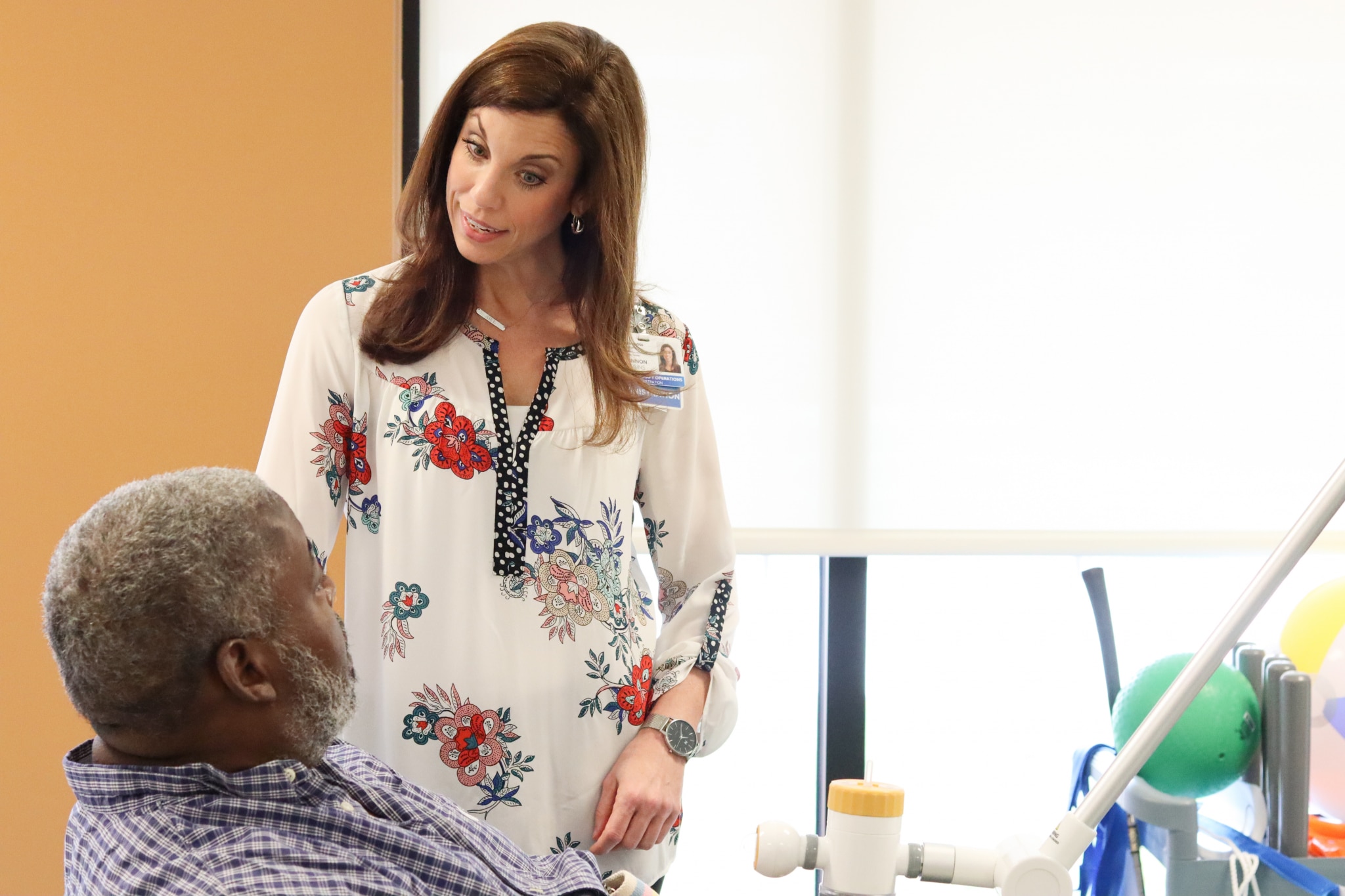 Shannon recalls one of her most successful days on the job when she was able to fill every position on her team with confidence that each person was the perfect person for the job. She notes that although positions can be easily filled, there is a great importance on finding the right person for each role. That's what she's been able to find in her staff at Encompass Health Rehabilitation Hospital of Shelby County.
She thoroughly enjoys being a hands-on leader to her staff, who look at her as a mentor and role model. By consistently remaining engaged with the daily activities that take place in the therapy gym, she can confidently leave at the end of the day knowing she may have made just the slightest impact on someone's life—which is what is truly rewarding.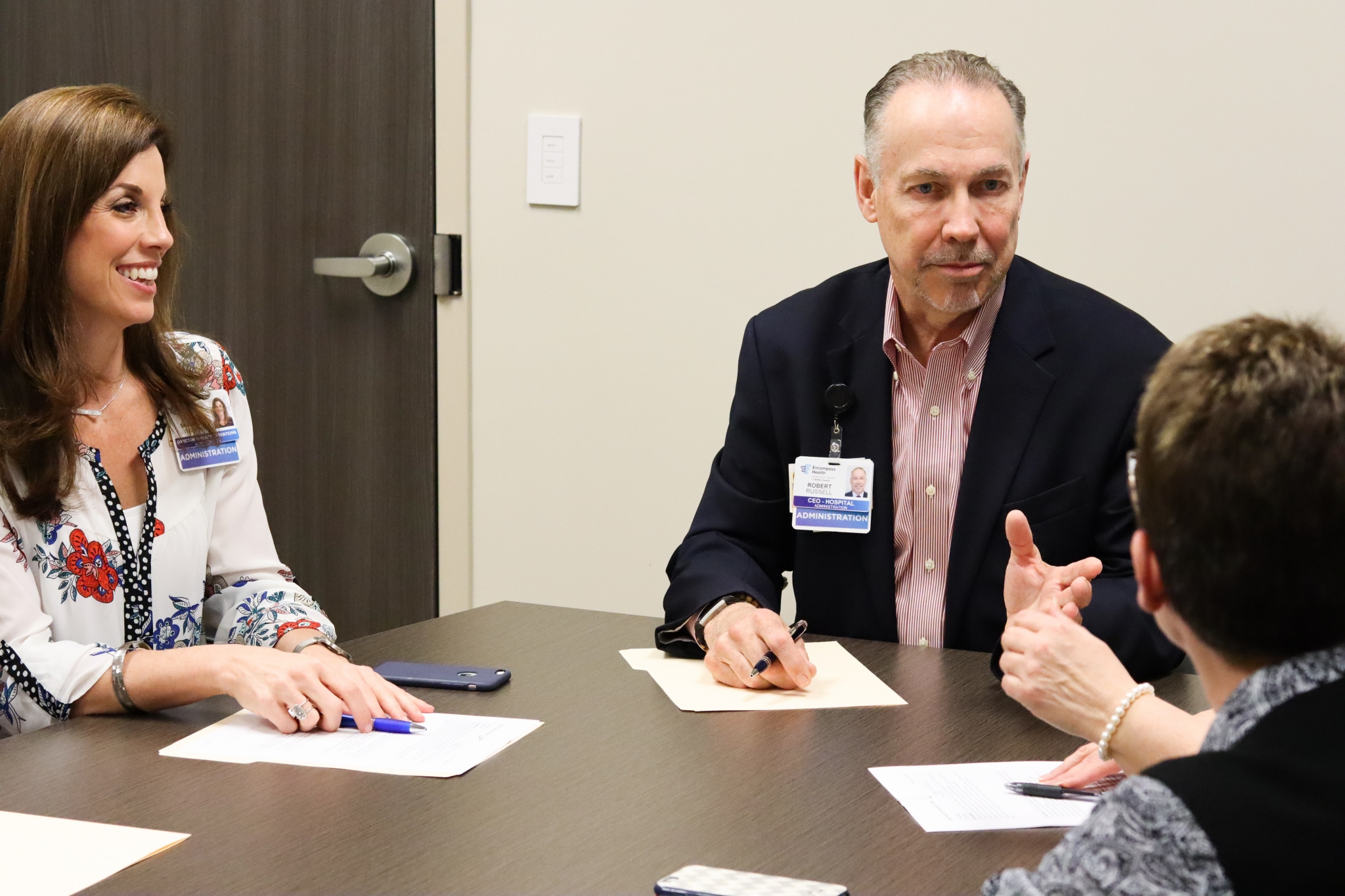 Wiggins on What Motivates Her:
"Sometimes we see tears of joy, both from the staff and the patient, but there are always smiles. Bonds are formed that sometimes will never be forgotten. That is what keeps the staff motivated to keep up the hard work for the next patient."

Shannon Wiggins, DTO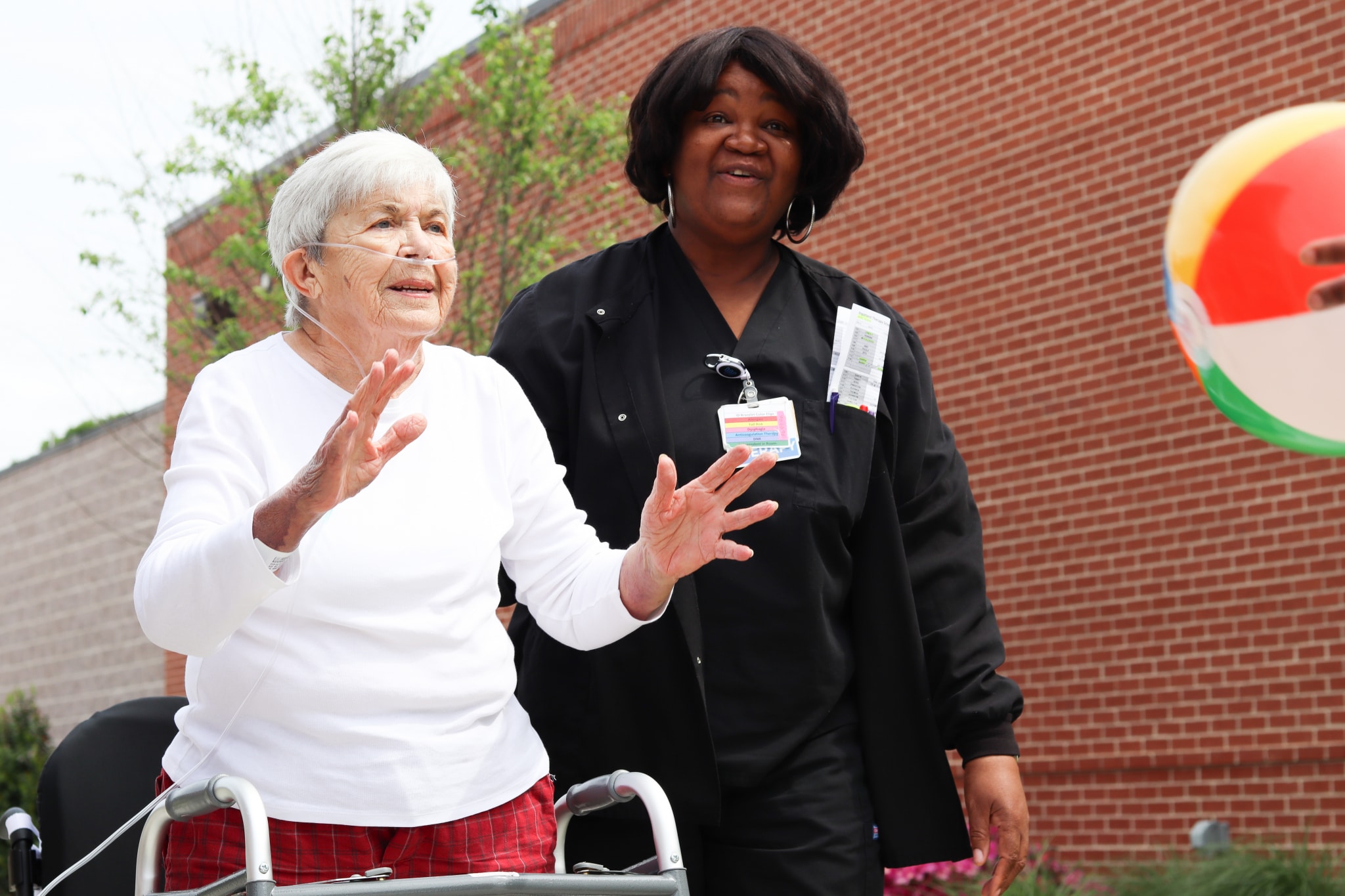 Who is Encompass Health?

Headquartered right here in Birmingham, Encompass Health, formerly known as HealthSouth, is the nation's largest provider of post-acute rehabilitative care. They specialize in facility-based patient care through their network of inpatient rehabilitation hospitals, home health and hospice agencies. Encompass Health has 130 hospitals in 36 states including Puerto Rico and employs more than 40,000 employees nationwide.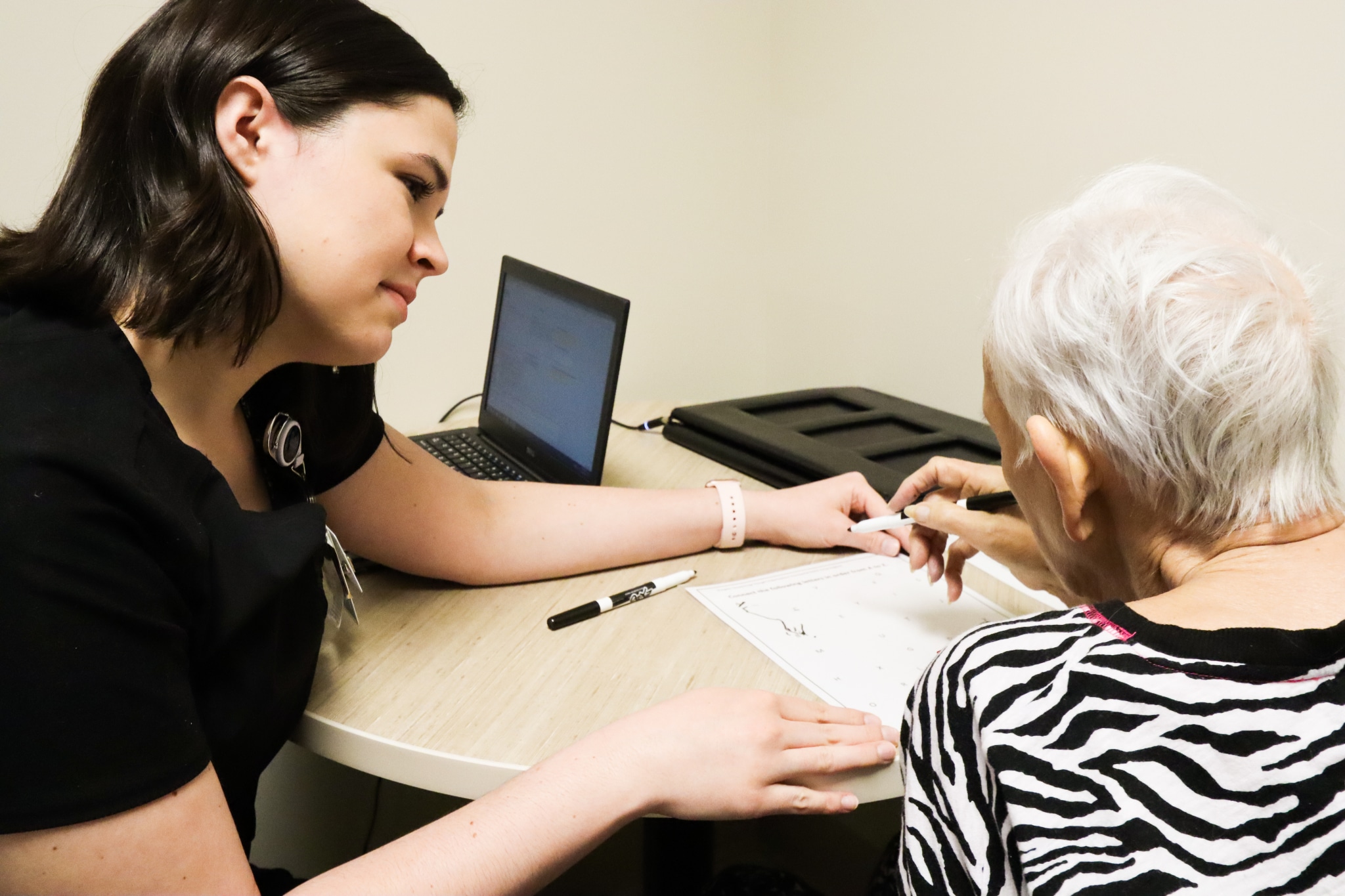 The Patients at Encompass Health

Encompass Health treats patients with a variety of conditions and illnesses, who are in need of round-the-clock nursing care, as well as physical, occupational and speech therapy services. Some of the conditions they treat include, traumatic brain injury, cardiac care, stroke, spinal cord injury and more. Patients may come to Encompass Health hospitals while they are recovering from a car accident, surgery or other traumatic events; and are not yet ready to return home.

Interested in learning more about a career with Encompass Health Shelby County? Visit the job search page on the Encompass website. To read more about the hospital and their staff, visit the Shelby County facility website.

Sponsored by: