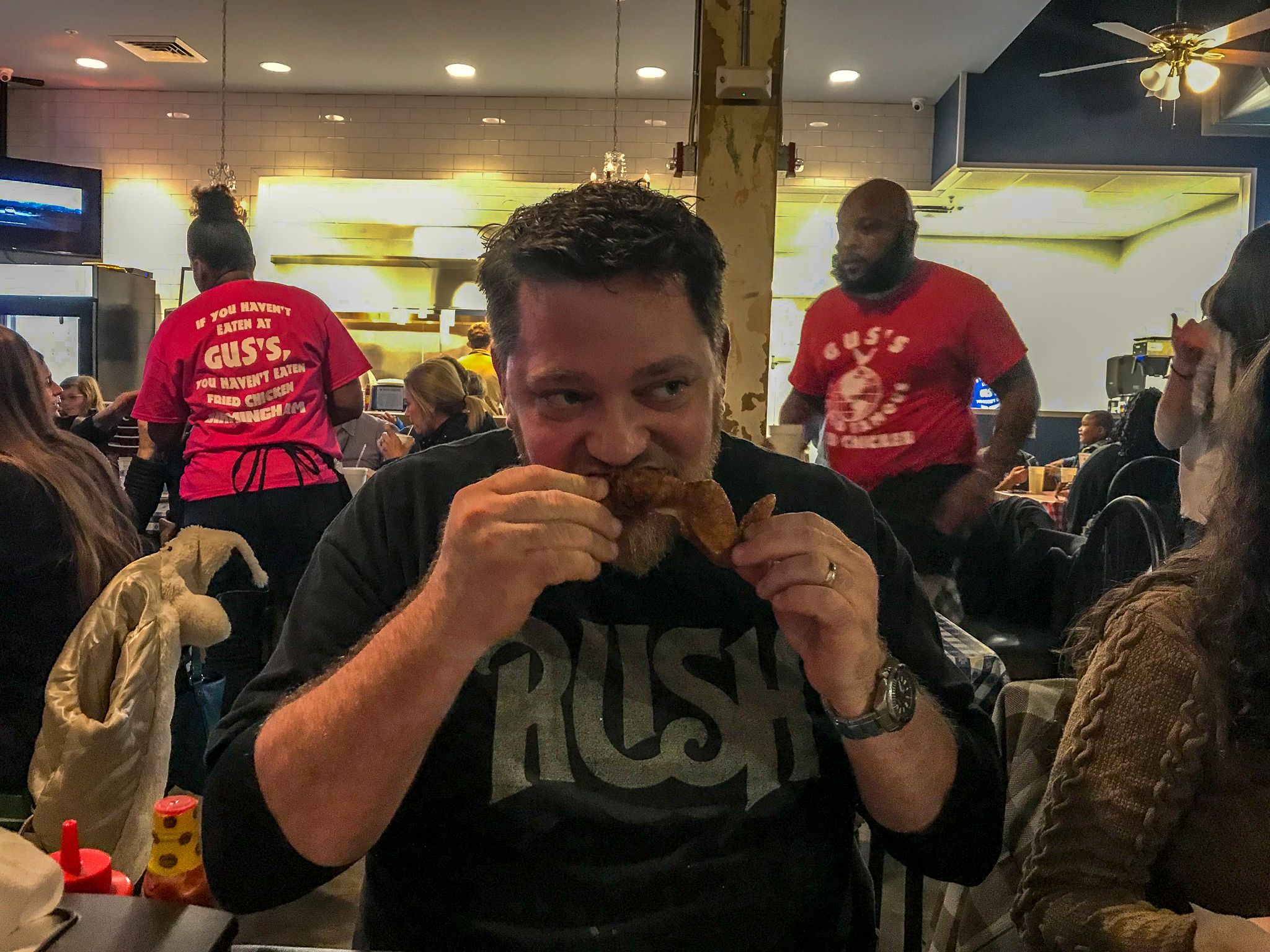 Bham Now got a first taste of Gus's World Famous Fried Chicken on Saturday night during the friends and family opening. Today, this Memphis favorite is officially open to the public at The Battery, the redevelopment of Birmingham's historic BEBCO building at 2201 2nd Avenue South. Here's what you can expect.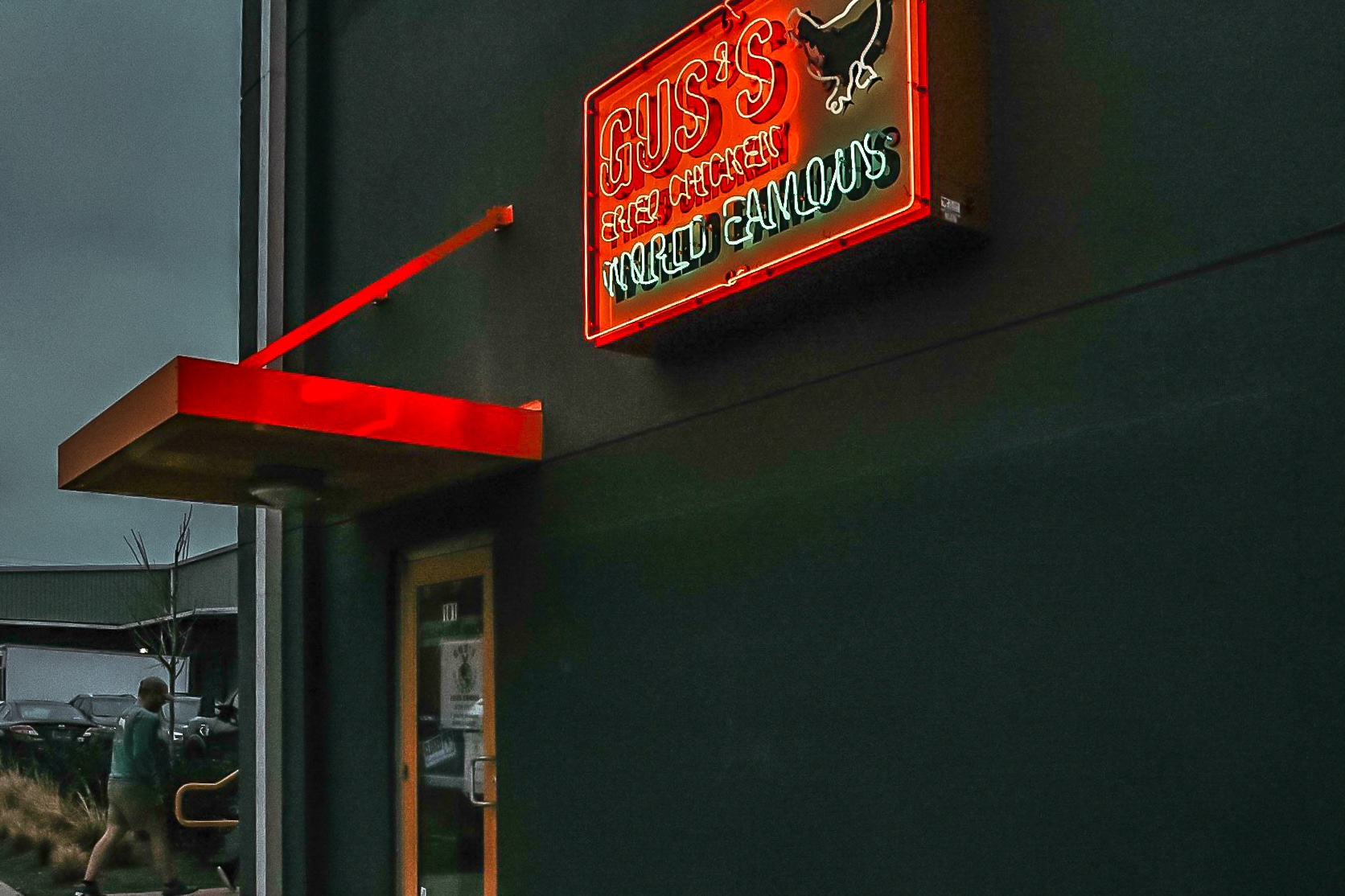 Before we dive into our dining experience, if you are a Gus's newbie, learn more about the history of this Memphis-based fried chicken joint and its national acclaim here.
The Dish on the Chicken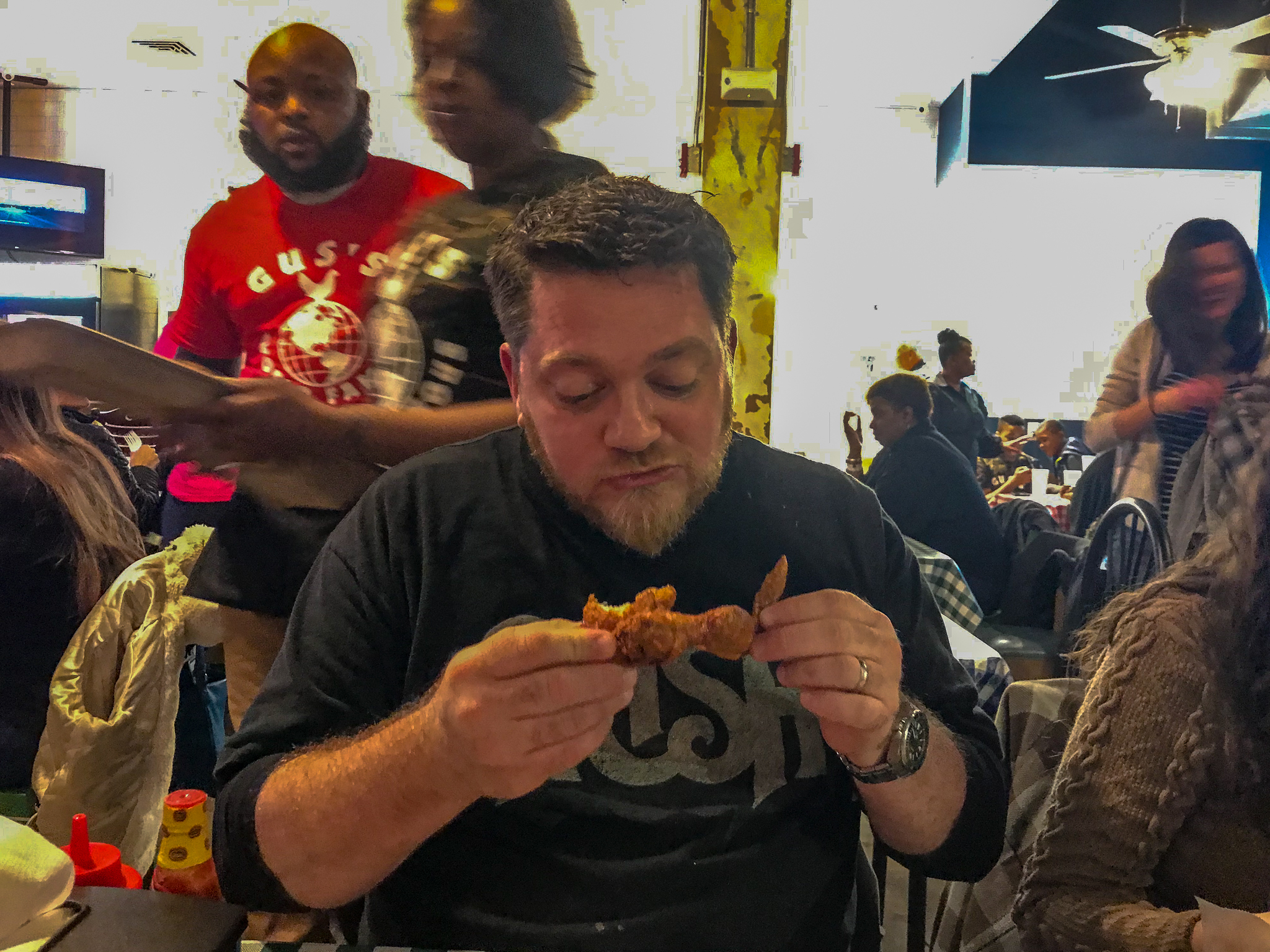 At Gus's World Famous Fried Chicken, you can choose between a dark meat plate (thighs and legs), a white meat plate (breasts and wings) or a chicken tender plate. Juicy and fried to perfection, the chicken definitely packs some heat, but it's not overwhelming.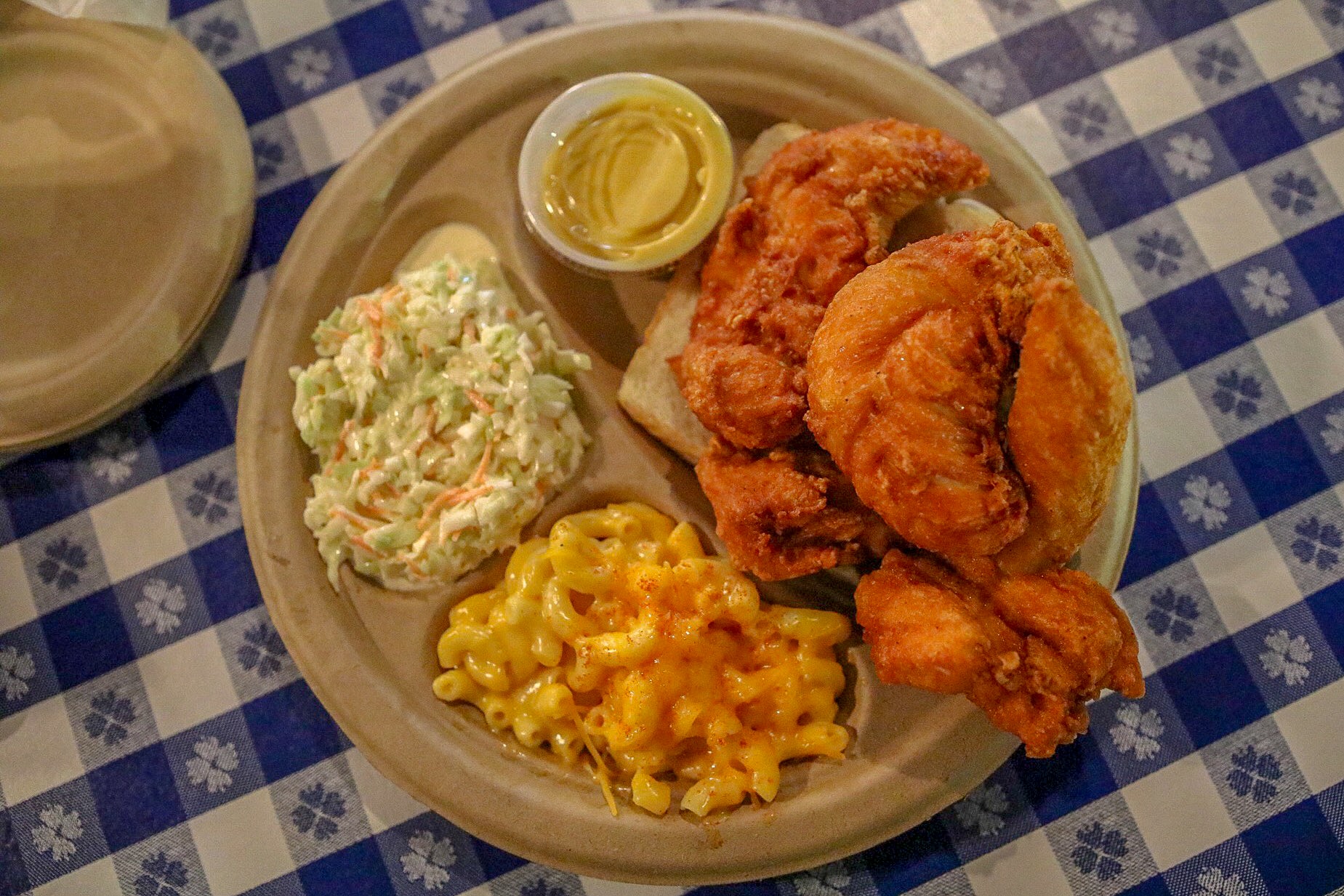 Our table, which included a local chef, decided that the bone-in pieces were our fave. Top prize went to the wings. Notably, we did not try the dark meat plate—there's always a next time.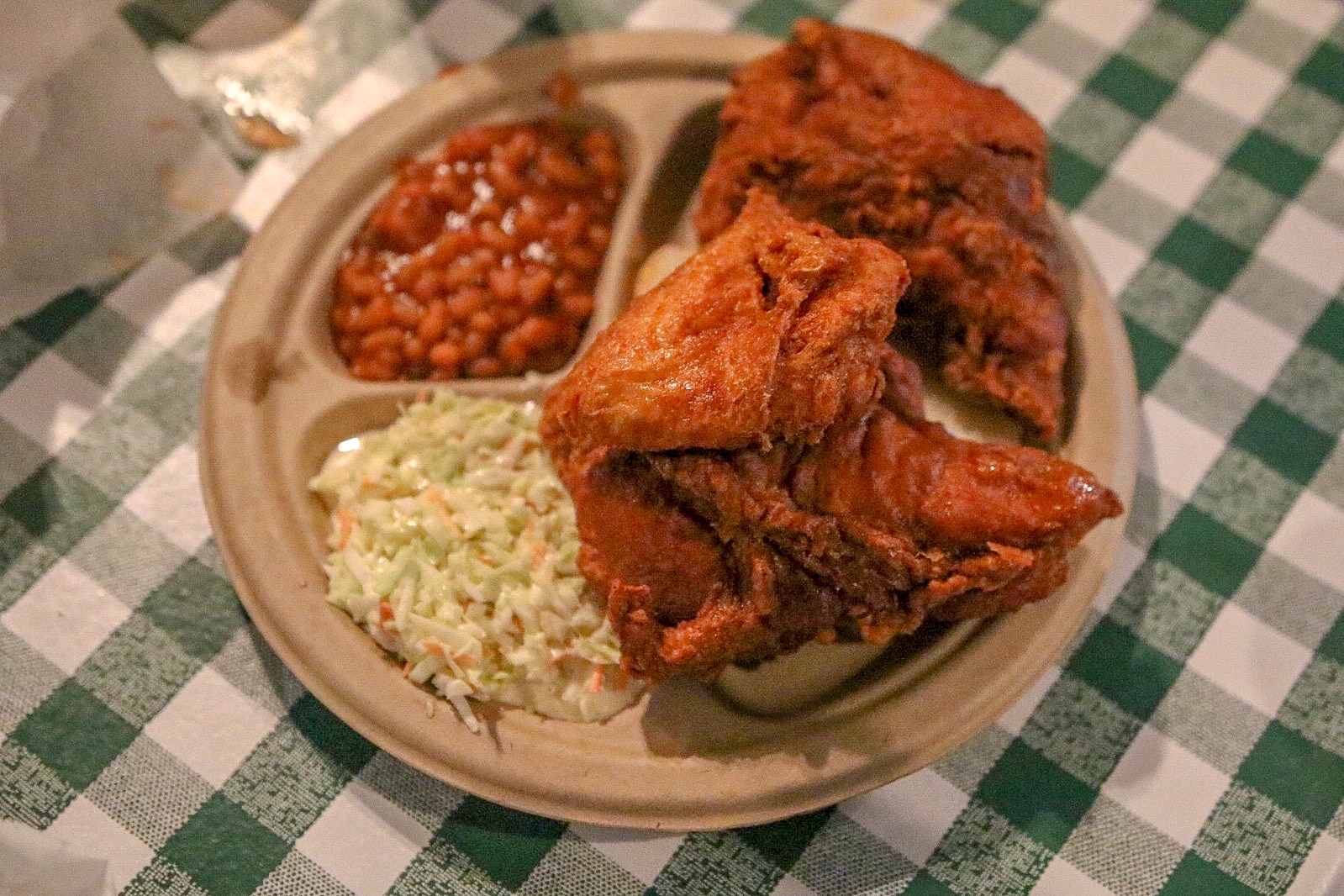 Sides and Starters
Slaw and baked beans are the standard Gus's sides that come with every plate, though you can substitute or add other sides. They're both a little sweet to balance the spiciness of the chicken, and our table gave them a thumbs up.
Other traditional Southern sides on the menu include potato salad, fried okra, greens, mac 'n' cheese and seasoned fries. I tried the mac 'n' cheese, which was all creamy goodness, as well as the greens, which were cooked into submission as good greens should be.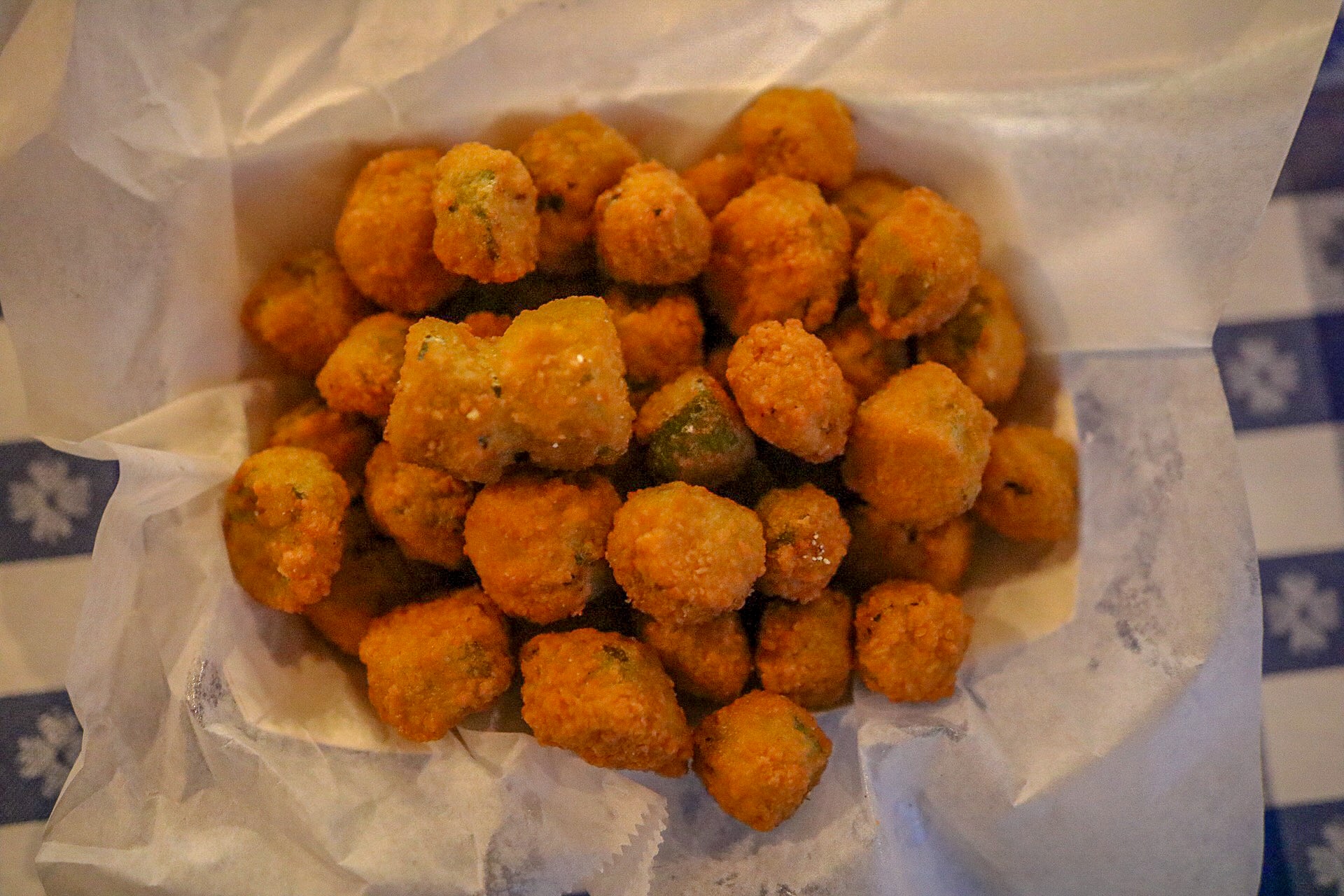 Now for fried okra, which you can order as a starter or a side at Gus's. The fresh okra flavor really shines, and I could not stop popping these in my mouth.
Another starter, the fried pickles, feature the whole pickle spear, giving you lots of juicy, dill pickle flavor in every bite. A+.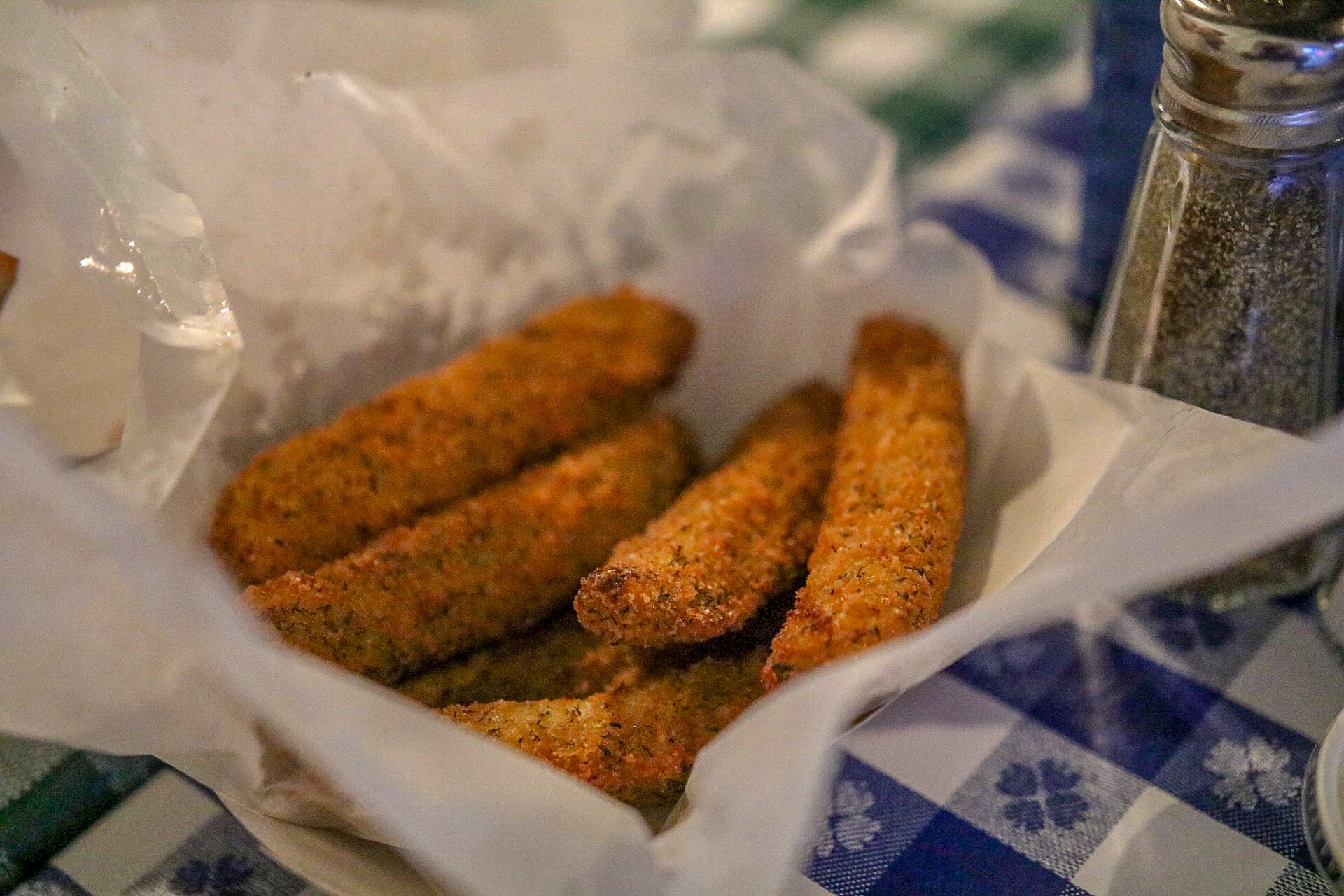 Last but not least, the fried green tomatoes. The chef friend who tagged along with us to Gus's friends and family night was impressed by how well the fried coating held onto the tomato slice when eaten. (Apparently that's a tricky feat. And we've all bitten into a fried green tomato only to have the whole tomato slice come with it, leaving the fried crust behind.)
While we were too full for dessert, I cannot wait to go back to try Gus's house-made pies, including chess, chocolate chess, coconut, pecan and sweet potato. Here's a peek at the full menu.



Photos by Bham Now
Hours and Location
Gus's World Famous Fried Chicken is open 11AM-9PM Sunday-Thursday, and 11AM-10PM Friday and Saturday. Find it at The Battery at 2201 2nd Avenue South, Birmingham, Alabama 35233. If the parking lot is full, you'll find plenty of street parking nearby.
Here's what else you'll find at the Battery:
Birmingham District Brewing Company, our city's newest local, family-owned brewery. (Feel free to take your Gus's order over to the brewery to eat.)
Wasabi Juan's, a locally owned restaurant specializing in sushi burritos, tacos, nachos and more.
True40, a boutique fitness studio.
Original B'ham Apparel Company, whose trademark you've seen on cars, t-shirts and hats all over town!
Birmingham Pedal Tours, opening in early 2019.
A shared outdoor courtyard with games, like Cornhole and Giant Connect Four.
More to come!