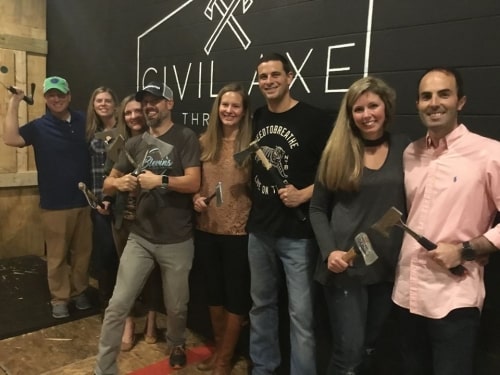 It's not just for lumberjacks. People across North America are getting their adrenaline rush by hurling an axe across a room. Thanks to Civil Axe Throwing based in Huntsville, soon the citizens of Birmingham can too.
Axe throwing? Really?
Yes, really. The trend began in Canada and has been spreading across the United States. Axe throwing venues are operating today in Atlanta, Brooklyn, Chicago, Dallas, Minneapolis, Oklahoma City, San Diego and Washington, D.C.—to name a few.
"Axe throwing is an addicting adrenaline sport. We saw the potential. It's growing, and it's exciting to be a part of."—Jorge Lima, owner, Civil Axe Throwing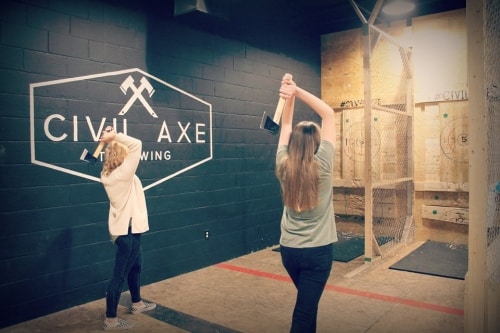 Civil Axe Throwing is a family business started by the husband-wife team of Jorge and Erin Lima and Erin's parents. The couple was looking for a new entertainment experience to bring to Huntsville following the success of their first business, Huntsville Escape Rooms. A friend told them about axe throwing. They traveled to Chicago to check it out, loved it and decided to bring the sport back home.
Civil Axe Throwing opened in Huntsville in September 2017, with locations coming soon to Birmingham, Chattanooga, Des Moines and Memphis.
When, where and who?
Opening date: The Birmingham location is projected to open this June. Stay tuned for an official date. (Update: The grand opening took place Labor Day Weekend 2018.)
Address: 3004 4th Avenue South, Birmingham, Alabama
Age and other requirements: You must be 14 or older. Other than that, Civil Axe Throwing is for anyone of any skill level. Trained professionals will teach you the proper technique.
Is it fun?
Yaaaasss! Local reviews of Civil Axe Throwing's Huntsville location confirm the hype: It's a fun activity for girls' nights out, family outings, dates, birthdays, church groups, anniversaries, blowing off steam after work and more.
"An epic, awesome, incredibly badass experience! Would highly recommend!"—Mike McNeil, customer of Civil Axe Throwing, via Facebook
What about food and drinks?
Civil Axe Throwing is strictly in the business of, well, throwing axes. But you'll find plenty of food and drink options close by. The Limas chose a location what would be central to Birmingham's happening restaurants, breweries and bars in Pepper Place, Lakeview and Avondale. It's only a 0.1-mile walk from Hop City!
"In our Huntsville location, we have an amazing environment in Campus No. 805, an entertainment community. There's breweries and food and bars. We're big on community. We want to built that out in Birmingham."—Jorge Lima
So go throw an axe with the axe experts. Then go grab a drink and a bite from one of Birmingham's many food and drink experts. (Need an idea? MELT in Avondale was recently featured on the Cooking Channel's "Cheap Eats.")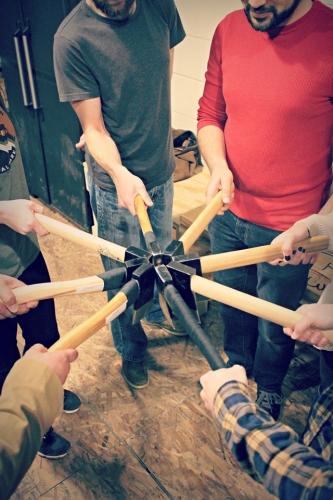 Is it safe?
You betcha—in the proper environment. Civil Axe Throwing is a certified member of the National Axe Throwing Federation (NATF). Established in 2016, the Toronto-based organization upholds a standard rule system for the sport, which was developed over time through 12 years of league play.
Today, the National Axe Throwing Federation represents more than 4,000 league members in over 50 cities and 5 countries as it promotes safety, sportsmanship and competitive protocol.
"Our staff go through intensive training and assessment. We make sure it's a really safe and friendly environment. Each reserved lane has one coach, and that coach focuses entirely on your group."—Jorge Lima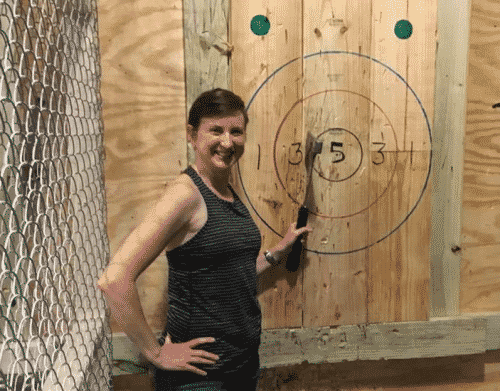 How can I become an axe-pert?
To get you started, here are a few basics about competitive axe throwing  from the National Axe Throwing Federation. If you get serious about the sport, you can learn the complete match rules here.
To choose a lane, or determine who throws first in a tie-breaker:
Rely on good, old-fashioned Rock, Paper, Scissors!
Acceptable axe throwing positions (in all cases, the blade must face away from your body): 
2 hands, over the head
1 hand, over the head
1 hand, under hand
Target points values:
Bullseye (black ring) = 5 points
Red ring = 3 points
Blue ring = 1 point
Clutch (green dots in the corners) = 7 points. You must call Clutch before you throw it, and you can only do so in the fifth and final round.
Got it? Good. Now go get your axe-throwing game on, Birmingham!