Sponsored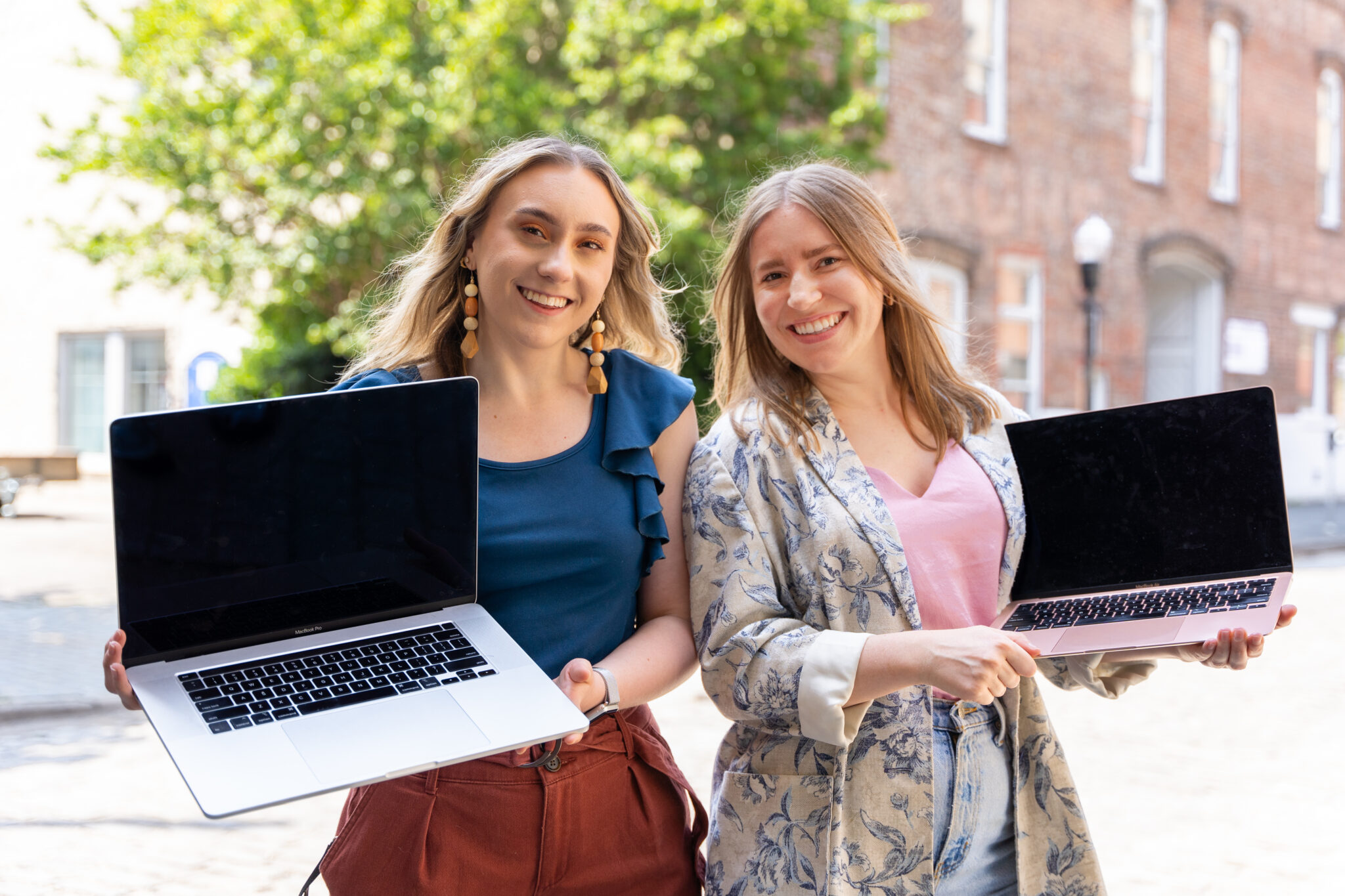 Ready to do some spring cleaning, Birmingham? While you clear out your space, don't forget to save old computers, cell phones and bags of paper for the next Jefferson County electronics recycling and paper shredding day. Keep reading to find out why electronics recycling in Birmingham is essential, then see what you need to know about the upcoming electronics recycling day on Saturday, May 14.
Quick facts about the free electronics drop-off + paper shredding day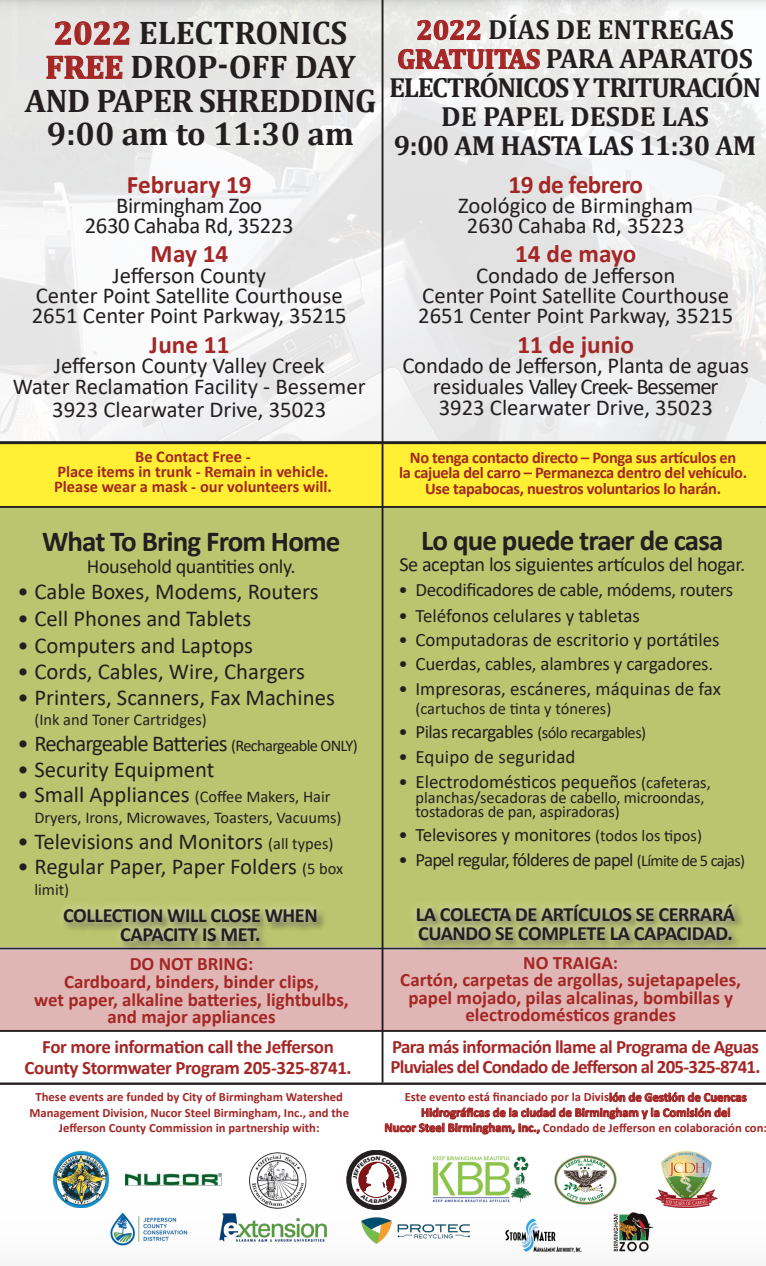 Where: Jefferson County Center Point Sattelite Courthouse | 2651 Center Point Pkwy, Center Point, AL 35215
When: Saturday, May 14 | 9-11:30AM or when capacity has been met
What to bring (household quantities only):

Cable boxes, modems + routers
Cell phones, tablets, computers + laptops
Cords, cables, wires + chargers
Printers, scanners, fax machines + ink and toner cartridges
Small appliances (ex: coffee makers, irons, microwaves, toasters, vacuums, etc.)
Televisions + monitors
Regular paper + paper folders (5 box limit)

Note: Cleaning is not required. Remove chemical (alkaline) batteries from items.
Contact: Call the Jefferson County Stormwater Program at 205.325.8741.
Why does electronics recycling in Birmingham matter?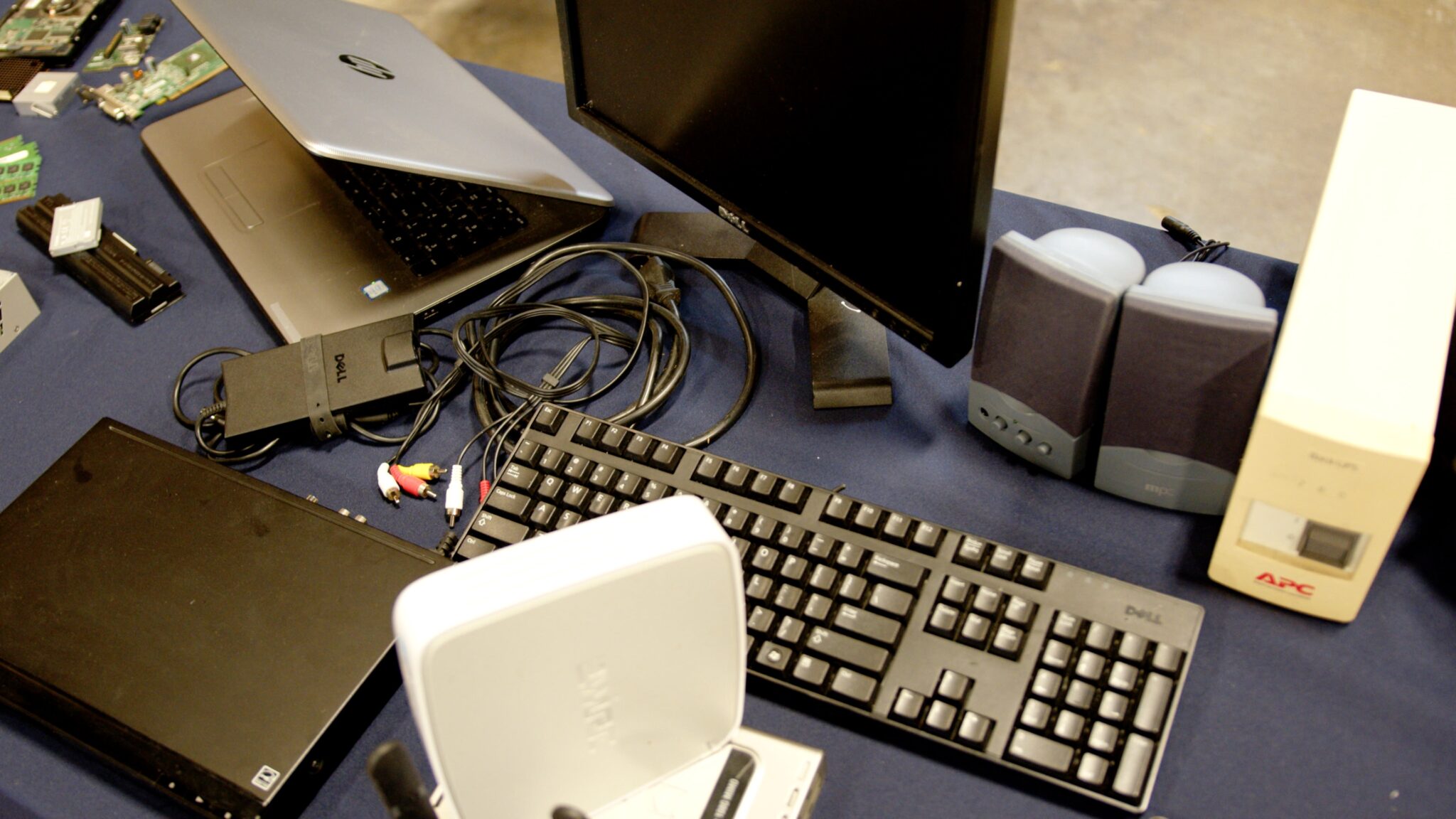 Beyond giving your space the good 'ol Marie Kondo clean-out and making room for new gadgets, electronics recycling is a major win for the environment. Recycling old electronics means that manufacturers can reuse their precious materials instead of mining for even more.
"E-waste is a misnomer. Recycled electronics are a treasure trove of rare earth metals, precious metals and other materials that can be recovered and reused. Recovering these materials from unwanted electronics means that manufacturers do not have to purchase newly mined metals or other materials. This reduces the impact on the environment caused by mining and the water and energy needed for refining and preparing these materials for manufacturing."

Lyn DiClemente, Education Training Manager for the Stormwater Program in Development Services, Jefferson County
Plus, when you recycle your old electronics instead of throwing them away, you're helping to keep toxic chemicals away from landfills, and ultimately, the soil and air around us.
"Over time, as these discarded electronics degrade, the hazardous materials they contain can leach out of the landfill and enter groundwater and soil, or create air pollution if a landfill catches on fire and these hazardous materials are burned. These hazardous materials are toxic to humans and animals."

Lyn DiClemente, Education Training Manager for the Stormwater Program in Development Services, Jefferson County
I don't know about you, but that's a pretty sobering fact to me—and a great reason to prioritize electronics recycling in Birmingham.
Where do my old electronics go after I bring them in?
If you're like me, you might wonder what exactly happens after dropping off your old laptops and chargers. Thankfully, we've got the answer. In 2021, a few Bham Nowers got to take a tour of Protec Recycling's West Homewood warehouse to see where those old electronics go.
Want to know about other cleanup events and how to dispose of other items around your house the 'right' way? Visit the County's Keep It Clean page.
Ready to learn more about how Jefferson County works to promote recycling + electronics recycling in Birmingham? Follow them on their website, Nextdoor, Facebook or Instagram.
Sponsored by: