Sponsored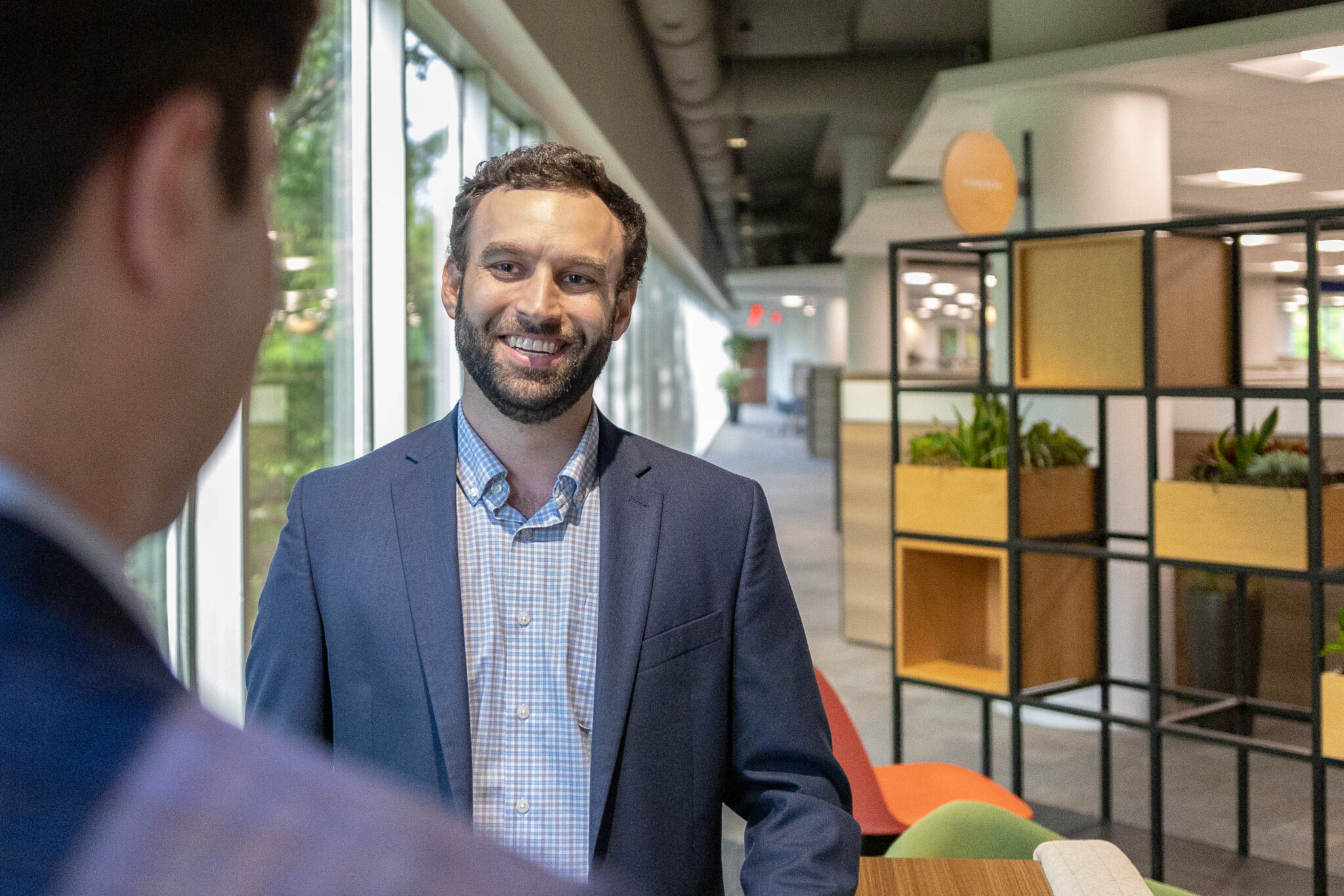 When you meet Trey Hall, he'll tell you he recently became the proud father of twins. Also, he is the Assistant Vice President of Customer Interactions at Protective Life Corporation. His career trajectory in the 10 years since he started with the company has been nothing less than stellar. Keep reading to find out how Protective has helped him—and others—advance at work.
Meet Trey Hall, Assistant Vice President, Customer Interactions at Protective Life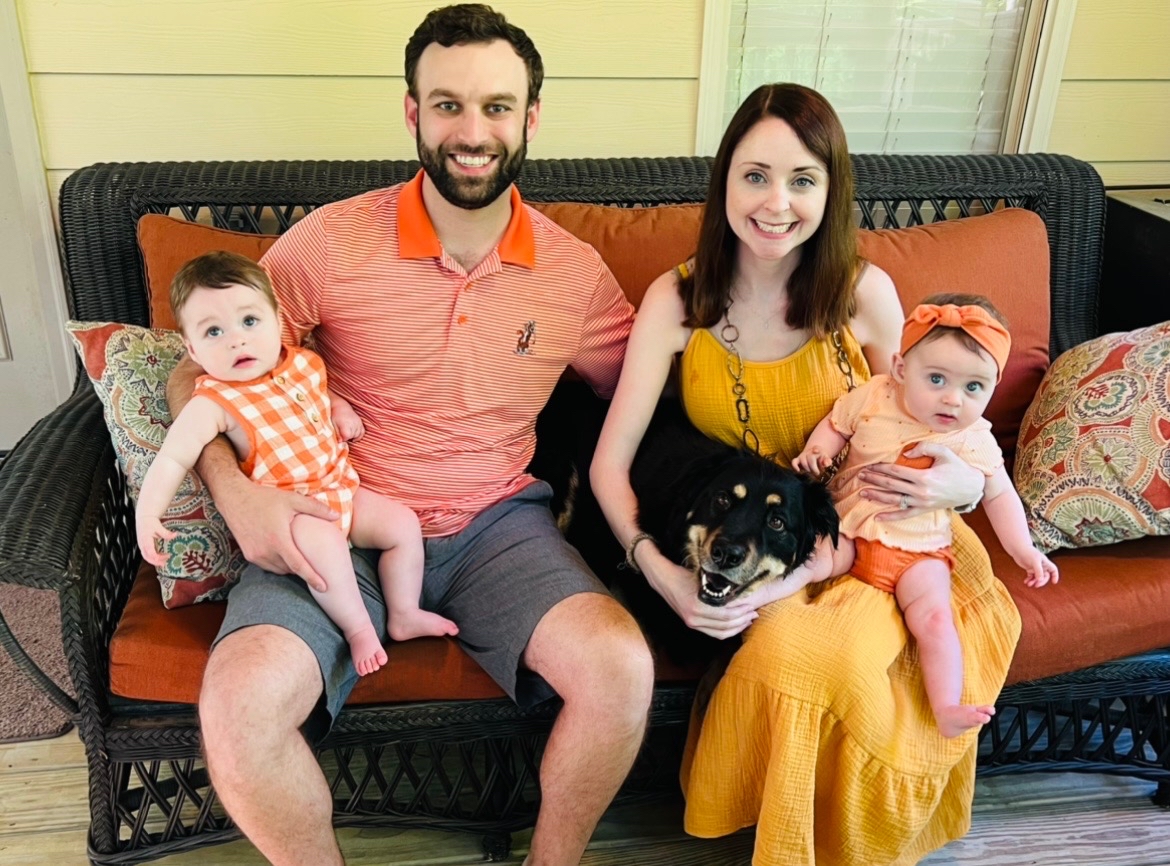 After attending Hoover High School, Trey Hall went to Auburn University, where he earned his degree in math and actuarial science. In case you're wondering, actuaries are math whizzes who help companies manage risk. Upon graduation, he discovered there were only two companies in the Greater Birmingham Area with open actuarial positions—most were in the Northeast.
Hall began what has turned out to be a growth-filled career at Protective—a Birmingham-based company that provides solutions to protect and plan for life—10 years ago.
He got married three years later, and eight months ago, he became the proud father of twins—a boy and a girl, who keep him and his wife laughing.
When he's not at work, you'll find him hanging out with family and friends, playing golf, watching sports or participating in his small group at Hunter Street Baptist Church.
Fun facts: Hall is a huge Star Wars fan. And, he and his wife's best friends also had twins around the same time.
When I interviewed him to find out how Protective has helped him—and others—grow and thrive, here's what he told me.
Bham Now: What attracted you to Protective?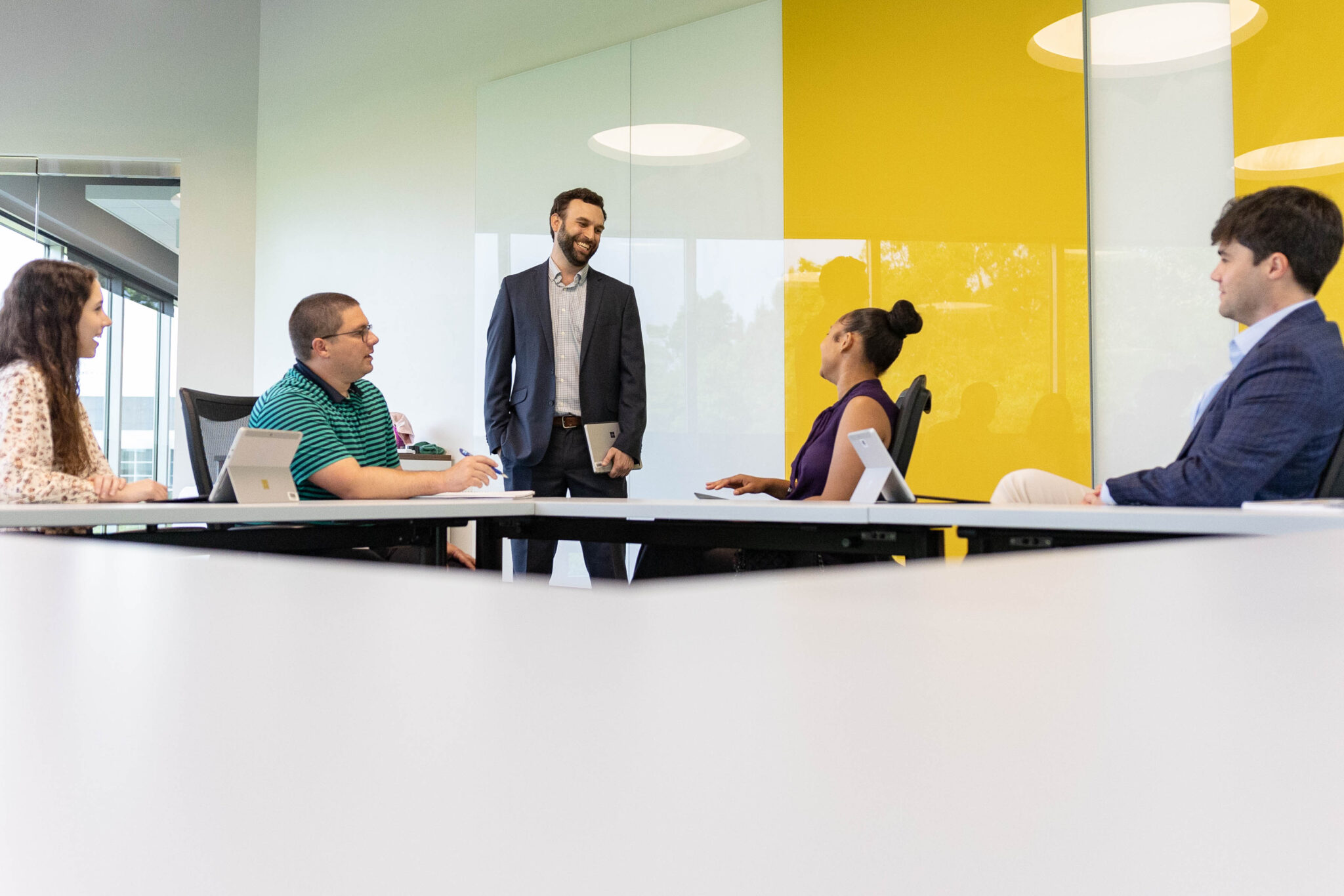 Hall: "At first, I wanted to get my foot in the door, introduce myself to some of the actuaries, learn more about the program, see what I could offer and work my way up. When I was looking at companies, being in a place with opportunities for career progression and lifelong learning was really important to me."
Since he began, Hall has worked in multiple areas within the company, including:
New business case management
Business process improvement
Customer experience
Business transformation
Customer interactions
"It's always fun to get down in the weeds and understand how things work, like how our customers are interacting with us, what they want and what they're asking for that we may not be providing. Then we ask how we can solve those problems, both from a customer perspective and from an efficiency standpoint so we're also adding business value."

Trey Hall, AVP, Customer Interactions
Looking for a supportive place to work? Protective is hiring.
7 ways Protective has helped Hall—and others—advance at work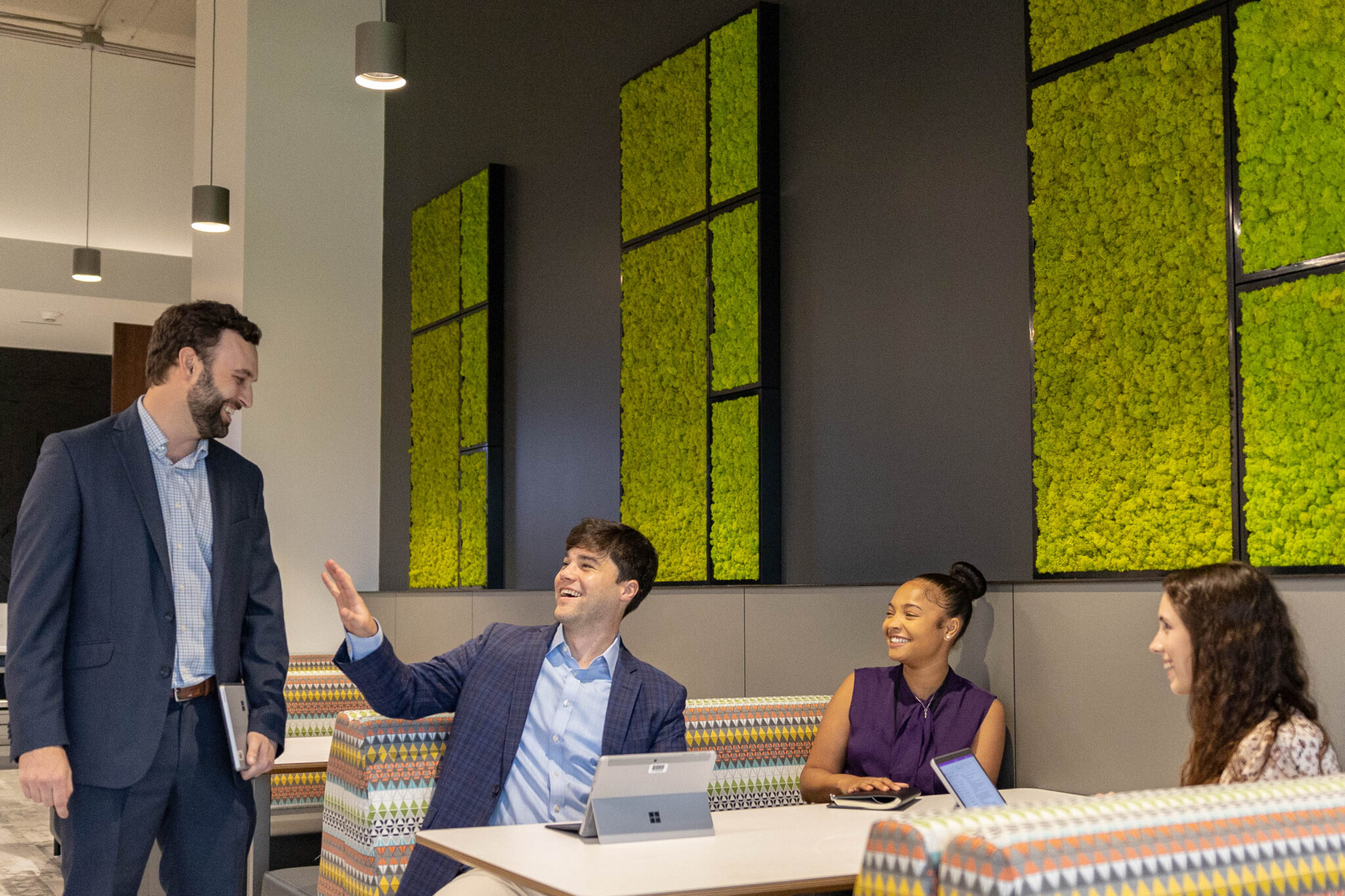 One of the things Hall loves the most about Protective is the culture. He mentioned a number of elements that have contributed to his growth, career progression and satisfaction. Here are the top seven:
1. Tuition reimbursement helps grow your skills so you can advance at work.
Hall shared that when he talked with his boss about being interested in management and leadership, he had the opportunity to enroll in Troy University's online Master of Science in Management with a focus on leadership. This was covered by tuition reimbursement—a benefit Protective offers employees—which helped him advance to the next level.
2. Horizontal movement provides opportunities to gain knowledge + expertise.
Hall said people often see horizontal movement within a company as a negative. Instead, he argues that lateral moves provide employees with new opportunities, including the chance to learn new things and create a broader range of knowledge, understanding and expertise.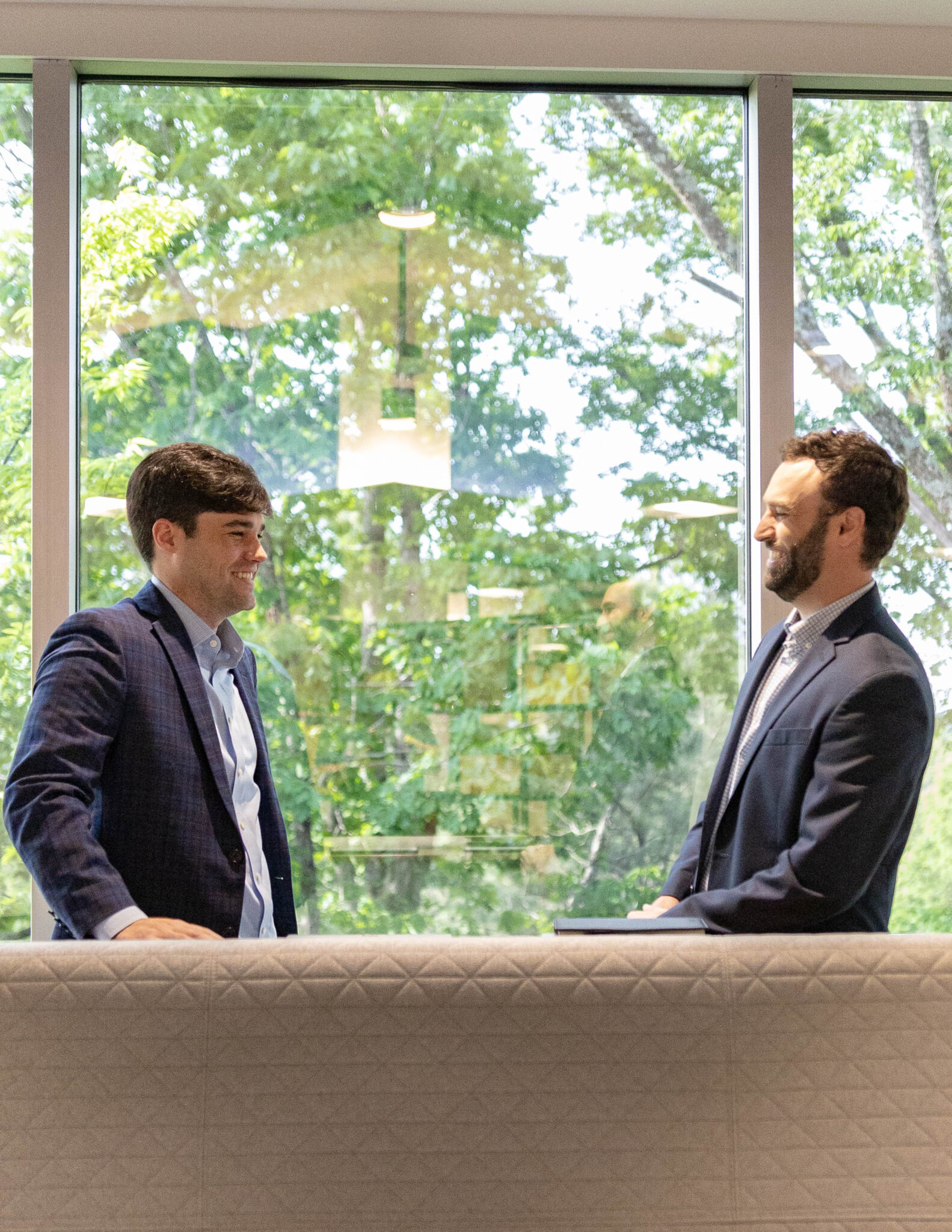 3. Sometimes you can dedicate a few hours a week to a different team.
What's a bit unusual at Protective is that you don't have to change your day job to have opportunities to collaborate and grow. Hall said right now he has a high-performing, high-potential candidate who's spending four hours a week working with his team to gain experience.
4. The company likes to promote from within + people go out of their way to help you advance at work.
Hall has been impressed with how people within the company go out of their way to make sure the organization is progressing as it needs to, and to help other people in the organization learn and grow.
5. It's a great place to be, even if you don't know what you want to do at first.
"Protective is a really cool place. Even if you don't know what you want to do, you come in and start working on something and you start feeling out what it is that you're looking for out of a career. Protective is very intentional about the management and development of its talent so we can make sure we get people in the right place."

Trey Hall, AVP, Customer Interactions
6. Managers think it's a good thing when their people grow, mature + contribute in new ways.
"A lot of managers think when their people move on to something else, it's a failure on them. A lot of people at Protective see it the other way, where we want people to grow and develop and mature into the next stage of their career."

Trey Hall, AVP, Customer Interactions
7. The company provides half a day for community service.
The final element Hall mentioned is the half-day the company provides each year where employees can volunteer wherever they want to serve the community. He thinks this is an especially important way to ensure that Protective continues to support both remote and in-person employees and the communities they serve.
Does this sound like a place you'd like to work? Protective is hiring.
Sponsored by:
Protective® is a registered trademark of Protective Life Insurance Company.  The Protective trademarks, logos and service marks are property of Protective Life Insurance Company and are protected by copyright, trademark, and/or other proprietary rights and laws. Protective and Protective Life refers to Protective Life Insurance Company, Nashville, TN, and its affiliates, including Protective Life and Annuity Insurance Company, Birmingham, AL.