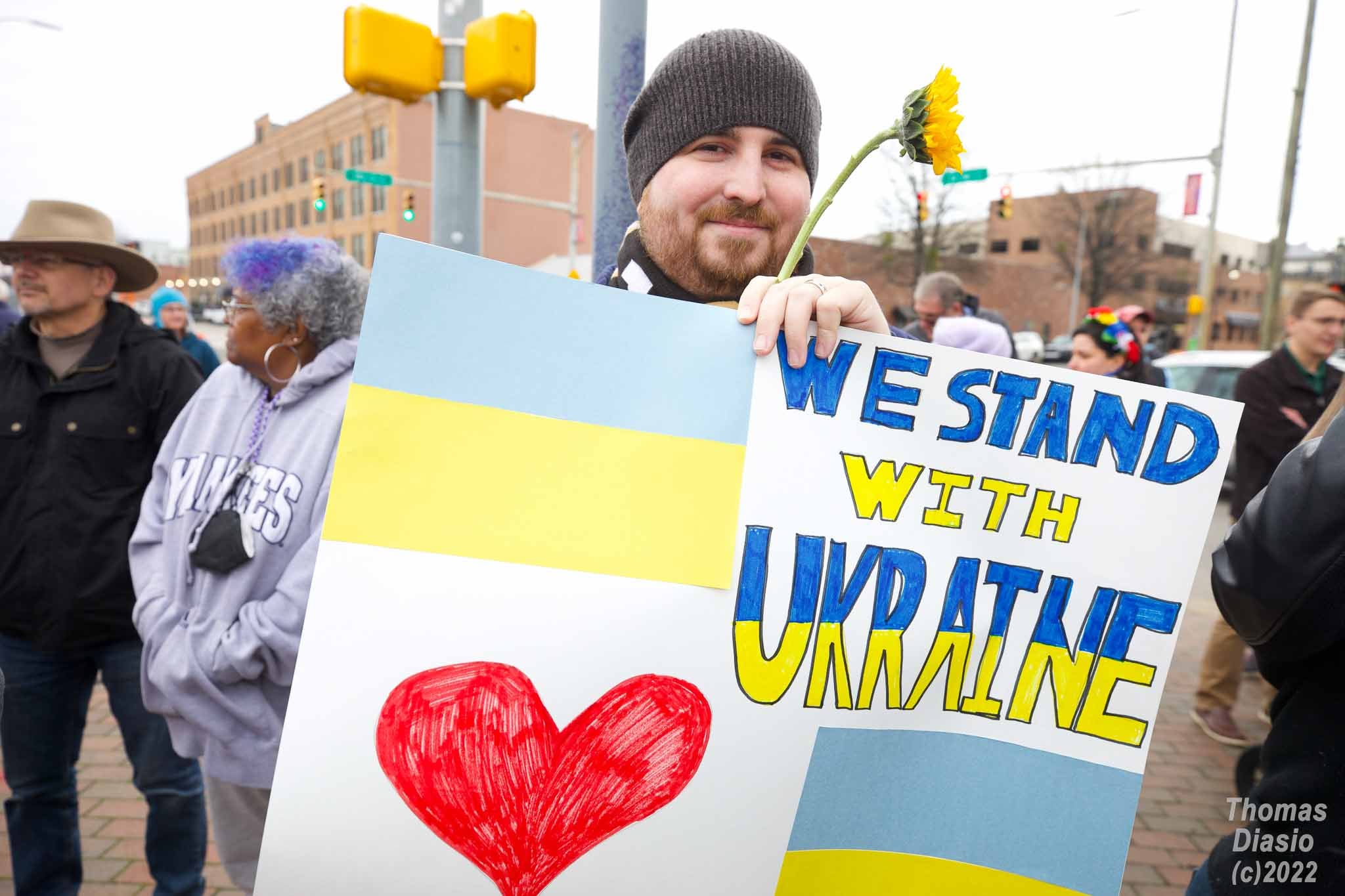 Following the events in Ukraine, Birmingham is showing up in many different ways. Read on to find out about local events, businesses offering support and more ways you can get involved.
Events:
March for Ukraine—Sat. March 12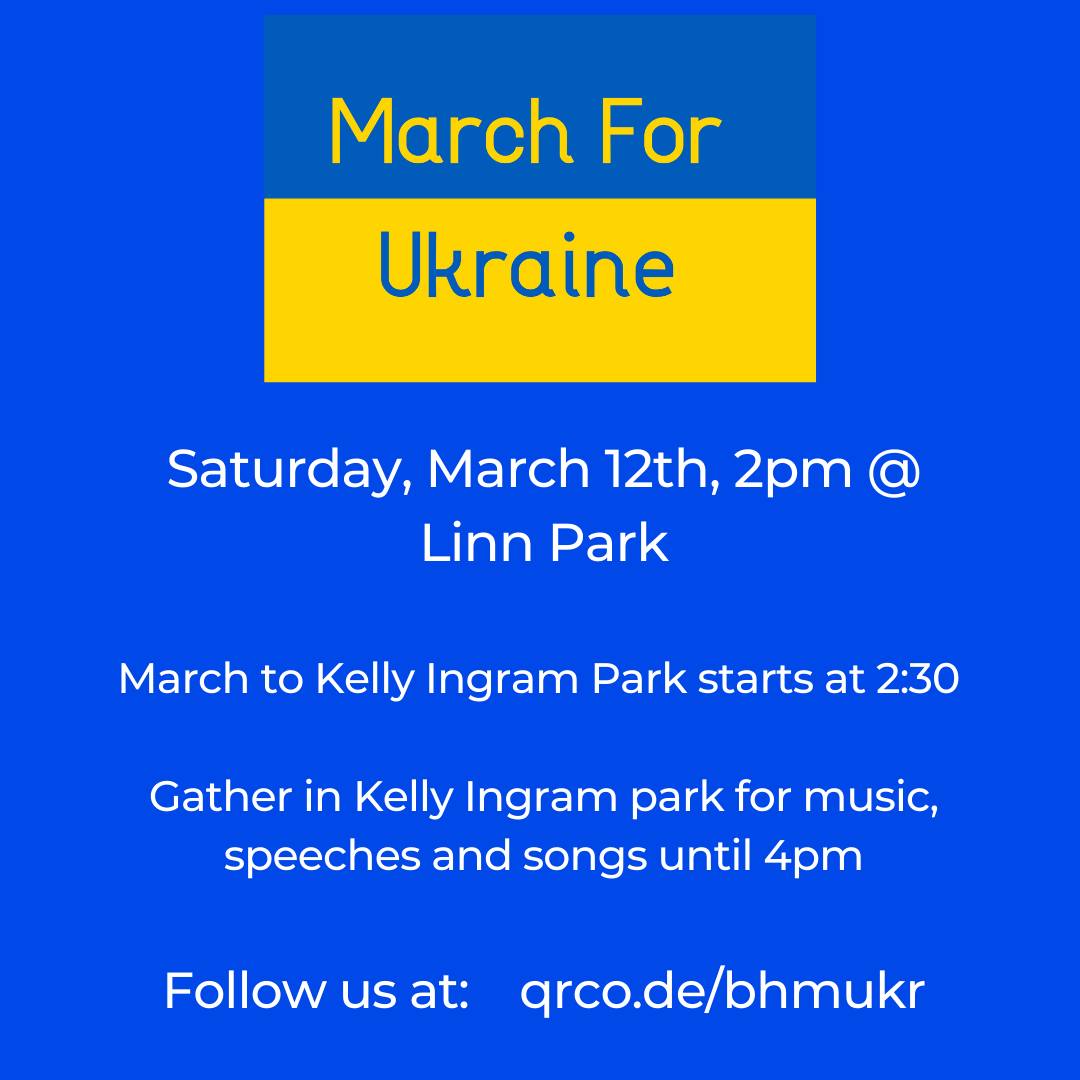 What: A march from Linn Park to Kelly Ingram Park to show support for Ukraine and stand together with people who are protesting around the world. Following the march, speakers will tell stories and talk about their families.
When: Saturday, March 12th | Meet at 2PM, March begins at 2:30PM
Where: Meet at Linn Park by the Alabama floral map
What to bring: Warm clothes!
Support Ukraine Art Show—Sun. March 13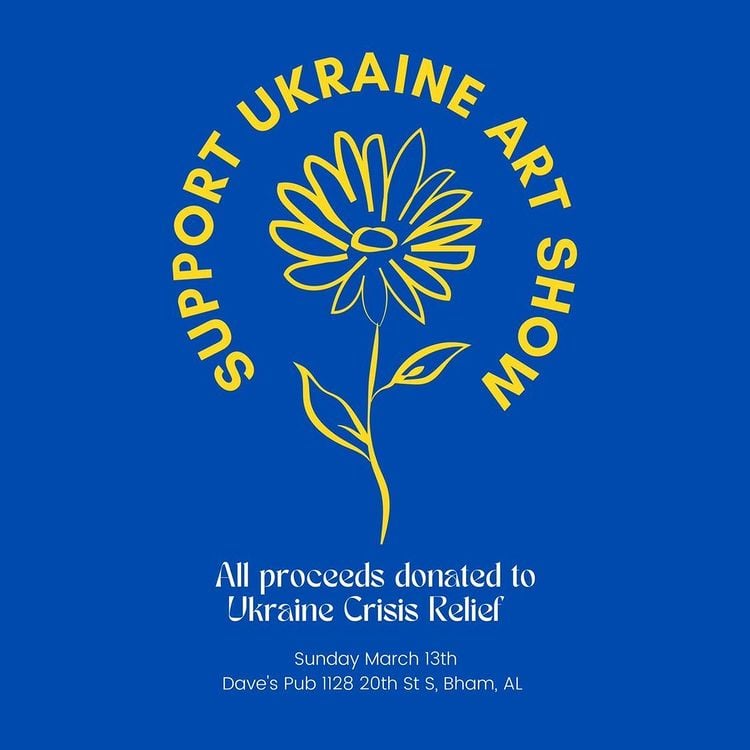 Russia's War on Ukraine Lecture—Thurs. March 24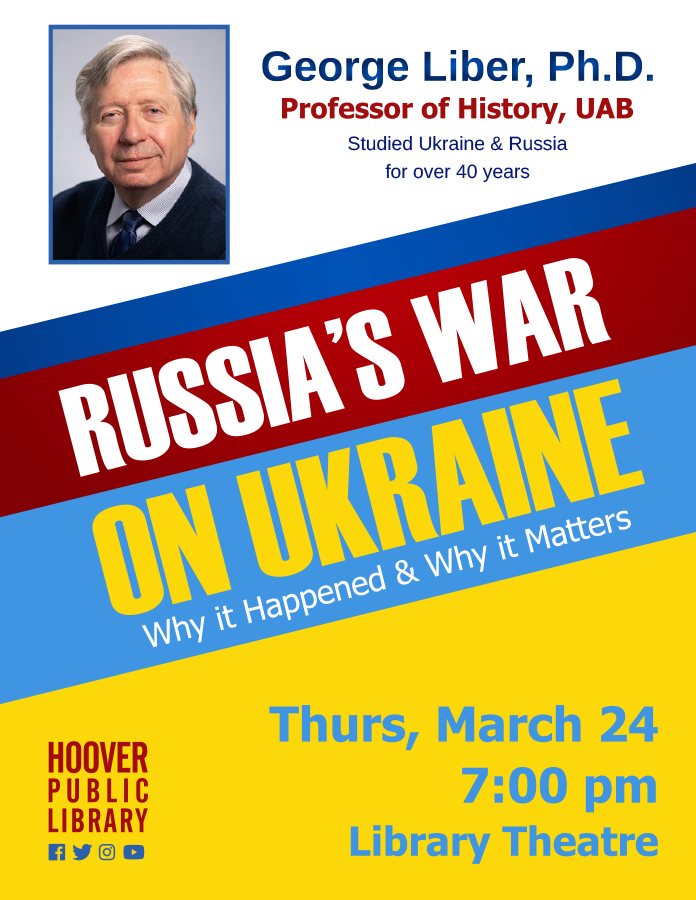 What: A talk from UAB professor Dr. George Liber, Ph.D. who will share his extensive expertise in this topical discussion of Russia's war on Ukraine. Dr. Liber has spent his entire academic career not only studying but travelling in this area of the world, and will share insights he has gained over the last 40 years.
When: Thurs. March 24th | 7PM | Free event, no registration required
Where: Hoover Public Library—Library Theatre
Local businesses to support:
Mountain Brook businesses
Several Mountain Brook businesses have joined together to donate a portion of their proceeds to Ukrainian Refugee Assistance from Fri. March 11-Sat. March 12:
Continental Bakery
Continental Bakery is donating 100% of the proceeds from their Ukrainian flag cookies to organizations assisting those affected in Ukraine.
Location: 1909 Cahaba Rd, Birmingham, AL 35223
Bright Blue Dots Stickers
A portion of the proceeds from sales of all items on the Bright Blue Dot website will go towards supporting independent Ukrainian journalists.
Bright Blue Dot founder Joellyn Beckham recently designed a sunflower blue dot in honor of the Ukrainian national flower. You can purchase the design on a sticker or a t-shirt!
Pepper Place businesses
Several local spots in Pepper Place are joining together on Wednesday, March 16th to raise funds for World Central Kitchen, which is feeding Ukrainians in the war zone and in flight. 100% of proceeds from these businesses will go towards the cause:
Donate:
United Way—#UnitedforUkraine
United Way of Alabama is working with their worldwide partners to support those affected by the violence in Ukraine.
Donations will go towards the United for Ukraine Fund, which will address immediate needs such as transportation, accommodations, food, medicine, hygiene kits and childcare supplies, including infant formula and diapers, as well as the longer-term needs of those fleeing the conflict.
United Way partners are vetted, nonpartisan organizations that are on the ground and providing vital help and hope to those who need it most. Current partners include United Way Romania, United Way Hungary, and Fundacja Dobrych Inicjatyw (Good Initiatives Foundation) in Poland; and additional partners will be identified as the needs shift and become clearer.
The US-Ukraine Foundation
The US-Ukraine Foundation is a valuable resource for news, events, information and donation sites regarding the events in Ukraine.
You can donate funds and even supplies through their site in many different categories:
Coalition for Humanitarian Assistance
Shipping aid to Ukraine
Help Refugees and On-The-Ground Agencies
Help Ukraine Free Press and Media
Help Animals and Pets of Ukraine
Give Funds for Ukraine defense
Birmingham Sister Cities
Birmingham Sister Cities is collecting donations on behalf of Mayor Morhunov of Vinnytsia, Ukraine—Birmingham's Ukrainian sister city that was recently attacked with an airstrike.
Check out more ways locals are showing their support:
What other ways are local people responding to the events Ukraine? Tag us on social @bhamnow and let us know.