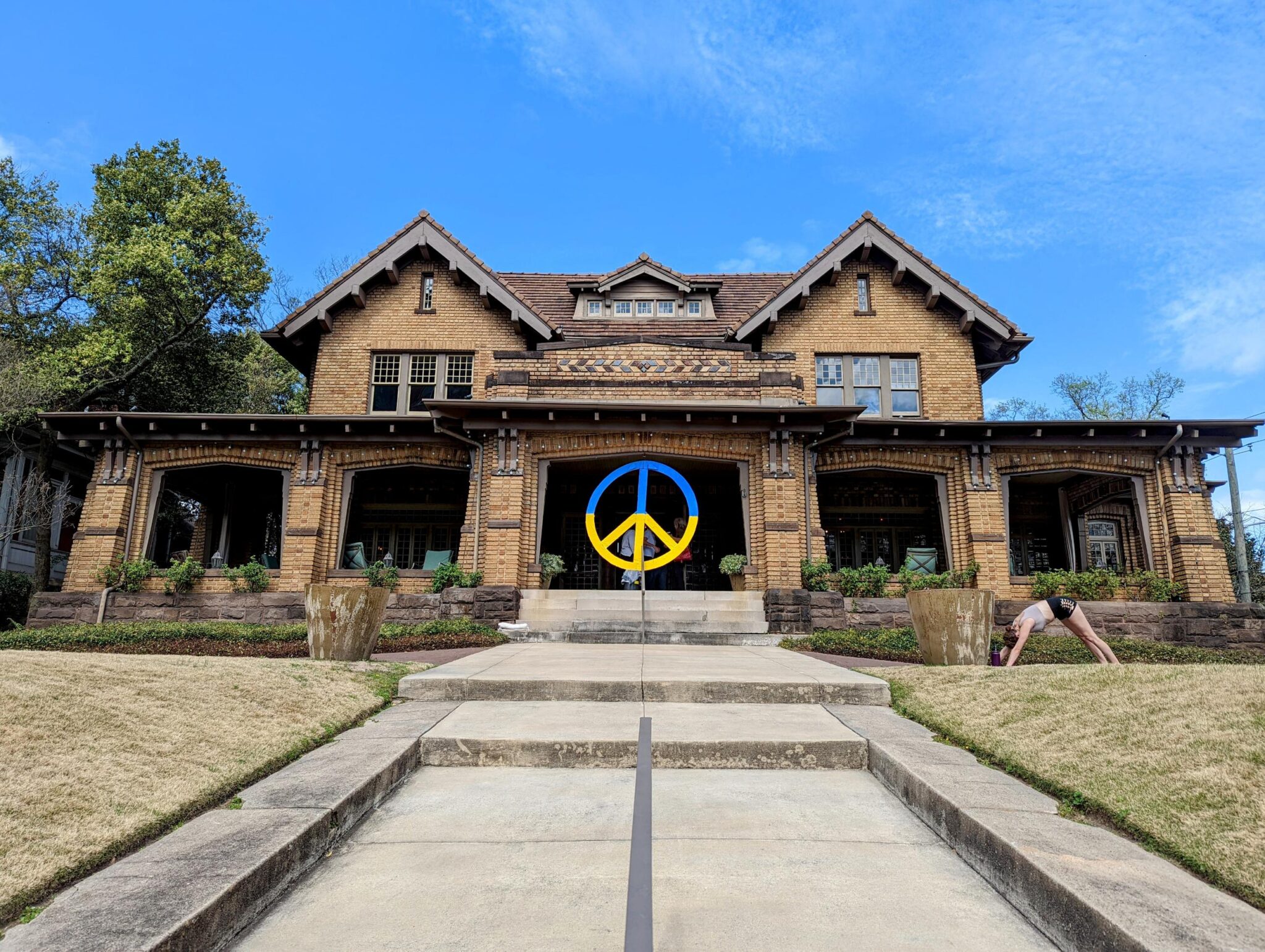 Over the weekend, the international airport in Vinnytsia, Birmingham's Sister City in Ukraine, was hit with an airstrike. In the midst of the devastating events unfolding in Ukraine, Birmingham has been showing up in unique ways to support.
With tragic events of this scale, it can be hard to know how to offer support. It goes without saying that these are not outright solutions to the unimaginable pain Ukraine is experiencing at this time, but kind acts of solidarity from Birmingham locals.
To donate directly to our sister city Vinnytsia, Birmingham Sister Cities is collecting donations online, on behalf of Mayor Morhunov.
1. Merrill Stewart helps displaced families in Ukraine
Merrill Stewart, of local construction company Stewart/Perry, has rented Airbnbs from individual innkeepers in Ukraine. Stewart has joined others around the world who are using the platform as a way to bring funding and safe housing to Ukrainians.
This act of generosity allows these Airbnb hosts to offer their space to families who have been displaced from their homes, free of charge.
Here are some messages of thanks he received from the Ukranian innkeepers:
"Dear Merrill, thank you so much for your support. I really appreciate your help in this difficult time. I am sharing donate this money for people who need help mostly. God bless you."

Liudmyla
"Dear Merrill, I have no words, I am so grateful to you. You are so ready to support us. It's terrible and dangerous right now. But with your help, we will stand and win. In peacetime we will meet you with love and smiles. really appreciate. 💙💛"

Yevhennia
If interested, consider donating to Airbnb.org directly to help refugees in need of housing. 100% of your donation will go toward connecting people in need with short term housing.
2. Bright Blue Dots' Ukraine Sunflower Sticker
Local artist Joellyn Beckham founded Bright Blue Dots as an uplifting political support effort. Now, she designed this blue dot sunflower sticker in honor of Ukraine.
A portion of the proceeds from each purchase will help raise funds to support independent Ukrainian journalists, who are putting their lives on the line to deliver facts to the media.

The sunflower is the national flower of Ukraine and symbolizes motherhood. Recently, it has become a symbol of support used by Ukrainians and their allies in the midst of these terrible events.
To order a sticker and show your support, visit the Bright Blue Dots website. You can also order the design on a t-shirt.
3. Peace sign at Clubhouse on Highland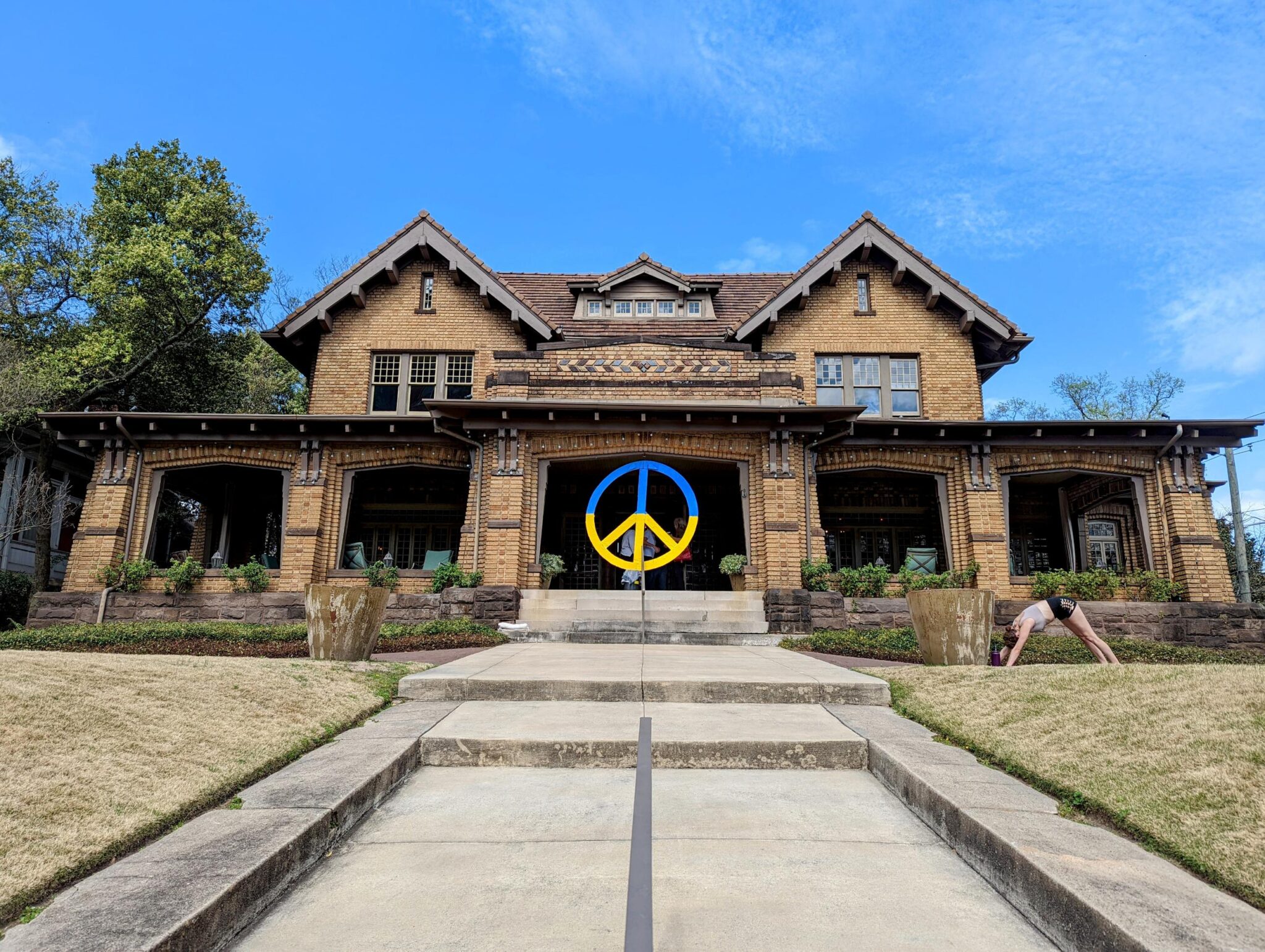 Bob McKenna, office manager of popular wedding + event venue Clubhouse on Highland, crafted a peace sign to display on the property in solidarity with Ukraine.
"I created the Clubhouse on Highland in 2004 as a Center of Love and Consciousness, where we offer lectures and activities to support each person in realizing their full human potential."

Bob McKenna, Office Manager, Clubhouse on Highland
He hand crafted the sign using plywood, three wooden fence slats, yellow duct tape and blue paint that he had in the house.
The sign has more meaning behind it than you may think. McKenna cited the original designer of the peace sign as his reasoning for using the symbol:
"The modern peace sign was designed by Gerald Holtom for the British Campaign for Nuclear Disarmament in 1958. The vertical line in the center represents the flag semaphore signal for the letter D, and the downward lines on either side represent the semaphore signal for the letter N. My heart is broken that our world could even discuss nuclear warfare. One would think that we could have conscious and humanitarian diplomacy in the year 2022. I wish all the best for everyone and every thing."

Bob McKenna, Office Manager, Clubhouse on Highland
Birmingham has more ties to Ukraine than you might expect. Find out more about how locals are responding to the events in Ukraine.
Do you know of a local business that is supporting Ukraine? We want to hear about it. Tag us @bhamnow and let us know.