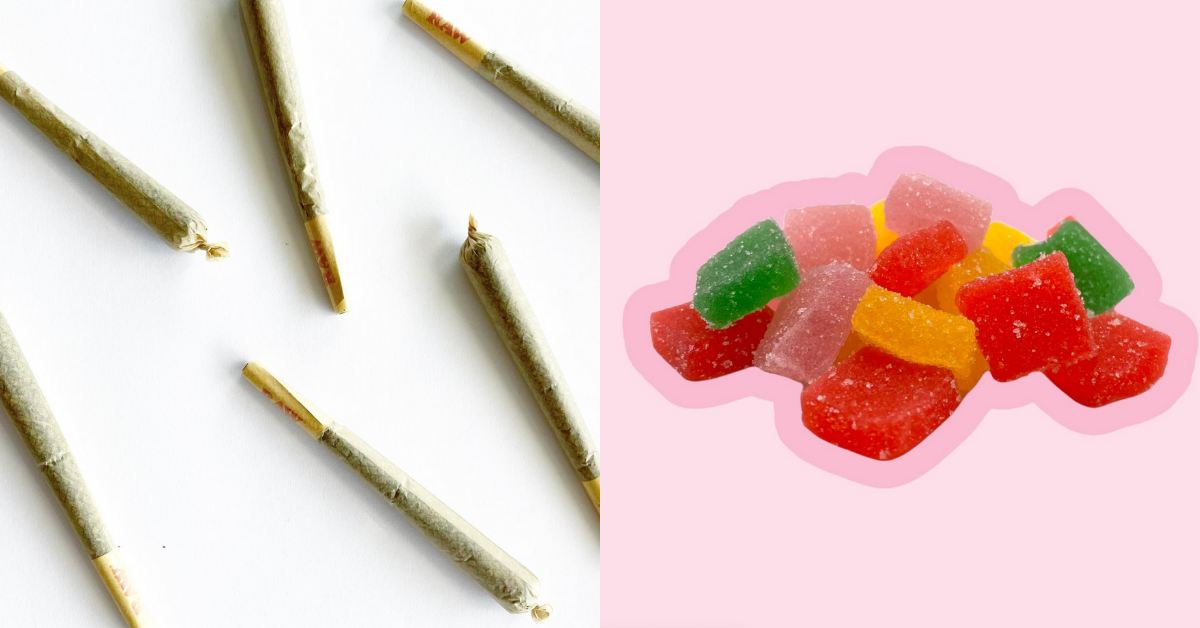 You may have seen Delta-8 advertised around town and wondered what it was all about. Delta-8 is a legal cannabinoid that produces psychoactive effects. Keep reading for a breakdown on what Delta-8 is, where to get it and answers to some commonly asked questions.
What is Delta-8?
Basically, Delta-8 is a chemical compound that's found in cannabis sativa plants. The Farm Bill, signed in 2018, allows for hemp-derived products with less than 0.3% Delta-9 THC (what is conventionally known as cannabis) to be sold. It's legal to use, sell and produce in Alabama.
Delta-8 comes in many different forms and is offered at multiple local sources. Some of the products offered include edibles, oils, tinctures and joints.
It's important to note that unlike CBD, Delta-8 will give you a psychoactive high. Always ask your doctor and the experts at your local shop before starting to get the best advice and products for your needs.
Where is it sold?
Not all vendors sell tested product, but there are lots of credible local shops that are selling Delta-8. According to their websites, the shops on this list have locally grown and thoroughly lab-tested product options. Disclaimer: Must be 21+. Do not use Delta-8 products if you are or may be pregnant or breastfeeding.
Magic City Organics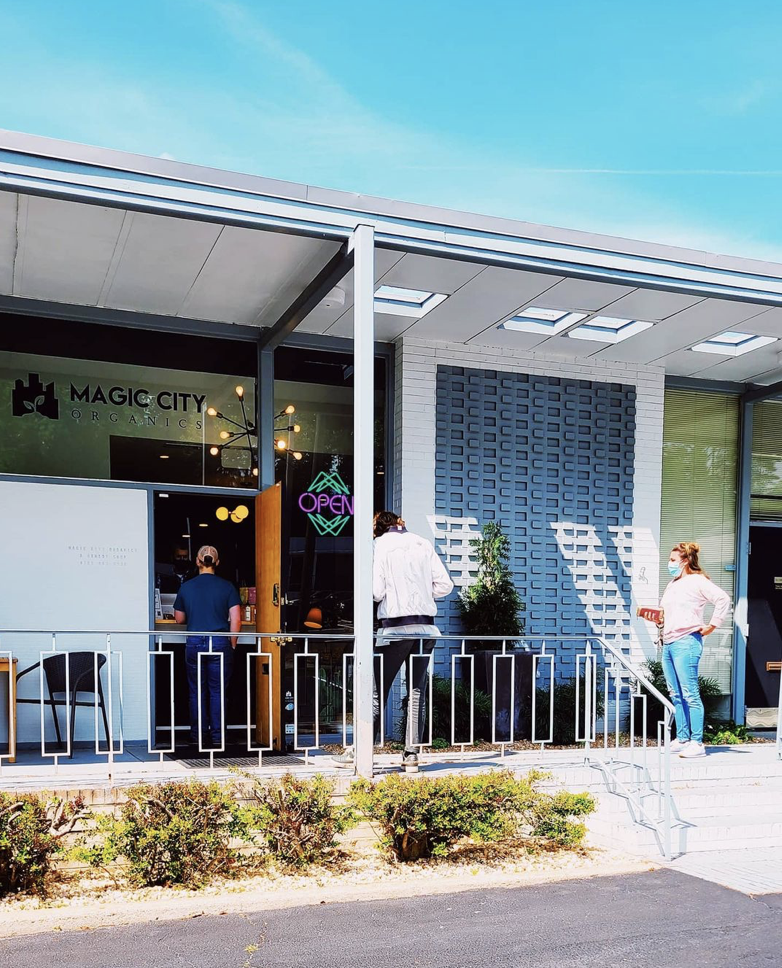 Magic City Organics is a small family-owned business that offers a wide range of locally grown, ethically sourced Delta-8 products. If you're interested, you can schedule a video consultation with one of their staff members to help you find the right product for you.
Near to Me Dispensaries
Near to Me Dispensaries have received positive reviews for their knowledgable staff, and they stock local and regional Delta-8 product. You can also buy locally made glassware at the Birmingham location.
Locations: Birmingham, Hoover
Hours: Mon.-Fri. 10AM-7PM; Sat. 8AM-7PM; Sun. 10AM-7PM
Black Tie Smoke
The owners at Black Tie Smoke have over 40 years of growing experience between them. Their product is organically grown in Oregon and brought to you in local shops.
Baked Brothers Company
Baked Brothers is family-owned and locally founded right here in Bham, and their hemp farm is close by in Tuscaloosa. They pride themselves on affordable prices and quality homemade product.
Location: Shop their full range of products online or check their locator for local in-store options
Iron City CBD
According to their website, the experts at Iron City organics carefully select product that's properly grown and cared for, and derived from personally known providers.
Steel City CBD + Delta 8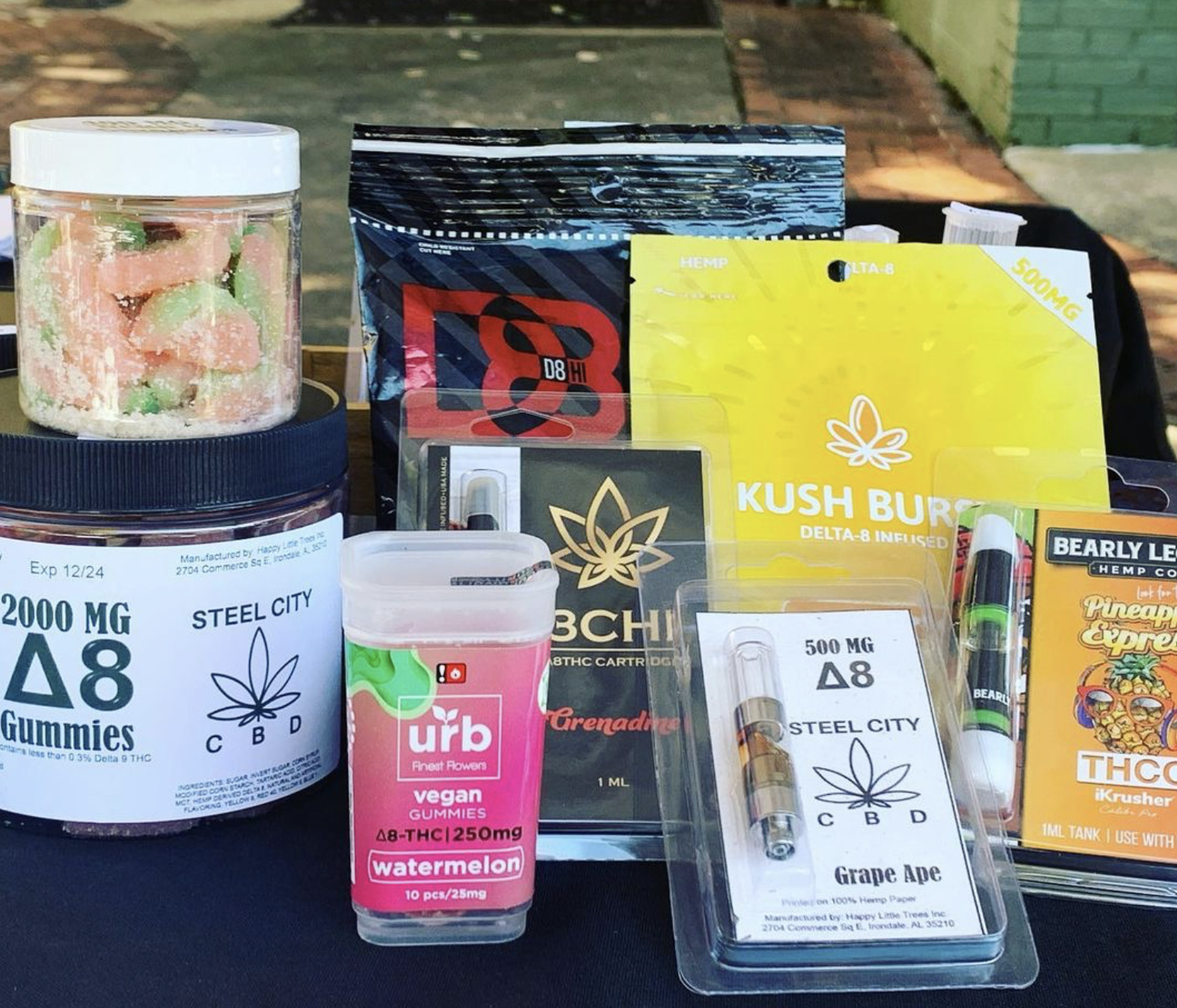 Steel City CBD is a woman-owned business bringing carefully selected products to their shelves. They partner with local farms and businesses in order to create products with ethical backgrounds and assured quality.
Commonly Asked Questions
Where do I start?
If you're interested, reach out to any of the stores listed above for a consultation. They're experts and more than happy to answer any questions you may have and recommend products based on your needs.
Is Delta-8 Legal?
Yes. As previously mentioned, thanks to the Farm Bill, hemp-derived products are legal to produce, sell and consume since they contain less than 0.3% of Delta-9 THC.
Is Delta-8 safe?
While Delta-8 products are not FDA approved, according to the shops included in this article, their products are thoroughly vetted and tested for safe use or consumption. Since they will give you a psychoactive high, side effects such as increased heart rate are expected. Talk to your doctor to discuss side-effects concerns.
What's the difference between Delta-8 and CBD?
Delta-8 and CBD are both cannabinoids derived from the cannabis plant. However, CBD does not give you a psychoactive high. Delta-8 has psychoactive effects, so you will feel high after consumption. Be responsible + do not operate any motor vehicles while using Delta-8.
How old do you have to be to purchase Delta-8?
In Alabama you must be 21 or older to purchase Delta-8 products.
What types of products are offered?
Although it varies from store to store, products offered include:
Flower—part of the plant that can be used in pipes, bongs or joints.
Edibles—beverages, treats, oils and more that you ingest to feel the effects of Delta-8.
Vapes—cartridges and disposable pens that contain Delta-8 concentrate.
Have you tried Delta-8? Tag us @bhamnow and let us know!