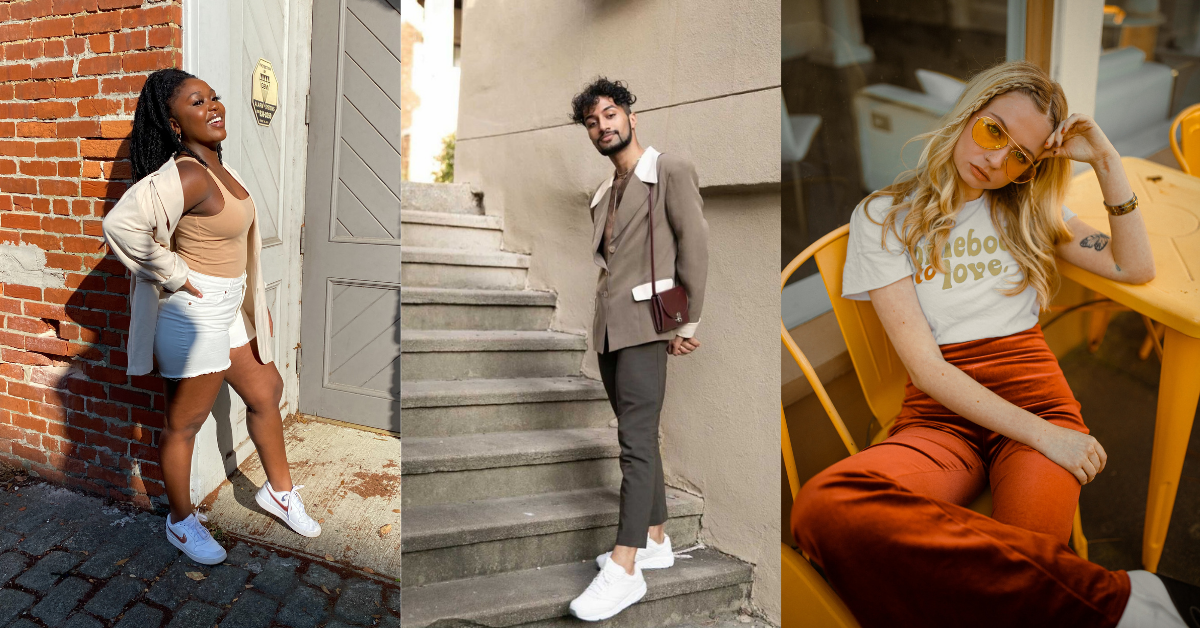 Nothing inspires me more than a new season full of trying different trends, from bold blazers to chunky knits. I'm always looking for fashion inspo from the experts, so I reached out to a few local influencers to get their takes on Birmingham's fall fashion trends. Check out the styles you'll see all season long, plus find out where you can shop them locally.
Ann Kathleen is a style blogger who shares her fashion finds through styled shoots. This year, the biggest trends she's seeing are matching sets, plaid skirts, floral prints with leather accents and bright sweaters.
"It can be difficult in Birmingham to dress appropriately for the weather in autumn, we can have four seasons in one day. Because of this, the local fashion scene for a lot of us is very style meets function. I think this year we will see a lot of layers and people styling/incorporating cute rain boots into their everyday wardrobe."

Ann Kathleen
Want to know where you can shop Ann Kathleen's favorite Birmingham fall fashion trends? She loves basic., a local shop with size-inclusive and sustainable options.
2. Bold, bright colors | 📲 @prashant.yay
Scrolling through Prashant's Instagram account always inspires me to play with color and structure in my own outfits. He loves supporting local shops and designers like basic., xdressin, Sozo Trading Co, The Moody Rabbit Studios and Mamie Jones Jewelry.
"Bold, bright colors are very in this fall and I couldn't be happier! I'm seeing the locals play with pairing summer colors with your traditional fall hues. Knitwear and sequins with some retro flair are definitely going to be a top trend this season in Birmingham. Natural and statement-making fine jewelry pieces are also in trend this season.

It's all the things I love, so I'm very excited to see how Birmingham turns up fall fashion this year! Personally, I really want our local fashion enthusiasts to push boundaries by playing with gender when it comes to their fashion and making a conscious effort to support sustainability."

Prashant
3. Denim jumpsuits & overalls | 📲 @toriwebb
Tori's bold, retro style perfectly matches the warm hues of fall (or at least the few weeks of Fall that we get here in Birmingham). Denim jumpsuits perfectly emulate the groovy vibes that Tori loves, plus you can easily style them with knit sweaters and chunky platform boots.
"The Birmingham fashion scene is so unique. No one is afraid to be themselves and rock a killer outfit. I love seeing people style up-cycled outfits or pieces they made themselves!"

Tori
This Fall, Meagan is seeing blazers styled in different ways, from professional to casual. As a major fan of blazers myself, I'm excited to see them around every corner, styled with dress pants and ripped jeans alike. To find fun pieces, she loves checking out The Brilliant Closet, a local online thriftique.
"I would describe the Birmingham fashion scene as very eclectic. Individual personalities truly shine through with some of the unique styles we get to see."

Meagan, @totallymeagan
The academia aesthetic isn't just for students anymore. Local fashion blogger Christena Melea is seeing a rise in short pleated skirts, white button-downs, sweater vests, cardigan sets and loafers.
"In Birmingham, I see a lot of love for vintage pieces and custom looks these days, which I love because it makes for an unexpected outfit."

Christena
6. Gender-inclusive clothing | 📲 @tylerhatcher
Tyler Hatcher works in marketing and advertising in Birmingham and shares styled shoots with brands like basic. He sees the fashion scene in Birmingham as expansive with the mix of each community influencing the other.
"Most of these things have been around but each of these are finally trickling across Birmingham. I love seeing men rocking pleated skirts, women in oversized blazers and everyone shaking up the implied gender norms that were unnecessarily established long ago. It's been exciting to see what folks are pairing together to 'break the rules'."

Tyler Hatcher
7. Shirt jackets (AKA "shackets") | 📲 @jenesaisquoithe
This Fall, Jeniese predicts the return of the shirt jacket (AKA "shacket")—the perfect blend of coziness and structure. Her favorite local shops to find these trends are Bridge + Root and Molly Green.
"Birmingham is a great mix of classic and edgy fashion."

Jeniese
What fall fashion trends are you seeing in Birmingham? Tag us @BhamNow and let us know!