Now it's more important than ever to support local businesses and makers. While local artists would typically be showcasing their art at the Birmingham Art Crawl right about now, it's postponement has led to new avenues for artists to share their work. We asked five local artists how they've been creating during quarantine. Here's what they've been up to. 
What is the Birmingham Art Crawl?
Founded in 2014, the Birmingham Art Crawl was started to give local artists an avenue to share their work through regular community events. Each month artists were given a physical space in downtown Birmingham to display and share their talents.
Now that social distancing is encouraged and large crowds are avoided, artists must find other avenues for sharing their art, such as social media and word-of-mouth.
Like many small businesses in Birmingham, local artists and makers have been affected by COVID-19. We want to shine a light on some of the Birmingham Art Crawl artists for a little extra TLC. Let's meet some of them!
1. Yogi Dada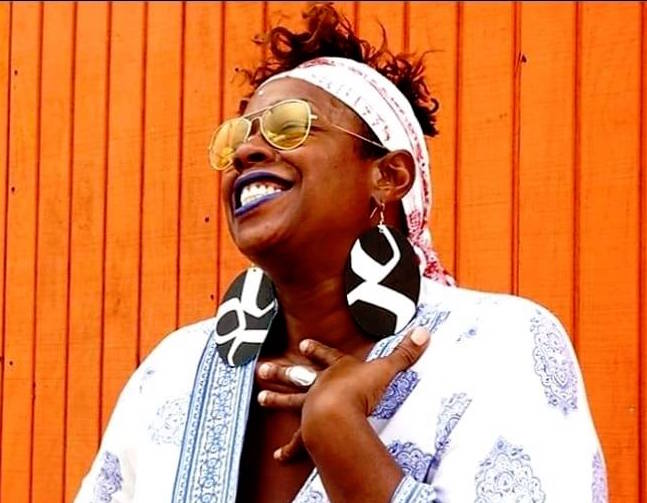 About: You may remember seeing this name in our previous guide to black-owned retail shops and creative services. Yogi Dada paints, makes jewelry and is a performing artist—or what I'd like to call a BOSS.
"I am an artist who creates beautiful things for humans. I believe in the philosophy of Dadaism, 'art is truly whatever you believe it is."

Yogi Dada
Like many of us, quarantine has been challenging for Yogi Dada. She's taken time to enjoy nature and reflect on what she was purposed to do from childhood—create. Self-isolation has allowed her to grow and acknowledge the duality of frailty and strength within her. We're all human so we should give ourselves room to operate as one.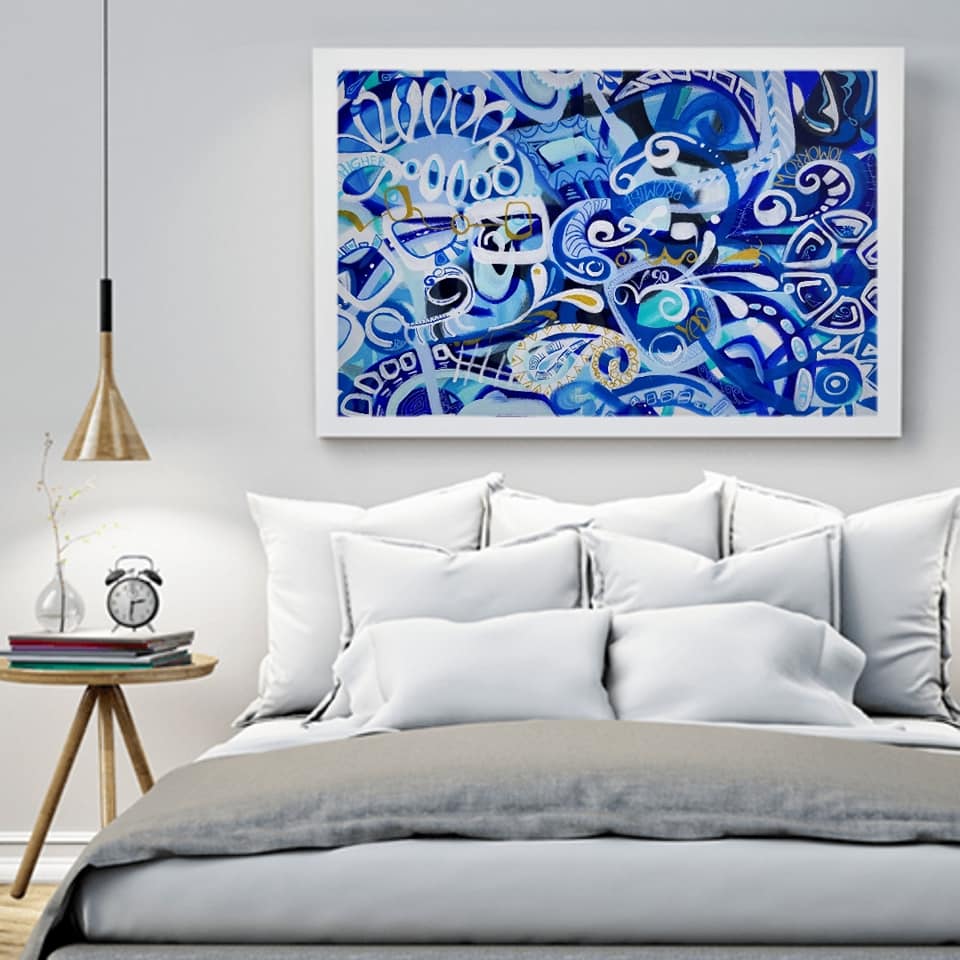 "I have had several creations that have brought me joy during [quarantine], one of them being my garden. Every human ought to grow something. I also have my first Yogi Dada fabric print from my "Go Back to Africa" canvas series. The fabric is so beautiful and bright I decided to have it mounted on canvas stretchers. Lastly, I truly enjoyed creating 12 hand-painted face masks for a personal friend and his family. He's a white brother who wanted to support my artwork and show solidarity during heightened racial tensions. He requested African symbols, or whatever I was feeling, to introduce racial acceptance and unity to his family. That warmed my soul."
2. Micah McKenzie
About: Micah is a visual artist and aspiring performance artist. As a recent grad from UAB, her art is greatly inspired by the African religion, African Disapora and culture. Using whatever medium best conveys the story she's telling (oil paint, tile, digital photography, etc.), there is no limit to her creations.
"Growing up I learned how to take my insecurities and dispel them by reimagining who I was and painting what I wanted to be. All I wanted was to be strong and confident so that's what I began to paint as a way to heal myself. I still use art as a healing mechanism, but I also make art to help other people as well."

Micah Althea McKenzie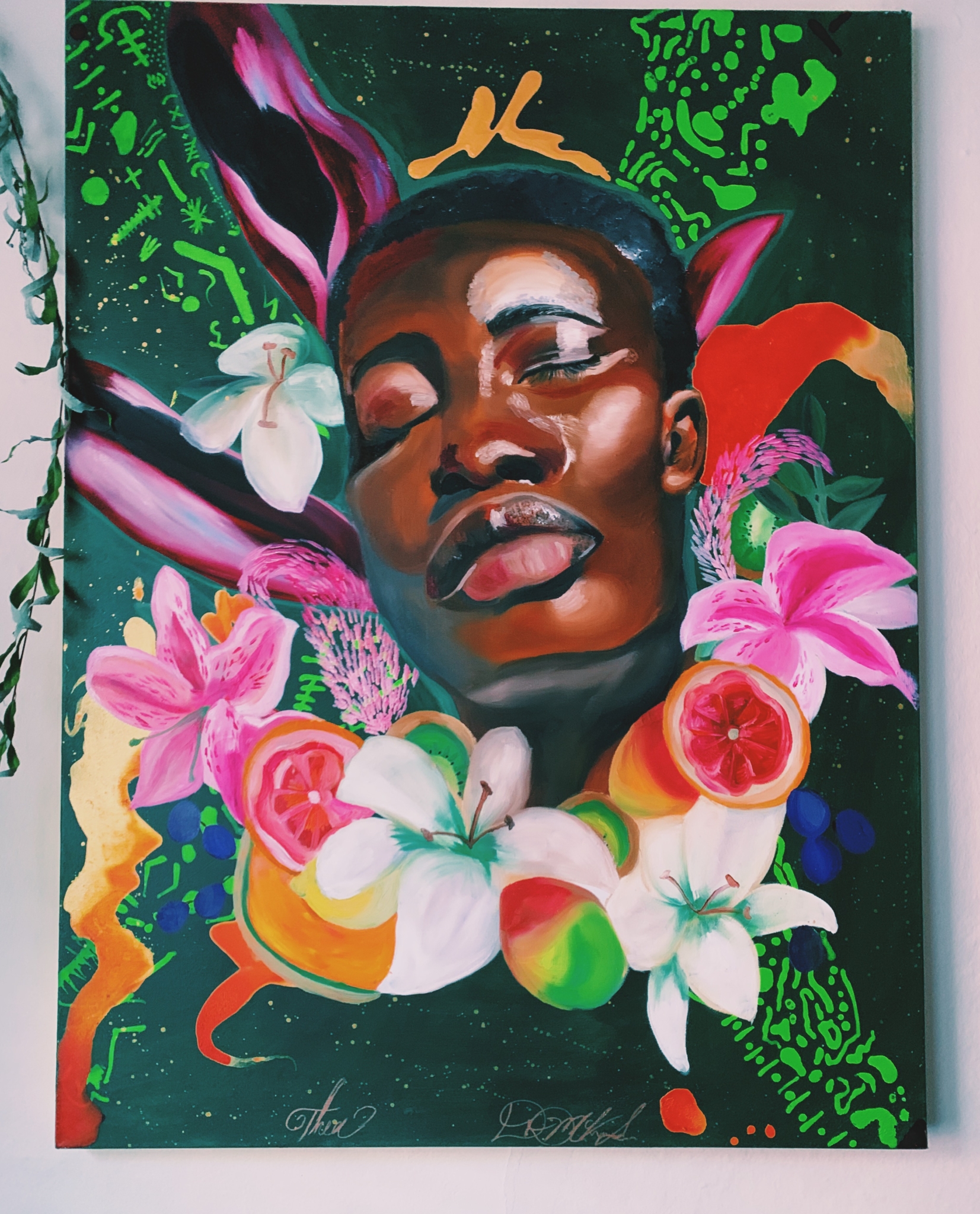 Micah pulls inspiration from Frida Kahlo's vulnerability and strength as a female artist as well as her husband who is a fellow artist. Being around his creative energy helps keep her motivated and inspired.
For Micah, staying inspired during a time of self-quarantine, global pandemic, and unjust killings of people of color has been difficult. I couldn't agree more. However, she's using this time to be in tune with her emotions all while transforming them into art.
"I've definitely learned about myself in this time that it's very important for me and my art practice to stay spiritually connected to the earth. I've also been trying my hardest to preserve a childlike spirit. We honestly can learn so much from children. Imagine what the world would be if we all embraced the curiosity, fearlessness, imagination and love that we once had as children."
3. Bryson Thurston
About: First of all, I'd like to note that Bryson's bio sounds like a scene out of a dreamy A24, coming-of-age movie. This Birmingham artist was born out west where he lived in the desert until his family moved to The Magic City. After getting kicked out of art class in high school, Bryson took a bit of a hiatus but now he's back as a full-time artist and even has a book on the way.
"I remember being enamored by the beauty of the forest and fireflies, it was just so different and magical. Nature is one of my biggest inspirations when it comes to my art, climbing magnolia trees as a child is still one of my favorite memories to this day."

Bryson Thurston
Bryson pulls inspiration from his exploration of different music genres. Since he was young, he has experienced synesthesia where one sensory experience activated another sense involuntarily. An example would be the hearing of colors. Dope, right?!
During quarantine, the current world events have fueled his passion for art. Although unconventional, this year helped him realize his potential to heal others through art. At the end of the day, we're all in the same boat and our differences are what make us beautiful.
"For me it's all about planting seeds of love and hope with my art, bridging the generational gap by reaching out to the inner child in everyone, and just having fun, a lot of healing can be had when we have fun"
4. Canne Holladay
About: While working on her Master of Visual Arts Education at UAB, Canne creates amazing ceramics that serve as a source of interest and beauty. With every piece, she takes into consideration living spaces and communities she's involved with. Her designs are meant to feel familiar yet ambiguous.
Over the past few months, Canne has been finding inspiration in unique places. Although it doesn't always show in her work, she's inspired by the resiliency of plants, the empowerment of tools and passageways being used as movement through time.
When she's not busy creating, Canne volunteers at Camp Winnataska where she's been helping develop a "Sustainability" area on the campgrounds.
"I (with lots of help) have planted a vegetable garden that we hope our campers could enjoy and learn from. The garden is only one aspect of the whole space, including animals and rainwater collection. So, I'm really proud of that project. I wouldn't surprise myself if I drew a few tomatoes and raised beds on some upcoming work."
5. Sarah Conklin
About: Ever since her mom taught her too sew, Sarah has always had her hands in some kind of art. After discovering printmaking in college, she combined her love for sewing and printmaking to help create Green Pea Press at Lowe Mill where she started screen printing original designs. You could consider her a master at creating beautiful, functional textiles.
 "I find my inspiration for my prints from objects I see as I go about my everyday, by going outside, traveling, looking at books or magazines and of course the internet is a never-ending source of inspiration. I look for the beauty in everything I see. A large amount of my inspiration comes from nature."

Sarah Conklin
During these—dare I say—uncertain times, Sarah finds inspiration in nature. One good thing quarantine has given us is the opportunity to slow down and enjoy some much-needed time outdoors.
"I am not a fan of uncertainty and worry. It is super hard not knowing when this will all end and how. And the worry really is hard to push away. I have found that by keep up with my yoga and my spiritual practice (which consists of journaling, pulling from my tarot/oracle deck, mixed with meditation and breathwork). This all helps keep some of this at bay."
Sarah's been using quarantine to experiment a bit with natural dyes, new block prints and a traditional Korean patchwork method known as Pojagi.
She's also been taking time to give back to the community. Artists are having a hard time right now since many of their shows have been canceled. Since we can't meet in person, Sarah's been showcasing her art on Etsy. Some of the proceeds are donated to the North Alabama Food Bank as well as TKO Society Inc.
Who are some of your favorite local artists? Let us know on social @bhamnow.