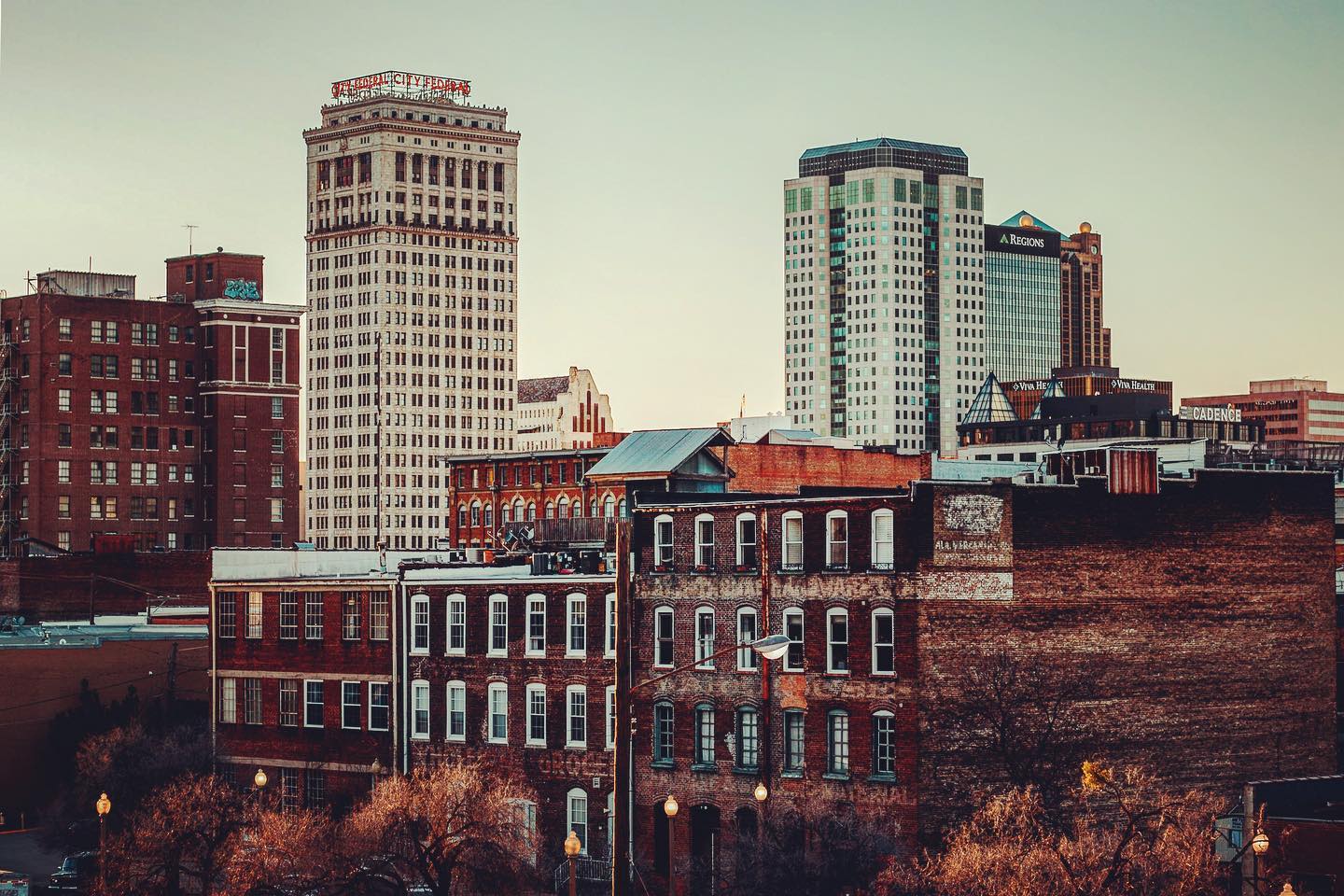 The arrival of COVID-19 brought global implications that will continue for years to come. Short term, there's no denying that our local businesses and economy have gotten hit hard. Long term, though—could there be positive effects on Birmingham's growth? We did some digging. Check it out!
In case you need a refresher on Birmingham's recent growth:
We interviewed Fred McCallum, Interim President and Chief Executive Officer of the Birmingham Business Alliance (BBA) to get his input on the potential that Birmingham has to grow.
"We know anecdotally that there are a lot of folks, particularly younger folks, who are looking to move out of the larger cities.

There's a lot of talent that's looking to move out of the Bostons and the San Franciscos of the world… We know that's happening."

Fred McCallum, Interim President, Birmingham Business Alliance
Here are 5 things we know about Birmingham's growth + potential already:
1. The Birmingham Metro currently has a population of 1.1 million, according to the City of Birmingham.
2. According to the World Population Review, the Birmingham metro has been growing by about 0.20% per year over the last decade.
3. This New York company used data from the U.S. Bureau of Economic Analysis to rank the top 15 best-paying metros for millennials. Guess who made the list at #10? You guessed it—Birmingham.
4. Glassdoor, the 3rd largest job site in the United States, put together their list of the 25 best cities for jobs in 2020. Out of those 25, Birmingham came in at #8.
5. Ever heard of Forbes? This century-old global business authority named Birmingham one of the top job markets for the 1st quarter of 2020, above Nashville, Atlanta and New Orleans.
Alright, so what's this about COVID-19 bringing potential growth?
We know it may sound a little counterintuitive, but stick with us. The worldwide shift to working from home brought with it a surge in loungewear sales and hilarious memes about what we really all look like behind the zoom call.
Throughout these (did anyone ever come up with an alternative for "unprecedented times"?), companies have been figuring it out as they go along. In mid-May, huge companies like Twitter and Square announced that their employees will have the option to work from home for, well, forever.
Gartner, Inc., the world's leading research and advisory company, surveyed 317 CFOs and Finance leaders in March. They found that 74% intend to permanently shift some employees to working remotely.
To recap: massive companies all over the country are allowing employees to trade in their suits for sweatpants for as long as they so please. What does that have to do with Birmingham? I'm glad you asked.
Could Birmingham see a surge in transplants in coming years?
This was our question, too. Other mid-sized metros like Charlotte, NC have speculated that residents of larger urban areas might be looking at relocation options where they can enjoy the perks of a city while staying on the socially distant side.
"The qualities that make big cities attractive for urban dwellers also make them coronavirus hotspots: Widely used public transportation, crowded restaurants and clubs, big music festivals, shared places such as laundromats and apartment buildings."

Katie Peralta, Charlotte Agenda
Birmingham's attractive attributes paired with its size and population could make it stand out to remote workers and corporations looking to make the move from our nation's biggest metropolitans.
Of course, in addition to the remote workers and corporations, there are also millions of currently and recently unemployed Americans. The latest reports say the unemployment rate could hit 20% in coming months.
As I mentioned earlier, Birmingham has been consistently ranked by business authorities as one of the top job markets in the nation. Of course, that was before the world turned upside down—but don't worry, it's not all bad news. Preliminary data from the Birmingham Business Alliance showed that while COVID-19's impact is dire, the outlook isn't as bleak as some metros.
Let's talk about tech, baby…
Birmingham has gained national attention for our growing tech scene. In 2019, MarketWatch named us one of America's new tech hot spots. Birmingham has everything it needs to continue to grow as a tech hub, from an active startup community to venture capital and investment funds looking for the next big thing.
Silicon Valley in the Bay Area of California is what pretty much everyone thinks of when they think hear "tech hotspot." This survey from the Bay Area Council interviewed the region's largest companies and found the following:
Almost a fifth are planning to transition to full remote work policies
89% are planning at least partial remote work policies
That's a whole lot of tech talent working from home in very pricey apartments. Marketplace, a nonprofit news organization focused on raising the economic intelligence of the country, took note.
"The tech industry's embrace of remote work during the pandemic raises a question: If everyone is working from home, does that home still need to be in a super-expensive tech hub?"

Meghan Carino, Marketplace
"The cost of livin's high and going up."
Sure, it's a cheesy country song, but it's also true. Nerdwallet currently boasts the most highly-regarded cost of living calculator on the internet. Let's look at how Birmingham's cost of living stacks up against some of our larger cities:
57% lower than San Francisco, CA
29% lower than Chicago, IL
66% lower than Manhattan, NY
22% lower than Dallas, TX
42% lower than Los Angeles, CA
24% lower than Denver, CO
43% lower than Boston, MA
46% lower than Seattle, WA
If you can work from anywhere, but spend the same amount on a house in Birmingham or a studio apartment in California… Seems like an easy choice for me.
We hopped on a phone call with Peter Vogt, a tech CEO who moved his company from Silicon Valley to Birmingham in 2019 following an investment from the Alabama Futures Fund. As someone who's made the move already, he had a unique perspective:
" I think this reinforces the point of what we were attracted to. With all these people trying to rebuild Birmingham—do you really need to build your company in San Francisco? The answer is probably not."

Peter Vogt, Founder + CEO, Prepaid2Cash
What about the people who are already here?
Recruiting remote workers and smaller companies is certainly something that could contribute to Birmingham's growth. However, it's not the only positive trend we could expect.
Peter also discussed implications for people who are already Birmingham residents. More and more doors are opening for tech talent and remote workers in general. The days of having to move to California or New York for big job opportunities are diminishing.
"Where you once thought, 'Ok, we have to attract companies to Birmingham so that Birmingham people who are talented can get jobs here,'

That's maybe not the case now. People who are talented in Birmingham can work for Facebook and Google now… I think it creates, actually, more opportunity for smaller cities."

Peter Vogt, Founder + CEO, Prepaid2Cash
This is another area in which Peter has expertise. His company hired Birmingham tech talent after their move to the Magic City.
So what else does Birmingham have to offer?
Look, if you're reading this article, there's probably a good chance you already know all of the incredible qualities Birmingham has to offer, in addition to our relatively low cost of living. The food, the people, the things to do, the culture, the outdoor activities, the proximity to the beach and the mountains… the list goes on and on.
Birmingham has aspects that are attractive to everyone from postgrads to families and everything in-between. Fred McCallum, Interim President and Chief Executive Officer of the Birmingham Business Alliance (BBA), weighed in on this.
"We've been focusing on talent attraction for some time now and understanding what people are looking for. There are a few things we've found that folks want to see…
Here's what he listed:
Jobs
Cost of living
Healthcare
Good quality of life
A strong educational system, especially if they have children
All of these, frankly, are strengths of ours in the Birmingham area.

Fred McCallum, Interim President, Birmingham Business Alliance
We agree, Fred. You can read more here from the BBA about why Birmingham is truly the place to be.
Wrapping up here—what does this all mean for Birmingham?
The short answer is this: no one really knows yet. There's data suggesting migration from bigger cities to mid-sized metros, and Birmingham certainly is an attractive option for a number of reasons.
"There are a lot of people that care about trying to develop small businesses, and that are trying to support small businesses.

We're a hungry community. We want to grow small businesses, entrepreneurs, startups. We're hungry for that."

Fred McCallum, Interim President, Birmingham Business Alliance
Organizations like Birmingham Bound, REV Birmingham, Alabama Launchpad and many more have been doing this work for a long time now. It's no secret our town brings people in from far and wide.
We know Birmingham is ready to take on whatever the next days, weeks, and years will bring. This community has faced the hardest of times and never faltered, and we're excited to see what's up next for our favorite Magic City.
How can you help in the meantime?
When this all kicked off, it became apparent quite quickly that Birmingham small businesses were going to need the support of their community to survive. As a small Birmingham business ourselves, Bham Now wanted to open our platform so that local entities could share their info for free.
Small biz + nonprofits still need our support! Check out our directories by clicking the links below and get all the info on where to shop, eat, visit, donate and a whole lot more, all while supporting local.
If you're a Birmingham business owner, add your info here to be featured for free.
As always, stay tuned to Bham Now for the latest and greatest in Birmingham news.