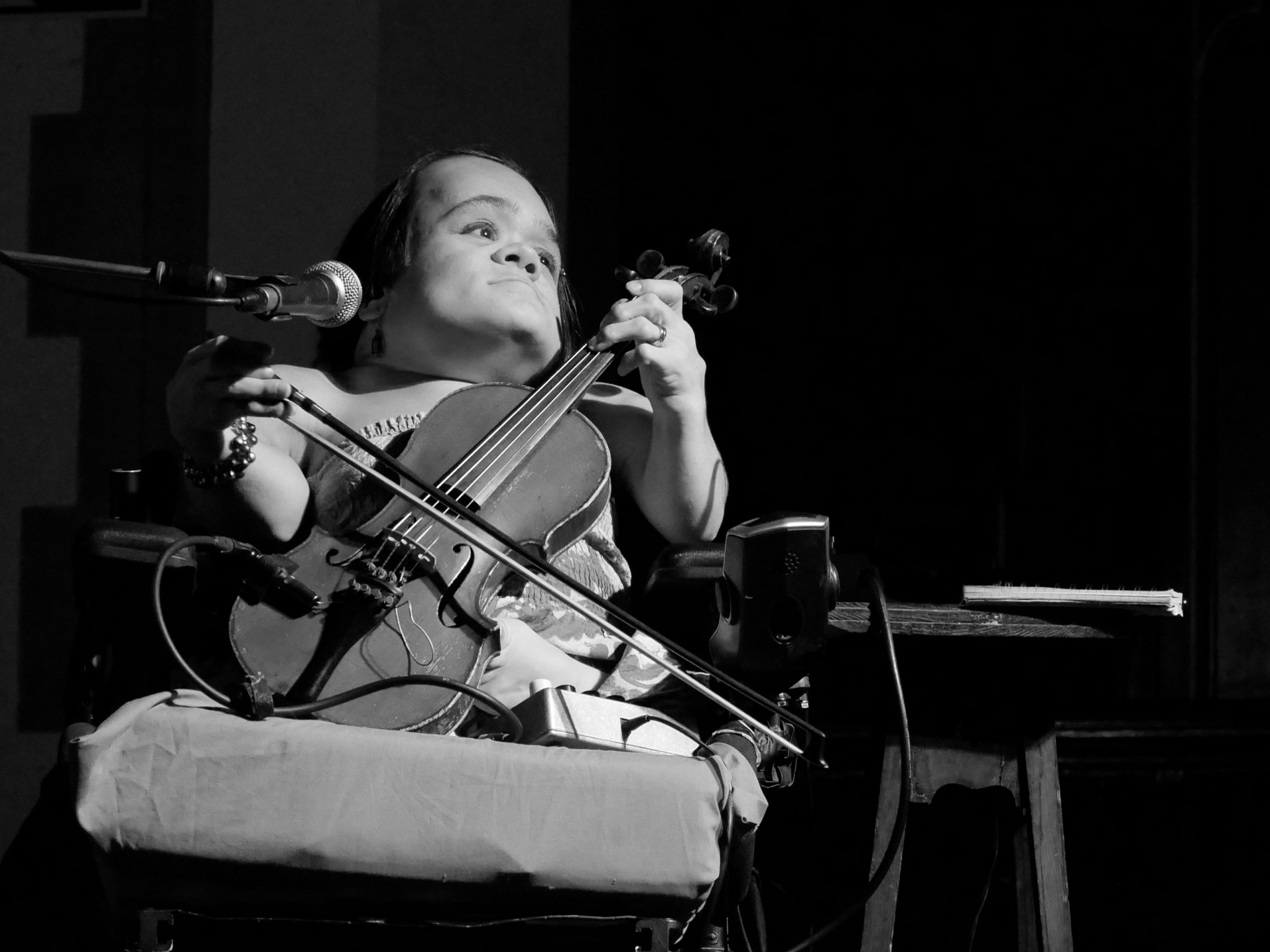 In 2016, NPR held its annual Tiny Desk Contest, as part of their popular Tiny Desk Concert series, which has been viewed on You Tube more than 2 billion times, and has millions of loyal followers on radio. Out of more than 6000 contest video entries from all over the world, a jury of high profiled musicians came back with one unanimous winner – Gaelynn Lea.
See Gaelynn's award winning Tiny Desk Contest video:
For the first time ever in Birmingham, NPR Tiny Desk Contest winner and Disability Rights advocate Gaelynn Lea will be performing on Friday, February 8th, 7:00PM at the Alys Stephens Center.
Tickets are on sale to the public – HERE.
The concert is part of the 2nd Social Spotlight Festival held by the UAB  Office of Service Learning and Undergraduate Research.
Be inspired: Gaelynn Lea's story
Lea, a professional musician and public speaker  was born with a disability called Osteogenesis Imperfecta, Brittle Bones Disease. At birth, her arms and legs were bent at 90 degree angles because they all broke and healed before she was born. She has used a wheelchair since she was two-and-a-half.  At 9 years old, Lea saw an orchestra performed at her school. At that moment, she fell in love with the sound of the strings. When she decided to play, a creative 5th grade orchestra teacher helped her adapt and find a way for her to play the violin. As you can see on her videos, instead of playing the violin on her shoulder like it's usually done, Lea plays the violin upright like a cello. She has been playing like that for 25 years.
Over the years Lea has written her own songs and taught violin to students from ages 6-65.
Encouraged by students and a friend to enter NPR Music's Tiny Desk Contest, she submitted a video of an original song called "Someday We'll Linger in the Sun". After  a month went by NPR Music had selected her song as the winner.
After the NPR Tiny Desk Contest, Lea began to travel with her husband and speak about disability rights, arts, and activism all around the country. Since the Tiny Desk Contest she has played over 425 shows in 43 states and seven countries.
Q&A about the Festival, disability rights and Birmingham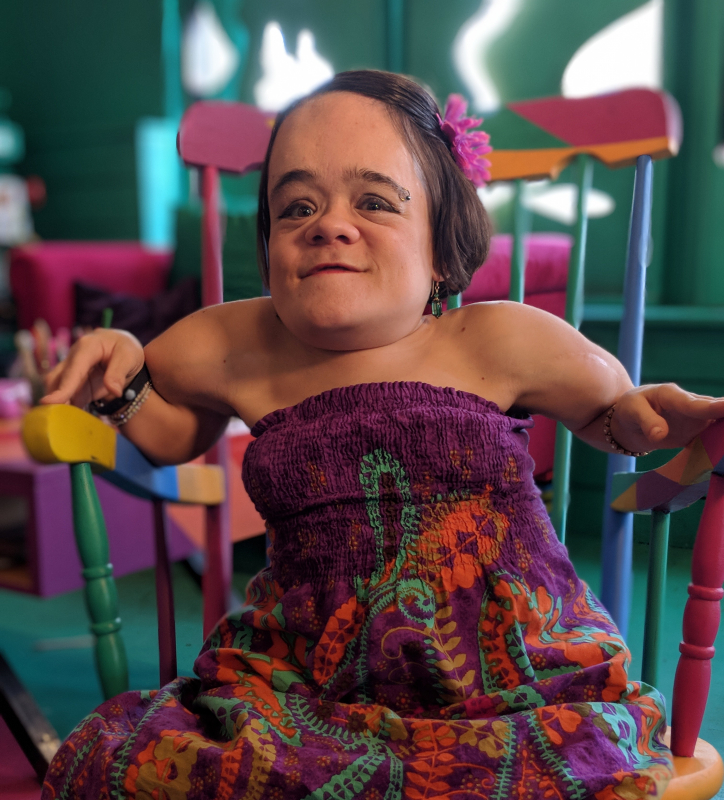 Thanks to UAB, Gaelynn Lea was able to answer some questions about her upcoming concert and visit to Birmingham. Here are her responses:
How did you get involved with the UAB Social Spotlight Festival?
I got involved with the UAB Social Spotlight Festival when Gareth Jones, the Assistant Director for Service Learning and Undergraduate Research at UAB, reached out to me several months back. The theme of the year for the Social Spotlight is Disability Rights, and he thought it would be fitting to have me perform both on campus and in the community. I am really passionate about making the arts and education accessible to all, so I am honored to be performing as a part of this Festival.
What inspires you the most and why?
Spirituality is extremely important to me, so reading books by those who have chosen to share their insights with the world really inspires me and challenges me to continually improve. I also believe in life after death and thus I think what we do has repercussions now, later and into eternity. This fills my days with a sense of purpose and also gives me hope that kindness and love still matter, even if we don't get to see the results of our actions.
I am also inspired by people who fight for human rights whilst holding nonviolence as a guiding principle. There are some amazing advocates in the world today… I am particularly inspired by the creativity, determination and resilience of the disability rights activists who are currently fighting cuts to healthcare and other services.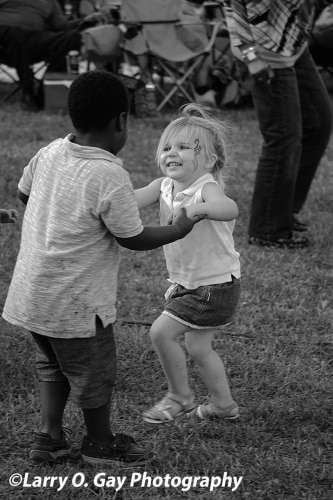 And last, I am very inspired by the next generation. I often perform at elementary schools and many times I have been blown away at the sensitivity, thoughtfulness and kindness displayed by the students. As adults I think we hear lots of negative messages about "kids today"… But in my experience, the children I'm meeting in schools are very self-aware and open to new ideas, which means there is a ton of potential within them to grow up to be kind, conscientiousness, and creative adults.
But the children of today also have a lot negative energy to digest in this news-centered, fast-paced world.  That's why it's so important to me to be an honest, genuine, and optimistic role model when I am performing for kids. I want them to remember that it's ok to be scared and vulnerable, and also that there is joy and beauty around us all the time if we will only look for it.
What are you planning to accomplish while here in Birmingham?
These shows will be my first-ever concerts in Birmingham, so I am very excited to see the city! I hope to connect with other disability advocates in the community and also with my audiences. I love meeting new people and learning about what amazing work they are doing in their communities, and I'm sure Birmingham will not disappoint.
I hope my performances in Birmingham remind people about the importance of diversity and inclusion in event planning and also what's possible in disability culture. It is so important that we include disability in our thinking of diversity. Rather than pity or fear it, we should celebrate it in our culture. Although the disability community already embraces this concept of Disability Pride, much of mainstream society continues to cling to outdated modes of thinking about physical, mental, and behavioral difference. The arts are a great place to move society forward in this way, by connecting with people's emotions, dreams, and appreciation of beauty to change hearts and minds.
What is the Social Spotlight Festival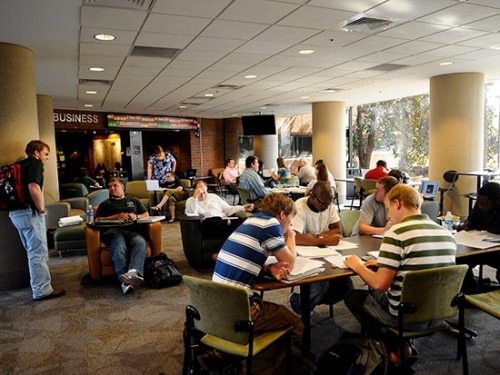 The concert is part of UAB's 2nd Social Spotlight Festival held by the UAB  Office of Service Learning and Undergraduate Research. The Social Spotlight provides a space for students, faculty and staff, and community members to experience events that promote discussions about important social justice issues surrounding their community.
"When our office decided to focus on disability rights for the festival we immediately thought of Gaelynn Lea," said Gareth Jones, assistant director for UAB's Office of Service Learning and Undergraduate Research.

"In addition to her incredible musicianship, her advocacy is key for what we hope to accomplish with this year's festival. Along with the UAB Institute of Human Rights and UAB Disability Student Services, we are so excited for students, faculty, staff, and the Birmingham community to engage with her through her music."
Other Performances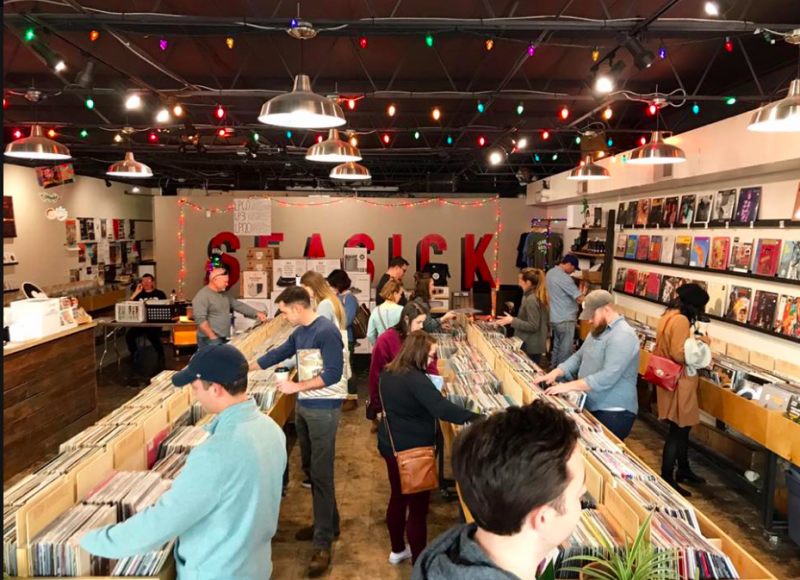 Along with the UAB concert and talk, Gaelynn Lea will be doing a performance at Seasick Records on Saturday, February 9 at 3:00PM and Beloved Community Church at 6:00PM.
Saturday, February 9, 2019
3:00 p.m. — In-store Performance at Seasick Records.
6:00 p.m. — Performance at Beloved Community Church.