The University of Alabama at Birmingham deserves one billion cheers! Earlier this week, UAB successfully raised $1 billion in a ten-year fundraiser campaign.
A Billion Reasons to Celebrate
The school silently set this ambitious goal 10 years ago, and publicly announced The Campaign for UAB: Give Something, Change Everything five years ago. The funds will be used to support facilities, faculty, athletics, student life and other research endeavors.
"Each and every one of these gifts will have a profound impact on the future of UAB," the school's President Ray L. Watts said at a press conference celebrating the milestone. "And UAB has, and will have a profound impact on Birmingham and on Alabama." 
UAB.edu posted this video announcing the big accomplishment.
The Campaign for UAB is the largest and most comprehensive fundraising effort the school has ever seen. Over 100,000 alumni, supporters and donors contributed to the campaign. According to the university's Vice President of Advancement, Tom Brennan, the public phase of the Campaign for UAB set records for the school's philanthropic donations, including $100 million given each year since 2014.
This campaign greatly contributed to UAB's recent recognition and achievements that are some of the most significant in the school's existence, including record-breaking enrollment and contribution to the athletic department, as well as being recognized as the Top Young University in the Nation by The Times Higher Education World University Rankings.
The Blazer's Impact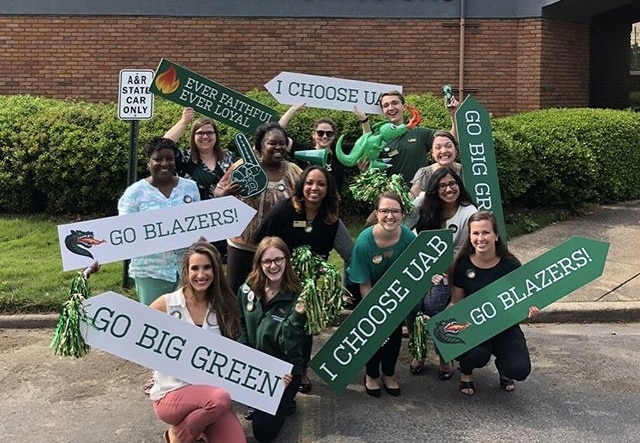 You can already see the difference this fundraiser is making. "Just driving down University Boulevard, you can see the dramatic transformation of this campus," said Mike Warren, campaign co-chair and CEO of Children's Hospital "And inside these new state-of-the-art facilities, there are top faculty who are making major breakthroughs, and there are talented students in classrooms and labs who are future leaders in their fields."
UAB's impact on Birmingham doesn't stop there. A recent study concluded that the school provides an economic impact of $7.15 billion in Alabama and supports more than 64,000 jobs in the state. With more than 23,000 employees, UAB is the state of Alabama's largest single employer.
I'll never get tired of hearing about UAB's ground-breaking accomplishments! What do you think they'll achieve next?