Calling all of Birmingham's bookstore lovers: we were thinking of you when we created this list. We've highlighted interesting facts and tips that you won't want to forget when looking for your next haunt.
Bookstores Worth Noting
1. Reed Books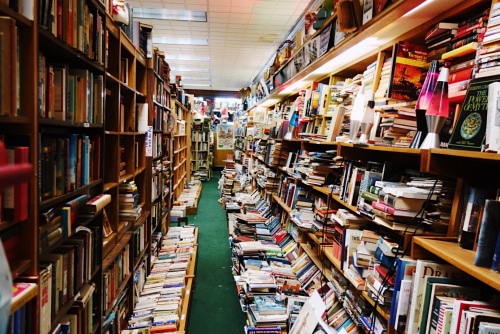 Reed Books is not easily forgotten. Having been in downtown Birmingham for 38 years, this shop has over 50,000 books for sale and in storage. Reed said that they trade books dating back multiple centuries all over the globe. Little prints and old records can also be found among the stacks and stacks of books. In addition, Reed is a book collector and a writer. He loves the uniqueness of his shop and he has no plans to change it.
Hours:
Tues-Fri: 10:30 a.m.-5:30 p.m.
Sat: 11 a.m.-4 p.m.
2. Alabama Booksmith
At Alabama Booksmith every book in the store is signed, but they are tagged with regular prices. Alabama Booksmith prides themselves with discovering great writers. Often they collect signatures before an author is universally recognized. If you want to order from your computer or smartphone, they deliver straight to your doorstop. They say that they "have become the fastest growing Signed First Editions Club in America."
Hours:
Mon-Sat: 10 a.m.-6 p.m.
Sun: Closed
3. The Little Professor Book Center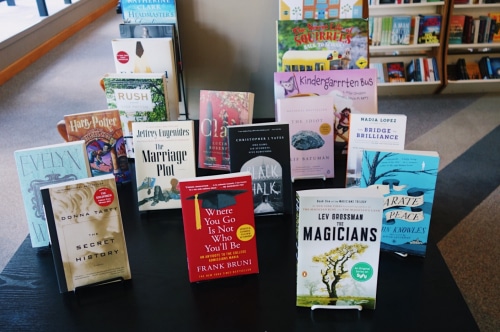 The Little Professor Book Center was once a part of a chain but chose to become an independent publisher. A quaint bookstore with tons of natural light, The Little Professor Book Center often holds reading events where readers and authors are invited to meet. Most recently, an employee said that Crazy Rich Asians is a best seller that readers cannot seem to get enough of.
Hours:
Mon-Fri: 9 a.m.-8 p.m.
Sat-Sun: 10 a.m.-6 p.m.
4. Church Street Coffee And Books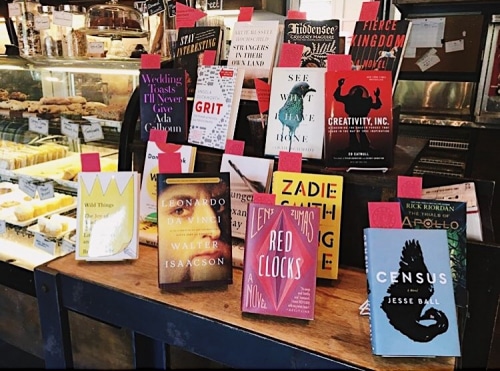 For those living in Mountain Brook, Church Street Coffee and Books is a no-brainer. Offering delicious pastries, their Break-Up Cookies are legendary. But this coffeeshop also doubles as a bookstore with new releases lining the walls and counters. The atmosphere inspires you to open a book and get lost reading. You can even order a book from them online.
Hours:
Mon-Sat: 6 a.m.-10 p.m.
Sun: 7 a.m.-10 p.m.
5. 2nd & Charles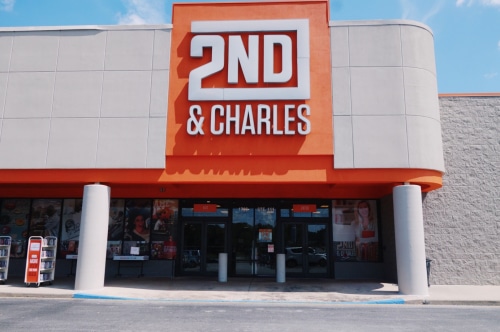 Located by the Galleria, 2nd & Charlessells a variety of new and used books plus other fun knick knacks for the whole family. Additionally, they also buy back books, textbooks, DVDs and so much more for cold, hard cash.
Hours:
Sun-Thurs: 10 a.m.-9 p.m.
Fri-Sat: 10 a.m.-10 p.m.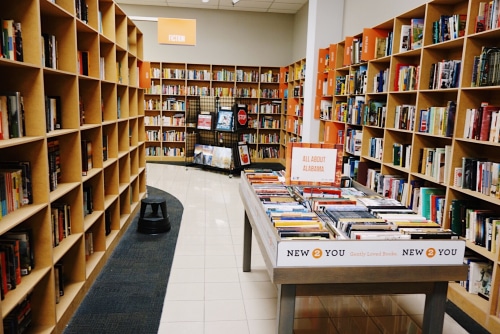 Religious Bookstores
6. Books, Beans, and Candles
With a focus in new age publications, Books, Beans, and Candles Occult and Metaphysical Shoppe triples as a gift shop, book store and coffee shop. Offering apparel and accessories, they also host readings and classes in meditation, martial arts and dance performances. Located in Five Points South, Books, Beans and Candles has much to offer including Alabama's largest for -sale, rare occult books.
Hours:
Mon-Thurs: 11 a.m.-9 p.m.
Fri: 11 a.m.-9 p.m.
Sat-Sun: 12 p.m.- 7p.m.
7. The Advent Bookstore
The Advent Bookstore offers a wide range of Christian books and gifts, which are perfect for weddings, confirmations, baptisms and many other special celebrations.
Hours:
Mon-Wed: 10 a.m.-2 p.m.
Fri-Sat: Closed
Sun: 8:15 a.m.-12:15 p.m.
8. Spirit filled Christian Bookstore
The Spirit filled Christian Bookstore sells books, homeschool supplies, music sheets, church supplies, children's books and so much more.
Hours:
Mon-Sat: 9 a.m.-5 p.m.
Sun: Closed
9. Lifeway Christian Bookstore
As a well-known christian bookstore, Lifeway is considered to be a trusted source nationwide by many for Christian supplies including but not limited to: bibles, music and gifts for all ages.
Hours:
Mon-Sat: 10 a.m.-9 p.m.
Sun: Closed
The Classic Bookstores
10. Books-A-Million
As the second largest book retailer in the nation, Books-A-Million is a favorite superstore for many readers. Birmingham is not only home to a few Books-A-Million locations, but the headquarters as well. They provide a well-stocked selection of books, movies, comics and more.
Hours:
Mon-Thurs: 10 a.m.-9 p.m.
Fri-Sat: 10 a.m.-10 p.m.
Sun: 11 a.m.-8 p.m.
11. Barnes & Noble
Some enter bookstores to find a book; others explore the aisles in order to relax. Avid Barnes-&-Nobler's would verify that they crave the smell of the store, that the colors and organization of each location brings them comfort. As the nation and the internet's largest bookstore, Barnes & Noble offers an incredibly varied array of new and used products that do not discriminate based on age. No matter how large the company gets, Barnes & Noble will continue to feel like home to its regulars.
Hours:
Mon-Thurs: 9 a.m.-9 p.m.
Fri-Sat: 9 a.m.-10 p.m.
Sun: 10 a.m.-9 p.m.
While print may becoming less popular, it isn't dead yet. Many bookstores are still running and rely on their regulars. Somedays life needs to be taken slowly with a stroll through the aisles of books. Many of the stores mentioned above are here to stay, so stop by, slow down and read a page or two.
Follow this link to see all of these awesome locations.
If I forgot a beloved bookstore, please please let me know: holly@bhamnow.com.