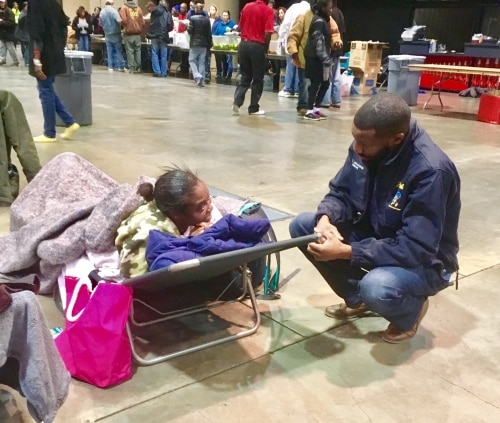 Last night, on Christmas Day, Bham Now  visited the city of Birmingham's warming station at the Birmingham -Jefferson Civic Center.
Over the next two weeks, Birmingham expects evening temperatures to be at or near freezing. That means, each night when the BJCC warming station is open, approximately over 250 people need a meal and a warm place to stay, even on Christmas Day.
When we arrived at the BJCC, the place was buzzing. Twenty-five to thirty-five volunteers were serving food and handing out cots and blankets.
In the midst of the bustling hall, stood Birmingham Mayor Randall Woodfin, greeting the visitors and handing out blankets.
Surprised to see the mayor at the warming station on Christmas Day, we asked him why he was there.
"For me, Christmas is always about other people . Whether its gifts to your family members or in the case we are in now, to provide a warming station for the least of these," said Woodfin.

He added, "we need to find a way to help our homeless community. So this is a no-brainer. It is what we have been talking about since we've been in office for three weeks – putting people first.
A generous community
Along with a warm place to sleep, the warming station feeds dinner to each visitor. Don Lupo, Director of the Mayor's Office of Citizen Assistance described the warming station's Heart to Table program which feeds  people during these cold spells.
"Heart to Table was the brainchild of  Marco Morosini and a Leadership Birmingham class from about three years ago.  Marco the owner of Silvertron, was a member in that class.  He was always supportive of the warming station. At the end of the class they take on a project and he asked the class – why don't we adopt the warming station? Let's go to restaurants and get them to sign up and help feed the people."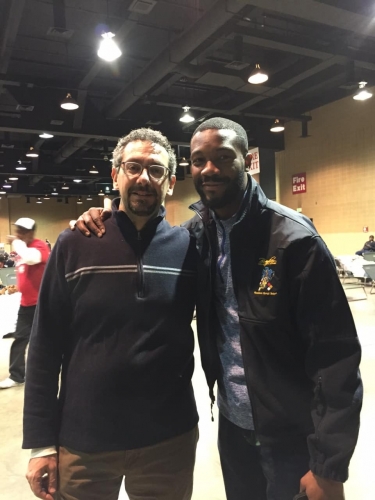 Three years later we've got 25 restaurant participating and right now we've got enough money to feed people for 5 years. The beauty – in the three years that we have done this, the restaurants know, they can go to the United Way and the United Way will write them a check up to $300.  That's not going to pay them for everything they do, but it offsets their costs and it makes it easier for them to come back the next time. In three years, I think we've had three restaurants  go collect the money."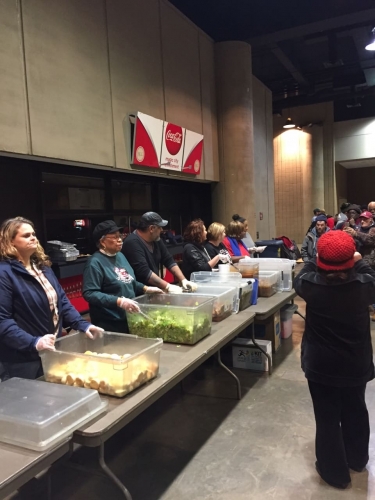 Lupo summed up why the meals from the restaurants make a difference.
"There is love behind everyone of these meals.  Look, Marco has his staff  (Silvertron) out here on Christmas night serving food.  That's the kind of love that goes into this."
Volunteers needed
Anticipating cold weather over the next week and half, volunteers are needed to help staff the warming station.
The city has put out a call for volunteers.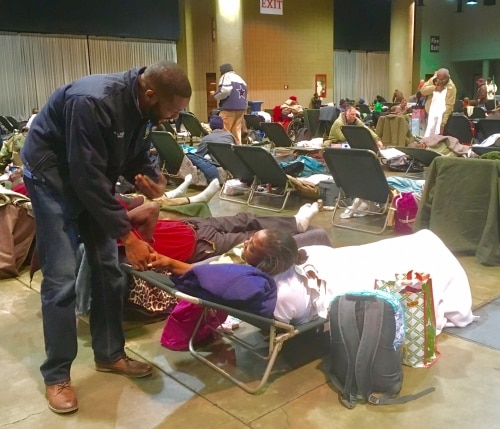 Mayor Woodfin concluded our conversation with this call.
"We need people, not just during Christmas but over the next 7-9 days of this cold snap. When time permits, come on down, help us serve food, bring clothes, give a hug, whatever it is.  For me having this many volunteers on Christmas Day and the rest of the week shows some of the best of Birmingham."
Want to volunteer for the Birmingham warming station? Volunteer – HERE