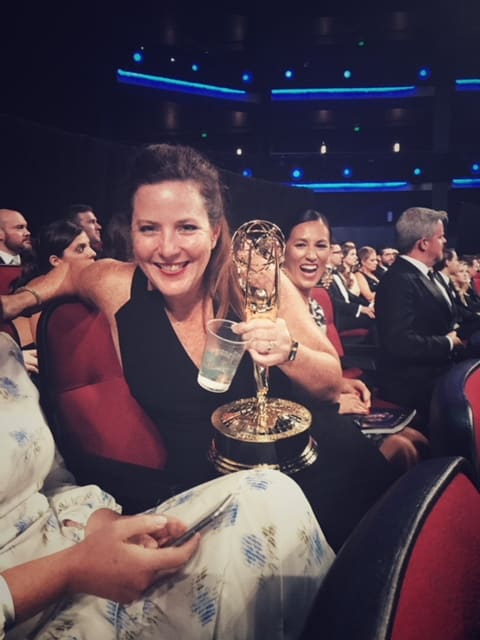 We had this weird conversation at one of our content meetings: Birmingham's new hangouts are starting to remind us a lot of New York City.  They sparkle and glitter just as much – but without video billboards shoving ads into your retinas.  One thing led to another, and we decided to go to the best sources we could think of: people who have lived in both NYC and Birmingham!  So, how do the cities measure up?  We'll find out over a few interviews!
Meet Allison Kunzman.
She works as a video producer for Smuggler, an indie film agency that does a little bit of everything (even live theatre!), and she grew up in Birmingham.  Allison has won an Emmy, and produced everything from feature length films to quick ad spots.  She's kind of a huge deal.  And she lays the "blame" squarely on Birmingham!
Allison's love of film started when she and her brother discovered home video: "we had the video-VHS cameras came out and we were shooting these things, probably inspired by SNL, or little spoofs."  But her commitment to working in the film industry didn't come until her senior year at Emory where she took film theory classes: "It wasn't like an NYU course where they're sending you off to go shoot your short film and you're learning the mechanics of filmmaking, it was theory and narrative and philosophy and structure of telling stories.  It was my favorite.  I could have kicked myself that it took me that long to really get into it."
Allison could have taken a more institutional route to becoming a producer, but people told her "you're going to learn more by doing" and she thought "why not?  Let's start up on this shorter content realm."  One thing led to another and Allison ended up with an Emmy for her passion!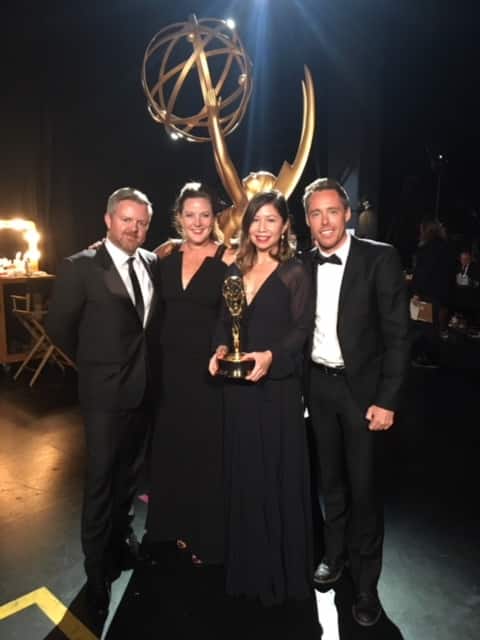 Allison was quick to credit her childhood.  "The South was the right order of things, Birmingham was the right order of things, it wasn't too small of a city, but it wasn't too big of a city.  The arts were available, I feel like I grew up around a lot of interesting artists, and more academic families.  It's very different from these stereotypes you get of the South."  Her parents, both very academic types, raised her in Forest Park.  "We've had family friends come up and say, 'we totally understand how you ended up being a producer based on your parents.'"
Finding meaning
So what does being a producer mean?  You could look through a dictionary (or Google it), but that's no fun.  "The two main things you need as a producer," Allison believes, are that "you need to be creative, but you need to be analytical and pragmatic and money-oriented, and be prepared to hustle, to break the back of a job and pinpoint 'what's the heart of making this the greatest thing it can be, and how am I going to support that through the resources and the right people, the right team.'"  Call it creative aggression.
Despite not having any interest in moving back to Birmingham ("Doesn't make sense in my industry"), Allison still misses the South, a little.  "Every year I'm begging my father to go out to the farmer's market and send me a box of tomatoes."
Allison and I finished up our interview by going back to people.  "I lived in LA for about a year and it's so compartmentalized.  In Birmingham, I felt like I did notice a multicultural layer to my upbringing there.  I think that's something that's seeped into my work.  Having access to lots of different types of people and learning at a very young age that people's life experiences, no matter what they are, are all pretty interesting, there's always a story.  Southerners are amazing storytellers – look at the writers that come out of the South."
Coming up next: Jon Coffelt, a formalist who paints the cosmos.