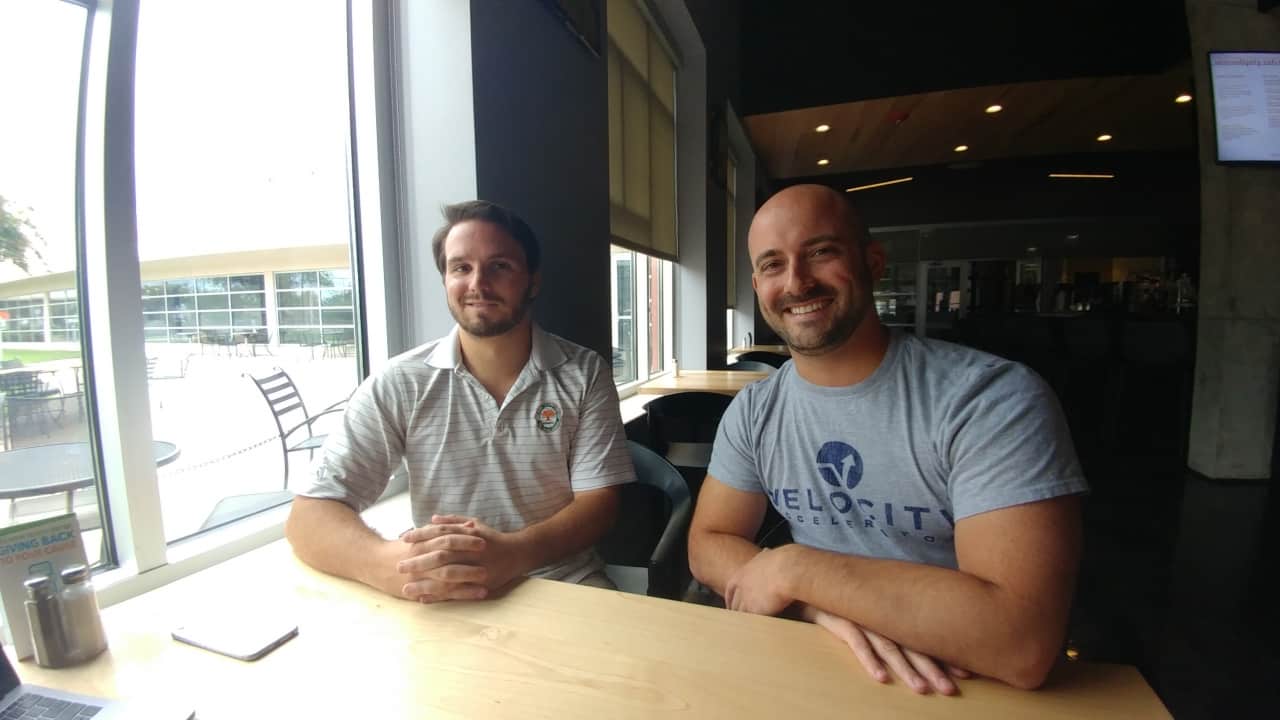 I don't think I have ever heard of someone who thinks that reducing lending risk shouldn't happen – certainly not since the 2009 subprime lending crisis.
I met with Will Bryant and Chris Aliotta to talk about their Velocity accelerator "graduate," Quantalytix, and starting a tech company in Birmingham!
Quantalytix offers market data on residential mortgage loans.  That's not a new or revolutionary idea, Bloomberg has offered similar products for decades.  As co-founder Will Bryant puts it, "we have all kinds of data that people who lend mortgages can use to understand things, to look at their competition, things like that."
What differentiates Quantalytix?
"It's the weather report, but for finance."
Chris: "We're providing a viable, cheaper alternative to Bloomberg, which is software that's currently used right now for market data.  This is our response, creating an easier to use application, but also a platform that's cheaper and can be leveraged to do analytics for the organization that's using it."
You came from Regions, how did you decide to start your own company?
Chris: in the banking space, we're usually slow to move on the technology front, and what we observed was that there is, in general, a need among our peers and us to have better analytics and data.  We recognized that the technology existed, but not in the context that we needed it.  Seeing that opportunity, we decided, "let's start a company."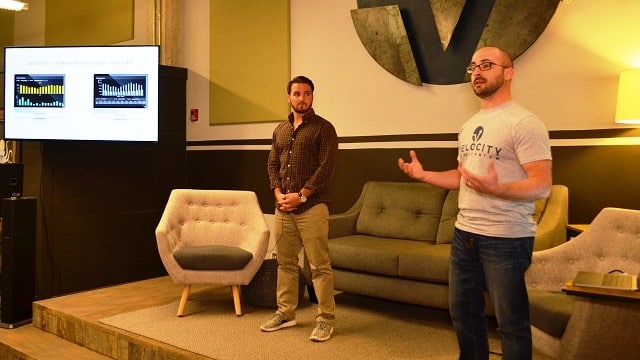 What's been your experience with Innovation Depot?
Will: [Innovation Depot] is an incredible place.  Chris and I were amazed when we first moved in, just how many companies there were in this one building, but I also think the very tight-knit network of all these startup companies and how they help each other out – they're all fighting the same battle.  To have that support network has been absolutely incredible.  We've fed off a lot of that energy, and made a lot of beneficial progress.
Was whether you were going to apply for the Velocity program in question?
Chris: We didn't even know about it.  People had mentioned it offhandedly, but it wasn't until we took a meeting with a couple of key individuals here at the depot where it became clear to us that the accelerator program was going to help grow our company.  We fit the target they were looking for: technical founders, people who had prior experience in the industry they were serving, and a product that was close to launch or already launched.  At that point we had an early release of our product.  We were lucky.  Right timing, right place, and Birmingham's been very gracious and generous to us.
What's been your experience in Birmingham?  Your first customer is a company out in California, but you're staying in Birmingham.
Will: When you look at a lot of startups, and where they're starting up, you see them a lot in places like San Francisco, New York, some of these big cities, right?  One of the conversations Chris and I had early on was that we're in an age where you no longer have to be in a geographical location to run a software business.  We looked at the community, the relationships that we already established, and we said "[Birmingham] is going to be a great place to start a company.  Not only because of what we just said, but because the cost of living here is incredibly low.  
What's your next step?
Chris: We are really trying to get the community engaged with what we're doing.  We see Birmingham as having its traditional banking space and healthcare space, but we want to make Birmingham a FinTech (financial technology) city.  What we're looking for is partnerships with some of the regional and local banks here.  To participate, to engage us, use our software, give us feedback, and benefit mutually from creating a better ecosystem and helping their bottom line.  That's our next goal: getting strong community support from local banks.  
What's your new software going to target?
Will: Right now, our data covers the mortgage space.  What we're looking to do is expand that reach and data.  But as we mentioned earlier, do it in a way that has a focus on commercial banks.  Currently, we're working to expand into that market data service.  

I got a sneak peak of Quantalytix's 1.0 software, and while I don't have the educational base to understand exactly what I was seeing, I do recognize that there are some great features to it.  The interface is clean, and presents everything I can imagine one needing in an organized tab structure.  The software itself is accessible via web browser, or (as I'm told) anything with an internet connection – a big departure from their rival Bloomberg.  "There's hardware that's included [with Bloomberg], so there's a custom keyboard.  We'd rather our customers not have to carry around a keyboard.  You can use [Quantalytix] in the airport, at home, wherever."
"The cost of data has gone down, but the price of these terminals has remained the same.  What we have is a product that can replace a number of  Bloomberg terminals and save banks money.  What we're doing is we're providing an enterprise license, not a per-seat license like Bloomberg."  The entire platform can be customized to a specific client's needs by adding or removing tabs of information.