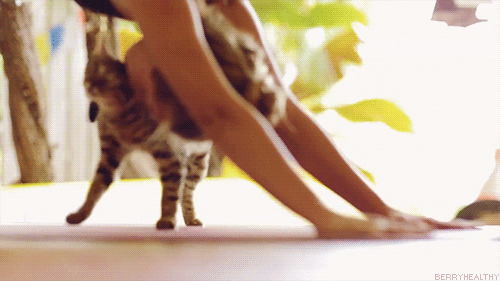 From Cat Cafes to Cat Yoga, I think it's safe to say people really enjoy quality time with their feline friends. Whether you are a cat person or just love yoga, this new trend is a unique way to get your workout fix in with a side of lovable animals. Yes, Cat Yoga has finally reached our city and you should definitely try it out.
Just to clarify…
Cat Yoga is this:
Not This:
Starting from a dream birthday party idea, Carla Jean Whitley's started the first Cat Yoga class in Birmingham. Now, it has officially become a regularly scheduled public class. On the third Sunday of each month, at noon, you can join yoga and animal lovers alike. The class fee is only $10 which goes to the GBHS.
This class is more than just a possible cuddle session with cats after working up a sweat. Each cat is an adoptable feline from our very own Greater Birmingham Humane Society. After the very first session, a sweet, bobtail kitten found her home in the arms of one of the yoga goers.
So not only is this class fun and interesting but it helps the GBHS find forever homes for some furry friends.
---
The next class is November 20th. The felines are waiting.