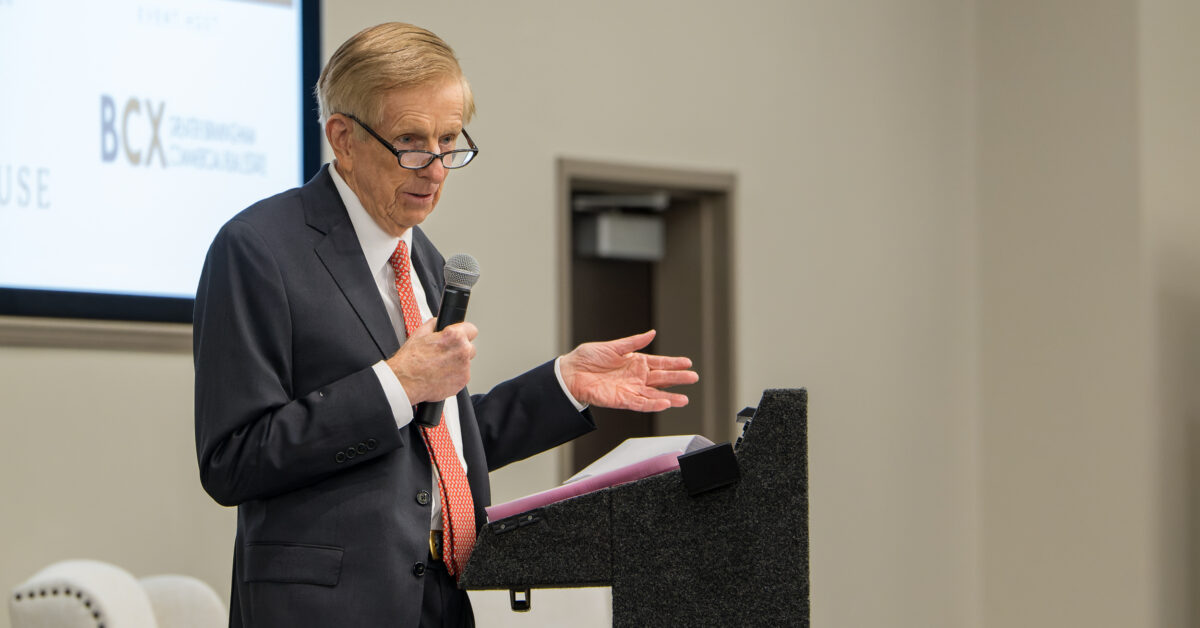 David Bronner, CEO of Retirement Systems of Alabama, was the keynote speaker to the sold out crowd at ACREcom, the Alabama Commercial Real Estate Conference & Expo, last week. Keep reading to hear what he had to say—from real estate advice to state spending and more.
1. Real estate is tied to everything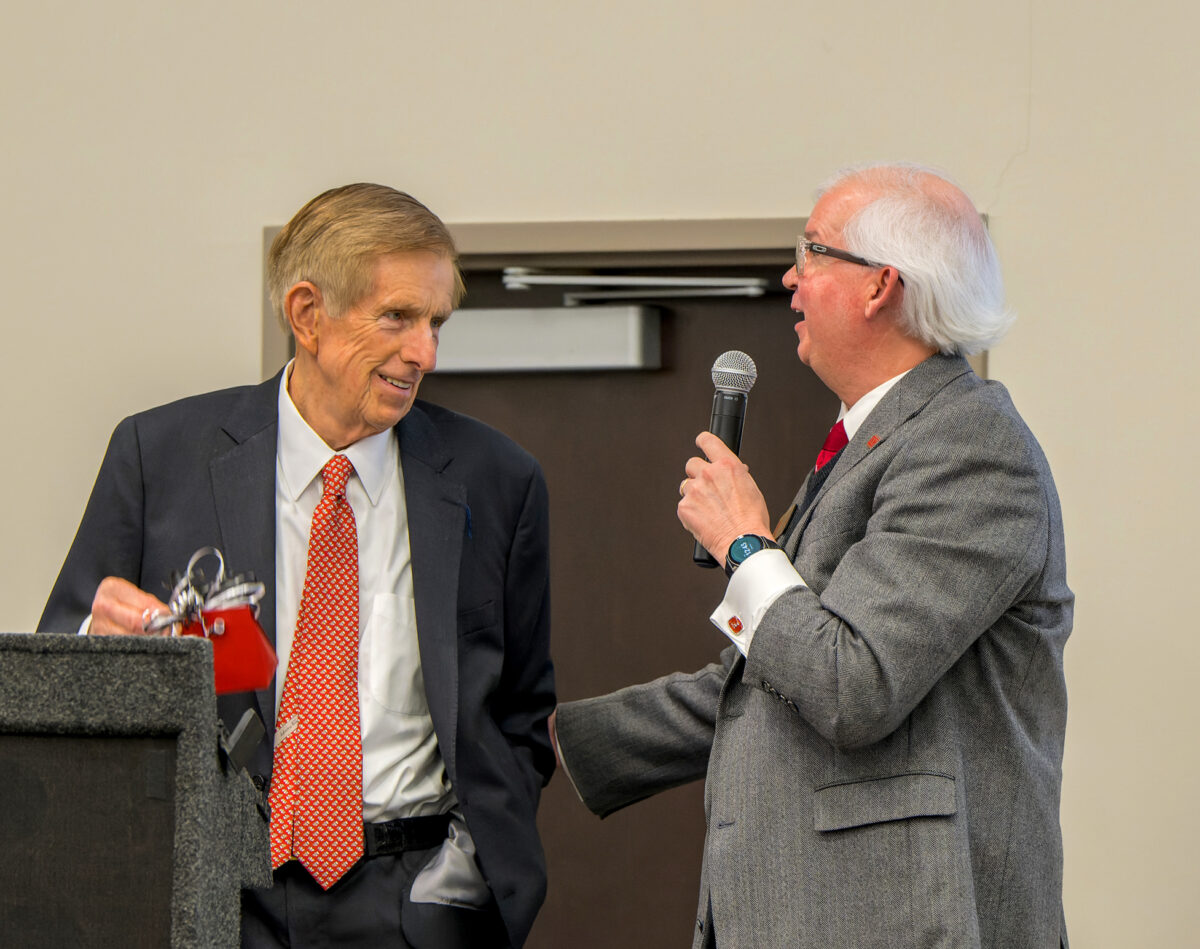 ACREcom was led by Grayson Glaze, Executive Director for the Alabama Center for Real Estate, pictured with Dr. Bronner above.
Dr. Bronner has made a huge positive impact on Alabama's political and governmental history and has led the way for the revered Retirement Systems of Alabama Pension Funds for over 45 years. Under Bronner's guidance, the RSA has totaled $53 billion in retirement assets for almost 400,000 state employees/retirees and taken the tourism business in Alabama from $1.5 billion to over $24 billion.
It's safe to say, people were happy to hear what he has to say. As he spoke to a room full of people from seasoned real estate professionals to beginner real estate students, everyone was eager to listen to his words of advice.
"The whole real estate area is fundamentally tied to everything else, like stocks and bonds. To me, it's tied to demographics, it's tied to politics, it's tied to monetary policy and it's tied to fiscal policy. This is so important for the young people in the industry. Keep in mind that everything that you've learned in school is going to apply to the real estate market."

Dr. David Bronner, CEO, Retirement Systems of Alabama
When listening to him and hearing his accomplishments, it was easy to see him as a picture of the results of years of hard work. He reminded attendees that working in the industry not always easy, especially to achieve the results you want.
"To the young man or woman that wants to get into commercial real estate, it's not all glorious. It's a lot of hard work. President Reagan had a great statement that said 'trust, but verify'. This is something I always keep top of mind.

Another thing is, don't think you're going to be able to pick up everything so fast. Typically, projects are going to take you two to three years. So I encourage people in real estate to start thinking about that. Not everything moves fast."

Dr. David Bronner, CEO, Retirement Systems of Alabama
2. Alabama needs change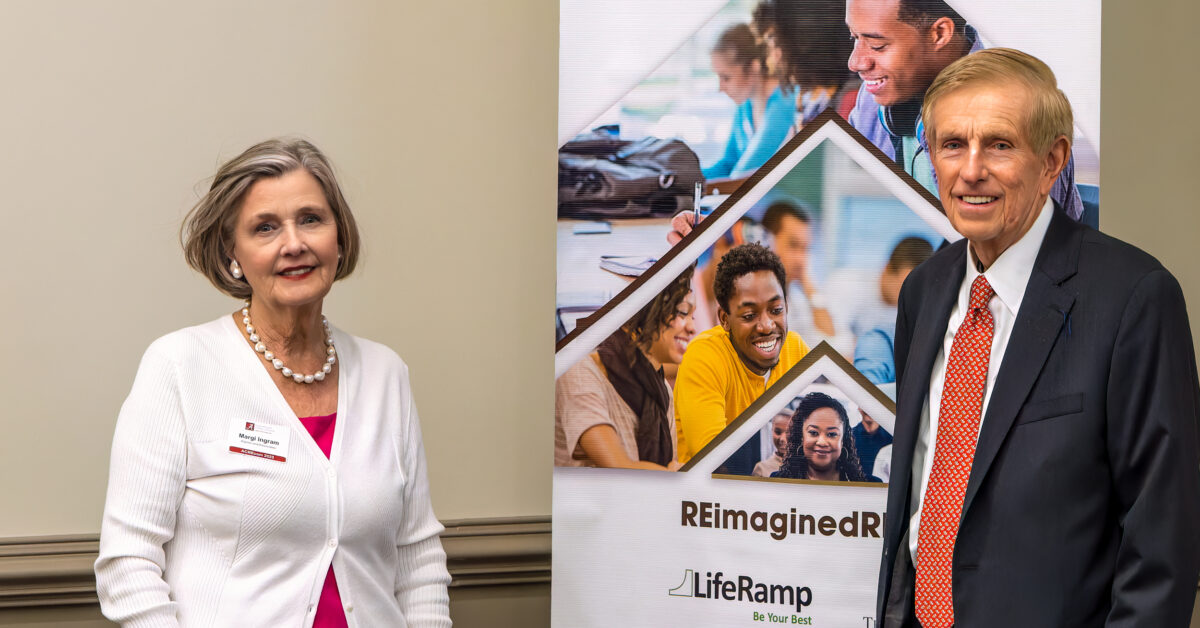 One of the biggest takeaways I had from listening to Dr. Bronner was his 'never finished' outlook. He addressed progress and acknowledged work that had been done, but made it clear that there's still more to do.
"This is the most the state has ever had, this year and in the next couple of years. Not because of what we've done, but because the federal government is giving it to us."

Dr. David Bronner, CEO, Retirement Systems of Alabama
Why is he so passionate about this? It is very difficult to bring industry to the rural parts of the state that don't a hospital or broadband or where so many people are without insurance.
"There's no reason that we would be a state, one of 11 in the whole country, that isn't smart enough to know to use the federal money that's offered for repair, insurance, health care. We have 230,000 people in the state that don't have any insurance at all.

You're all professionals. What if I come up to you and say, 'bring your jobs to the area, I'll send a helicopter if you get sick.' That's not happening. People want to depend on their workers being healthy. I'm just asking you to think about that."

Dr. David Bronner, CEO, Retirement Systems of Alabama
3. We can't ignore our problems
Throughout his speech, Dr. Bronner repeated one thing a few times: ignoring our problems won't get us anywhere. One of his biggest points was the need for change within the prisons in our state.
"You have to change the prison system, you have to do something with the facilities. The prisons here are as bad as I've seen in third world countries. We've made some positive change, but we've got to change it for prisons, too."

Dr. David Bronner, CEO, Retirement Systems of Alabama
According to Dr. Bronner, we cannot simply ignore our problems like we have for decades.
"I tell you all this because it's imperative, with the legislature coming in another month or so. I'm not talking to you after the fact, I'm trying to tell you before that. Make sure they spend the money on Alabama problems.

Dr. David Bronner, CEO, Retirement Systems of Alabama
For the latest, buzziest news, sign up for our FREE newsletter and follow us on Instagram + Facebook.