Sponsored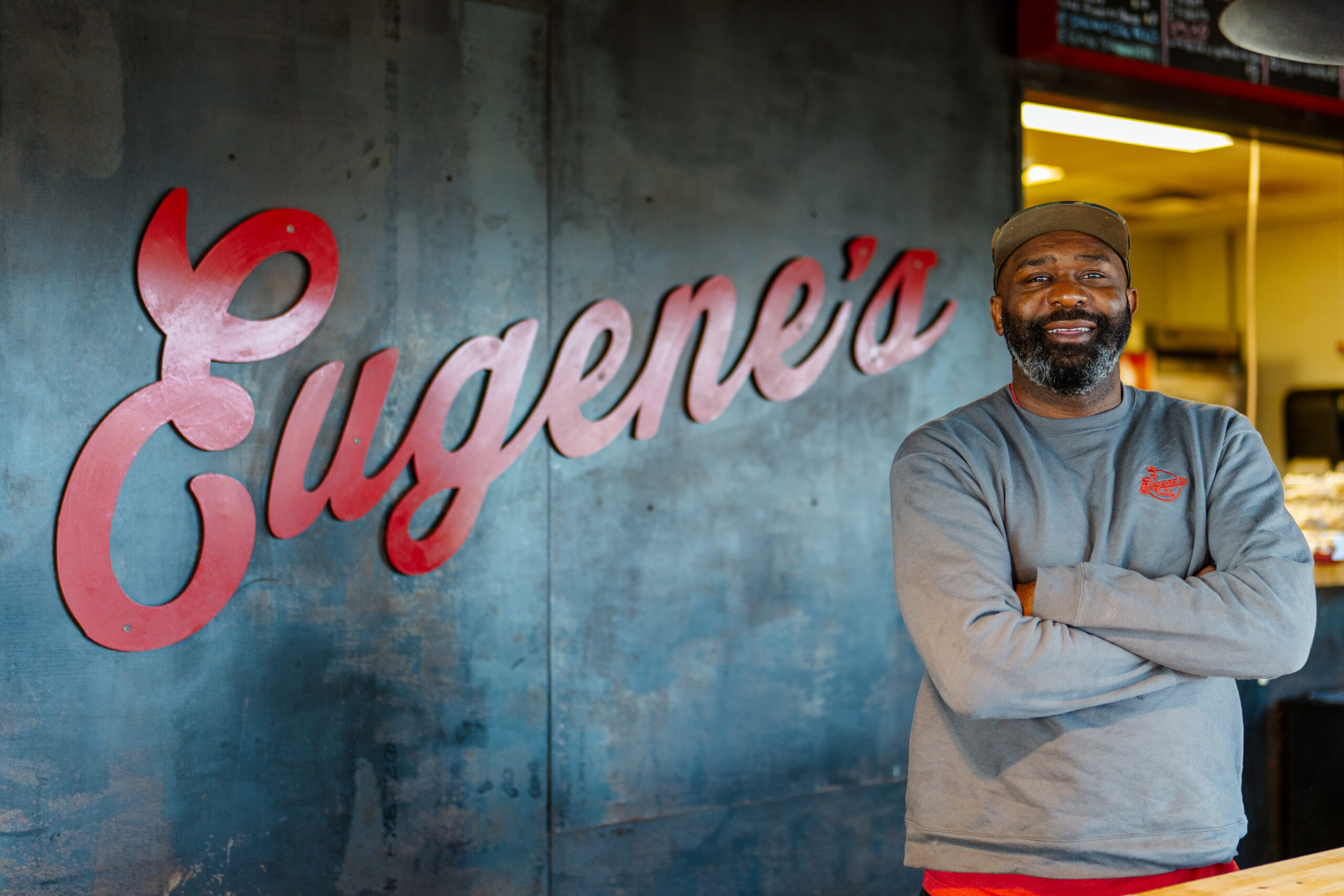 When you're looking for Nashville-style hot chicken done right, you can't go wrong with Eugene's Hot Chicken. Founded in 2015, Eugene's has become famous for its hot chicken sandwiches, wings, fingers, fries and more delicious bites here in The Magic City.
We met with Zebbie Carney, Eugene's owner and the mind behind the restaurant's soulful Southern dishes, to learn more.
From Food Truck to Restaurant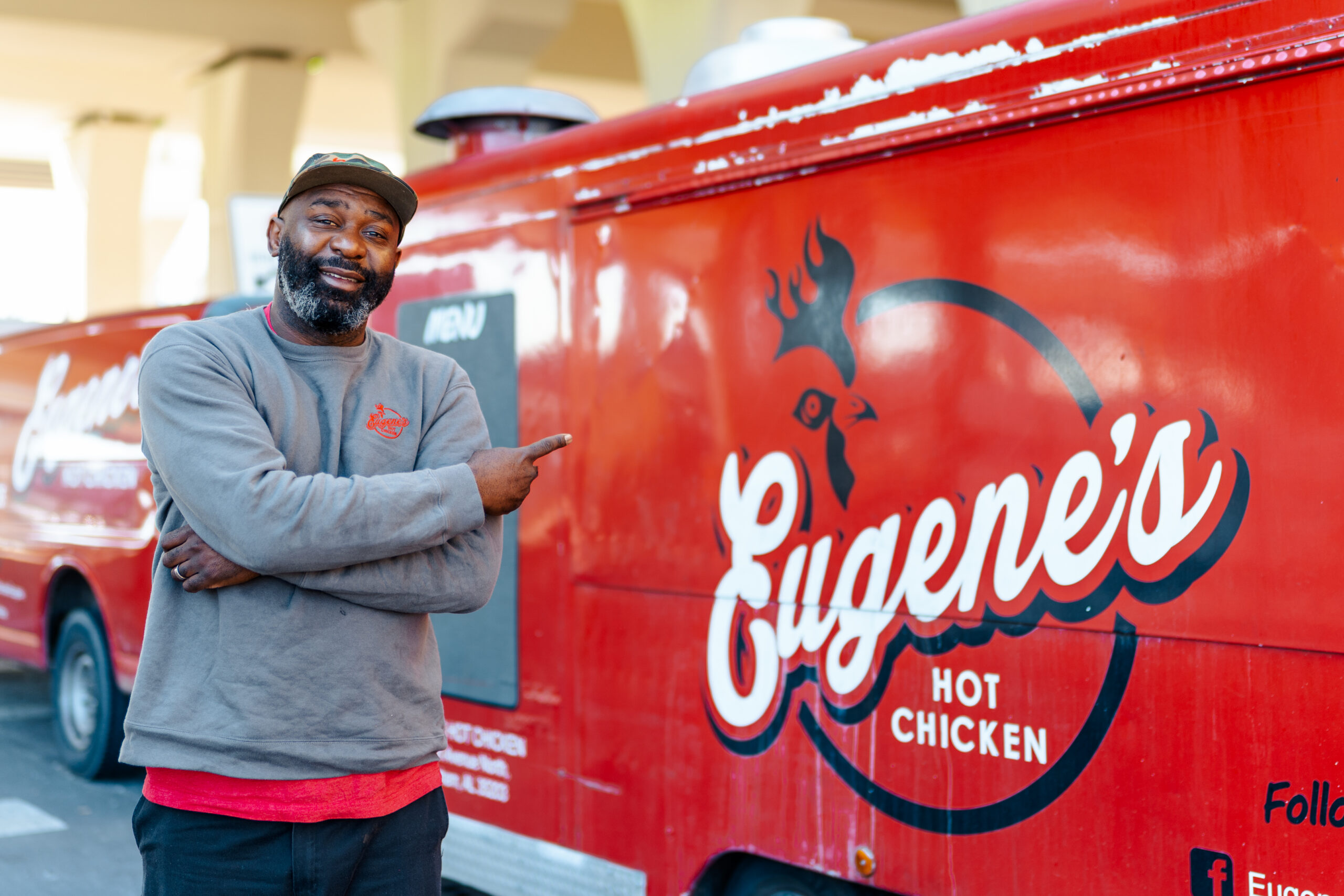 Eugene's Hot Chicken (Uptown): 205.322.7555 | Website | Facebook | Twitter | Instagram
Address: 2268 9th Avenue North, Birmingham, AL 35203
Hours: 11AM to 8PM, Tuesday through Thursday | 11AM to 9PM, Friday & Saturday | 11AM to 3PM, Sunday & Monday
Originally from Nashville, Tennessee, Zebbie Carney has always had a mind for cooking. After graduating from Tennessee State University, he began working as an executive chef for J. Alexander's. The restaurant chain moved him around a bit—first from Nashville to Kansas then from Kansas to Birmingham. Zebbie ended up staying in Birmingham for the next six years as the executive chef for J. Alexander's in Hoover.
"The whole time, I was going back and forth from Birmingham to Nashville to visit my mom. And I'm like, 'Man, Birmingham really needs hot chicken!' Even then, Birmingham was a real foodie town—and I had always wanted my own restaurant. Well, a restaurant is expensive, so I ended up starting with a food truck."

Zebbie Carney
After running the food truck for about 18 months, Zebbie knew the next step in his culinary career was to find a permanent home for Eugene's Hot Chicken.
Establishing Eugene's first brick & mortar location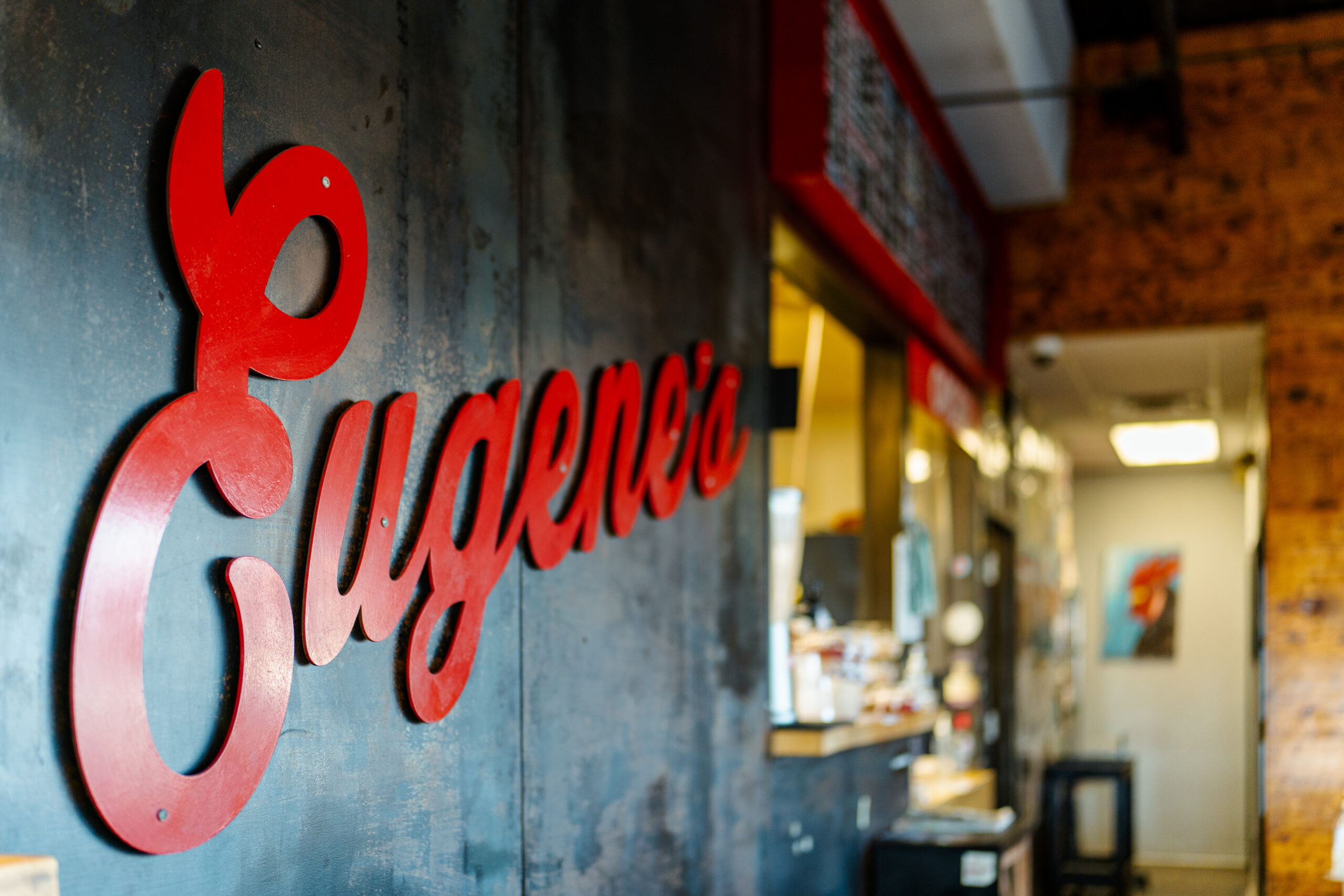 In 2018, Eugene's opened their first brick & mortar restaurant in a compact—yet comfortable—location at the Birmingham-Jefferson Convention Complex's (BJCC) Red Parking Garage in Uptown. But why Uptown?
"Well, our food truck started over in Avondale and we saw a lot of success in those neighborhoods. I knew I wanted our restaurant to be in a heavily-populated area, so I was considering the Riverchase Galleria Mall for a while. But then I got to researching and read that the BJCC was seeing over a million visitors every year—and keep in mind, this was several years ago. Boom! That's when I knew where I wanted to be, right there in the heart of all that action."

Zebbie Carney
Zebbie found the perfect home for Eugene's in the corner space on the ground floor of that BJCC parking deck. Aside from reminding him of a beloved chicken joint in his old neighborhood in Nashville, the location put Eugene's on the map—literally.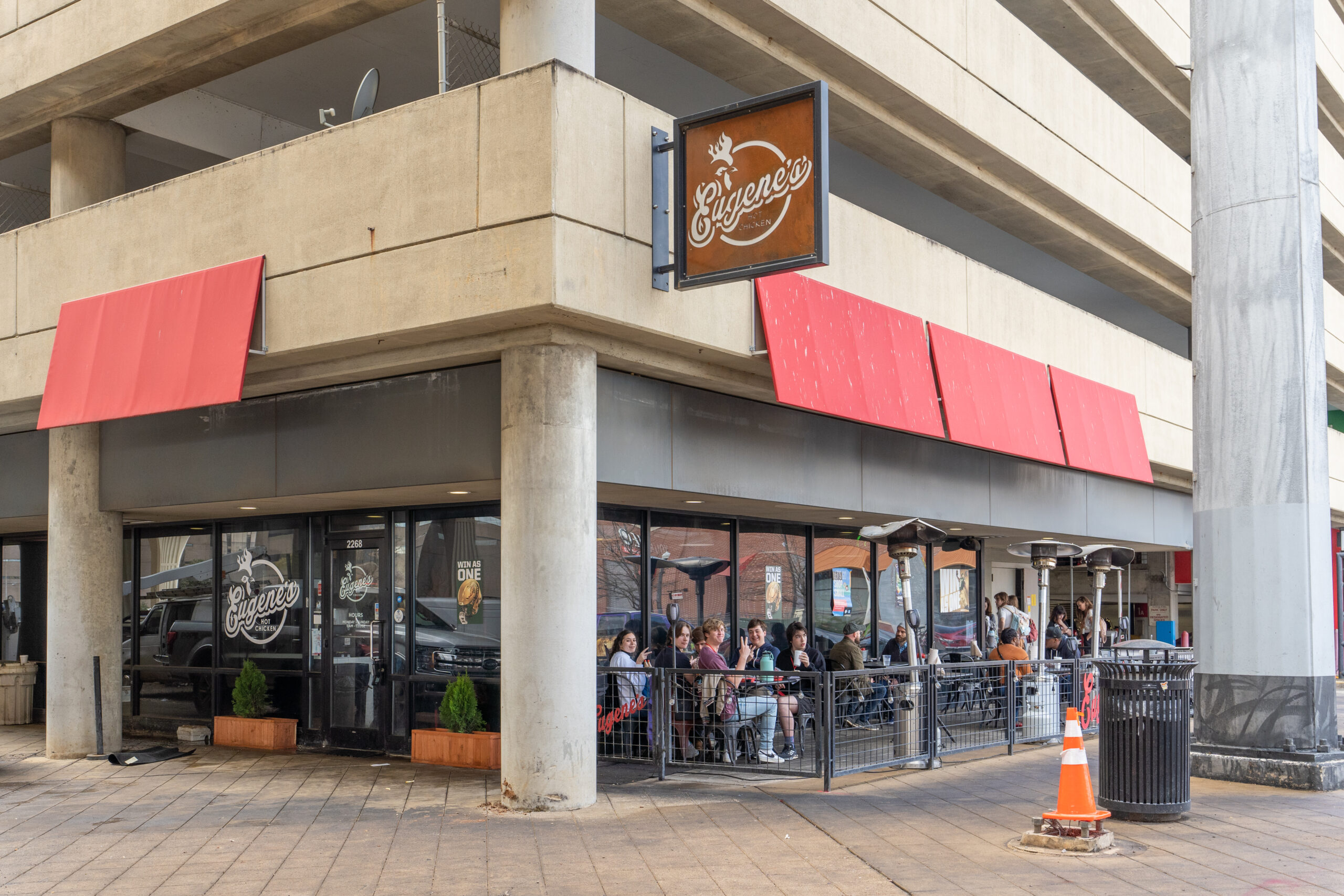 Since 2018, Uptown has been very good to Eugene's Hot Chicken—so good, Zebbie was able to open a second Eugene's location in Hoover. Uptown itself has changed considerably since Eugene's first opens its doors.
"Oh my goodness. Uptown has really grown. We've got a stadium now, so you've got UAB playing there and the USFL is coming soon. CityWalk BHAM is coming along and that is going to be huge! I'm very excited about that. And Eugene's is about to have a new neighbor, K & J's Elegant Pastries! It's just an exciting time to be here."

Zebbie Carney
Learn more about what Uptown has to offer
If you're looking to plan your next outing in Uptown, here's what Zebbie recommends.
"You've got to start with Santos Coffee—I love their turkey, egg and cheese croissant, and of course a coffee. Of course you've got to come to Eugene's Hot Chicken for lunch! Our most popular item is the Hot Chicken Tenders—try the fried pickle okra, the mac and cheese or the collard greens as a side. For dinner, I'd go to the new Uptown Cantina and have drinks at Southern Kitchen or Mugshots. Attend an event at the BJCC and you've got a great day!"

Zebbie Carney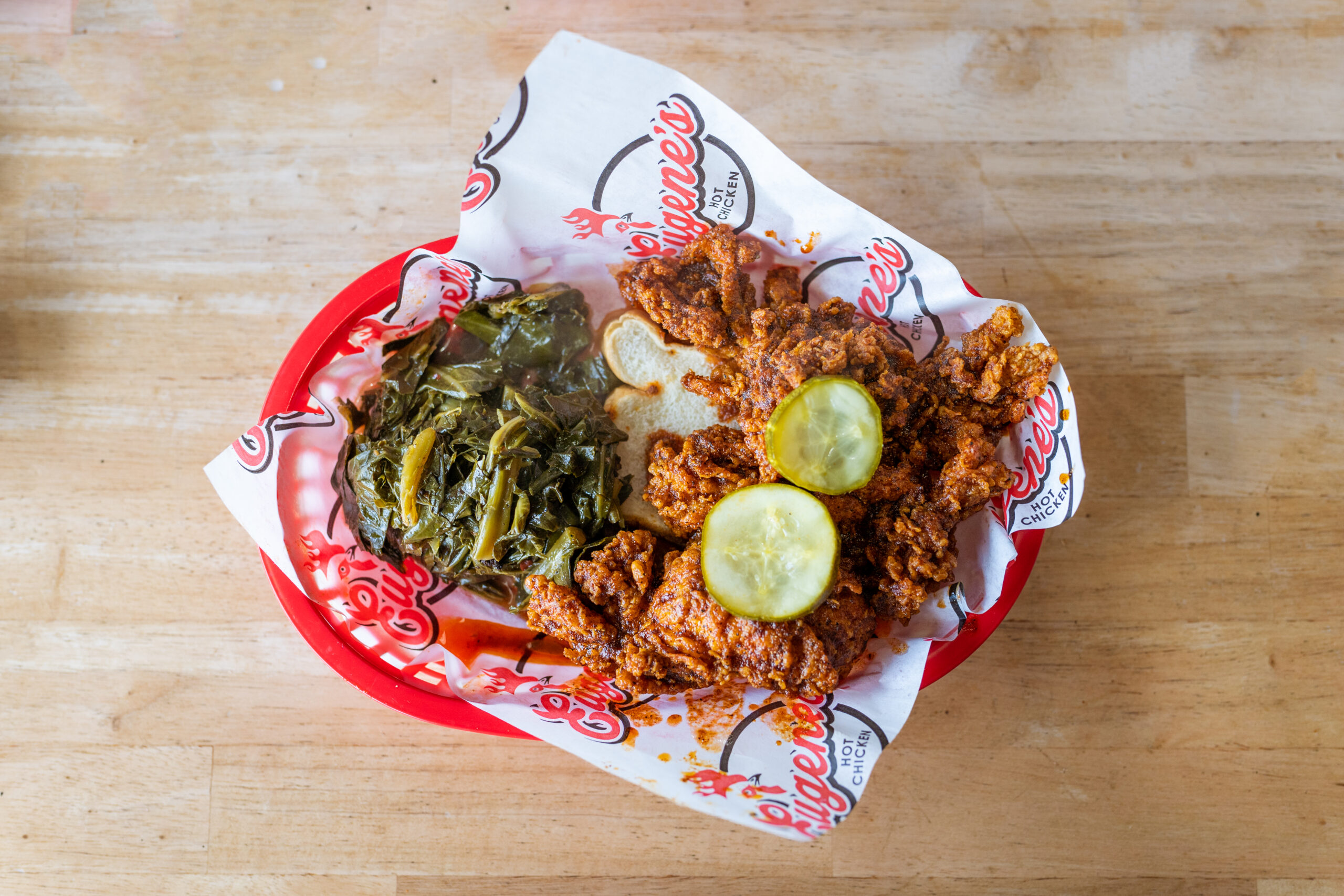 The BJCC is rounding out March and heading into April with a ton of exciting events for people of all ages and interests, including:
3/19: SEC Gymnastics Championship
3/22: Squadron vs Sioux Falls Skyforce
3/23: Squadron vs Sioux Falls Skyforce
3/25: Kenny G
3/25: Eric Church: The Gather Again Tour
3/26: Legion FC vs Colorado Springs Switchbacks FC
3/26: Maxwell: The Night Tour
3/27: Squadron vs Texas Legends
3/29: Knotfest Roadshow
3/31: Squadron vs Stockton Kings
3/31: Fiddler on the Roof Presented by Broadway in Birmingham
4/3: John Mulaney: From Scratch
4/5: Bob Dylan: Rough and Rowdy Ways Worldwide Tour
4/6: Jeff Dunham: Seriously!?
4/9-10: Harry Potter and the Prisoner of Azkaban™ in Concert
4/16: New Jersey Generals vs Birmingham Stallions (P.S. — this is the first USFL game at Protective Stadium!)
Click here to learn more about upcoming events at the BJCC.
What's your favorite thing to get at Eugene's Hot Chicken? Tag us at @bhamnow on social media to let us know!
Sponsored by: