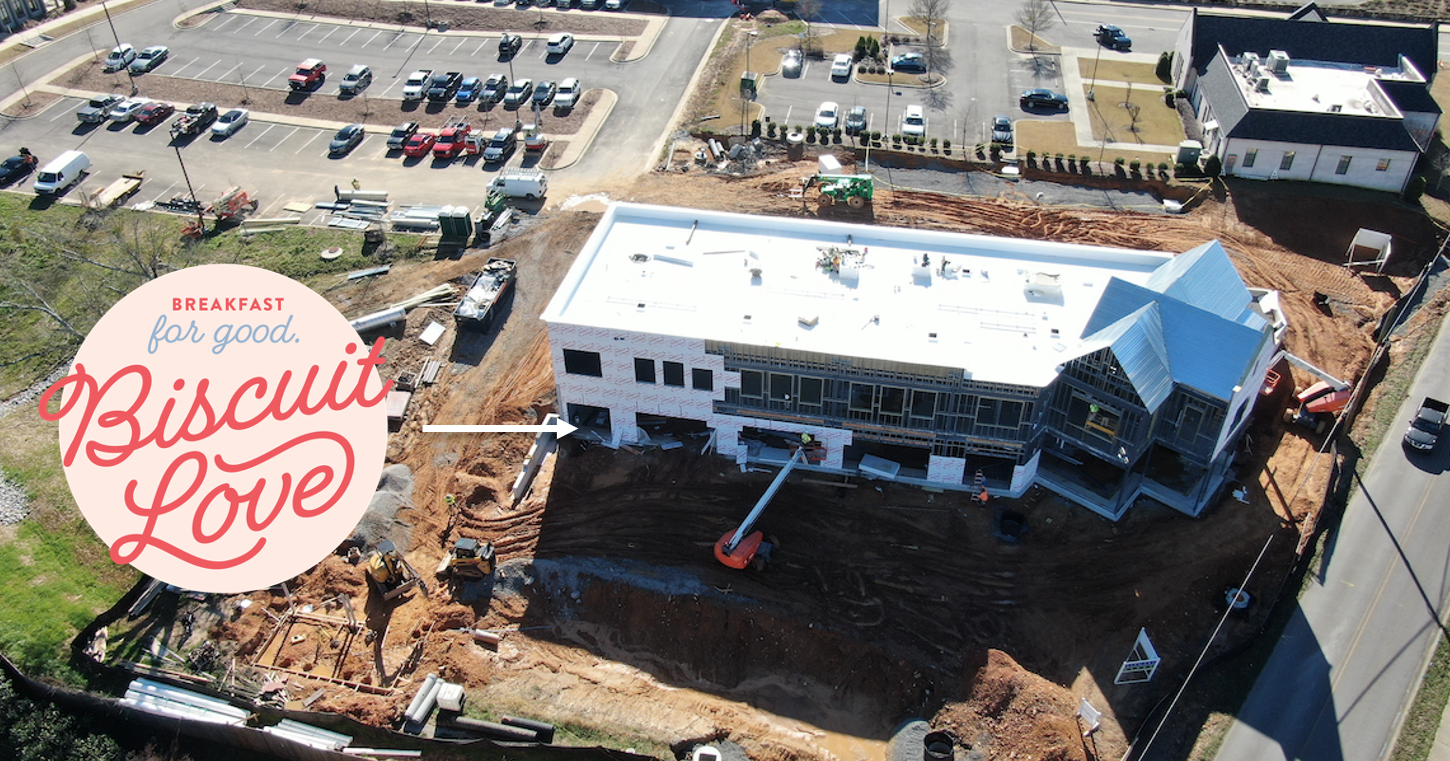 Award-winning, Nashville-based restaurant, Biscuit Love, is expanding their brand. The newest location—The Magic City. Keep reading to learn more about the eatery that's coming to Parkside on Dolly Ridge in Cahaba Heights.
New location, who this?
Cahaba Heights is getting a new brunch and breakfast spot. Biscuit Love Birmingham will be opening at Parkside on Dolly Ridge, a 14,935 square-foot, mixed-use development that is currently under construction. The breakfast and brunch spot will occupy 3,045 square feet at the center and is scheduled to open later this year.
"We are so excited to have Biscuit Love at Parkside on Dolly Ridge. It's a great fit for the neighborhood and the project."

Thom Hickman, Vice President of Development, Harbert Retail
Vice President and Broker at Harbert Retail, Casey Howard, and VP of Development, Thom Hickman represented Parkside on Dolly Ridge in this transaction. Check out what Howard had to say:
"We can't wait to have Biscuit Love join Parkside on Dolly Ridge. Biscuit Love will fill a great demand in this market with a unique menu and their mission is as wonderful as their food. The center is situated next to Cahaba Heights Elementary and the new City of Vestavia Cahaba Heights community park and baseball fields. This will be an excellent place for kids and parents to stop in for a quick breakfast."

Casey Howard, Vice President/Broker, Harbert Retail
About Biscuit Love
Biscuit Love is known for its Southern dishes and locally-sourced ingredients—attracting a dedicated following over the years. It started as a food truck and later expanded across Middle Tennessee with three locations. Biscuit Love Birmingham will be the brand's first out-of-state location.
The restaurant has received several awards, including:
Andrew Zimmern's "Munchies: People's Choice Food Award"
East Nasty: a buttermilk biscuit topped with fried chicken, aged cheddar and sausage gravy.
Bill Neal's Shrimp & Grits: gulf shrimp, roasted mushrooms, bacon, green onions, lemon Tabasco beurre blanc served over cheese grits
S.E.C.: buttermilk biscuit topped with sausage, one scrambled egg, aged cheddar
Lindstrom: shaved brussels sprouts, hazelnuts, parmesan, lemon vinaigrette, two pouched eggs
What do you think about Biscuit Love coming to Birmingham? Tag us @BhamNow and let us know. Don't forget to sign up for our FREE newsletter.