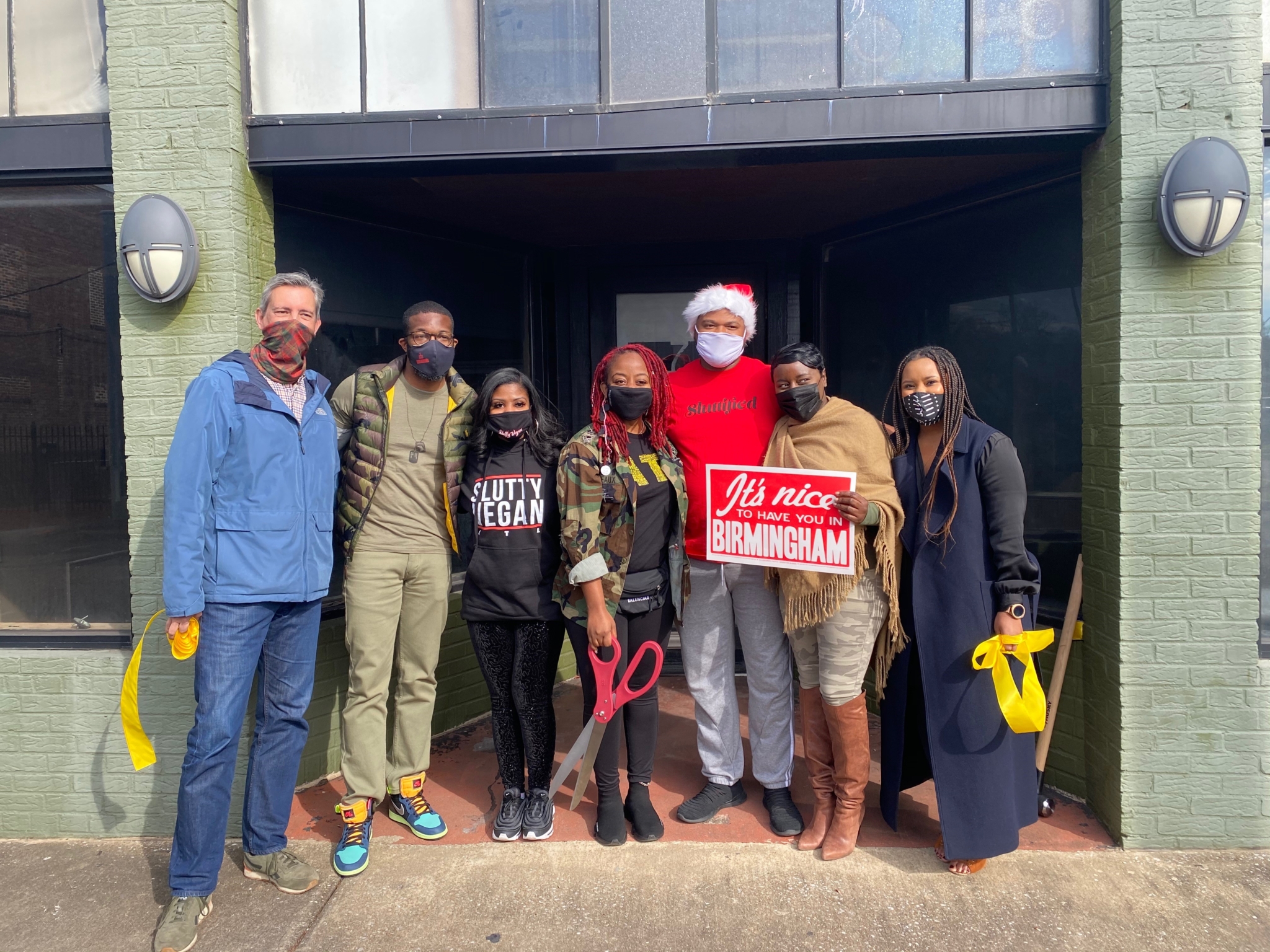 Remember back on September 30th, when a food truck called Slutty Vegan from Atlanta rolled into Five Points West and set up shop for the day? The lines were massive.
Don't believe it? Here is video evidence.
Who knew Birmingham loved comfort-food + plant-based burgers vegan cuisine?
Search for a Slutty Vegan Location
During her visit in the fall, Pinky Cole, the CEO and Founder of Slutty Vegan ATL, made it known that she was scouting for a brick & mortar location.
Today, her search is over.
Two days before Christmas, Cole announced her company had purchased a building in the Woodlawn community for her first Slutty Vegan location outside the state of Georgia. Birmingham will be the fourth location for the Atlanta-based restaurant.
On hand to celebrate closing the property and "cut the ribbon" was Mayor Randall Woodfin and representatives from Rev Birmingham, Woodlawn Foundation and Barnes & Associates, the local real estate company.
"I am excited to expand Slutty Vegan outside of Atlanta and into the Woodlawn Community of Birmingham. The Woodlawn area is a culturally rich neighborhood that reminded me of my very first location in the West End of ATL. We specifically wanted to go into food deserts and locations right in the middle of economic and community revitalization. It feels good to be a black woman in business right now. We are representing black excellence and will continue to do so as we bring Slutty Vegan to Birmingham."

Pinky Cole, CEO and Founder of Slutty Vegan ATL
Hours after closing on the property, Cole participated in a virtual meet-and-greet with the residents and business owners of Woodlawn.
The new establishment is on 55th Place, in the heart of Woodlawn's historic downtown.
REV Birmingham and Woodlawn Foundation are working with Cole to build meaningful relationships with the community she will soon serve at her.
"I am pleased that REV has been able to sell this property to a business owner who will bring even more personality to this vibrant neighborhood, not to mention a new healthy food option in her approachable vegan menu. Property ownership by a business owner builds community investment and family wealth, which is good for Woodlawn and Ms. Cole. I wish Ms. Cole and Slutty Vegan much success in Woodlawn and look forward to working with her as a community stakeholder."

David Fleming, REV Birmingham President and CEO
What's on the Menu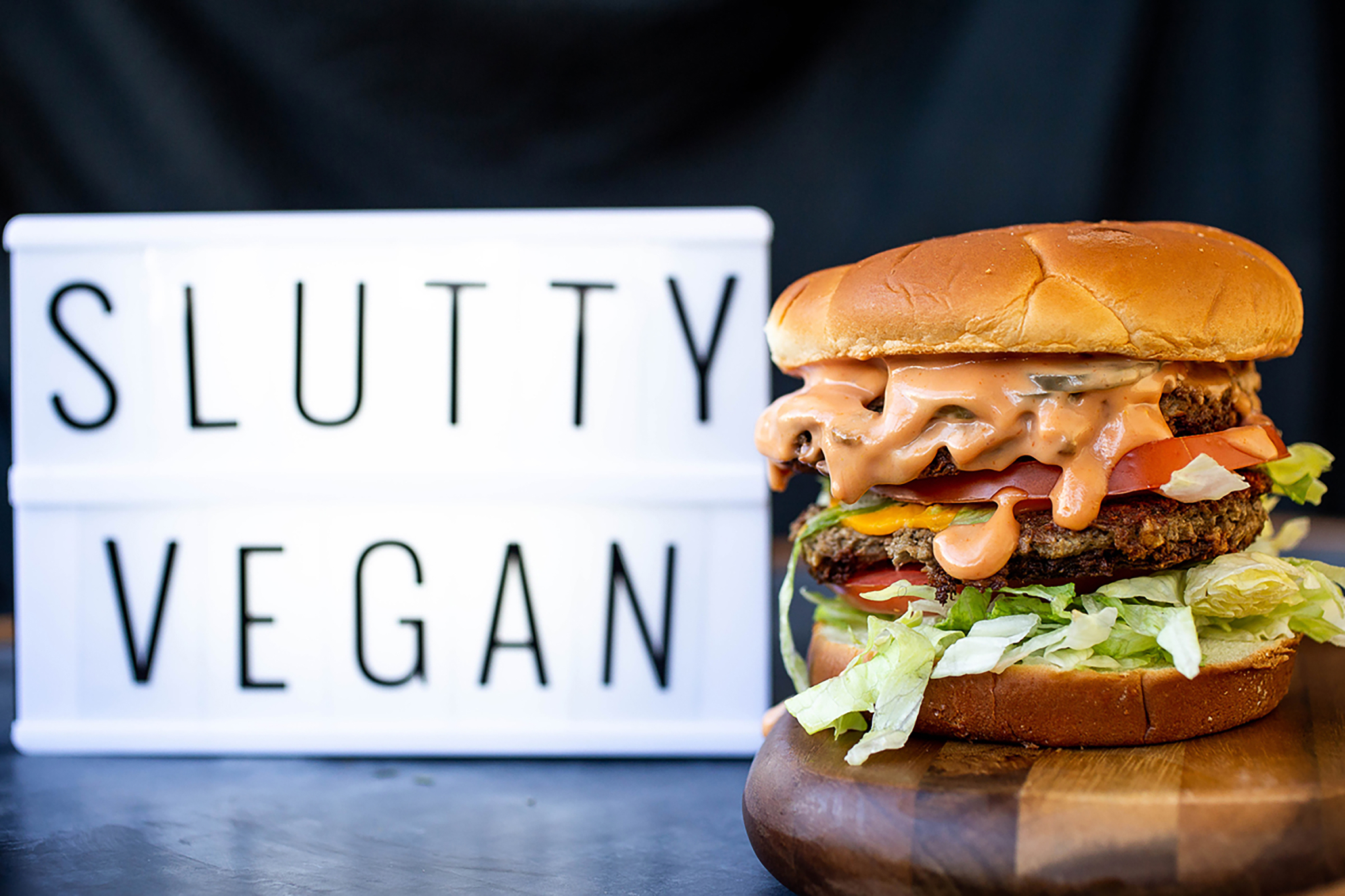 The Slutty Vegan is very popular in Atlanta. In fact, according to Cole, celebrities patrons in Georgia include, Snoop Dogg, Usher, Taraji P. Henson, Tiffany Haddish, Will Smith, Colin Kaepernick, Tyler Perry, Martin Lawrence and Missy Elliott.
Menu items have risque' names and yummy ingredients. Here is a sample.
One Night Stand — Plant-based patty loaded with vegan bacon, vegan cheese, caramelized onions, lettuce, tomato, and Slut Sauce on a vegan Hawaiian bun.
Heaux Boy — Vegan shrimp tossed in a New Orleans style batter, loaded with lettuce, tomato, pickle, vegan cheese, and Slut Sauce on a vegan Hawaiian bun.
Ménage à Trois — Plant-based patty loaded with vegan bacon, vegan shrimp, vegan cheese, caramelized onions, lettuce, tomato, and Slut Sauce on a vegan Hawaiian bun.
Opening in 2021
Slutty Vegan will open in Woodlawn in 2021. It is the second Vegan-only restaurant to announce a 2021 opening. The Underground Vegan plans its first restaurant in Five Points South.
Learn more about Slutty Vegan: Website | Facebook | Twitter | Instagram | LinkedIn | YouTube