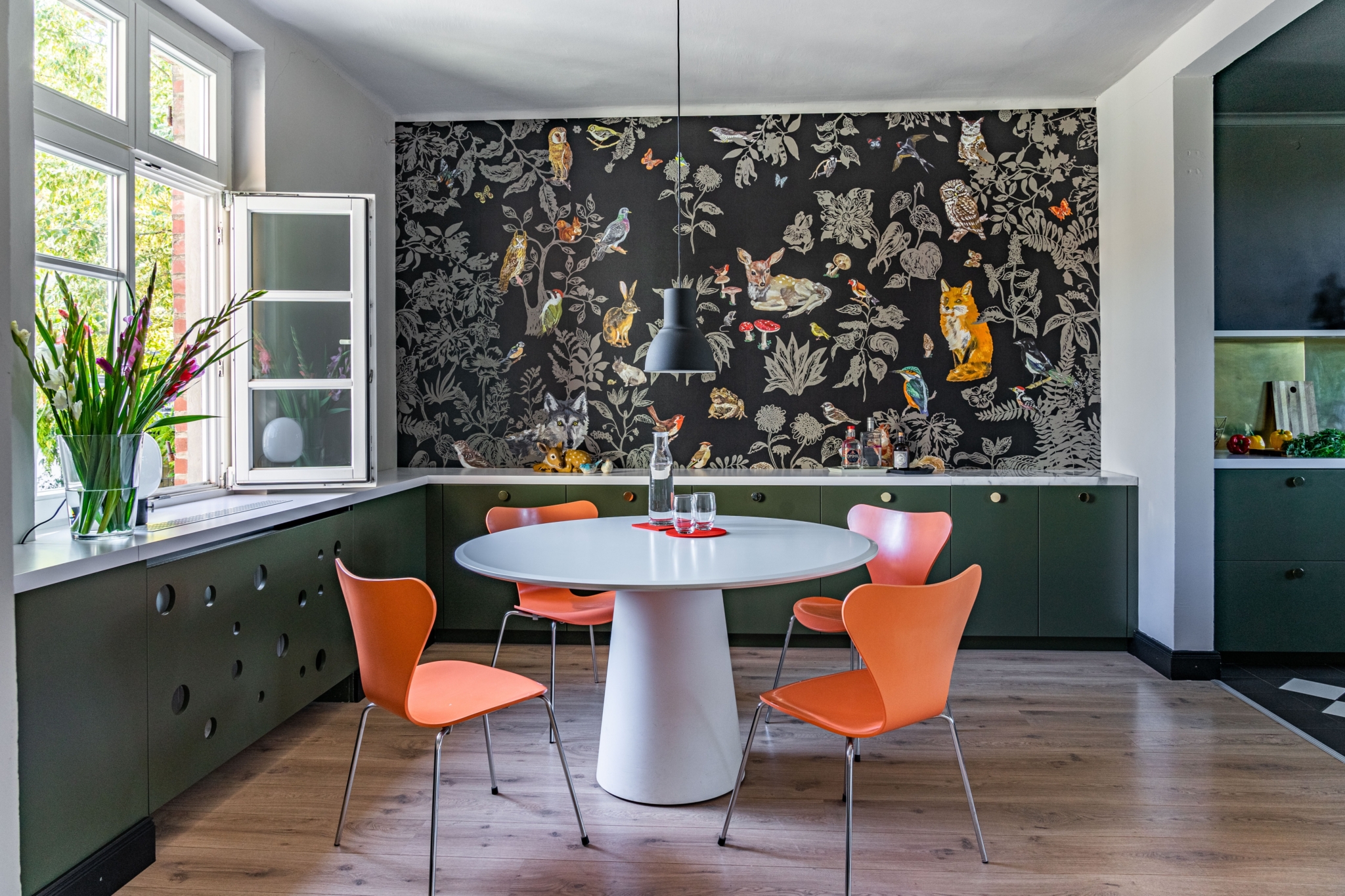 Wallpaper might bring up painful memories—sore shoulders and necks from scraping it off the wall. It could garner images of floral prints from grandma's house or remind you of that one trendy restaurant's bathroom. The rise and fall of the printed paste is climbing up again and Birmingham is right there with it.
Which Birmingham biz is way ahead of us?
While some wallpaper has been around so long it contains hidden treasure, like at this historic hotel in Birmingham, other trendier businesses around Birmingham are using it as a fresh way to elevate their spaces.
Arcadia Salon
You know them for getting a fresh chop, but the topic of Arcadia's jungle wallpaper is next in line when discussing the salon. Designed by Brooklyn artist Aimée Wilder, the wallpaper provides a perfect backdrop for showing off a fresh hairdo.
We ❤️ local and want to support you. If you own a local business, please add your information to our local business or our nonprofit directory. It's where we will look first for up-to-date and relevant information on how the Birmingham community can support you right now.
The Essential
Little woodland creatures run wild across The Essential's cottagecore aesthetic wallpaper. But, if you step inside the bathroom colorful floral prints line the walls might and may outshadow you and your selfie session.
Botanica
Who doesn't want to live in a tropical paradise? Stepping into the shop you're already greeted by a (Birds of) paradise and the friendly flamingo wallpaper takes an extra step of eclectic.
Ronald McDonald House in Birmingham
Laura Levi is used to making Birmingham smile with her whimsical paintings and artwork, but last year she brought some color in the Ronald McDonald House in Birmingham in the form of wallpaper. Inspirational words and cartoon versions of Birmingham's most notable landmarks add an extra splash of happiness to the House.
Shu Shop
The cozy little spot may be dark inside, but its beautiful wallpaper brightens up the space and contributes to the cool atmosphere. Claimed as having some of the best ramen is Birmingham by several sources, Shu Shop is also at the top of the list for being one of the trendiest spots in the 'Ham.
Incorporating it into your home
Whether you decide to go nuts and wallpaper the entire house, start small with the bathroom or just want to add a pop of color with an accent wall, it's best go with the pros in Birmingham.
Options from local business
Scandinavian Design and Leather Gallery
Rainbow Paint & Decorating
Calico
The indecisive person's solution
If you're like me and spend twenty minutes deciding between angel hair and rigatoni pasta at the grocery store, incorporating even just an accent wall can be a big decision. Especially if you're a renter, having options like removable wallpaper or even using fabric to mimic the same effect is a good alternative.
Fabric as an accent wall
Going the fabric route may take a little longer to apply, but it's cheaper and you're able to reuse it when you move. For a step-by-step guide take a look at this article and get shopping at a local store.
Yay or nay—what are your thoughts on wallpaper? Give us a shout on social and let us know at @BhamNow on Facebook and Instagram, or @Now_Bham on Twitter.