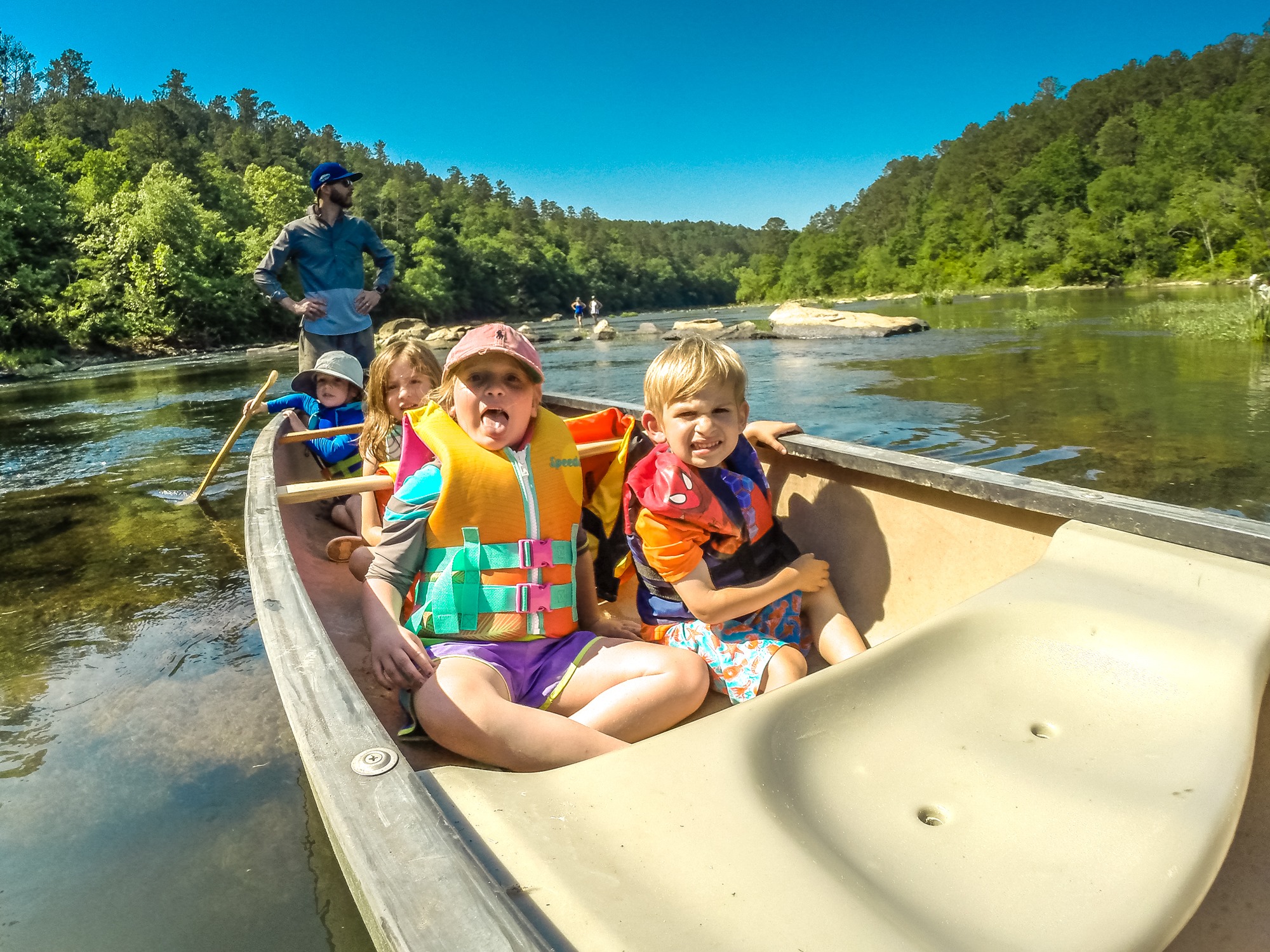 It is officially summer, and that means many of us are itching to get out on our local lakes, rivers or creeks.
In order to make sure your excursions on the water are safe and enjoyable, we made a short "to do" list for our readers. Check it out.
Safety First
Before you go swimming anywhere in the Coosa and Cahaba Watersheds, you should check out the Coosa Riverkeeper and Cahaba Riverkeeper Swim Guides.  
Each week, these two organizations monitor places up and down both watersheds, where people regularly swim or "put in" their boats, canoes and kayaks. They test the waters before each weekend begins, and post the results.
Here are the websites with all the details on how the programs work
Below are the maps each group releases. Obviously – green means it is safe to swim in an area, while red means there is high levels of E coli.
Coosa River – June 26, 2020
Cahaba River Map – June 26, 2020
Each group takes samples at these locations from Memorial Day to Labor Day on Thursdays and Fridays. Then they post the results so you can be safe over the weekend.
Btw – this service is made possible by folks joining the Swim Club.  Check out how you can support it.
Join the Birmingham Canoe Club
Did you know Birmingham has one of the South's most popular canoe clubs? The Birmingham Canoe Club has been around since 1971, and it is supported by around 250 members.
If you are interested in paddling the Locust Fork, the Mulberry Fork, the Cahaba, & the Coosa rivers this is a fantastic group to join.
How do you sign up?
Visit the Birmingham Canoe Club website and Facebook page. You won't regret it.
Learn Alabama's Watersheds
Since the COVID19 pandemic started the Alabama Rivers Alliance has been holding weekly "Water if Life" webinars every Tuesday at noon. Presently, there are presentations scheduled up until July 21st.
Did you miss some of the events?
Thanks to zoom, each presentation has been stored on the Alabama Rivers Alliance website. If you ever wanted to have a free "masters class" about all the watersheds in Alabama – this is it!  
Visit the their landing page – HERE
You'll not only get info on the June/July events – BUT you can watch the 10 previous presentations.
Friends of Locust Fork Photo Contest – Deadline June 30
While you are out this coming weekend on the river, take some photos and enter them in the annual Friends of Locust Fork Photo Contest. Register – HERE
The 2020 Art & Photo Contest topic is:
Celebrating Farms and Woodlands of the Locust Fork Watershed
Here are the 12 categories:
Birds, raptors & Sun-basking creatures, for example: birds, hawks, ospreys, eagles, turtles, frogs, snakes, lizards, salamanders, fish. 
Bugs & Butterflies, for example: bees, butterflies, centipedes, dragonflies and spiders.
Farm buildings. 
Pastures and crops.
Farm animals such as chickens, cows, ducks, goats, horses, rabbits, sheep, etc
Farm life people working, celebrating, cooking at a farm.
FLFR events for example: kayak trips, hikes, Kids' Day on the River, floats, Locust Fork whitewater races, etc.
Furry creatures, for example deer, foxes, beavers, otters, rabbits.  
Habitat & Seasons:  covered bridges, outdoor scenes or landscapes in spring, summer, fall or winter, cliffs, rocks, caves, clouds, sky, sunsets and sunrises.
Locust Fork River or its tributaries, lakes & waterfalls, for example: Blackburn Fork of Little Warrior, Calvert Prong of Little Warrior, Dry Creek, Graves Creek, Gurley Creek, Sand Valley Creek, Inland Lake, Highland Lake, McKay Lake, Mountain Lake and Sugarland Lake. 
PIN – People and/or Pets in Nature: activities along the river, lakes, its tributaries, waterfalls, or woods: bicycling, swimming, jumping, kayaking, canoeing, fishing, hiking or walking, camping, picnicking, etc 
Roots & Shoots, for example: wildflowers, foliage, mushrooms, moss, other parts of plants, and trees in the wild.  
Love our Rivers
Make the most of your time on Alabama's rivers this summer. Tell us what you are doing – and be safe out there!