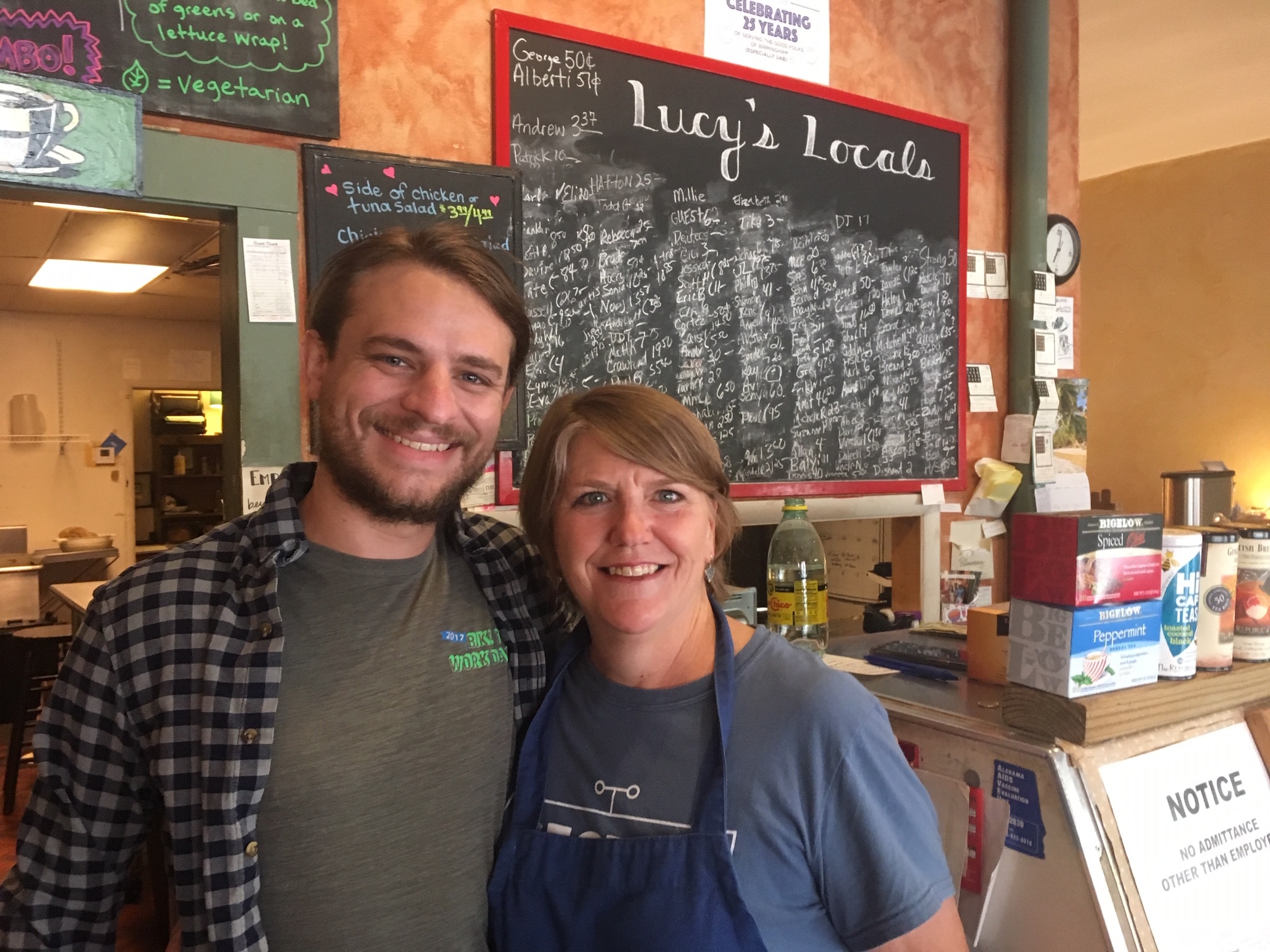 Lucy's Coffee & Tea on University Boulevard has been a Birmingham staple for 27 years. Now, it's with utmost respect and love that we say farewell to this cherished shop. Keep reading as we take a walk down memory lane and remember why Birmingham loves Lucy.
Do you remember the first time you stepped into the cozy, inviting coffee shop at the intersection of University and 20th Street? Or maybe you remember the time when they served Luke's coffee from the show Gilmore Girls. The line was around the block! Whenever you left Lucy's Coffee & Tea, you were always in a better mood.
Small businesses have been heavily affected by COVID-19 and now is the time to support them more than ever. Owner Lucy Bonds made the hard decision to not reopen and we've got all the feels.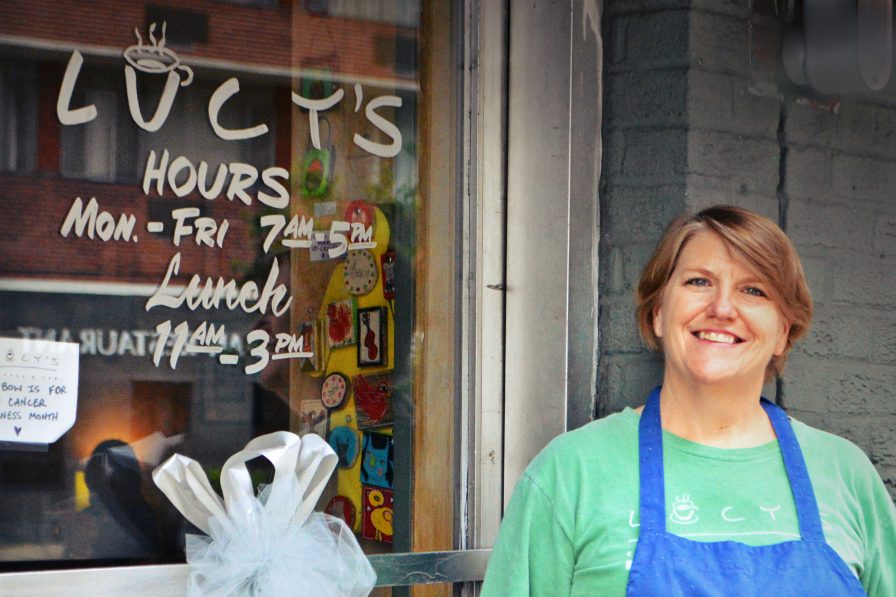 Owning that little coffeeshop has given me the greatest joy and the hardest challenges. I have made life long friends and had the best times there…art shows, concerts, Inauguration viewing, 20th anniversary party, End of Starbucks celebration. I MET MY HUSBAND THERE❤ But even in the best of times, making ends meet was often elusive. I know every small business owner knows exactly what I'm saying.

Lucy Bonds, owner of Lucy's Coffee & Tea
Let's take a walk down memory lane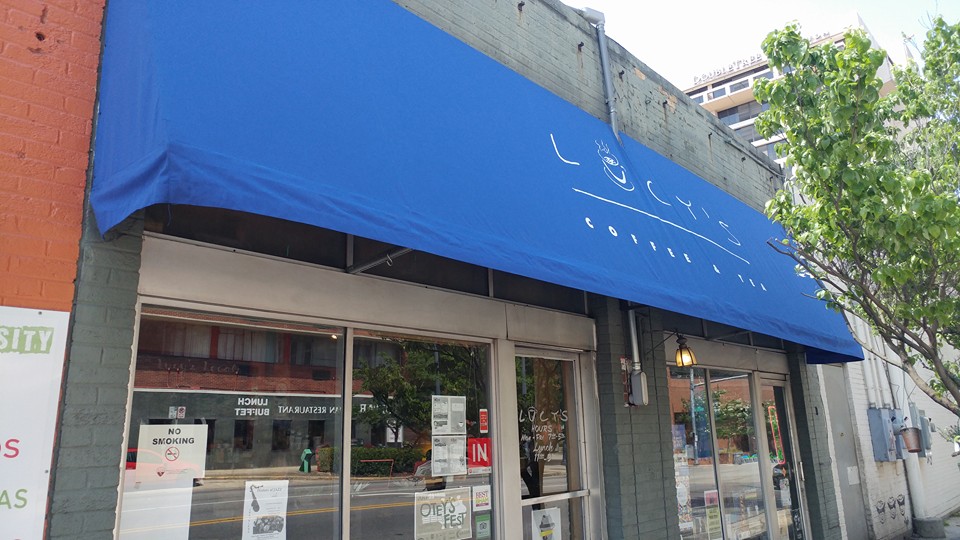 It all began with a coffee cart on UAB's campus. Although it was considered strange at the time, Lucy Bond was well ahead of the trend. Fast forward to 1993 and Birmingham said hello to a warm, inviting coffeehouse with the cute blue awning.
Let's not forget Lucy's triumph over Starbucks who decided to make the bold move to open a store right next door. Lucy Bond whips up a mean cup of coffee and soup. She can also take on corporate giants all at the same time. The entire community rallied by her side. Bond's personality and generosity proved too much for Starbucks.
Even when another Birmingham coffee shop, Urban Standard, fell on hard times, Lucy's Coffee & Tea stepped in to support. In 2017, Urban Standard closed due to a fire and in response, Lucy Bond asked patrons to help raise funds for her fellow small business.
What does the future hold?
There's no word on what will go in the storefront, but Lucy Bond had kind words for the entire community on Facebook:
To her fellow employees
To the folks, past and present, who worked with me at the shop…thank you for always supporting me. Thank you for taking ownership of the shop and loving it as much as I did. For taking care of the shop so I could relax and have some down time. Thank you for being my FRIENDS for life.
To her customers and UAB family
My customers. My UAB family. It has been my honor and privilege to serve you. Over the years, I have met thousands of people from all around the world. Brilliant minds working to solve problems and make our world a safer place. I loved walking through the shop and hearing different languages being spoken, the scientific languages as well. I often said I had the smartest clientele in Birmingham. I will miss you desperately but I'm gonna figure out a way to stay involved with you. Thank you from the bottom of my heart for your help over the last 6 weeks.
Lovely messages from the community to Lucy
Lucy Bond will continue to serve the community
I'm gonna forge a new path for myself. Maybe I'll come up with a product line. Maybe I'll work with Brian in real estate. Maybe I'll see if I can be of help to a whole bunch of folks. Volunteer. I love this city so much and I am so grateful to be part of this community. Thank you so very much. Please stay safe and healthy. With much love, Lucy
One thing will always remain the same. Birmingham loves Lucy.
What are some of your favorite memories at Lucy's Coffee & Tea? Tag us know on social @BhamNow.