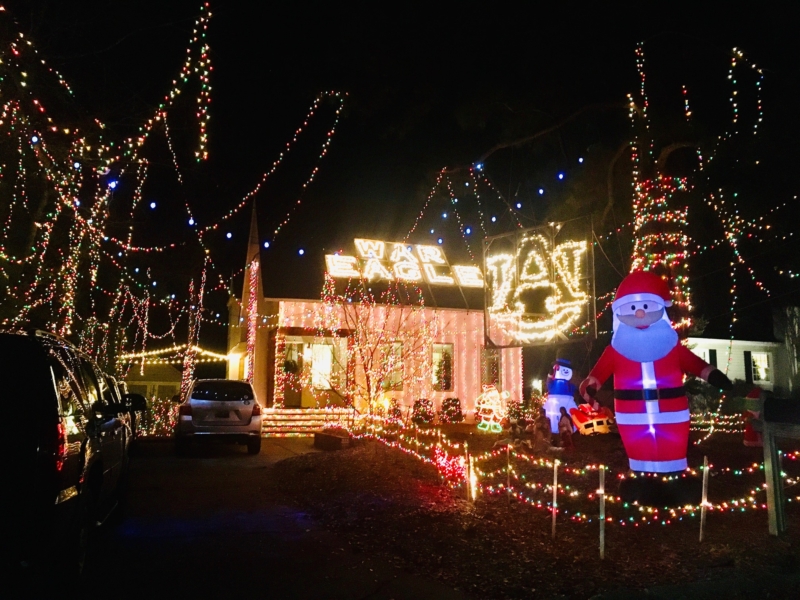 Thousands of lights! Gravity defying displays! Blow-ups with enough hot air for a local election!
Join Fresh Air Family as they present the best, worst and wackiest light displays in the Birmingham metro area during their  two- hour guided bus ride "Wacky Tacky Light Tour" fundraiser.
This is truly one of the Magic City's quirkiest and fun events of the year.
See the Hanukkah House with its Joy to the World, minus the "j," Santa's Trailer Park, Dueling Neighbors, Star Wars Christmas and the Reindeer Playground.
The annual Wacky Tacky Light Tour is scheduled for Monday, Dec. 9, Tuesday, December 10, Wednesday, December 11, and Thursday, December 12.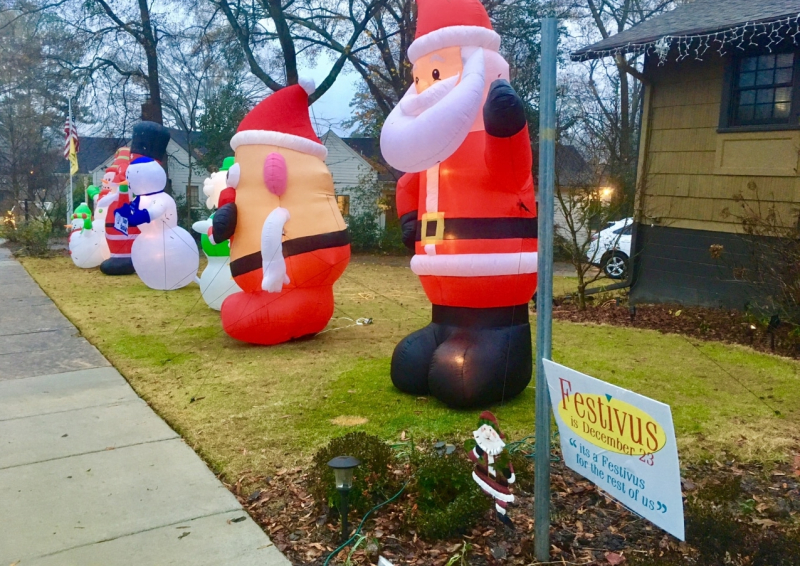 The tour starts and ends at Golden Age Wine in Mountain Brook Village at 2828 Culver Rd, Mountain Brook, AL 35223.
Tickets at www.WackyTacky.org. Feel free to wear holiday attire, the wackier and tackier, the better. Last year, more than 1,200 participated.
"The magic of the event is the laughter. People come to enjoy each other as much as they enjoy the lights. Our anti-Normal Rockwell event brings silly fun into what can be a stressful time of year," said Verna Gates, who started both the event and Fresh Air Family. Verna personally curates the route. "My standards are really low, and hard to meet," she quips.
Special preview
Last week, Bham Now was given a sneak peek of the Light Show by Verna Gates
Here are two stops you'll see this year.
Toomer's Corner in the Middle of Mountain Brook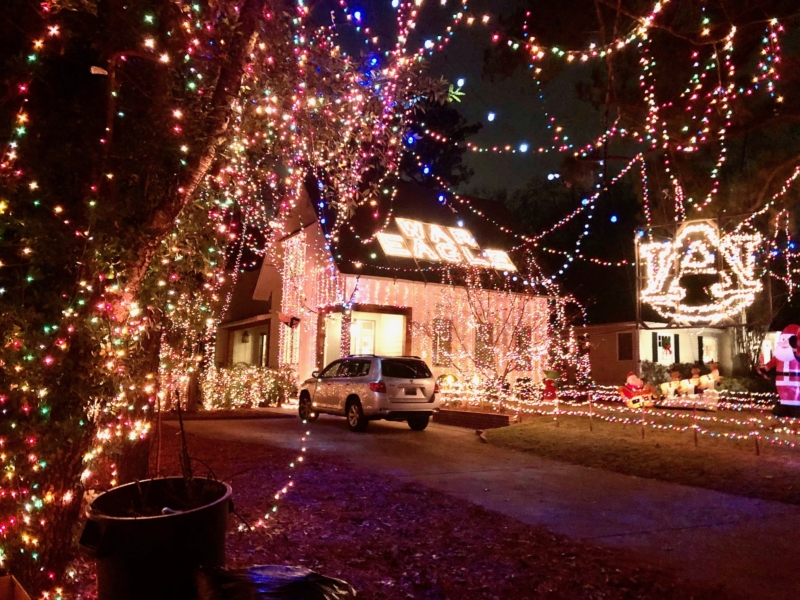 Auburn football fans, you've got 358 more days of bragging rights over  the Crimson Tide.  What better way to celebrate this year's victory than seeing a home lit with thousands of lights hanging from the trees like toilet paper at Toomer's Corner.
This house is just off Euclid in Mountain Brook.
Winter wonderland made out of recycled tree limbs
The light show is not all blow-up balloons and lights.  One of the most popular stops is Bob Cissell's yard-full of handcrafted reindeer made from recycled tree limbs.  We estimate Bob constructs over 80 plus reindeers.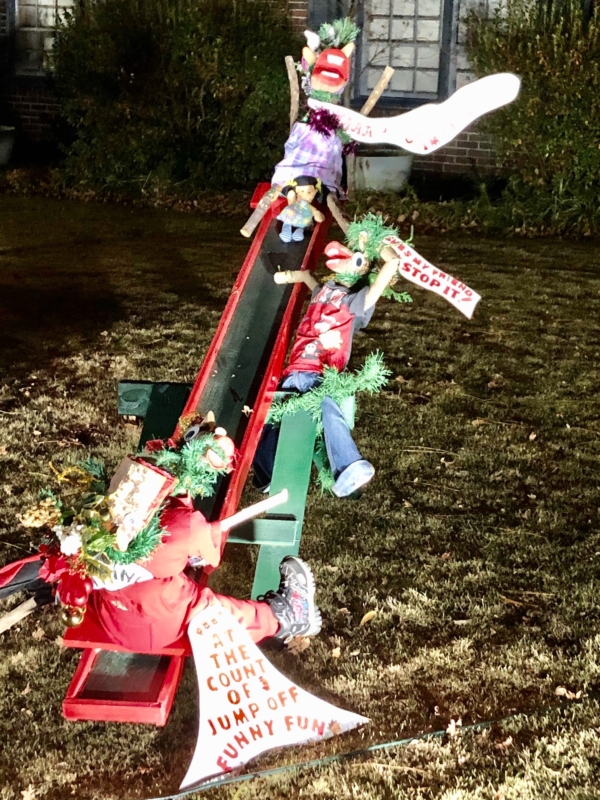 By the way, a little backstory on Bob.  He was the window dresser for Blach's the old downtown department store.  He is 89 years young!
Fresh Air Family – Gross Out Camp Financial Aid
All proceeds from the Wacky Tacky Light Tour go to scholarships for students in our award-winning science camp, Gross Out Camp. Last year, 214 campers received financial aid for camp fees totaling $43,500.
Tours Leave Every 10 Minutes
Tours leave every 10 minutes, at 6, 6:10, 6:20, 6:30, 6:40, 6:50, 7, 7:10, 7:20, 7:30, 7:35 and 7:40. Reservations required. Family friendly buses run until 6:30 pm, later buses are adult-only. Tickets $35. Prices include a hotdog and a two-hour guided tour.
Many participants organize "party buses" for their friends, clubs, office parties and other groups.
Meet at Golden Age Wine in Mountain Brook Village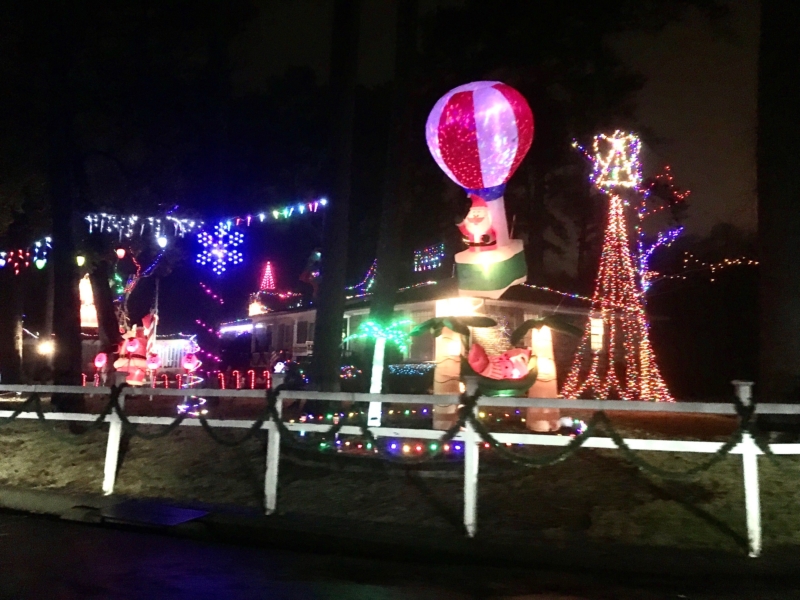 Wacky Tacky Light Tour participants will meet at Golden Age Wine, then hop on the bus for the Wacky Tacky Light Tour. Mid-stop at Fair Haven, hotdogs and refreshments will be served. Wear holiday attire– the wackier the better!
Seating is limited, so reserve your tickets now! Email Events@FreshAirFamily.org for more information.
The entire tour is sponsored by Rare Transportation, Visiting Angels North Birmingham, Fair Haven Retirement Community, Hoover Tactical, Back Forty Beer, Campesino Rum, and Golden Age Wine.
See www.FreshAirFamily.org or www.WackyTacky.org for details.