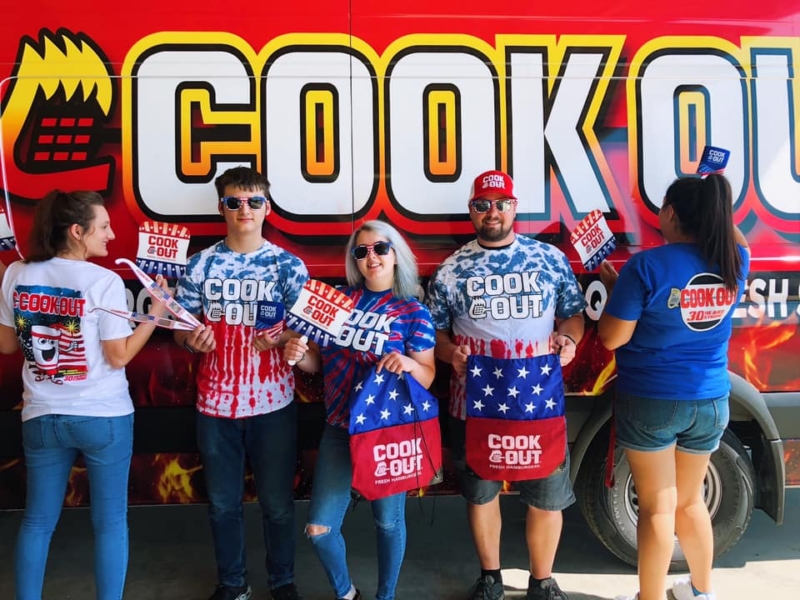 Do you ever feel like you've tried every good burger and BBQ place in town? Though places like Sam's Super Samwiches and Dreamland BBQ will always have a special place in my heart, I'm excited that there's a new favorite coming to Birmingham.
Originating in 1989 in Greensboro, NC, Cook Out has made a name for itself by having great, affordable food, with the motto "always fresh, never frozen." Now, Birmingham will soon have its own Cook Out. Here are five reasons why you should get excited about the opening.
1. Cook Out is set to open November 15th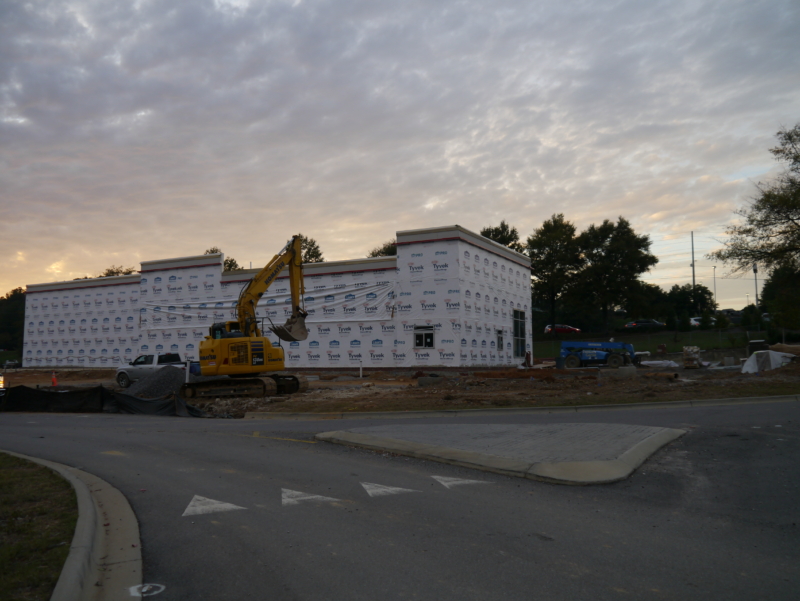 According to the Birmingham Business Journal, Cook Out anticipates that after buying the property in 2018, November 15 will be the date the new Birmingham location finally opens.
Located on 281 Lakeshore Parkway, this spot is another place on the Lakeshore Parkway strip that's recently gotten a makeover. The new Premiere Lux Cinema is located just up the road.
2. Cook Out knows how to make a meal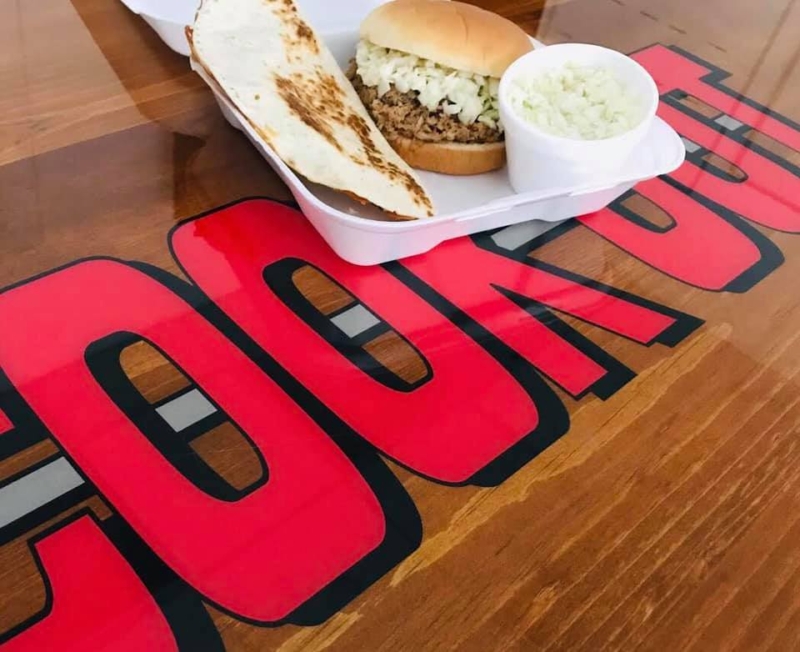 Cook Out is a joint most famous for its BBQ, burgers, shakes and just overall putting together a hearty meal. Guests can choose to make a Jr. Tray or a Tray, picking an entree, 2 sides or doubling up on the entree and a drink.
Main menu items include hamburgers, BBQ, hot dogs, chicken strips, corn dogs, quesadillas and BLTs. Items like burgers, chicken sandwiches and BBQ are also available in different styles, such as Cheddar Style, Out-West Style, Homemade Style and Cajun Style.
These main dishes can be combined with a number of delicious sides, including bacon wrap, hush puppies and onion rings.
3. There's a milkshake for everyone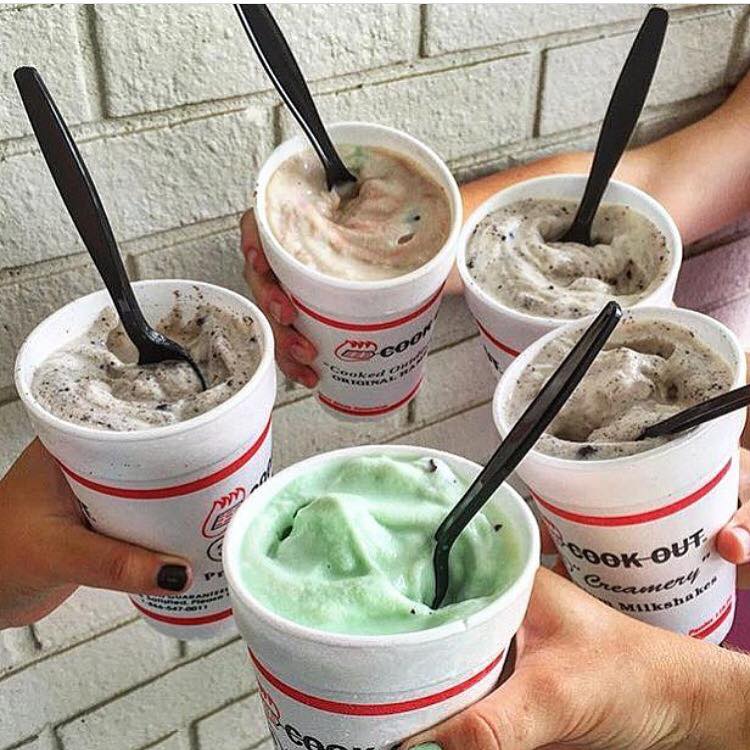 With over forty milkshake flavors, Cook Out has something for everyone.
Some more unique flavors include Banana Pudding, Orange Push-Up and Peach Cobbler. They also have a number of more classic flavors, including Oreo, Chocolate Chip Mint and Strawberry.
The restaurant also has other dessert options, like cheesecake, Coke floats and Cheerwine floats.
4. They aren't a conventional restaurant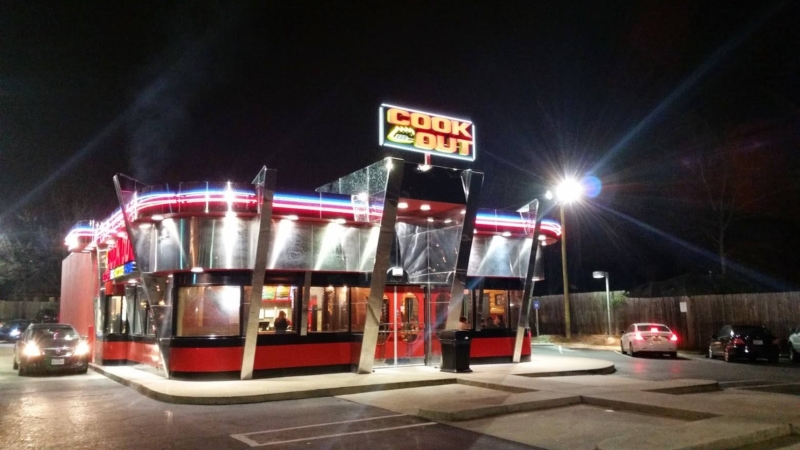 While most places in Birmingham close at 9, Cook Out locations can stay open as late as 3 AM. Whether you're a student up late studying or having a night on the town, this is the perfect late-night eatery.
The restaurant also has a very hands-on approach to interacting with their customers. With highly active social media accounts, fans of the eatery have the chance to win prizes, like t-shirts, hats and more if they follow Cook Out.
Additionally, Cook Out has also been known to post lots of memes related to their food and establishment.
5. Even Mayor Woodfin is excited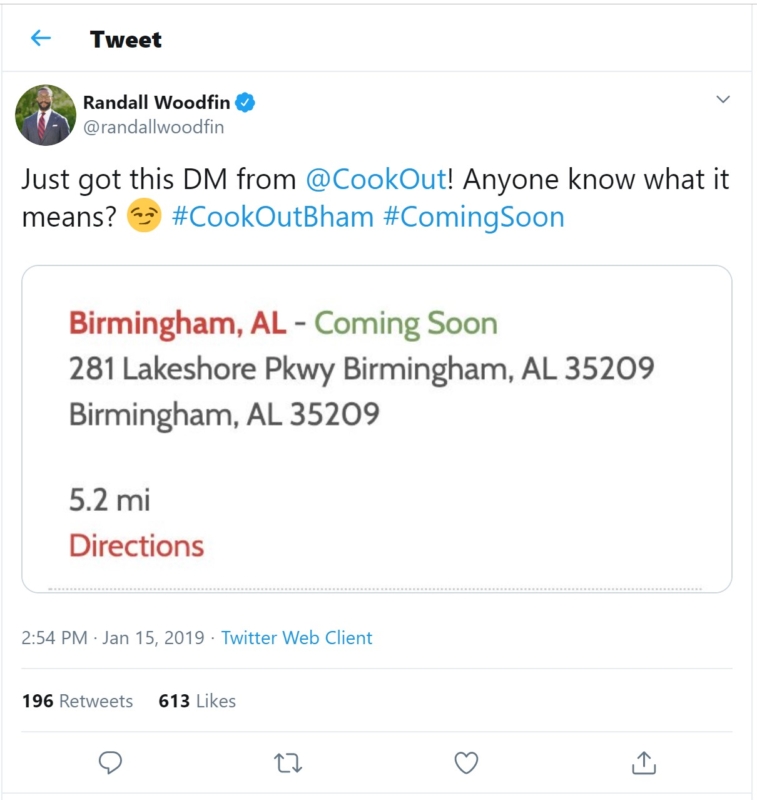 When even the Mayor of Birmingham is excited, you know this place has got to be good.
In March, after Montgomery had just opened a new Cook Out location, Mayor Woodfin took to Twitter to express his concern that Birmingham did not have their own location. Other locals quickly chimed in and agreed that the eatery should make an appearance in Birmingham next.
After it was announced that Cook Out was coming, Woodfin was once again vocal on social media with his excitement for the new restaurant.
Are you a fan of Cook Out, or do you have another favorite eatery we should know about? Reach out to us @bhamnow on social and let us know!