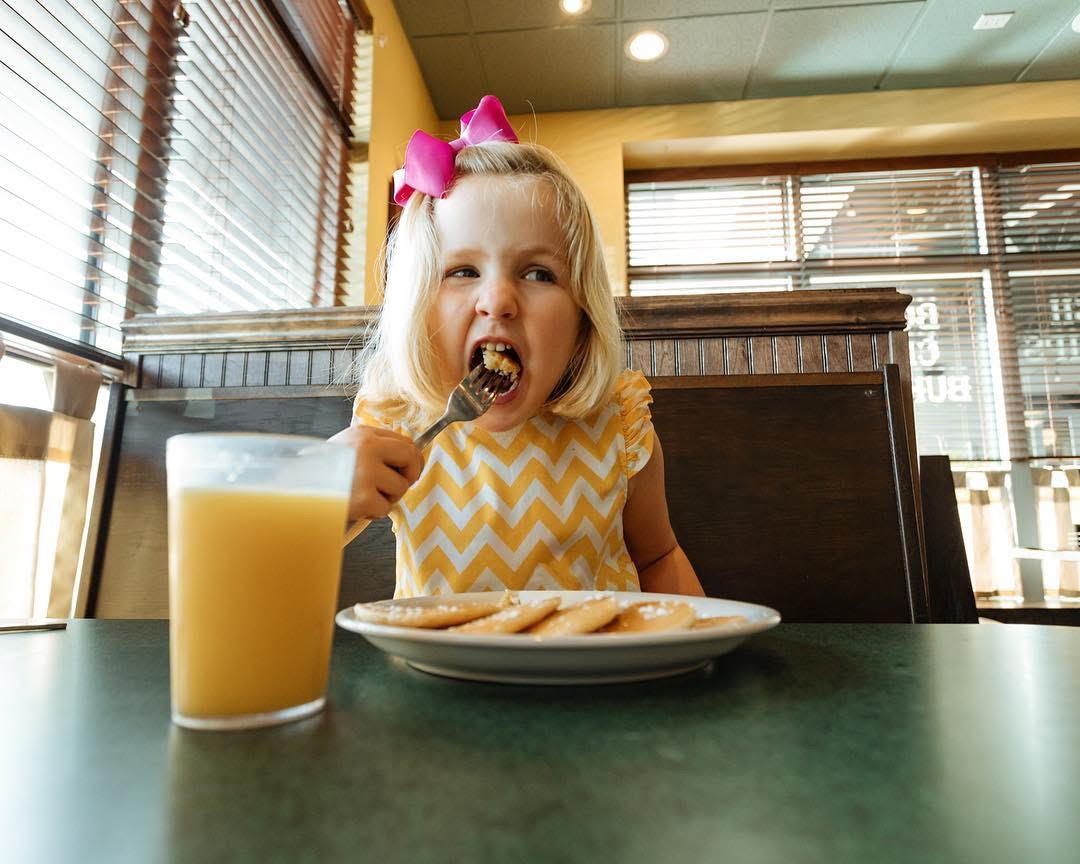 National Pancake Day is Thursday, September 26. Let's hear those cheers for sweet, drippy syrup and fluffy goodness! Where can you get these heavenly, mouthwatering hotcakes in Birmingham? Read on to find out! Waffle fans, head here!
Metro Diner
Cinnamon rolls are one of my all-time favorite treats. Fuse them into pancakes and… well… honestly, no one needs to witness that pancake attack.
While Metro Diner offers classic pancakes, I suggest their Cinnamon Roll Pancakes. Order them and enjoy:
2 fluffy pancakes swirled with cinnamon and sugar
Cream cheese icing
Candied pecans
Cinnamon butter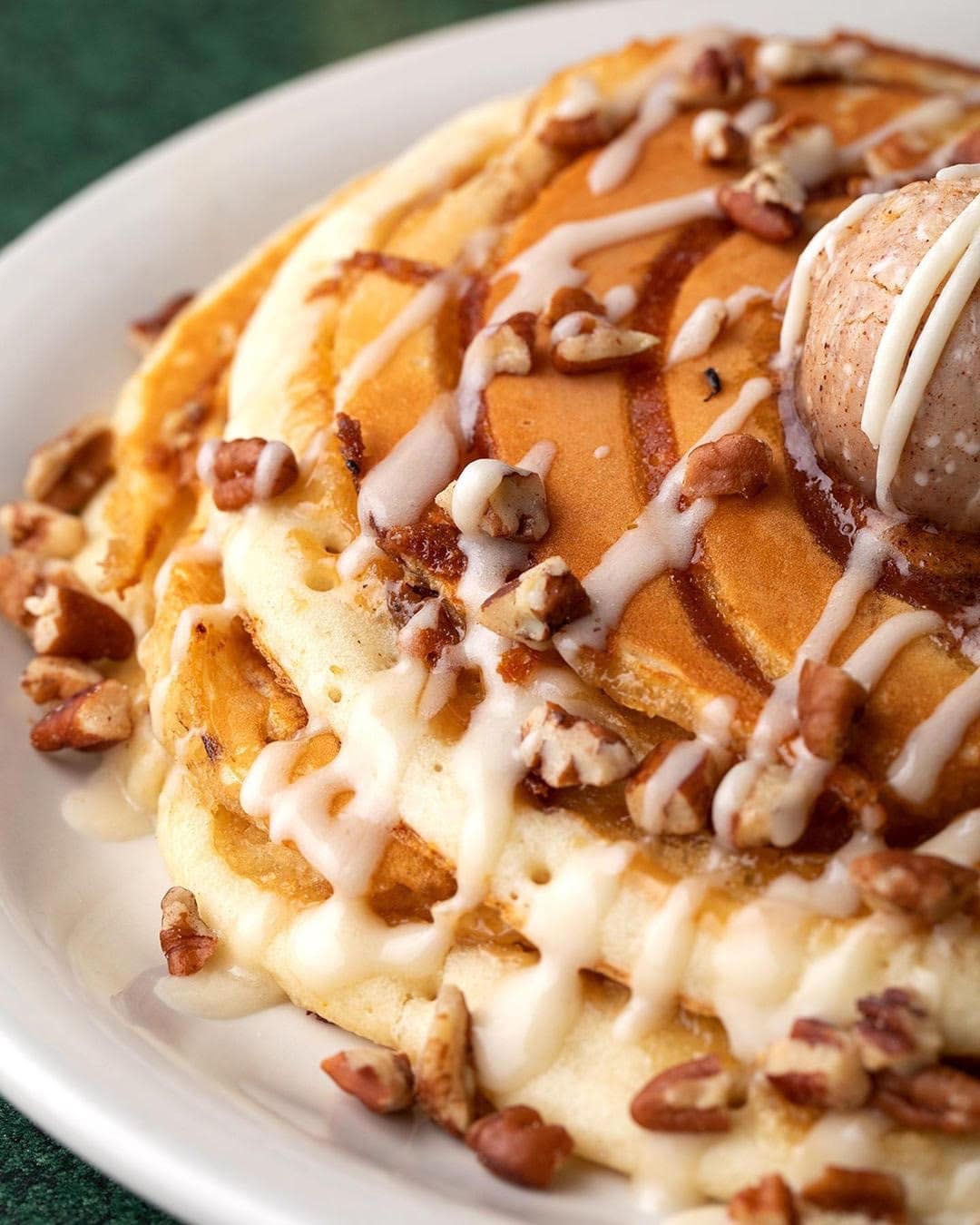 Psst! Their waffles come with strawberry butter. I know, right?
Address: 180 Inverness Plaza, Birmingham, AL 35242; 2050 Gadsden Hwy., Birmingham, AL 35235
Hours: Mon.-Sat. 7AM-9PM; Sun. 7AM-8PM
Ruby Sunshine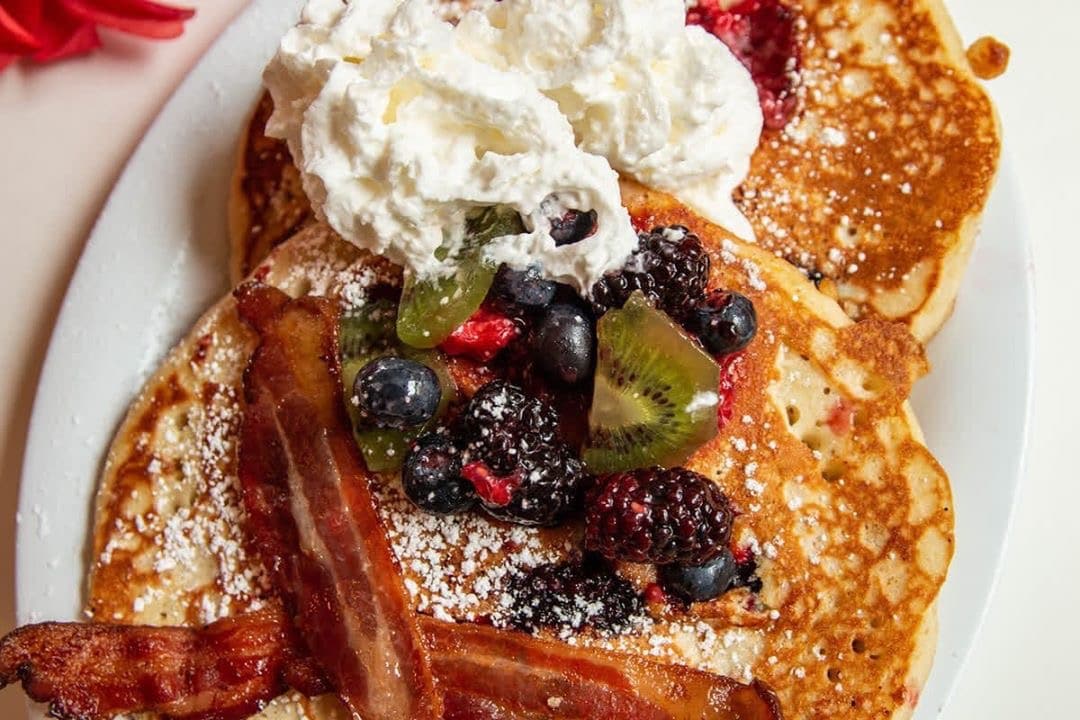 You can opt for classic pancakes, or you can venture out and try some that are much more unique.
This is one area where Ruby Sunshine…well…shines. So consider these:
White Chocolate Bread Pudding
Love bread pudding? Check out this breakfast twist featuring buttermilk pancakes mixed with white chocolate French bread pudding and topped with white chocolate whiskey sauce. Ooo la la!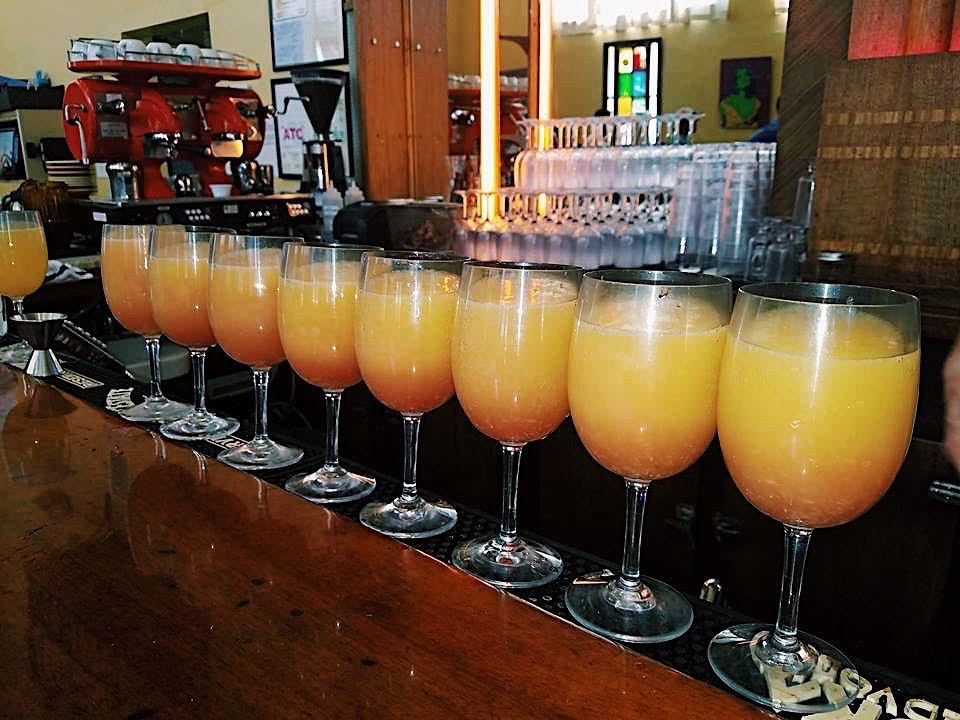 Bacon Praline
Ruby Sunshine's Bacon Praline pancakes are the ultimate way to combine breakfast with dessert. Oh, yum!
This dish comes with classic buttermilk pancakes filled with applewood-smoked bacon and toasted pecans and topped with warm brown sugar and butter caramel sauce.
Bonus: Ruby Sunshine serves seasonal pancakes, so when the seasons change, be sure to ask your server for deets on their newly-featured hot stacks.
Address: 1017 Oxmoor Rd., Birmingham, AL 35209
Hours: Mon.-Fri. 7AM-2PM; Sat.-Sun. 7AM-3PM
Big Bad Breakfast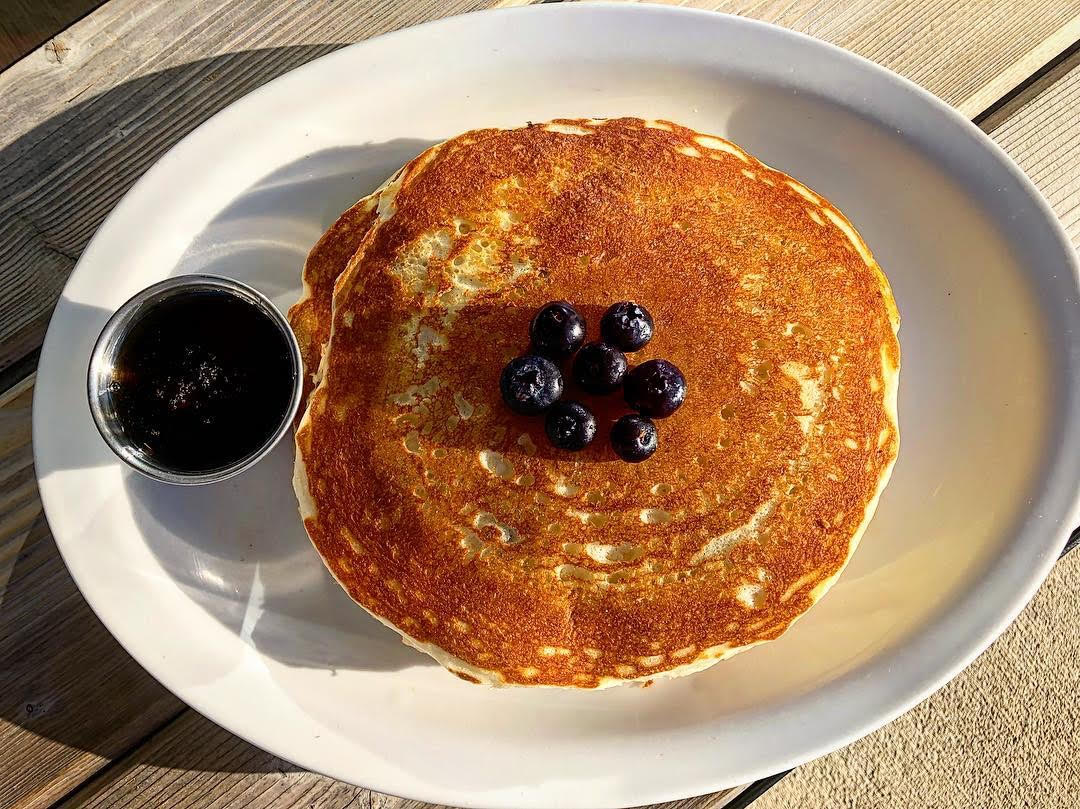 If you've ever read any of the brunch guides I've written for Bham Now over the years, then you know I'm a huge fan of Big Bad Breakfast. So obviously, I had to include them in a guide dedicated to my favorite thing on their menu—flapjacks!
The Flapjacks at BBB are fluffy, tangy and totally scrumptious. Your plate will come piled with three buttermilk pancakes served with BBB's house syrup blend and your choice of meat.
Believe me when I say you will crave these babies for the rest of your life.
Address: 5361 US-280, Birmingham, AL 35242; 1926 29th Ave S., Homewood, AL 35209
Hours: Daily, 7AM-2:30PM
Yo Mama's
When there are lines flowing out a restaurant's door, you know you're in for some delicious food. Yo Mama's is one such place.
The best news—they serve pancakes!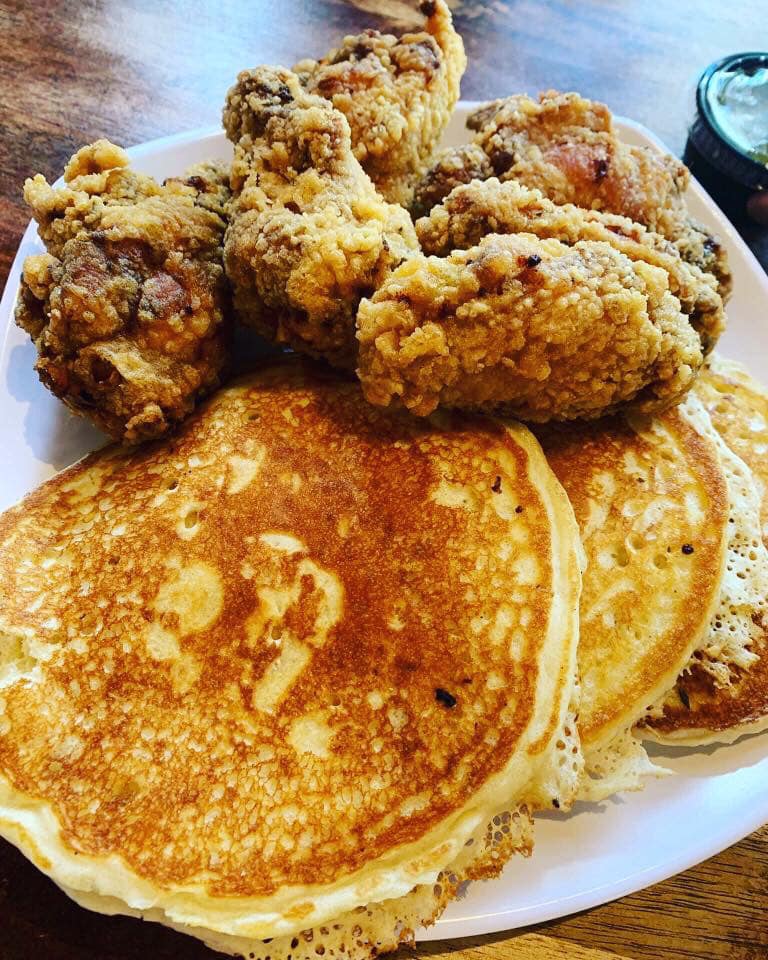 Your order will show off three fluffy buttermilk pancakes with Yo Mama's famous homemade syrup and your choice of bacon, sausage or smoked sausage.
Add ons include:
Blueberries
Peach cobbler topping
Strawberries and blueberries
Avoiding gluten? They have a gluten-free pancake option just for you!
Inside Tip: Yo Mama's is known for its chicken and waffles. But did you know they also serve chicken and pancakes? Ding, ding, order up!
Address: 2328 2nd Ave N., Birmingham, AL 35203
Hours: Mon.-Fri. 8AM-2:30PM; Sat. 9AM-1PM
Mile End Deli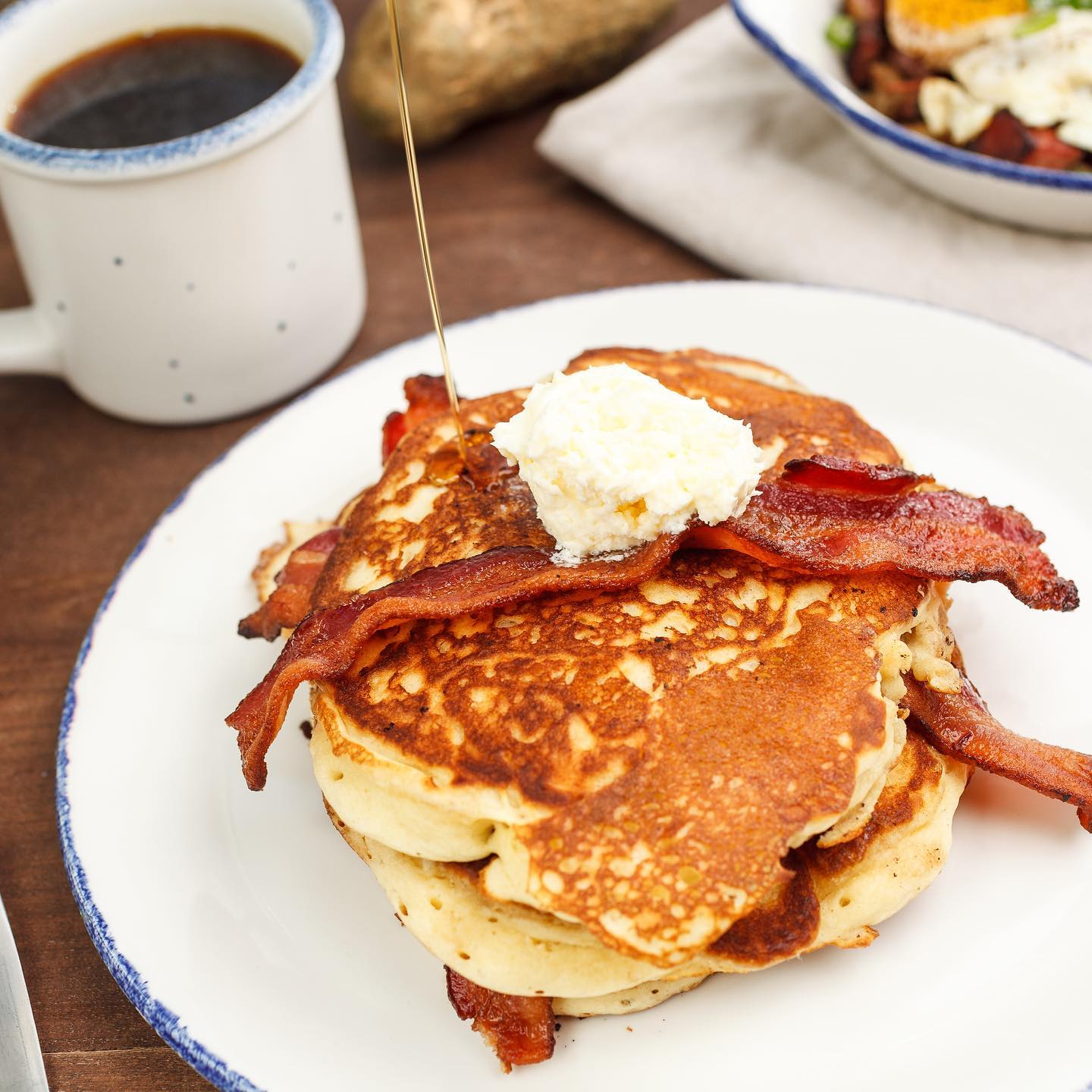 The more I venture into the menu at Mile End Deli, the more I like it. One thing on the menu you are bound to enjoy is the buttermilk pancakes with maple bacon, whipped buttercream cheese and maple syrup.
But at this delicatessen, I suggest trying something similar, but with more flair, like potato latkes. Honestly, if it has the word potato in it, I'm all in!
Choose the Classic Breakfast that includes two eggs, your choice of meat, rye toast and, of course, potato latkes. You can also order your latkes solo.
Address: 1701 1st Ave S. Suite 135, Birmingham, AL 35233
Hours: Daily, 8AM-8PM
The Original Pancake House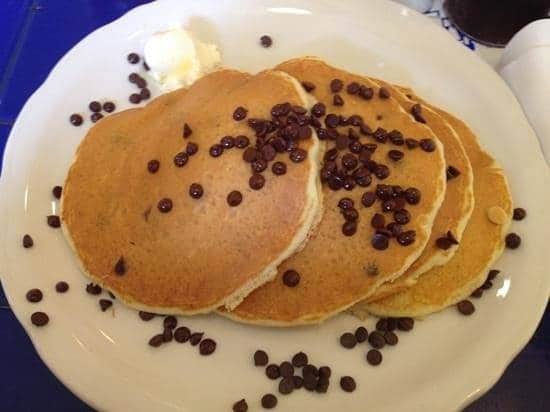 Pancakes on the brain? They will be when you learn of the large variety offered at The Original Pancake House.
Here are just a few of the many pancakes they offer:
Buckwheat Pancakes
Hawaiin Pancakes
Coconut Pancakes
Swedish Pancakes
Dollar Pancakes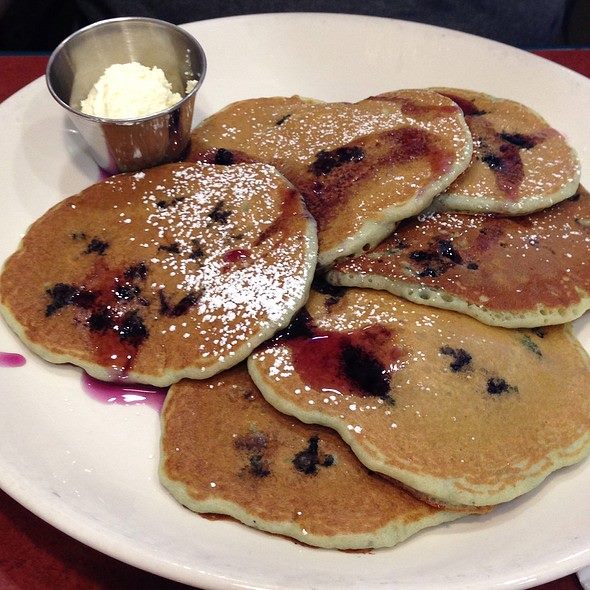 Address: 1931 11th Ave S., Birmingham, AL 35205
Hours: Mon.-Fri. 6:30AM-2PM; Sat.-Sun. 7AM-2:30PM
Another Broken Egg Cafe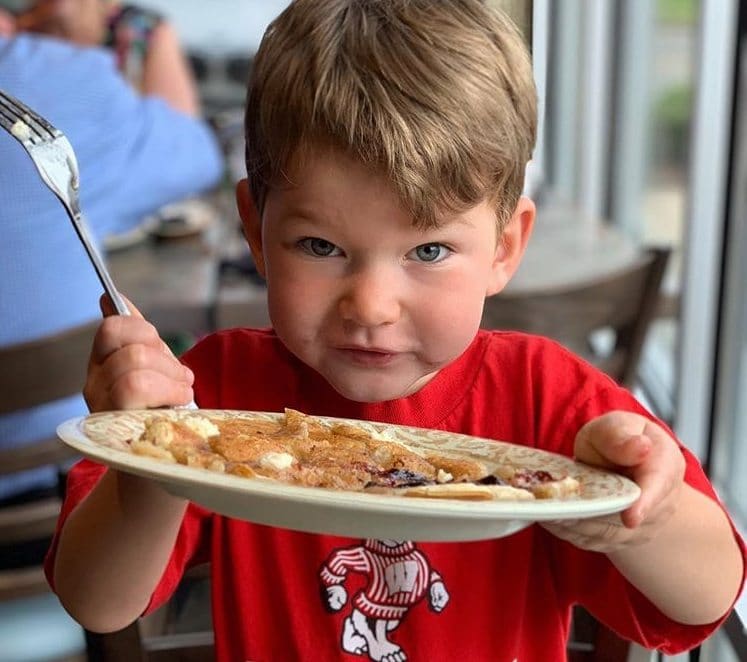 With the work "egg" in the name, there's no question that Another Broken Egg Cafe serves pancakes. In fact, they serve many delicious pancake choices, all worth each and every bite.
Here are just two of the many options they offer:
Lemon Blueberry Goat Cheese Pancakes
Lemon and blueberry—two flavors destined for each other.
Goat cheese. Don't get me started on my love of goat cheese. I mean, goats… cheese… what's not to love?
The Lemon Blueberry Goat Cheese Pancakes come with two pancakes filled with blueberries and goat cheese and topped with lemon zest and whipped cream.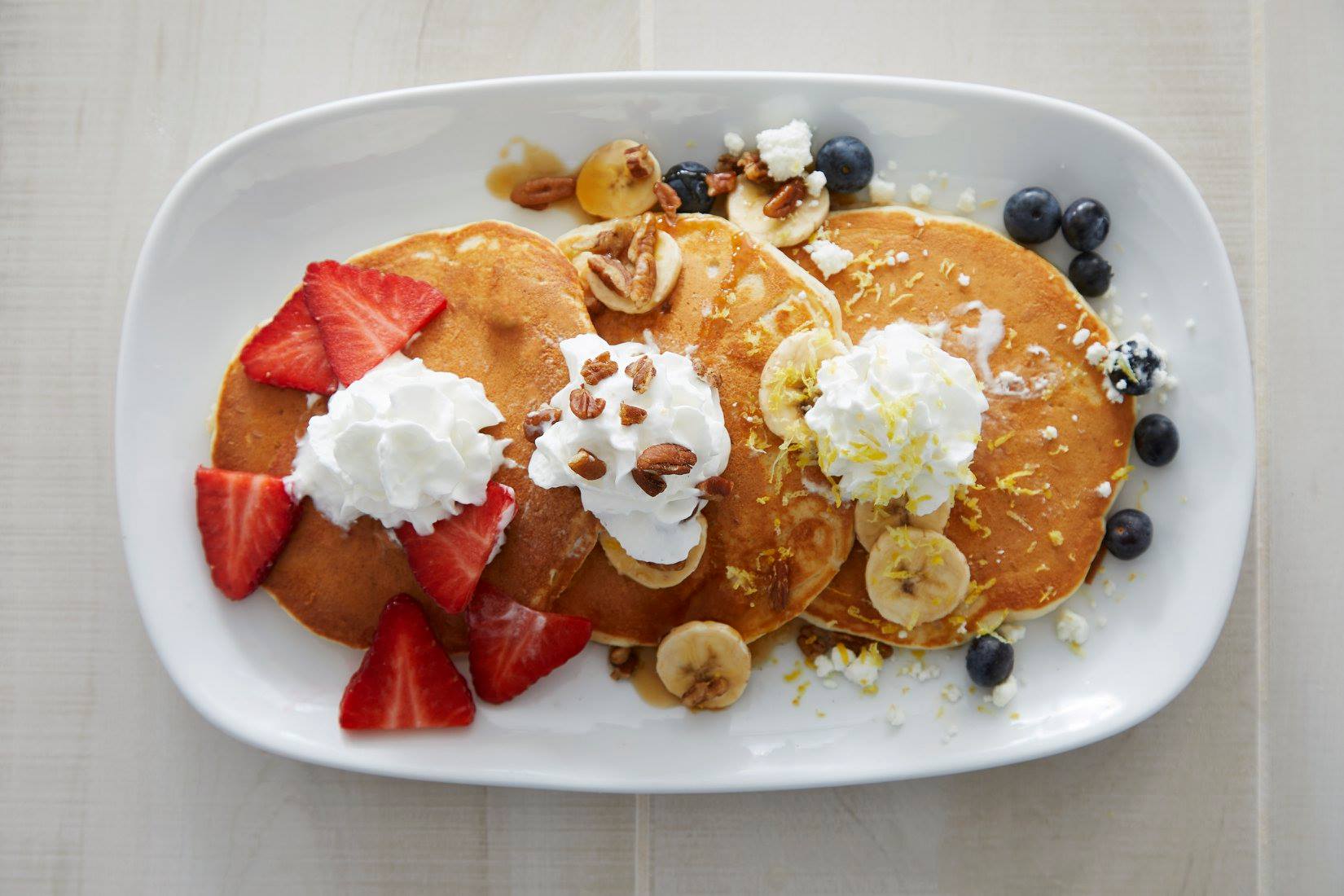 Bananas Foster Pancakes
There's no such thing as a pancake guide without at least one mention of Bananas Foster. So here's what these pancakes come with:
2 pancakes
Bananas
Pecans
Foster sauce
Whipped cream
Gluten-free pancakes are also available.
Address: 2418 Montevallo Rd., Mountain Brook, AL 35223
Hours: Mon.-Fri. 6:30AM-2PM; Sat.-Sun. 7AM-2PM
Who else sells scrumptious pancakes in Birmingham? Let us know your favorite spots!