Sponsored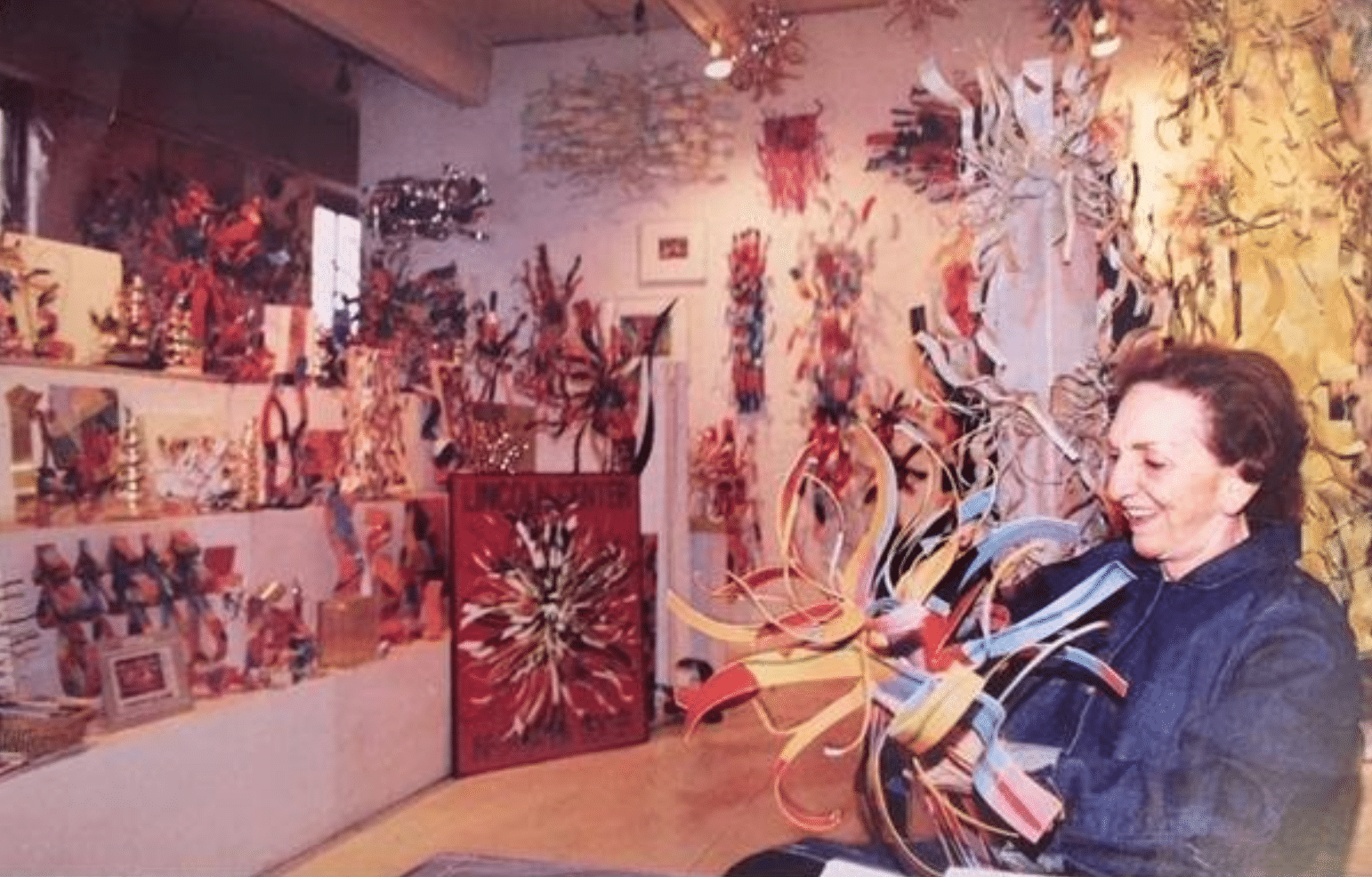 Dorothy Gillespie, born in 1920, was a prominent and groundbreaking New York artist from the mid-1940s until her death in 2012. Birmingham-Southern College is hosting a traveling exhibit of her work all month, and you're not going to want to miss it.
Exhibit Basics
Birmingham-Southern College (BSC) celebrates the legacy of artist and activist Dorothy M. Gillespie during the centennial of her birth.
When? September 6-25
Who? Birmingham-Southern College
Where? Durbin Gallery of the Doris Wainwright Kennedy Art Center and Azar Art Studios
Hours? 9 a.m. to 4:30 p.m. Monday through Friday
Price? FREE and open to the public!

Who is Dorothy Gillespie?
Dorothy Gillespie, who passed away in 2012, worked mostly in metal, which was not common for female artists during her day. She is well known for her love of color and kinetic style.
Gillespie forged a career that was independent, innovative, and individual. She was among those who helped blaze a path for women artists during the feminist art movement in the 1970s.
Master of Much
Dorothy Gillespie was a master of many mediums including the following: painting, paper, sculpture, printmaking, environments and happenings, ceramics, jewelry, and set design.
The traveling exhibition includes 29 pieces spanning six decades. Selections were made by Radford University and explore the many mediums and facets of Gillespie's work.
Gillespie's Connection to Birmingham-Southern
Birmingham-Southern College is one of the best liberal arts colleges in the nation. As a result, they have been honoring outstanding artists, trailblazers, and more for decades.
Gillespie was honored as a "Woman of Distinction" by BSC in 1987 at GALA. In addition to Gillespie, other honorees over the years included Barbara Walters, Bette Davis, Nancy Reagan, Estee Lauder, Mary Higgins Clark, Jackie Joyner Kersee, Betty Ford, Dianne Sawyer, Wilma Rudolph, and Kathie Lee Gifford.
There are also several pieces of Gillespie's art displayed around BSC's campus, including a sculpture that Gillespie herself donated to BSC in 1987. There is also a nine-panel Dorothy Gillespie installation in the Campus Center, which was a gift from JoAnne Gray Engelbert '53.
Keeping the Flame Alive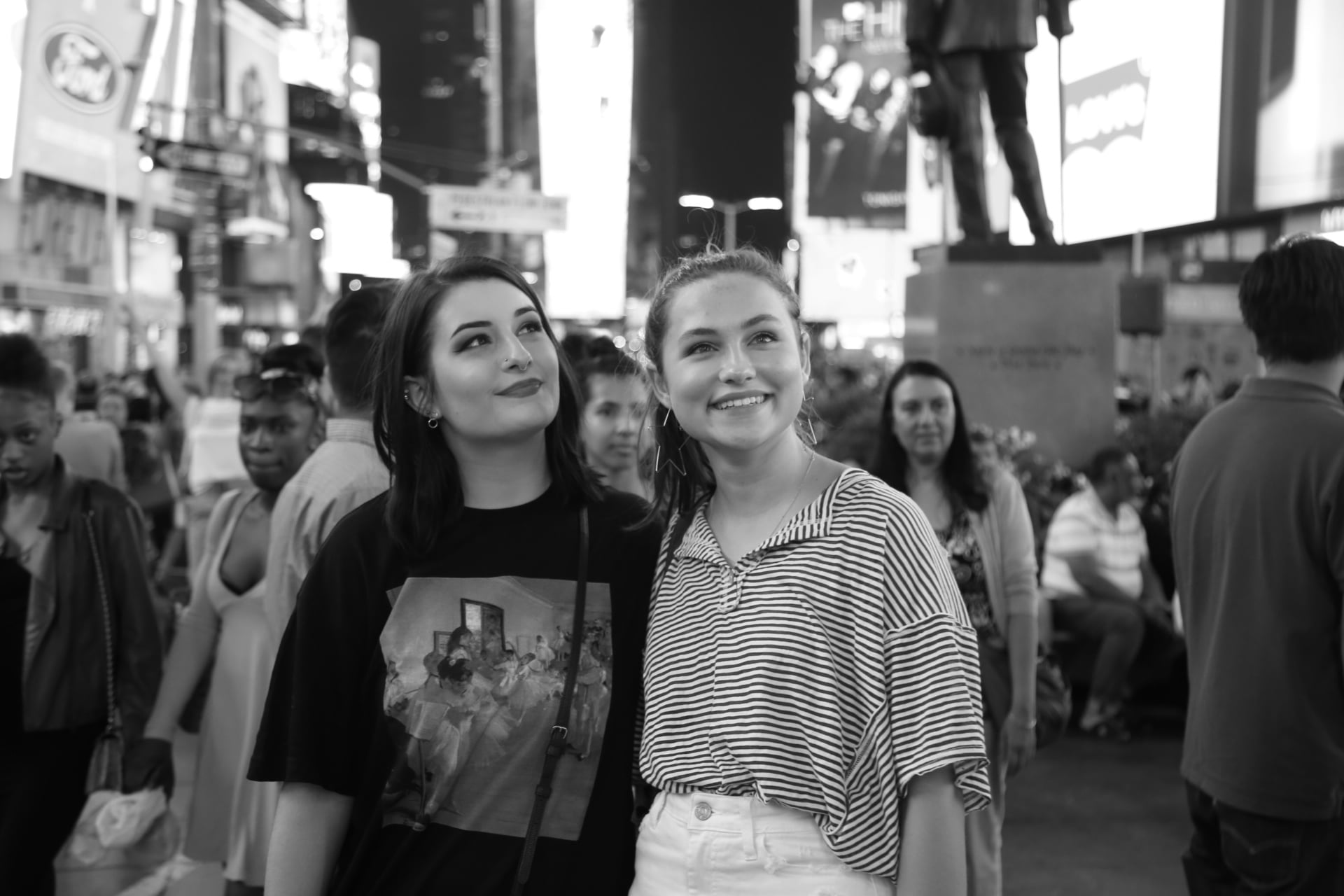 Gillespie's son, Gary Gillespie Israel, is the leader of the Dorothy Gillespie Foundation. As a result, he spends a lot of time visiting her various art installations on college campuses and in private collections. He has also established multiple scholarships in her name.
One such scholarship is the Dorothy M. Gillespie Award in Visual Art at BSC. This scholarship is used to fund expenses for two female students majoring in art or art history to experience a summer internship at Gillespie's studio in the Catskills in Narrowsburg, N.Y.
BSC sent two students this summer—juniors McLean Boone and Sarah Wilkes.
"As a female art history student, being able to touch and see the life's work and the studio of such a prolific female artist was just incredible. We are seeing what has been a male dominated field throughout the years progress towards being equal, and she was a trailblazer in making it happen."

McLean Boone, junior
Getting There
The exhibit is located in the Durbin Gallery of the Doris Wainwright Kennedy Art Center and Azar Art Studios. We went to preview the exhibit, and it was quite simple to find!
There's only one main entrance to BSC's campus. Just head to 900 Arkadelphia Rd, Birmingham, AL 35254, then ask the officer at the gate for directions to the Durbin Gallery.
Where can I find more?
If the 29 pieces in the exhibit just aren't enough, you can find more of Gillespie's work in several places around Birmingham.
In fact, there are many collectors in Birmingham who have pieces. There's also a wall installation at the Dance Foundation in Homewood.
Upcoming Exhibits
Exhibits in the Durbin Gallery at BSC are always free and open to the public. Here's what's coming up soon!
October 4-30
Charles Beneke – Iron Pour
The exhibition coincides with the Sloss Furnace Iron Pour, sponsored by the Art Students League
Opening Reception: October 4 | 5-8PM
November 8-26
Richard Feaster
Opening Reception: November 8 | 6-8PM
What's your favorite piece in the exhibit? Let us know!
Sponsored by: