Sponsored
August marks the beginning of an all-new school year in Birmingham. This year, ditch the textbooks and make science hands-on, interactive and totally electrifying!
Read on to learn all about field trips to McWane Science Center and how to get science delivered straight to you via an exciting program called McWane on the Move.
Field Trips to McWane Science Center
If you're looking for a great way to engage your students, homeschoolers and even yourself, consider taking a field trip to Birmingham's most scientific spot—McWane Science Center. Here you'll discover four floors jam-packed with educational fun designed for all ages.
I was lucky enough to be able to go on a field trip to McWane Science Center with my daughter and her first grade class. It was a blast! There was so much to do, see and learn.
The best part—seeing the pure amazement on all of the children's faces. Priceless!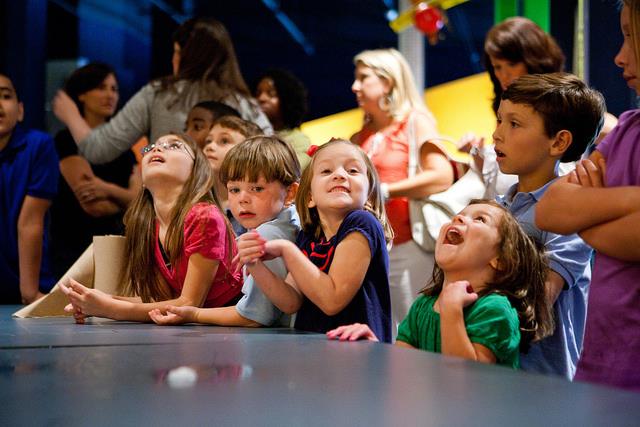 Here's a peek at some exciting things you'll discover during your field trip to McWane Science Center:
Lower Level: Under the Sea
Explore over 50 species of aquatic life in McWane Science Center's huge aquarium—the largest in Alabama!
See and touch live ocean animals in the Shark and Ray Touch Tank. You haven't lived until you skim the back of a stingray!
Level 1: So much Science
Test out pulley chairs.
Experiment with bubbles.
Interact with dozens of exhibits inside the museums Adventure Halls.
And more!
Level 2: Dino-Fever
Discover the Alabama Dinosaur exhibit featuring rare finds from the Alabama tyrannosaur to dangerous raptors.
Meet the faces and fins that swam in Alabama's oceans 80 million years ago in the Sea Monsters of Alabama exhibit
Kids five and under can also explore Itty Bitty Magic City—a multi-sensory, hands-on, active and child-centered environment that offers children unique opportunities for play.
Level 3: Art & Tech
Discover interactive exhibits about Art and technology
Check out McWane Science Center's changing season exhibits including Winter Wonderland and the Magic of Model Trains. Choo choo!
Along with three floors of non-stop educational fun, classes can also hit the labs of McWane Science Center for exciting programs such as a Robotics Lab and DNA Fingerprinting Lab.
It's amazing to see Birmingham's budding scientists discover their passion in these labs.
Register for a Field Trip
Want to take a field trip to McWane Science Center? All you have to do is follow these three easy steps:
McWane on the Move—Science Delivered Directly to You
Unable to visit McWane Science Center but still want to spark students' scientific curiosity in exciting ways? Let me introduce you to something really cool. It's called McWane on the Move and it brings exciting, hands-on, interactive science programs straight to your classroom.
The best part—it's designed for all school ages from Pre-Kindergarten to 12th grade.
It also meets or supplements curriculum objectives so students will learn will stay on track.
Who Are the Perfect Candidates for McWane on the Move?
Classrooms—public, private and homeschool
Assembly programs
Daycares
Libraries
Community organizations and events
Additional Info
1 Classroom Program
Price: $150
Maximum Students: 30
1 Assembly Program
Price: $300
Maximum Students: 30
Libraries/Community Programs
Price: Group of 30 or less – $125; Group of 30 or more – $175
Order Now!
Like what you've learned so far about McWane on the Move? See, I told you it was cool. To order this exciting program, all you have to do is email reservations@mcwane.org or click here to reserve your very own McWane on the Move program.
*Order 30 days in advance.
Be on the lookout for McWane Science Center's all-new McWane on the Move vehicles! If you're a school, library or other organization these special rides will bring McWane right to you.
Learning Made Easier Through Educational Scholarship Fund
One of the many wonderful things about McWane Science Center is that they strive to make science and learning accessible to everyone of all ages across the greater Birmingham area.
Through their Educational Scholarship Fund, they help provide easier access to hands-on science education programs to Pre-K through twelfth grade students from Title I and other qualifying schools and organizations in Alabama.
To find out if your school or organization is eligible for the Education Scholarship Fund, click here.
Make the School Year Unforgettable
For more information on field trips and McWane on the Move, click here.
Sponsored by: