Sponsored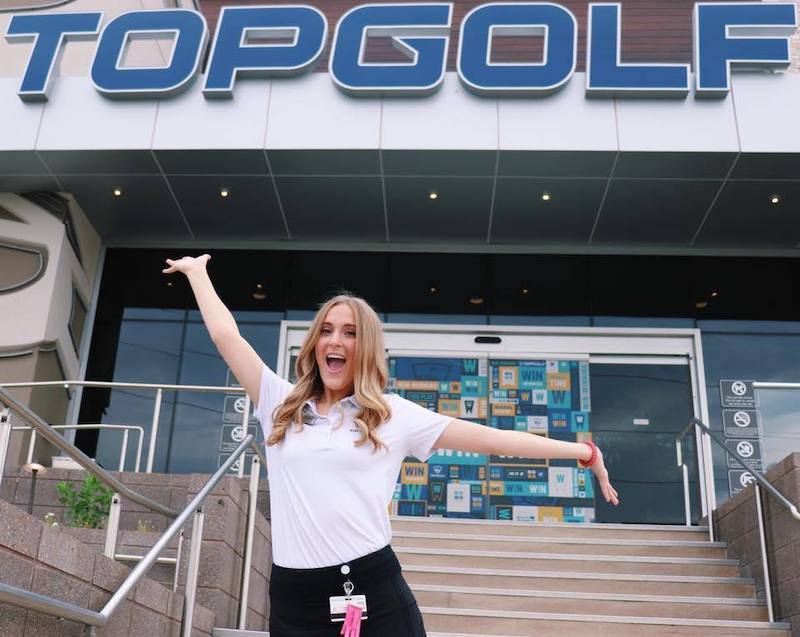 There's no doubt you've heard some chat about Topgolf Birmingham. But if you're feeling a bit unsure what it's really all about, you've come to the right place. Here's your guide to everything you need to know about this exciting entertainment venue, including what it is, how to play and more!
What is Topgolf Birmingham?
A really cool concept that continues to grow in popularity, that's what!
Topgolf Birmingham is in many ways the golf version of a bowling alley. But instead of a lane and bowling ball, you're supplied a bay and golf clubs. (You can even bring your own clubs!)
Before your designated bay stretches a driving range where you can practice the game of golf in a fun and relaxed atmosphere, while gnashing on tasty food and drinks. Sounds pretty fantastic, doesn't it?
Steps to Follow Upon Arriving at Topgolf Birmingham
1. Visit the check-in counter at Topgolf Birmingham.
Here you will be met by friendly staff who will set you and your group up at a designated bay.
Price Per Hour: Open-Noon $25; Noon-5PM $35; 5PM-Close $45
Max players per bay: 6
If you don't already have one, you will also need to purchase a $5 membership card, which can be purchased at Topgolf Birmingham or online.
This handy card will be used each time you visit. Not only does it allow you to join in a game in your bay and keeps track of your golf balls, but it also includes some benefits, such as:
FREE use of clubs.
Exclusive offers throughout the year.
Ability to track your scores over time to see how you've improved.
Reservations and Walk-Ins
Topgolf Birmingham is always booming, so if you want to avoid a line, consider reserving a bay in advance. Reservations can be made online up to seven days in advance and at least one hour prior to arrival.
Like to live life on a whim? Walk-ins are always welcome!
2. Head to your designated bay and locate the game touchscreen.
Swipe each player's membership card, or enter a phone number associated to your membership.
3. Select the amount of time you and your group want to rent the bay (one-hour minimum).
4. Select which game you wish to play.
Topgolf Birmingham offers multiple gaming options, such as:
Topgolf
Topscramble
Quick 9
For the full list of games, click here.
Psst! The most popular is "Topgolf." Go figure, right?
5. Choose which golf club you wish to use from the clubs supplied in your bay.
Where do you get your golf balls? I find this part pretty cool. Located next to the putting green, is a ball dispenser. Just gently swing your golf club in front it and out your golf ball rolls.
Keeping track of where your ball lands can be pretty tricky. Luckily, your golf balls do it for you. Say what? This is where Topgolf Birmingham gets even more rad.
Each golf ball at Topgolf Birmingham houses a special microchip that tracks where it lands and how many points it scored. To find out, just look at the tracking screen in your bay.
6. Play and have fun!
How to Play
There are some main differences between golf and Topgolf Birmingham. Here are a few to keep in mind as you swing that putter.
Golf: The lowest score wins.
Topgolf: The highest score wins. The more accurate your shot and the farther away the target, the more points you get.
Golf: Players aim at tiny holes hundreds of yards away.
Topgolf: Players aim at several enormous targets scattered around the range.
Golf: A golf cart is necessary to take you from green to green.
Topgolf: Everything you need is in one, designated bay. Easy peasy!
Skill Level – Zero to Advanced
One of the great things about Topgolf Birmingham is that anyone can play.
At Topgolf, you'll see a range of skill levels all around, from the absolute beginner who's never touched a golf club to advanced players who show off some serious skills.
I will say that most players are skill level zero. So there is no reason to feel bad if you don't make a hole in one or if you swing and miss the ball completely (guilty!). It's all part of the fun!
There are even ways to help improve your game. Just sign up for lessons from Topgolf Birmingham's professional golf instructors.
The Food and Drinks Are a Must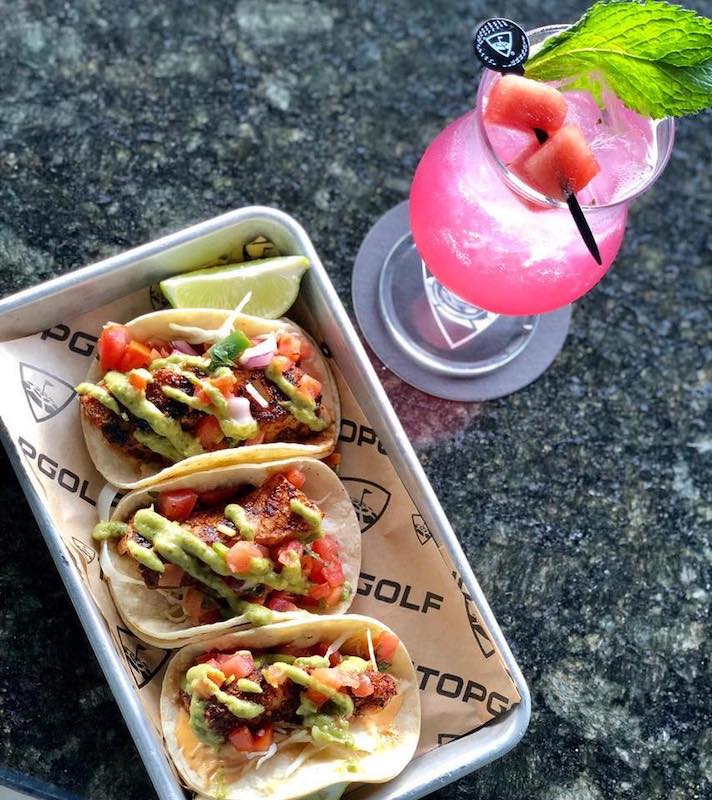 One of the first things you'll hear from those who have visited Topgolf is "the food is amazing!" It may be an entertainment complex, but it's in no way a day-old hot dogs and nachos with faux cheese kind of place. Thank goodness for that!
Instead, you'll find an extensive full-service menu created by real in-house chefs.
From appetizers and salads to burgers, flatbread pizzas and desserts, Topgolf Birmingham's menu will wow you.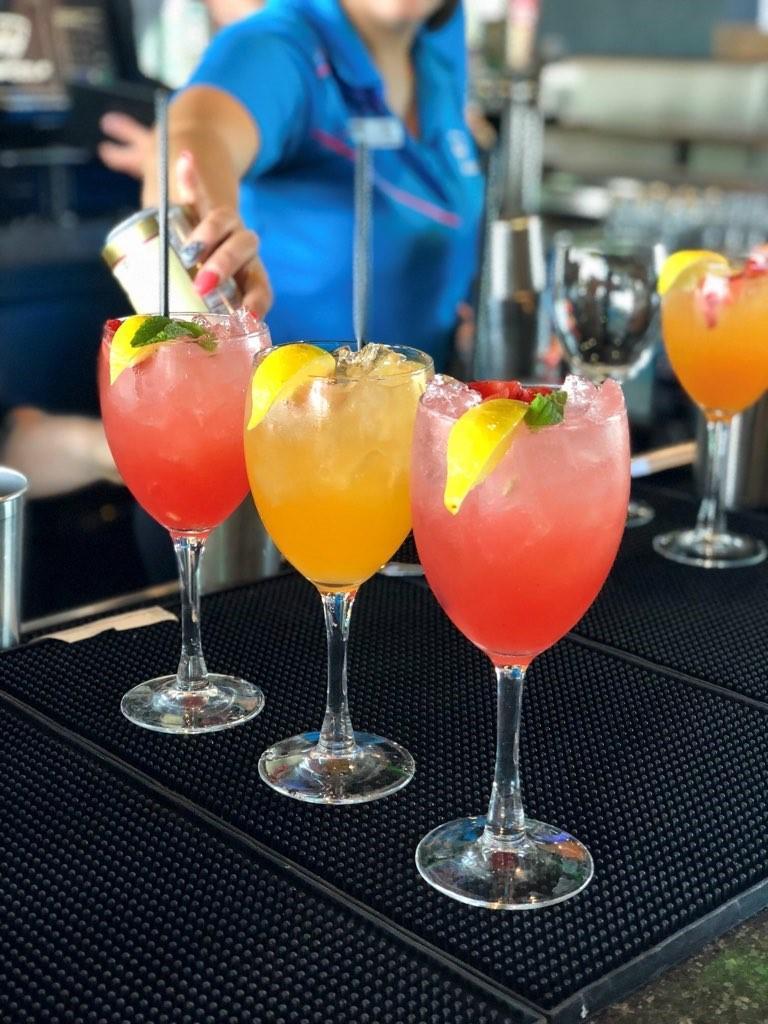 While you'll love the food at Topgolf Birmingham, the drink menu really seals the deal with page upon page of exciting and yummy choices. On the menu are:
Cocktails and Mocktails
Beer
Spirits
Wine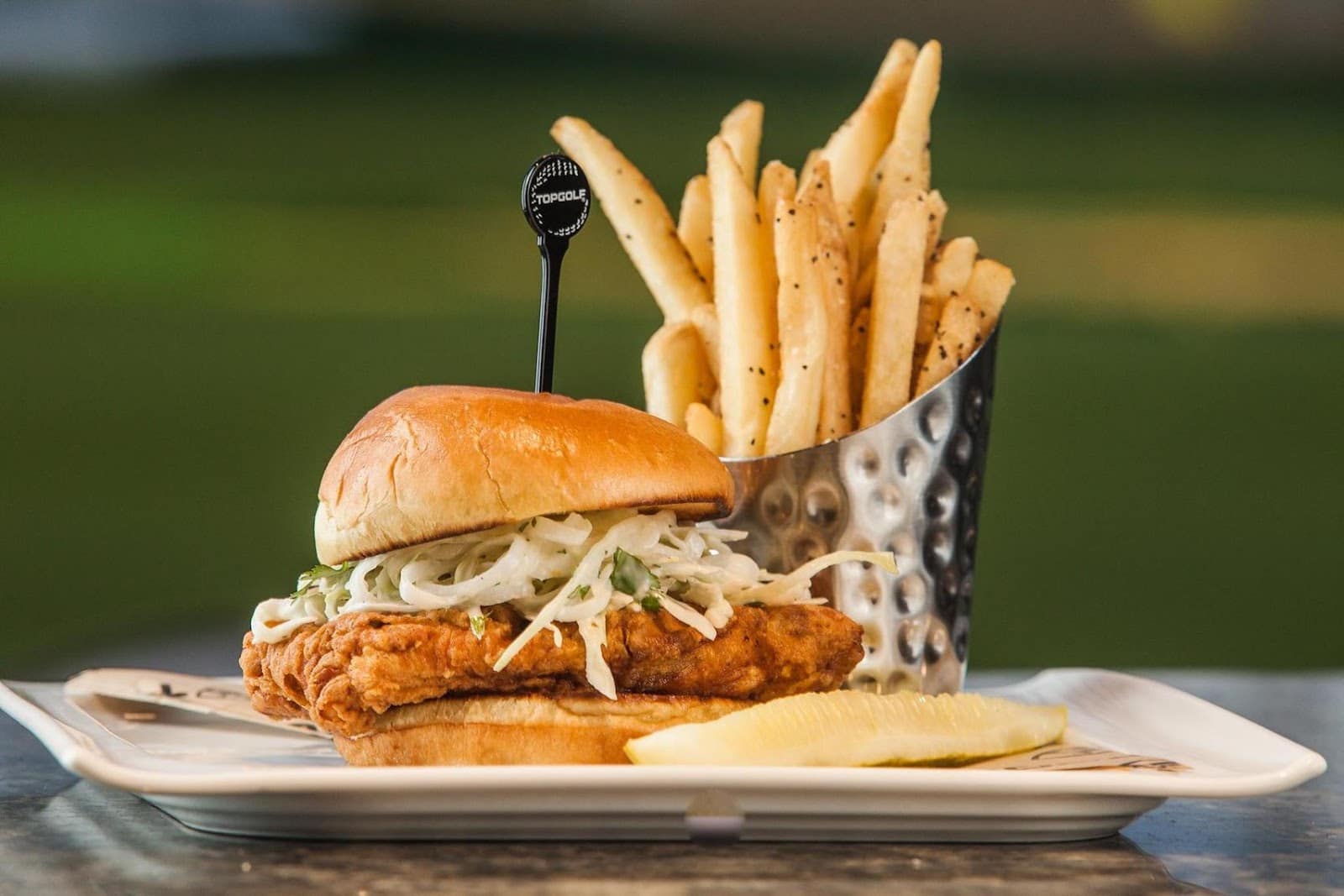 Be sure to check out their latest weekend brunch menu that will only be available on Saturdays and Sundays through September.
There Are Always Exciting Events Going On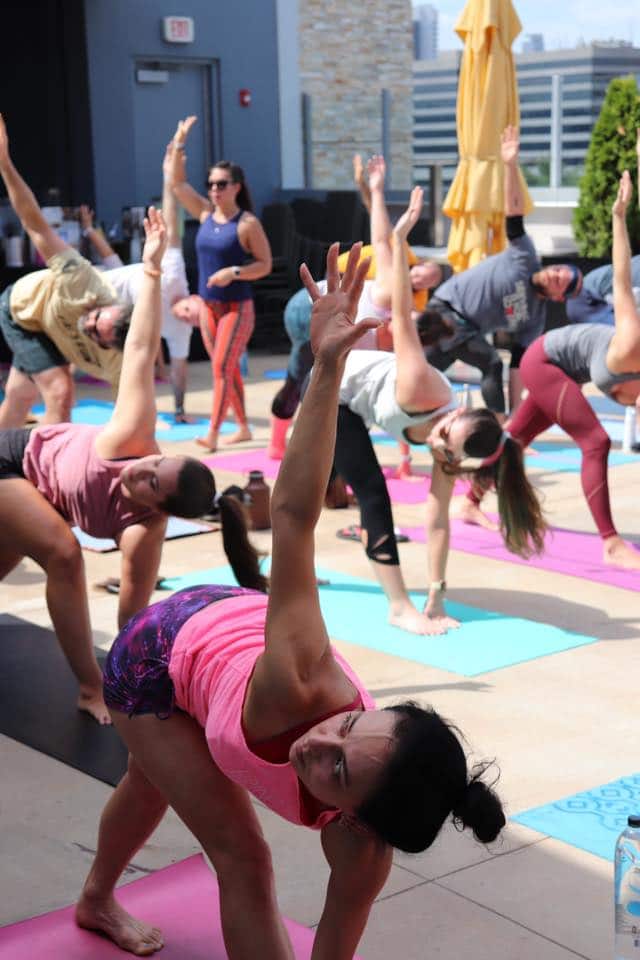 When you think of Topgolf Birmingham, you may think "oh, a place to golf." Yes, that's true. But there is much more to this exciting venue than golf. They also host many exciting events. Two continuing events are Yoga on the Terrace and Trivia Nights.
Upcoming dates to remember:
August 19: Marvel Trivia Night at 7PM
August 25: Yoga on the Terrace at 10AM
August 31: Hip Hop Box Step Aerobics at 10AM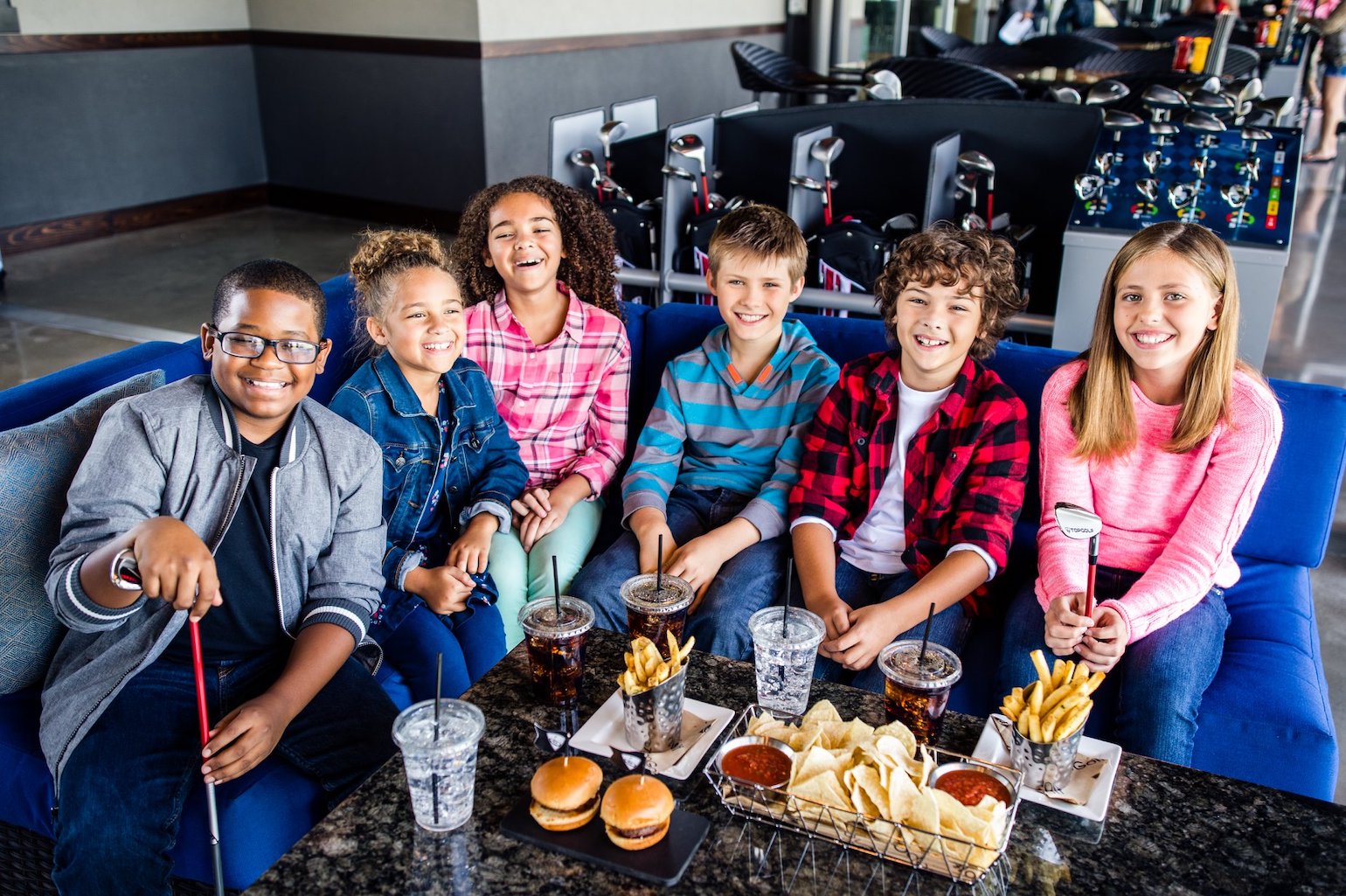 Along with hosting tons of great events throughout the year, Topgolf Birmingham is also a totally rad place to throw your own shindig. Company events and kids/teen birthday parties are just two of the possibilities. Learn more.
Parking – Easy and Free
When you learn that Topgolf Birmingham is located downtown, parking may become a concern. I mean, who has enough quarters to make all those parking meters happy?
Well put that worry aside because parking is a synch! Topgolf Birmingham is home to its very own parking lot that is huge and free of charge.

Visit Topgolf Birmingham
Now that you've learned all the must-knows about Topgolf Birmingham, it's time for a visit. Check it at 1111 24th Street North, Birmingham, AL 35234.
Hours: Sun.-Thurs. 9AM-12AM; Fri. 9AM-2AM; Sat. 8AM-2AM
Trust me, it'll be a blast!
Sponsored by: