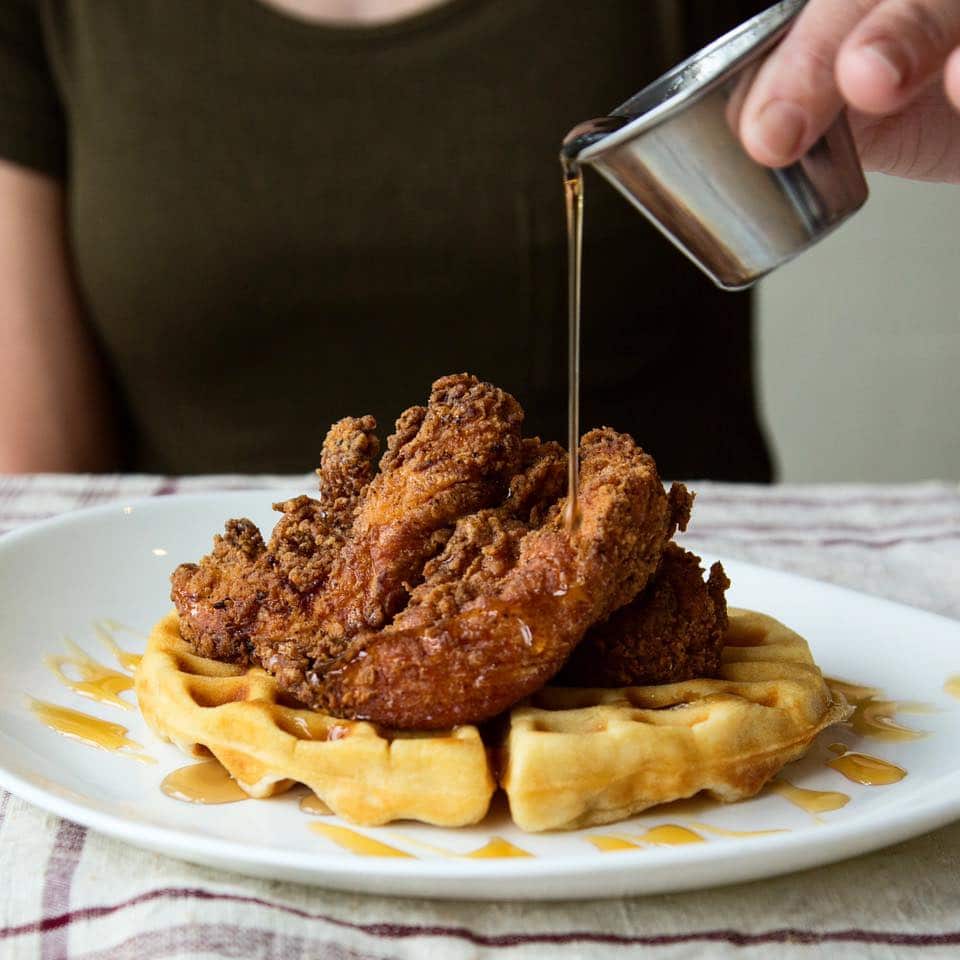 Fried chicken and waffles. Two things that were destined for each other. Dive in to the syrupy goodness at these six spots around Birmingham. Warning: prepare to drool!
Big Bad Breakfast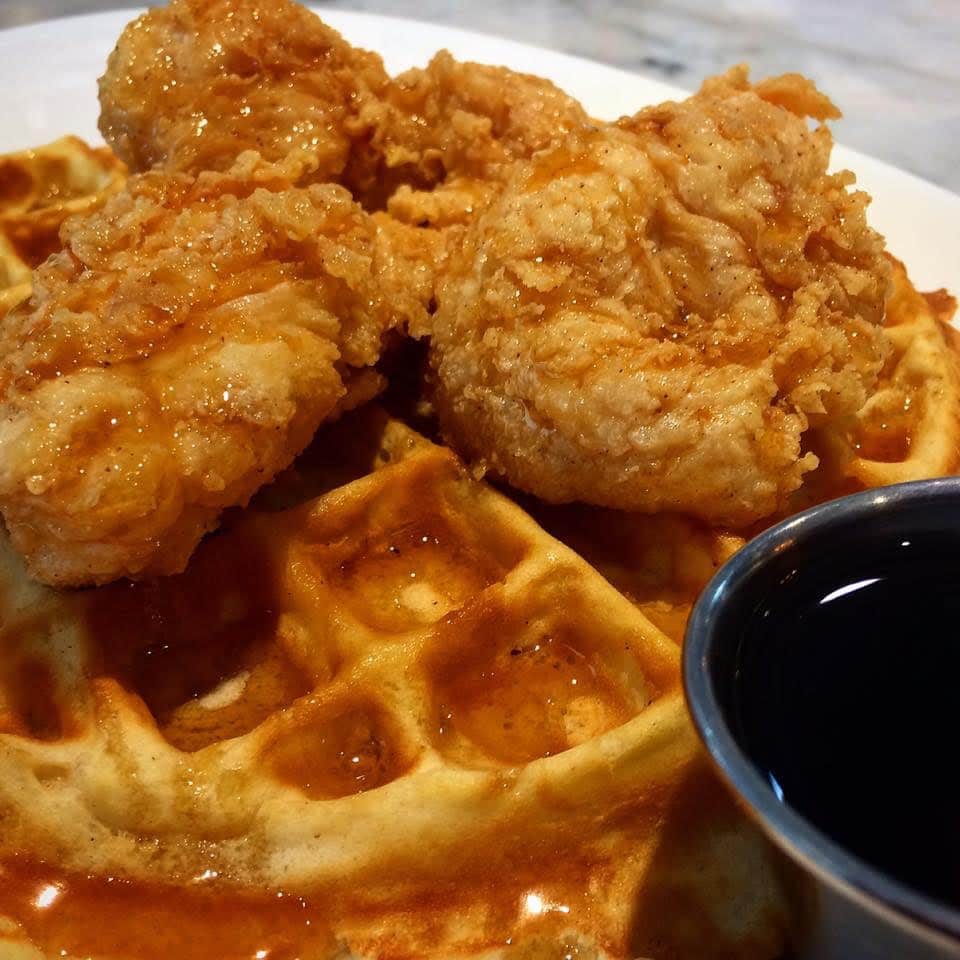 No matter what you order at Big Bad Breakfast, it's going to be an absolute taste explosion. So you better believe their chicken and waffles are a force to be reckoned with.
Description: Belgian waffle topped with crispy fried chicken, local honey and served with BBB's house syrup blend.
Price: $12
Address: 1926 29th Ave S., Homewood, AL 35209; 5361 US-280, Birmingham, AL 35242
Hours: Daily 7AM-2:30PM
Five Bar
Five Bar is known for its homey atmosphere and five-item brunch, lunch and dinner menus. The best part—they use local ingredients. All of which can be found in their chicken 'n' waffles. Yum!
The single-serve jar of syrup and orange slices only add charm to this already sweet dish.
Description: Fried chicken, honey-walnut waffles, whipped butter and pure maple syrup.
Price: $14
Address: 744 29th St. S., Birmingham, AL 35233
Hours: Tues.-Fri. 4-10PM; Fri. 4-11PM; Sat. 10AM-3PM, 4-11PM; Sun. 10AM-3PM, 4-9PM
John's City Diner
You can't live in Birmingham without being a life-long fan of John's City Diner. The chicken and waffles is one reason. And there are three incredible versions to choose from, too!
Descriptions:
The Standard–Deep fried cheddar cheese waffle, Springer Mountain Farms chicken and balsamic spiked 100% maple syrup. ($17)
Hong Style–Alabama honey-soy sauce syrup, crystalized ginger-waffle, Asian herbs and sesame seeds. ($20)
Hangover–Fudge Farms bacon waffle, sausage gravy and fried farm egg. $22
For a kick, add Vindaloo Hot for $2 extra.
Address: 112 Richard Arrington Jr. Blvd. N., Birmingham, AL 35203
Hours: Mon.Thurs. 11AM-2:30PM, 5-9PM; Fri.-Sat. 5-9:30PM
Metro Diner
Metro Diner is known for their comfort food, so there's no wonder their chicken and waffles is their top-selling dish.
Like your syrup with a bit of a kick? Be sure to pour on Metro Diner's signature sweet and spicy sauce—a mixture of syrup and hot sauce.
What's that pink stuff? Strawberry butter! I know you shouldn't eat butter with a spoon, but…
Description: Half a fried chicken and a Belgian waffle, topped with powdered sugar and sweet, strawberry butter.
Price: $15.49 (Aug. 8 only–$10.99)
Address: 180 Inverness Plaza, Birmingham, AL 35242; 250 Gadsden Hwy., Trussville, AL 35235
Hours: Mon.-Sat. 7AM-8PM; Sun. 7AM-8PM
Roots & Revelry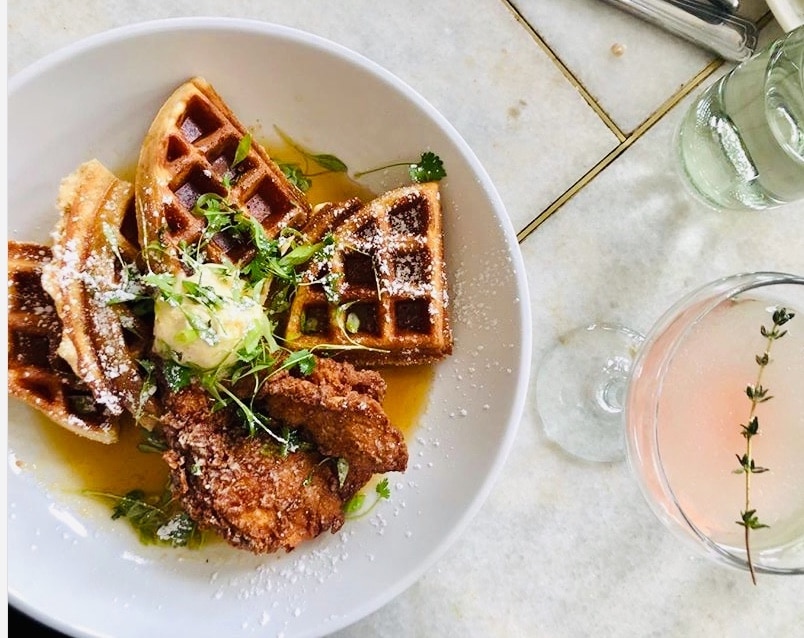 From their food to their drinks, everything you order from Roots & Revelry is elegant. Even a super-filling dish like chicken and waffles.
Description: Fried chicken and waffles with miso butter and lemongrass-ginger syrup.
Price: $18
Address: 1623 2nd Ave N., Birmingham, AL 35203
Hours: Tues.-Thurs. 4-10PM; Fri.-Sat. 11AM-5PM; Sun. 10AM-3PM
The Southern Kitchen & Bar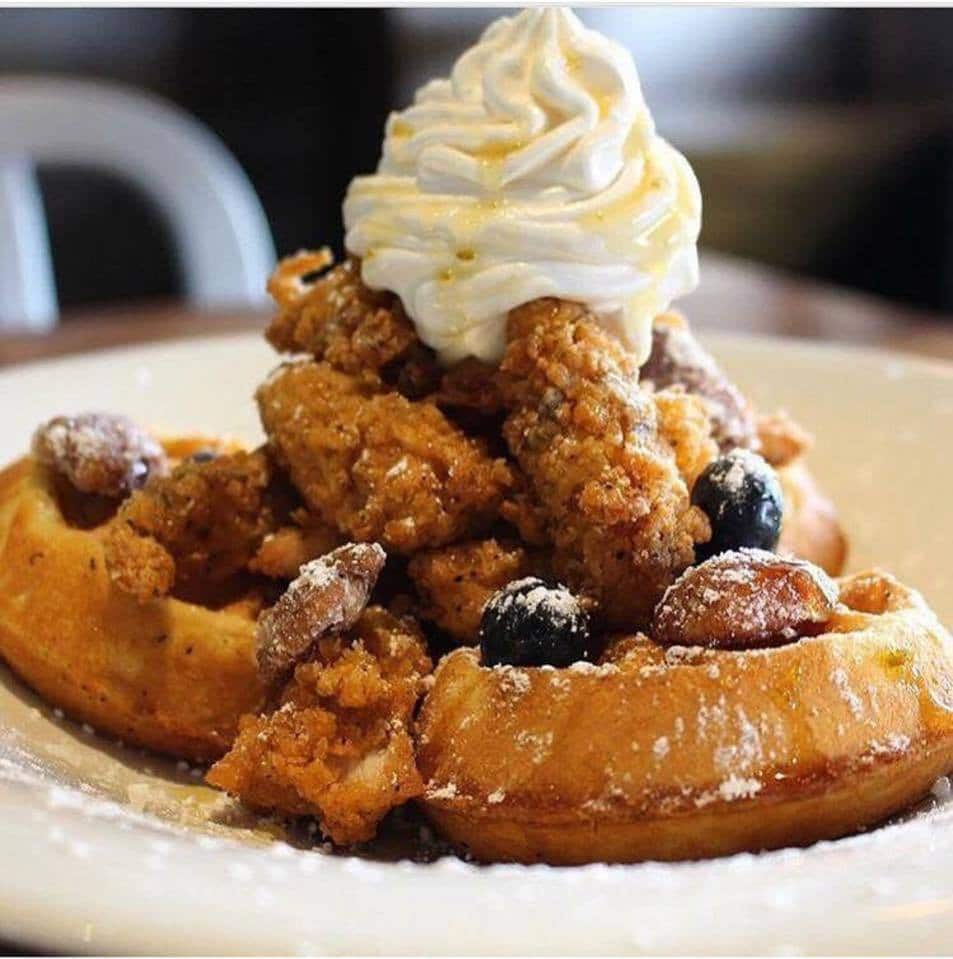 Beautiful and delicious. You'll feel so good after eating these chicken and waffles from The Southern Kitchen and Bar you'll find yourself slipping into a heavenly food coma.
Description: Fried chicken, pecan brown sugar, topped with jalapeño honey drizzle or IPA maple syrup.
Price: $14
Address: 2301 Richard Arrington Jr. Blvd. N., Birmingham, AL 35203
Hours: Mon.-Thurs. 11AM-10PM; Fri.-Sat. 11AM-2AM; Sun. 11AM-9PM
Topgolf Birmingham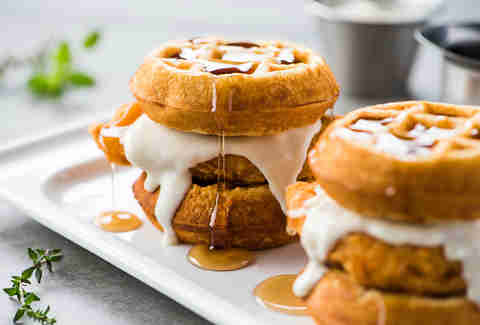 Believe it or not, one of the main reasons to take a visit to Topgolf Birmingham is the food. And inside their chef-inspired menu you'll find chicken and waffles that have just the right combo of crunchy and sweet to wow the senses.
Description: Two house-made Belgian waffle sliders, fried chicken, maple syrup and jalapeño gravy.
Price: $9.50
Address: 1111 24th St. N., Birmingham, AL 35234
Hours: Sun.-Thurs. 8AM-2AM; Fri. 9AM-2AM; Sat. 8AM-2AM
For more waffles, check out the carrot cake waffles from Topgolf Birmingham's latest weekend brunch menu.
Let us see those waffles! Tag @bhamnow on Instagram and show off your favorite places around town for chicken and waffles.