Guests visiting Birmingham Zoo's 'Trails of Africa' can now meet Luti and Gadze. The pair of young male African elephants recently moved to Birmingham from the San Diego Zoo Safari Park. I visited to see them exploring their new home and to speak with Dr. Stephanie Braccini Slade (Vice President of Living Collections) to find out more about the elephant program.
Meet the new boys in town
Ingadze, age 10 (nicknamed Gadze)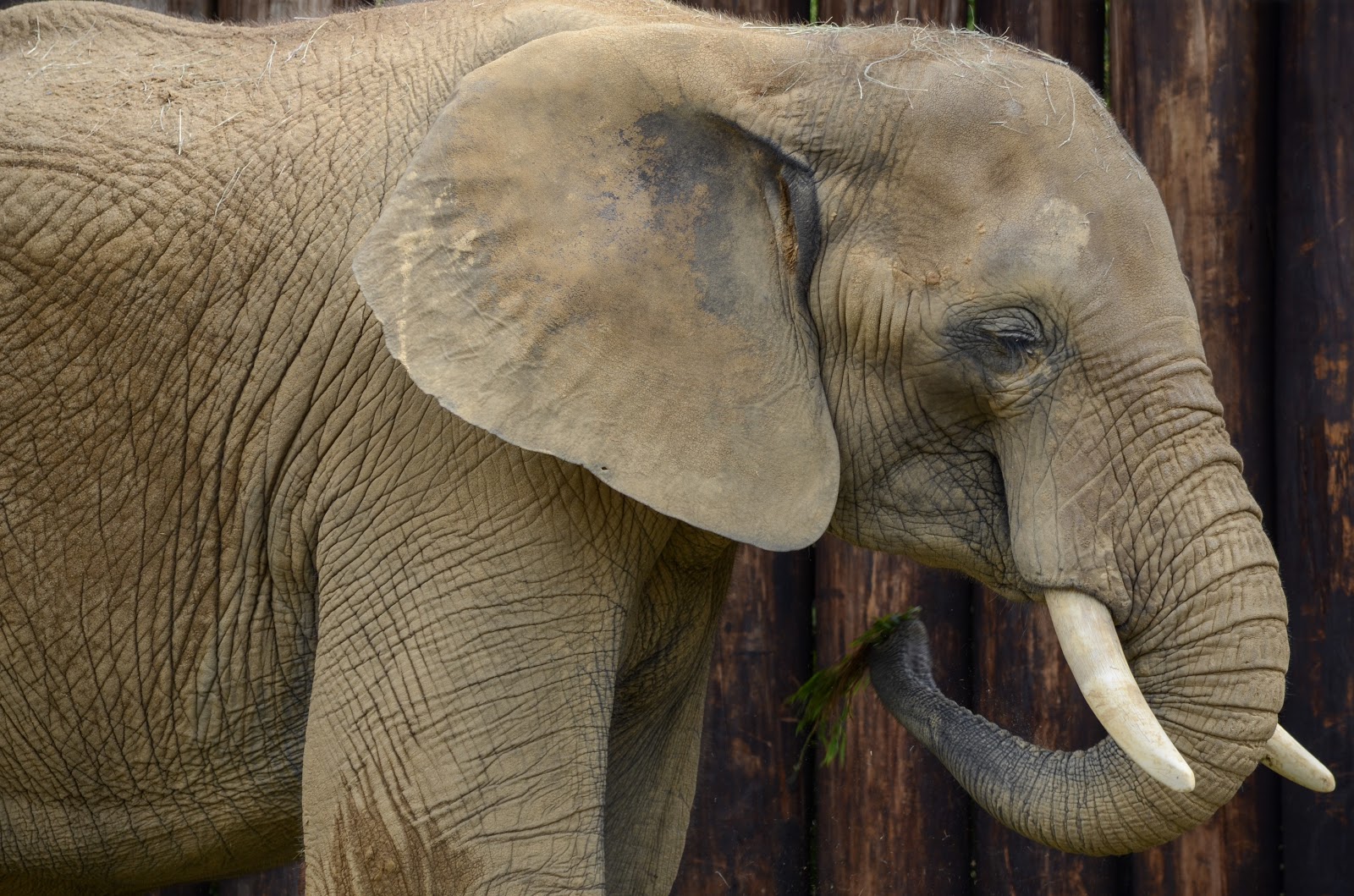 The oldest but smallest male, Ingadze, nicknamed Gadze, was born at San Diego Zoo Safari Park on March 13, 2009 and is reported to be easy going but likes to play-spar with other males.
His name Ingadze translates to "garden" in the siSwati language.
He has the more symmetrical tusks of the two.
The first thing Gadze did when he arrived in Birmingham was gather hay and make a comfortable bed to sleep on.
Lutsandvo, age 9 (nickname Luti)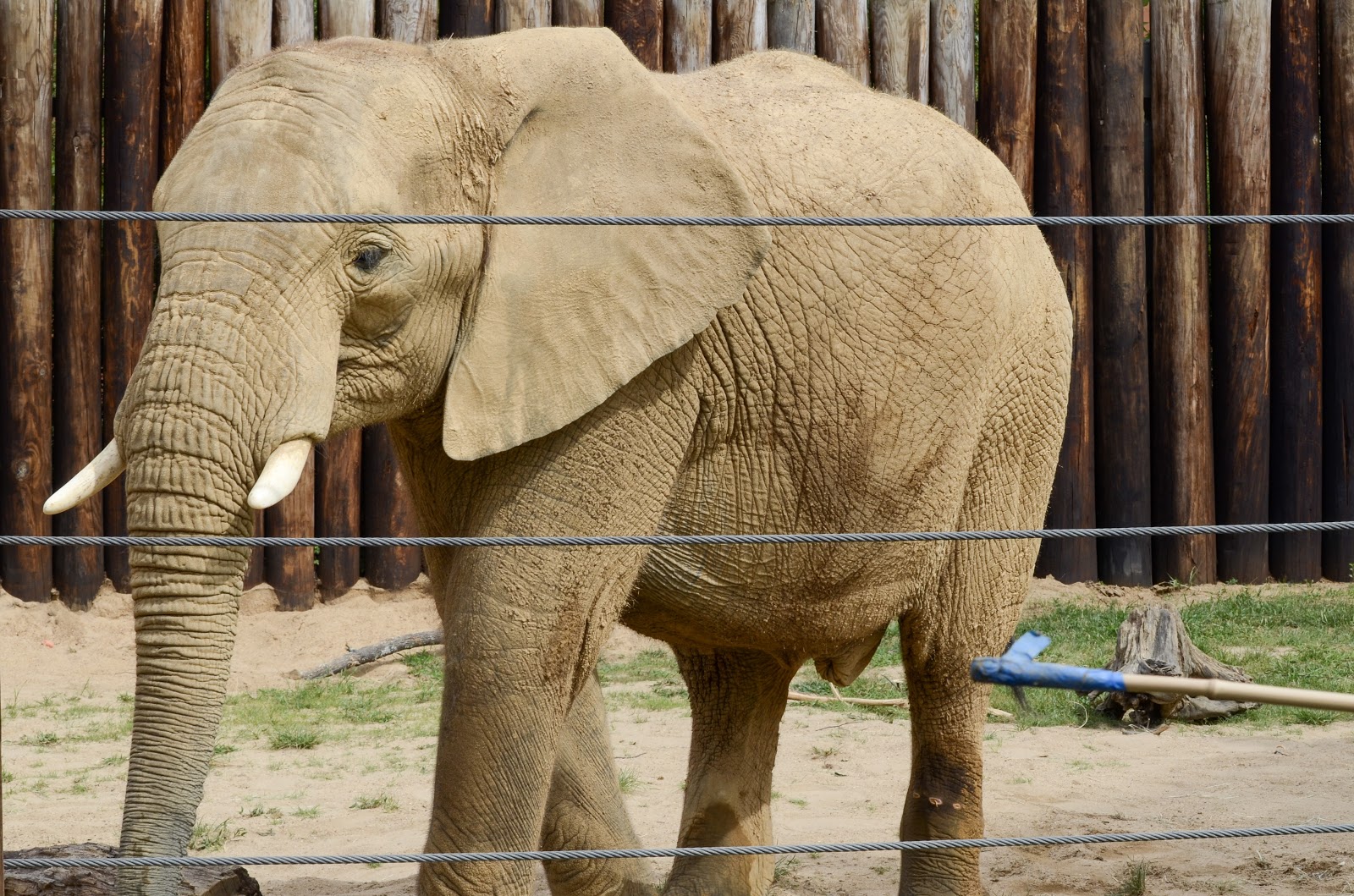 Luti was Born on Valentine's Day and his name Lutsandvo means "love" in the siSwati language.
The youngest and largest of the two young bulls.
Luti was born on February 14, 2010 at the San Diego Zoo Safari Park and is the half-brother to Gadze.
He has the shorter tusks.
The first thing Luti did when he arrived in Birmingham was to walk around sniffing his new home.
Finding out how (and why) Luti and Gadze moved to Birmingham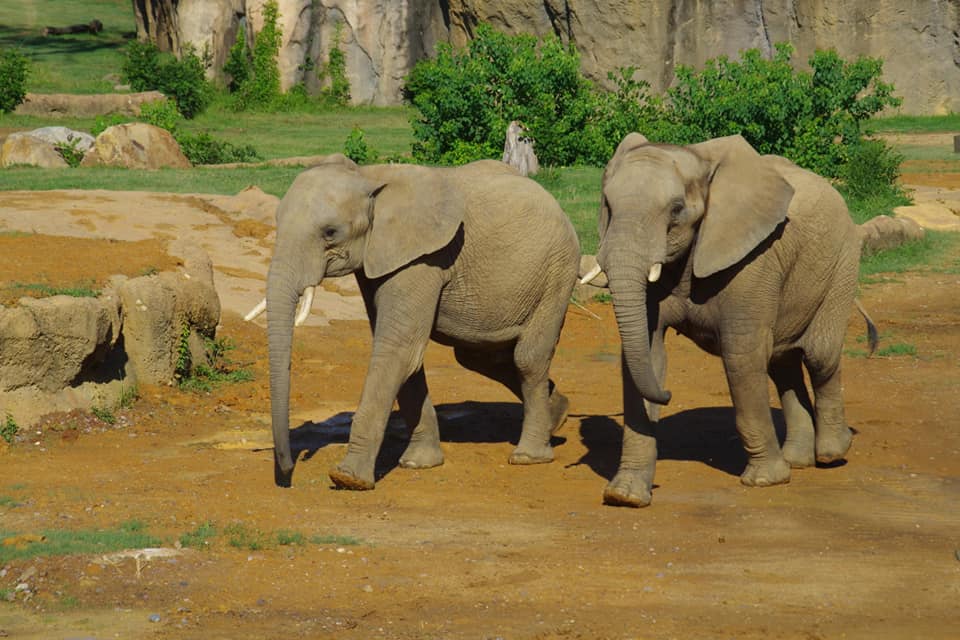 Birmingham Zoo operates a bachelor herd program – no girls allowed!
There's capacity for 4 full grown elephants but 3 had moved on to breeding programs at other zoos, meaning 38 year old Bulwagi was the lone anchor of the program.
Dr. Stephanie Braccini Slade explains how much thought and consideration goes into finding, moving and introducing new elephants,
"We have a very detailed profile of what we were looking for. We're interested in males who have grown up with their maternal herds between the ages of 7 and 14 because that's when they would naturally be leaving family groups. We want to replicate that natural stage of an elephants life".
Dr. Stephanie told me they were looking for well natured elephants who are not pushovers, but also not bullies,
"We need that in-between as it provides a better environment for the herd. We hold the gold standard of animal care as an accredited member of The Association of Zoos and Aquariums (AZA) and as part of that we work with the Species Survival Plan program. They handle the pairings and movements. They knew our profile and phoned when there was a match!"
Luti and Gadze are half-brothers and were a great match. Dr. Stephanie explained it's always nicer to move a pair as it makes introductions to unfamiliar environments and meeting new elephants a lot easier.
How do you move an elephant?
This is not a joke! It's not something that happens everyday! Turns out it was a long planning process to ensure the best experience for the boys. The zoo considered best time of year so they wouldn't be shocked by a change in climate and things moved on quickly from there.
Dr. Stephanie said,
"We were matched with Luti and Gadze and went out to see them 6 months ago. About 3 months out, San Diego started the moving training program. The elephants were trained to walk into a crate to get used to that. When the big day arrived, the crates were loaded onto trucks and the total journey from San Diego took 44 hours door-to-door with plenty of stops for snacks, drinks and to make sure they were doing OK."
Luti and Gadze's journey was long and they weren't allowed to visit the Grand Canyon on the way -but they were in great spirits when they arrived. They remained behind the scenes for a couple of days to acclimatize before being introduced to their new home.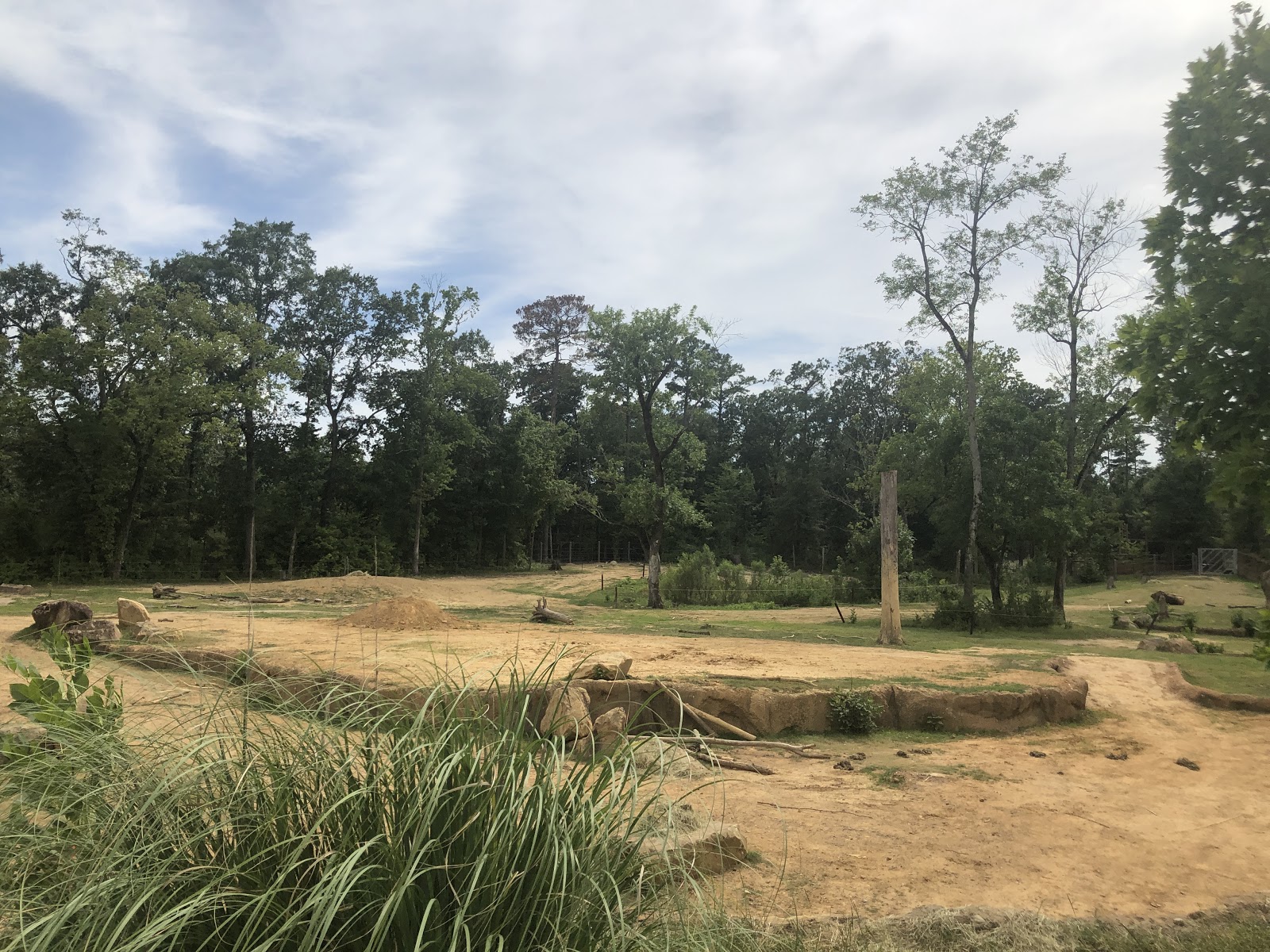 "They took lots of water and sand baths to cool off when they arrived" Dr. Stephanie said, "these are species behaviors we were expecting to see".
They are still being slowly introduced to the much bigger and older Bulwagi (38), spending time in alternate enclosures but being able to touch and smell each other to get to know one another.
All three elephants will be together later this summer, though Dr Stephanie told me that Luti and Gadze maybe just transitioning through Birmingham Zoo,
"They're here for this life stage of learning how to be good, big boys. When they meet their late teens and early twenties, they will likely be paired with another zoos breeding program, where they'll have families of their own."
What do elephants eat?
Cucumbers
Sweet potatoes
Carrots
Coastal and Bermuda Hay
Bananas
Apples
Special elephant food packed with nutrients
It sounds like they eat better than I do!
Visitors and zoo trainers love them! See them now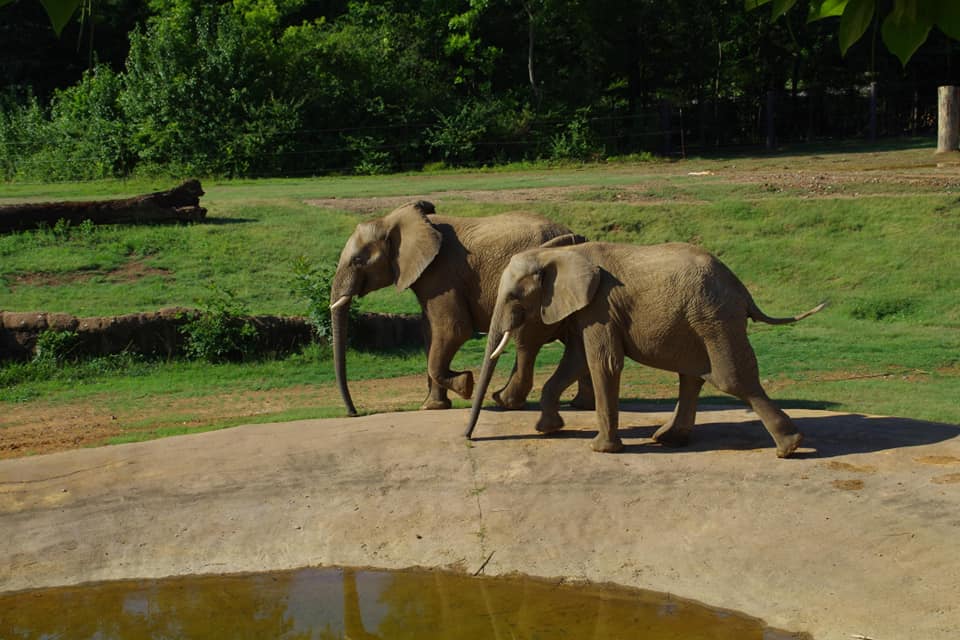 Dr. Stephanie said,
"They've been a hit with everyone! Visitors love them and it's nice for us to see the young elephants exploring and always moving – Bulwagi is a little more relaxed (and a lot older) so it's a nice mix".
I enjoyed getting to see Luti and Gadze. The trainers were looking after them and checking on their health which looked a bit like the elephants were performing tricks but each exercise is designed to allow trainers to check different elements of the elephant's physical health.
The elephants are trained to tap the end of their trainer's sticks with their very heavy trunks – and not the trainer's heads! This way, when the trainers are checking their feet or feeding them, they know they won't be tapped on their head when they're not looking!
Luti and Gadze are well and truly settled and I can't wait to go back there to see them soon!
For more information check out birminghamzoo.com. Summer hours are 9-5PM, and weekends are 9-6PM
Related – Now that's a grand entrance! Birmingham Zoo opens new Arrival Experience and Welcome Plaza (Photos)