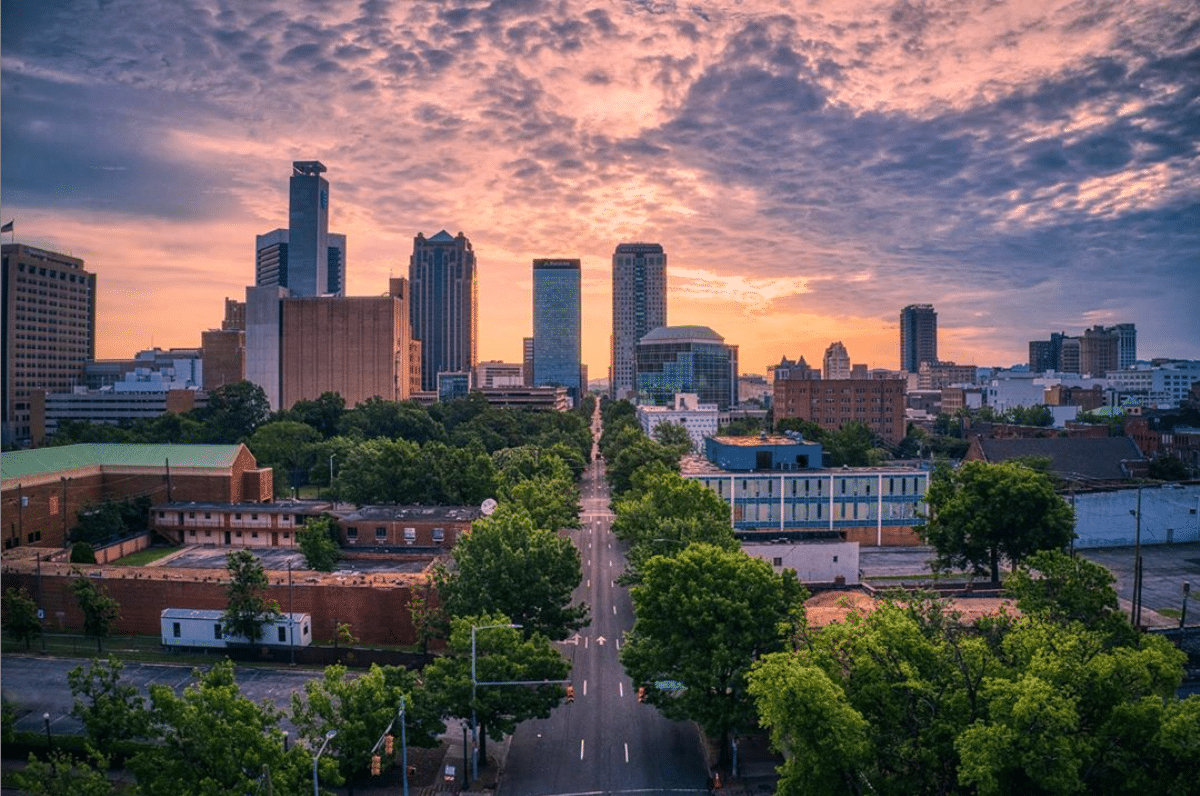 There's definitely no shortage of talented photographers in Birmingham. And seeing the city + the beautiful people in it through their lenses is one of our favorite things. We love sharing their work when we can. But we want to do more than just give credit in the captions. Here are 22 local photographers you need to be following on Insta—plus hear from a few about why they do what they do.
@jonathon.black
Jonathon Black's (@jonathon.black) photography is completely mesmerizing. He mostly shoots with a drone and plays with color, shapes and perspective in his photos—often making you question what you're even looking at. He's been a photographer for 4 years and focuses on landscape, architecture and events.
Jonathon: The revitalization of our downtown is really something to admire, and I love documenting that to show the progress we've made. It's my hope to be part of the change and inspire others like me to keep moving forward with a positive and creative mindset.
@definitelykenslie
Kenslie McGuire (@definitelykenslie) has been a photographer for about five years. She enjoys documenting her own life (which you can see on her Insta) and other's candidly at parties, while traveling or just hanging at home. Her style is colorful and vibrant, and her photos range from product shoots for local brands like Aviate to captivating portraits of her close friends.
Kenslie: "I love photographing Birmingham because of the beautiful architecture! We have so many old structures. They just don't make buildings like they used to!"
@dyoungblood71
For David Youngblood (@dyoungblood71), photography wasn't his trade until the last 4-5 years. But you wouldn't know that upon seeing his photos. He captures the essence of Birmingham so well through his stunning sunrise + sunset pics of the city—And we LOVE to share them on our feed. His favorite subjects to photograph are landscapes and cityscapes, which he usually shoots with his drone.
David: "Birmingham is great because there's such a variety of things to photograph. You've got awesome city scenes and beautiful architecture downtown, and then you don't have to go that far to find a more rural setting."
@carolinejapal
Caroline Japal (@carolinejapal)'s eye is so good. Her photography is effortlessly cool and candid—capturing subjects for how they are, but still with a dream-like quality about them. We love her eye and what she's doing to elevate and showcase young artists in and around Birmingham with Art Concept Magazine. ACM is a fine art mag she founded in 2017 to collaborate with other creatives and share concepts through art. Follow it too.
@bclcreations
Brandon Littleton (@bclcreations), who's been a real estate photographer for three years, finally decided to shoot more in his free time a few months ago. He now photographs landmarks, portraits and really anything else he thinks looks cool—his favorite being architecture. Follow him on Insta to see his unique perspective of Birmingham.
Littleton: "I love to photograph Birmingham so hopefully the whole world can see what a beautiful place it is. I feel like we get a bad rap and I'm trying to do my part to help change that."
@triggeredphotography
Andrew Christopher (@triggeredphotography) has been a photographer for about 3 years. On his Insta you'll find tons of concert, nature and portrait shots—plus some amazing photos of our favorite Birmingham landmarks like this Alabama Theatre shot below.
Christopher: "Birmingham has so much rich history, and it's fun to capture uncover unseen and hidden areas. So much to see and shoot!"
@emilycone_creative
Emily Cone (@emilycone.creative) might be new to the city, but she's definitely not new to photography. Emily's been shooting for 8 years. She'll take any photo project she can—but she loves weddings and wants to get into more commercial + fashion work. Follow her on Insta to see her bopping around the city!
"I love photographing Birmingham because it's got a little bit of everything: urban, southern flare, landscape, all of it."
@jacobs.camera
Jacob Garrett (@jacobs.camera) has been pursuing photography for a little over a year. On his Instagram, you'll find his absolutely dreamy portrait work, and the coolest product photography for local businesses. *Look for the Cookie Dough Magic shot… it's actually magic!!!
Garrett: "I love the feel of downtown. Being able to tell a story with my composition. Birmingham makes that very easy with the beautiful architecture downtown."
@jflakespro
Jason Flakes (@jflakespro) is one of the most dynamic photographers on this list. Just check his Insta to confirm. You'll see the range of his work—from weddings and graduations to fitness shoots and colorful portraits. He's had his own photography company, J Flakes Productions L.L.C, for 3 years, and labels his style as "Vintage Modern".
Jason: "Birmingham is home. Birmingham has a magical story that the world needs to see. Nothing like capturing the magic and essence of the magic city!"
@cotton_state
Another photographer that frequents our feed: Stuart Franco (@cotton_state). Stuart has loved photography his whole life, but it wasn't until recently that he decided to take his photography pursuit to the next level. Landscapes are his favorite thing to capture—whether from a drone, DSLR or iPhone, he enjoys seeing the world from different angles + perspectives. And we love seeing the city through his eyes!
Stuart: "I see photographing Birmingham as an opportunity to showcase how beautiful and unique the city can be. The Magic City offers a lot of visual inspiration…..much more than people probably think… I have a passion for the State of Alabama and Birmingham, so being able to show off how great this place can be gives me a lot of satisfaction."
@objectivityrach
If you follow us on Instagram, you basically follow Rachel Callahan (@objectivityrach) as well because we are BIG fans. Rachel, a lifelong resident of the Magic City, has spent more than a decade playing with photography. In 2013 she began to take it more seriously after falling ill and turning to photography as an escape.
Rachel also sells prints + digital rights to her photos and donates 100% of proceeds to The WellHouse—a local nonprofit that rescues and cares for women who were prisoners in sex trafficking. That's an A+ artist to support in our book.
Rachel: "…Birmingham means so much to me, and I find it so beautiful. But many people still think of Birmingham as it was in the 80's. I want to help more of our citizens to embrace Birmingham for what it is now."
@jotankersley
Joe Tankersley (@jotankersley) seriously has one of the most dreamy, aesthetically pleasing and stunning feeds we've stumbled upon. He's been shooting for four years, and mainly shoots lifestyle + portrait photography. Follow him for a feed that feels like a perpetual summer.
Joe: "I grew up here and it's a beautiful place filled with cool people!"
@xmattyx
Matthew Glasscock (@xmattyx) has been shooting photography for about 6 years. Most of the other names on our list focus on Birmingham landmarks and recognizable places. Matthew… not so much. If you're scrolling his Insta, you probably won't recognize "Birmingham"—and we mean that in the best way possible. Matthew shoots all kind of subjects, but his favorite is abandoned places.
Matthew: "There's a lot of history in the city, but unfortunately there's also a lot of abandoned structures around Birmingham. Going around and seeing some of the places that made this city always fascinated me. I like being able to photograph them to try and preserve some of that history before they are completely lost and destroyed."
@caleygoins
For Caley Goins (@caleygoins), photography has been an interest since high school. But it wasn't until the last year or so since she began pursuing it professionally. Now you can find her work locally for places like Avondale Brewing and Good People Brewing. Follow her on Insta to see a mix of her life + her lovely work.
Caley: "As a Birmingham native, I've had the privilege of watching this city grow exponentially, especially over the past few years. I feel honored to capture it as we continue to grow and change together."
@arthusband3
Want to find Art Husband (@arthusband3)? Look for him in the pit of a concert at Iron City or taking nature pics at one of the many state parks around Birmingham. A photographer since 2015, Art's Instagram is the perfect mix of shows around town, Birmingham sunsets and local landmarks. What else do ya need?
Art: "Birmingham has pretty much everything you could want to photograph. We have urban parks, rusty industrial sites, sports teams, mountain top vistas and some of the best sunsets around."
@airfowl
@Airfowl is another favorite of ours. His drone photography of Birmingham is niiiice, and we especially love his unique aerial shots like this one of a parking deck. Follow him for a never ending feed of BHM.
@wxllco
Cody Middlebrook (@wxllco) has been shooting for 6 years, and specializes in commercial and headshot/portrait photography. We love seeing his vibrant portraits on our feed, and we know you will too.
Cody: "Birmingham, despite its tumultuous past, has become such a charming city. It's a city with heart, and I love photographing it."
@forrestfunkmedia
Forrest Funk (@forrestfunkmedia) has been a photographer for roughly 2 and a half years. His focus is mainly landscape photo, but he's also worked with commercial, portrait and event photography. He technically lives in Mobile, but looooves shooting in the 'Ham. And we looooove seeing his drone shots above the city.
Forrest: "I enjoy photographing the Birmingham area because it's honestly the largest/prettiest city in our state in my opinion. There are so many things that catch my eye and the area is growing exponentially… Plus, the city is surrounded with so many state parks and I love being outdoors."
@dustinh13
Dustin Harrelson (@dustinh13) has been shooting photo and video for a little over a year. He loves shooting a variety of subjects, but videography is his favorite. Follow him on Insta to see some very cool drones shots/videos of the city + nature around it.
Dustin: "I love shooting in Bham because there's a lot of growth here: new people, new businesses, new buildings, new art, etc."
@logan_explores
Logan Holmes (@logan_explores) has been shooting on and off for 10 years. He loves shooting travel and street photography, which is well documented on his Insta. He often plays with light and shadows in his photos—which makes his feed eerie, but beautiful all at the same time. *See drone shot of Oak Mountain below.
Logan: "Birmingham is constantly changing…it's growing in cuisine, culture, and population. Downtown Birmingham is also a good place to learn street photography because it offers a vast collection of architecture and faces."
@flybyshaddix
Ryan and Ashley (@flybyshaddix) have been shooting drone shots of the city and their family for about two years. They photograph everything—from drone shots of Sloss Furnaces to macro shots of plants and the nature around Birmingham.
Ryan: "I enjoy filming Birmingham because of its diversity and rich history."
@joshweichman
Josh Weichman (@joshweichman) started shooting while going to college in Tampa in 2007. Since then he's definitely made his mark on the photography scene in Birmingham. Follow him on Insta for his amazing concert shots. (Also to relive Sloss Fest. RIP)
#ShamelessPlug—we couldn't leave out our team photogs: @matthewnib, @hannahchambley (that's me) and @hiketravelexplore.
Of course this list doesn't even scrape the surface of talent in our city. We are constantly finding new faces and inspiration every single day, and we want to keep sharing it with y'all when we do!
Follow us on social @BhamNow and keep tagging us using #BhamNow for a chance to get featured! Oh, and tag your talented friends too. The more the merrier.