Partnered Content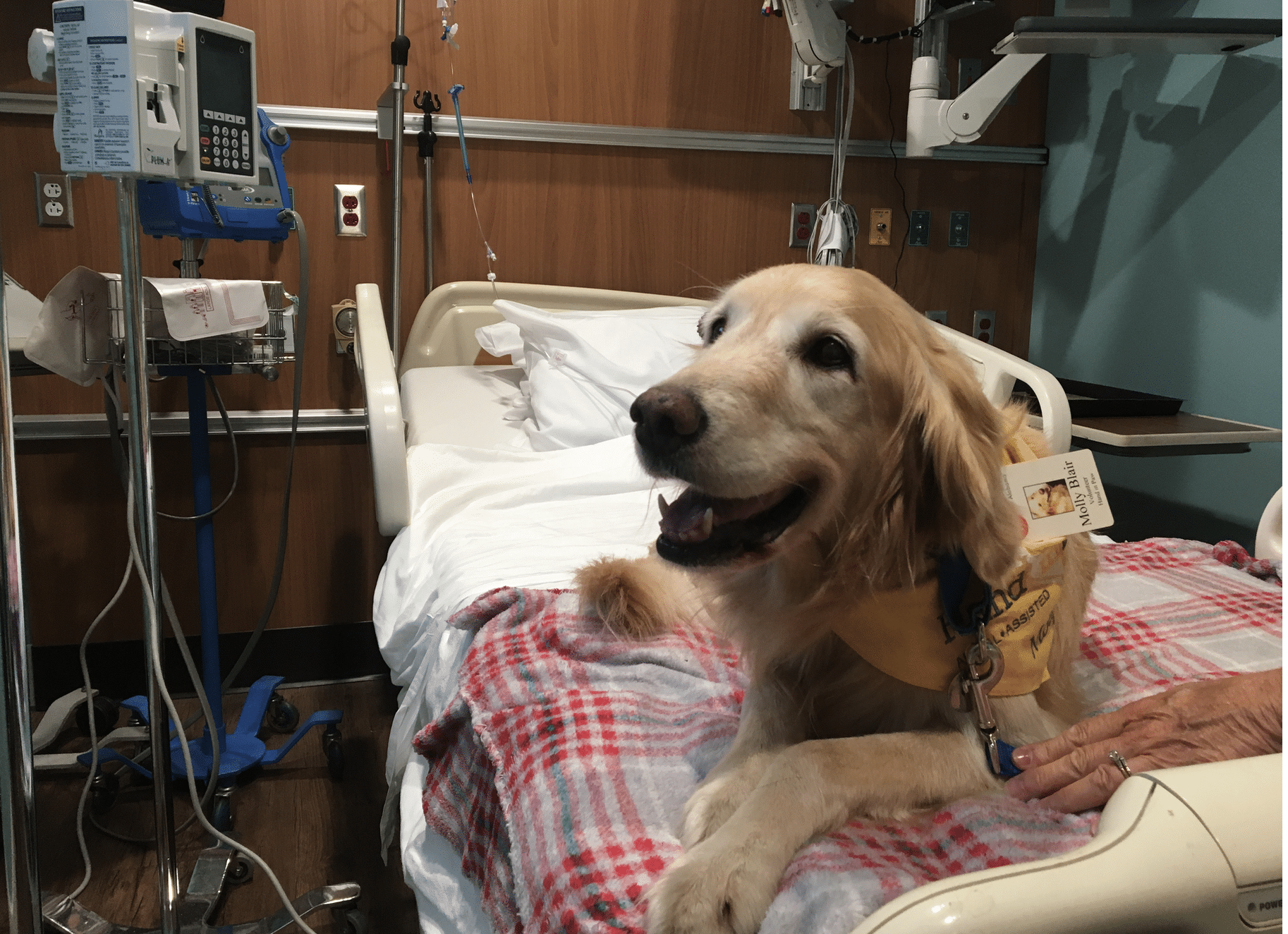 Those of us with pets know the positive influence they can have on our lives. Petting a dog is a sure way to melt the stress away after a long day. Hand in Paw in Birmingham is bringing this positive energy to patients and their families at Children's of Alabama.
Hand in Paw and the benefits of Animal-Assisted Therapy
For 20 years, ill and injured patients of Children's of Alabama have been visited by four-legged friends (and their humans) with Hand in Paw. Hand in Paw is a nonprofit organization that provides Animal-Assisted Therapy to North Central Alabama and Tuscaloosa. Dozens of professionally-trained volunteer teams visit facilities throughout the community, including Children's, The Exceptional Foundation, retirement homes and many others.
A visit from a Hand in Paw team can make a family's stay at Children's a little bit brighter. There are scientific reasons why petting a dog makes you feel good–it increases oxytocin in the body, which amplifies feelings of happiness and empathy. It also lowers your heart rate, decreases blood pressure and reduces cortisol (the stress hormone). These results can make a big difference for those who are in the middle of a hospital stay.
"Having the animal come in is a nice and welcome distraction, not only for the patients but for family and staff, too. It can be emotionally draining."

Angela Shaw, Children's of Alabama
The training
Volunteering with Hand in Paw starts with an application process. There are a few requirements to ensure volunteers and their pups are ready for the commitment. Once they go through Hand in Paw's workshops and pass the final exam, volunteers are officially registered as Therapy Teams and can visit in predictable settings.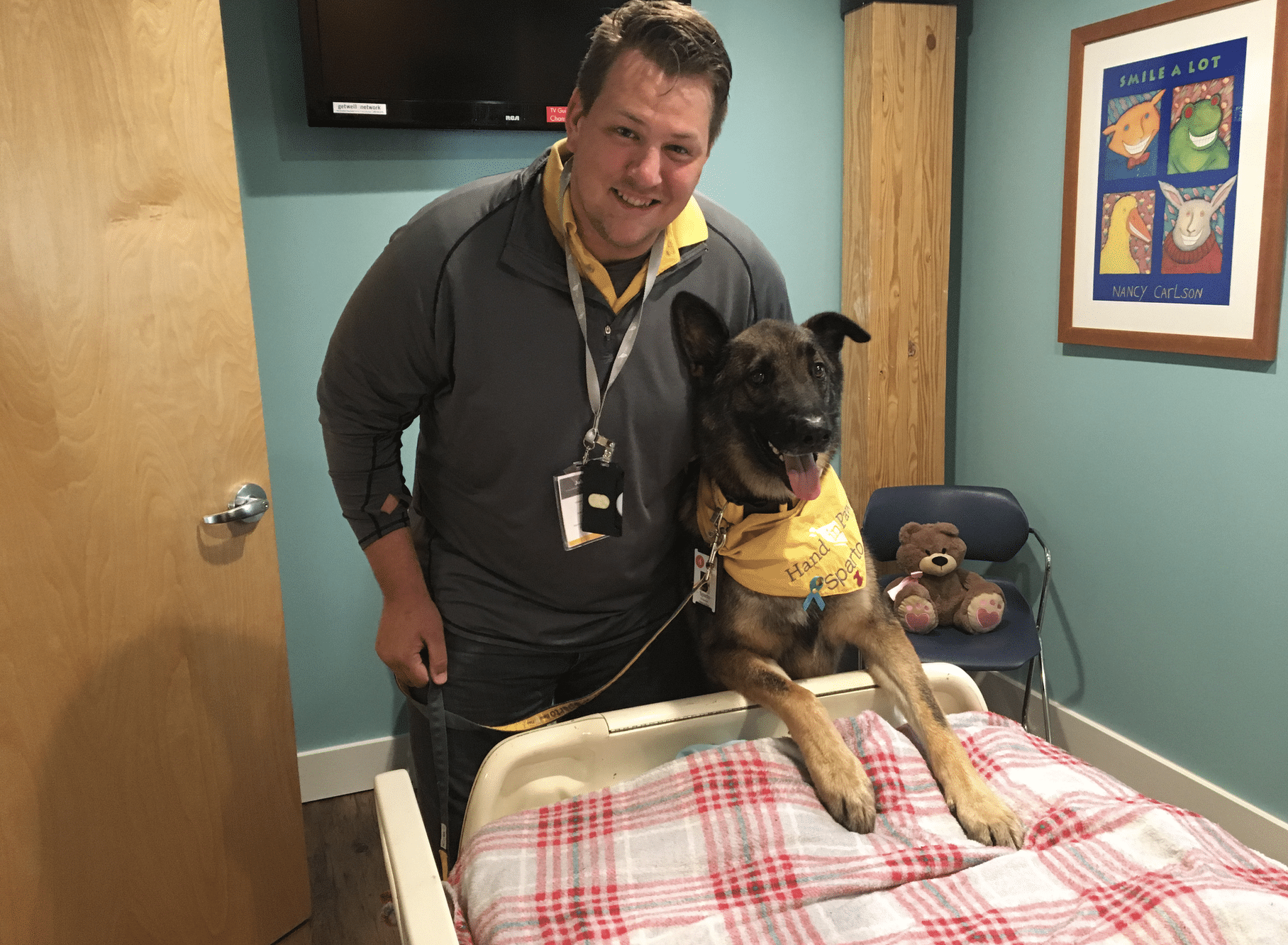 Becoming an Advanced Team (a hospital team) requires a bit more training, as volunteers have to meet safety protocols set by the hospital. To make the training more comprehensive, Hand in Paw recently worked with Children's to launch a Simulation Hospital Room where teams can train before visiting onsite at the hospital. The room includes hospital equipment, a bed from Children's and a soundtrack of hospital noises. According to Brittany Jennings, Hand in Paw's director of communications, "The simulation room helps prevent any issues that could arise onsite. It's a great area to practice what is  learned in training to make sure teams are ready to serve in a real hospital environment."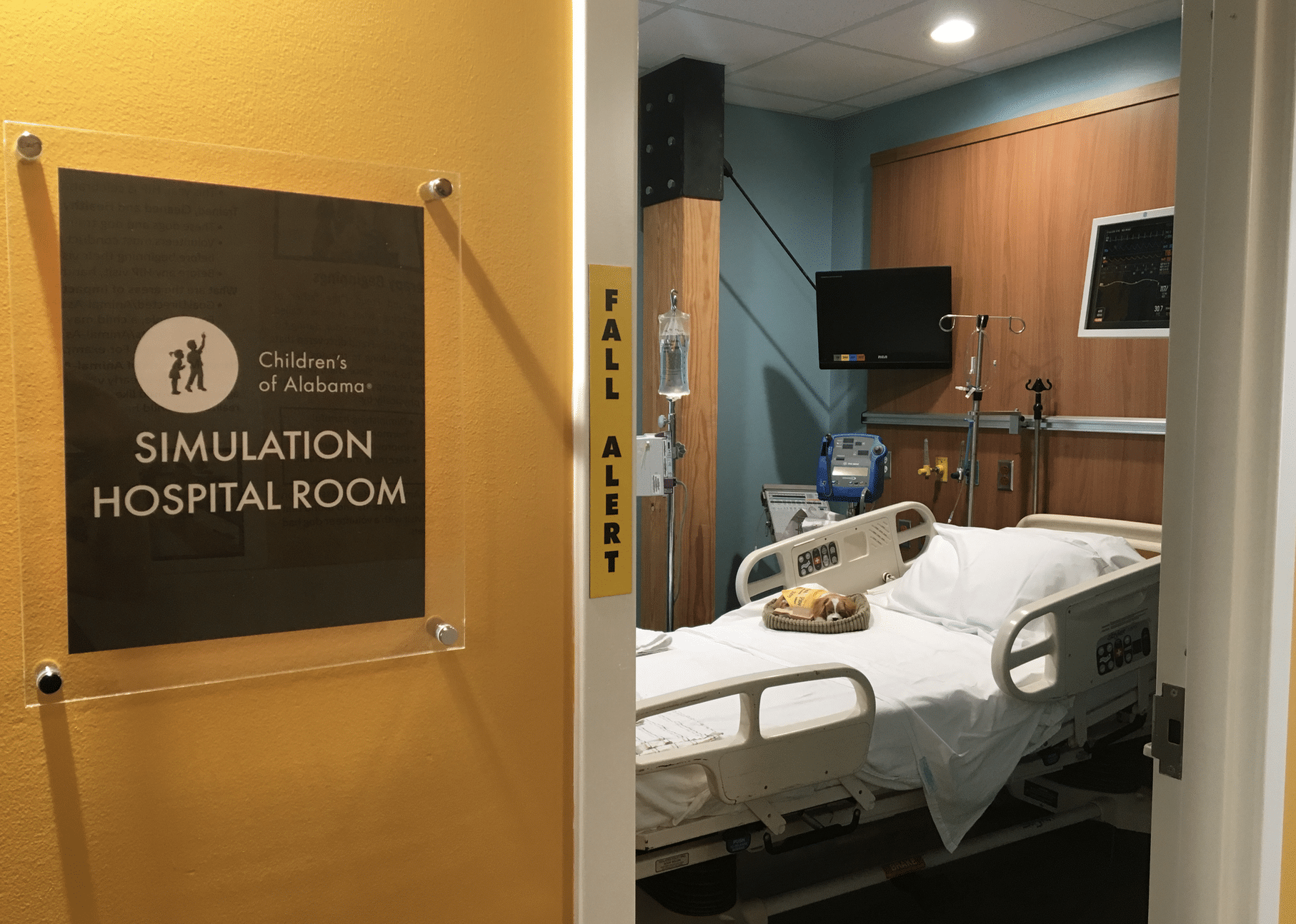 The volunteers in action
Hand in Paw teams visit several departments at Children's every week. Patients can also request a Hand in Paw visit. Volunteer teams meet various needs, from emotional support to assistance with fine motor skill development. Children can brush dogs like Molly (the golden retriever pictured at the beginning of the story), who has been volunteering with her owner Barbara Blair for nine years.
"When teams visit the lobby areas, it encourages patients to leave the room if they can and socialize and laugh. We frequently incorporate the Therapy Teams in patient rooms and goal-directed activities as well. For example, a child working with a physical therapist on their walking skills can walk and hold the leash alongside the dog with its handler. It provides the patient a great deal of motivation and makes the situation much more fun."

Brittany Jennings, Hand in Paw
How you can get involved
Hand in Paw is providing a platform for Birmingham-area pet owners to give their time to various organizations. It's rare to have an asset like this in the community.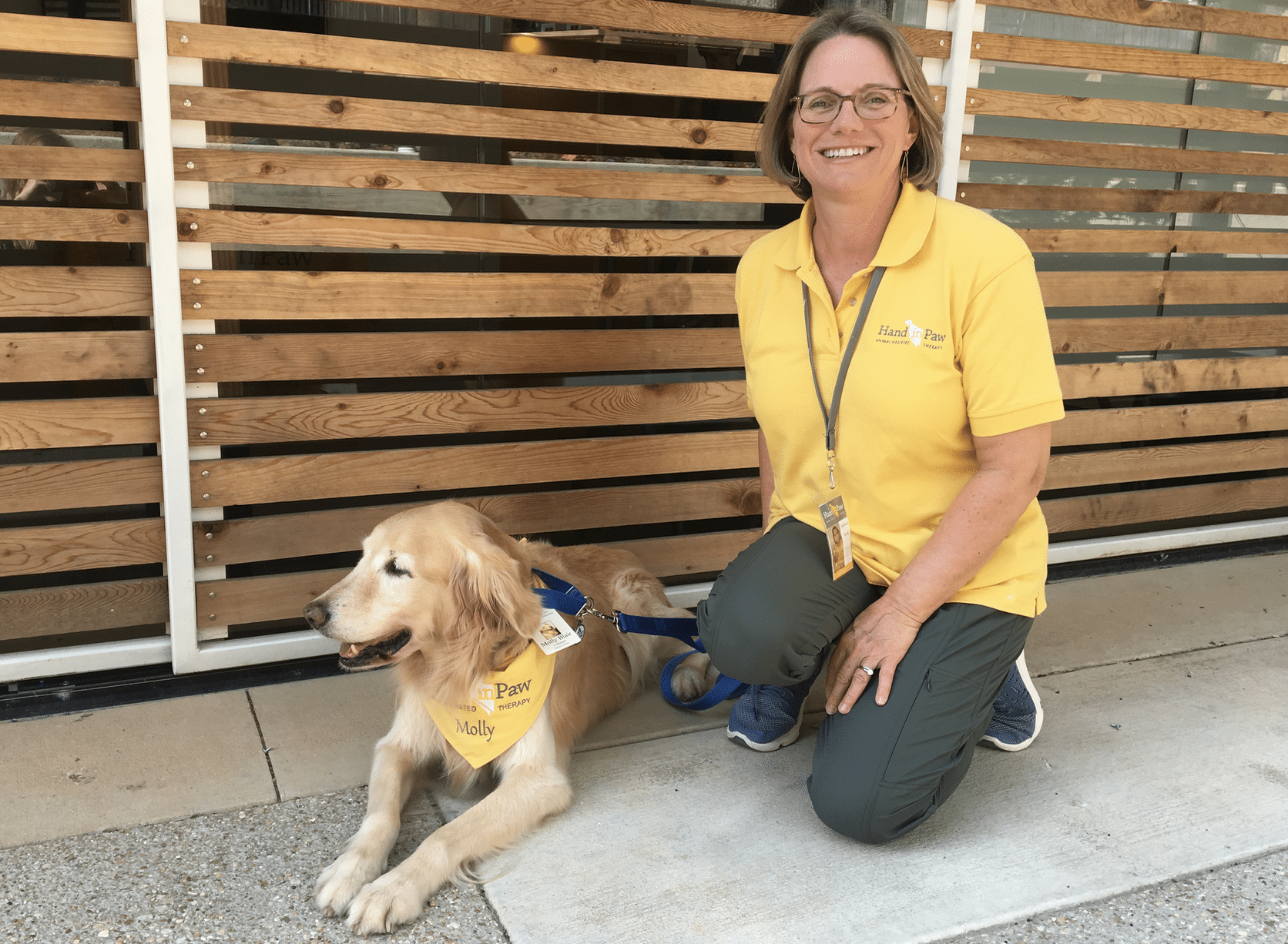 "That's what's so cool about Hand in Paw–in other cities I would have to find an agency to work with. Here, Hand in Paw opens doors and makes those connections for you. They see where you and your dog fit best as a Therapy Team."

Barbara Blair, Hand in Paw volunteer
If you're interested in applying to volunteer at Children's through Hand in Paw, visit Hand in Paw's volunteer page. If you don't think your dog would make the cut, don't worry! You can still get involved. Each Therapy Team has a visit assistant to help them at the hospital. Learn more at Hand in Paw's website.
Partner