Sponsored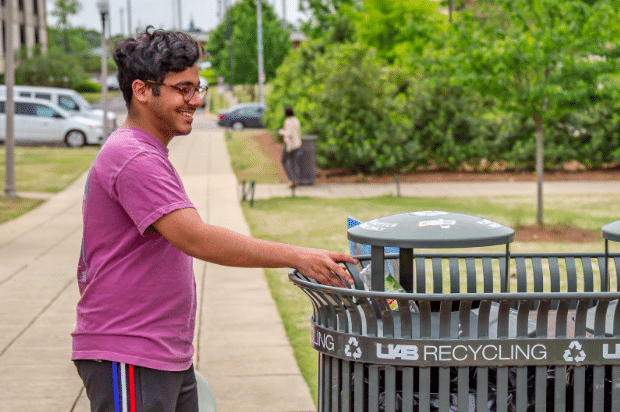 Within the new UAB Sustainability Strategic Plan, released in late 2018, one of the most ambitious goals was in the area of waste.
UAB's goal?
By 2025, the UAB campus and hospital will implement a net-zero waste plan that encompasses purchasing, operations, recycling and waste.
Net-zero waste? Sounds impossible, but it can be done.
Net-Zero Waste Goal is Mainstream
Just 30 miles east of the UAB campus, Honda Manufacturing of Alabama has built over 3.1 million vehicles and engines in Lincoln, Alabama, without ever needing to dispose waste in a landfill. In 2001, the massive installation became Honda's first zero-landfill automotive plant in North America.
Need more evidence?
Over the past decade, the U.S. Army has implemented comprehensive net-zero waste plans at military installations. They have even published a "how-to" booklet that includes not only net-zero plans for waste, but also for energy and water.
If Honda and the Army can go net-zero waste, so can UAB.
UAB's Green Labs – First in the State and Student Driven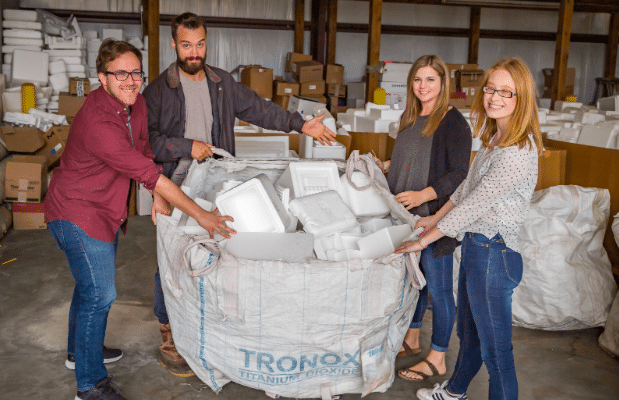 Over the years, UAB has implemented several net-zero waste initiatives. One of the university's most successful programs is the UAB Green Labs recycling program, which caters to more than 2000 labs across campus.
"The lab recycling program at UAB is unique because it is the only one in the state, and it's currently the only lab recycling program in the country run almost entirely by undergraduate students," said Megan Julian, the Green Labs Recycling Coordinator and a Genetics and Genomic Science Major.
As one of the country's elite research-intensive universities and the state of Alabama's largest employer spanning more than 100 city blocks – more than a quarter of downtown Birmingham – UAB can make a major impact by eliminating its waste, and leaders at the institution hope other organizations will follow suit. The UAB Green Labs Program reduces the use of energy, water, material goods, and hazardous chemicals in UAB laboratories without compromising research integrity or safety.
A good example of a project within the Green Labs program is the recycling of pipette tip boxes, one of the largest streams of waste in labs on UAB's campus. An invaluable laboratory tool commonly used in chemistry, biology and medicine, pipette tip boxes, made of #5 plastic, are now collected safely and recycled through partnership with a company from Boaz, Alabama.
"Running a successful lab recycling program in the state of Alabama sends a strong message to universities across the country and other sustainable allies that sustainable changes can be made anywhere. Here at UAB Green Labs, we like to say that it's not what you accomplish when things are easy, but what you accomplish when they are not that truly matters," added Julian.
Hill Student Center an Eye-Opener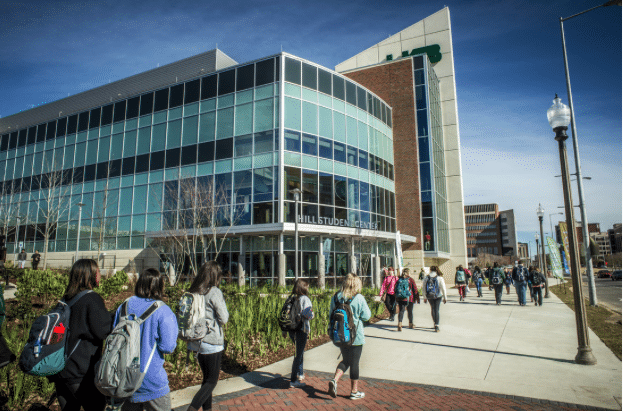 Along with the successful Green Labs program, UAB is exploring reusing waste even in the most unexpected areas, for example construction and demolition waste.
Five years ago, when the old Hill Student Center was demolished to make way for the new Hill Student Center, UAB was able to save money and resources because demolished items were reused and recycled.
"The Hill Center demolition project was eye-opening for us, as our lowest bidder for the work planned to recycle many components of the building – metals, concrete, brick, and more – for profit," said Melody Gillezeau, UAB's Sustainable Development Project Manager "The sale of these recyclable commodities helped the demolition contractor outbid other companies who had not planned to sell the commodities. UAB saved money on demolition and learned about new avenues for recycling construction waste."
Today UAB continues to encourage contractors to seek profitable material reuse and recycling opportunities that divert waste from Alabama's landfills through its Construction and Demolition Waste Management Plan that has become a standard for university projects.
Campus life – Reduce, Reuse and then Recycle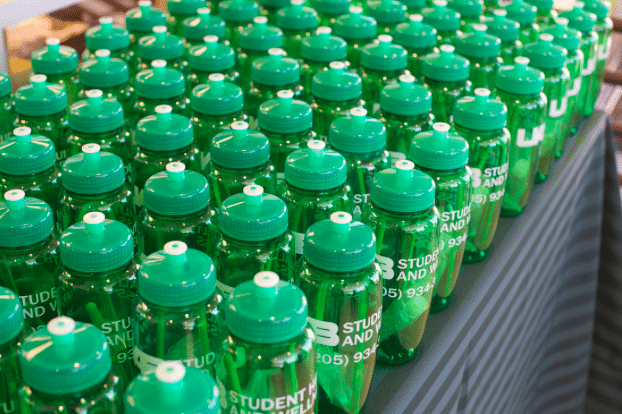 The plan specifically notes how the university is planning to tackle campus life. Net-zero waste advocates emphasize the first 2 Rs – reduce and reuse. Students, staff and administrators will be looking at ways to avoid using disposable, non-reusable and non-recyclable products. They will also make it a priority to encourage the use of reusable bottles, coffee cups, and cutlery during events, thanks to a new Green Event Checklist.
"Through the Sustainability Strategic Plan, we are encouraging our UAB community to make reducing and reusing part of their daily life," said Tim Sullivan, manager of UAB Campus Services and Grounds. "For example, using reusable water bottles is a better choice than purchasing disposable water bottles, and reducing the number of paper documents we receive by choosing electronic delivery is a better choice. These are the everyday choices individuals can make to help us reach our goal of becoming a net-zero waste campus."
The university will also explore creating a composting program and expanding the recycling program to include leadership opportunities for students.
A Larger Plan
According to the UAB Sustainability Strategic Plan, the university will be initiating the following steps toward becoming a net-zero waste campus:
Assessing total solid-waste and specialized waste amounts produced by the campus and hospital.
Benchmarking and setting goals for waste reduction
Composting major organic waste streams
Developing a student-run recycling center with job specific learning outcomes.
Increasing recycling through in-house bailing for direct sales of recyclable commodities to the market.
Evaluating a business model for internal secure paper shredding campus and hospital.
"Because these goals were formed through a collaborative process across our institution, including public listening sessions and an online survey, we are excited to start implementing these goals and seeing how they will impact our campus and community," Sullivan said.
UAB's ambitious net-zero waste plan will transform the campus and hospital over the next five years. Sullivan said the hope is that the steps UAB is taking will help create innovative avenues for other entities in the region to also reduce waste, such as composting. Learn more about UAB's Sustainability Strategic Plan.
Sponsored by: