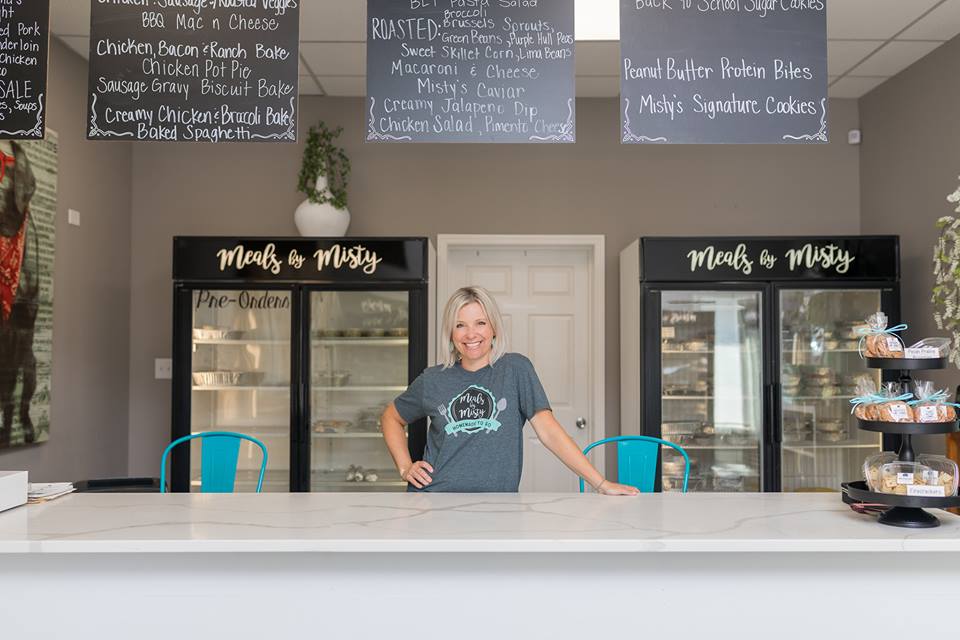 Your grandmother probably passed down a time-honored Easter recipe or two (in my family, it's pineapple ham and potato salad). But today, we're so busy, who has time to cook? Order from one of these Birmingham favorites, swap out the to-go containers for your own serving dishes and Easter dinner is done!
Ashley Mac's
When Bham Now first thought of this story, Ashley Mac's was at the top of our list. With locations in Cahaba Heights, Homewood, Inverness and Riverchase, it's convenient for just about everyone. For Easter, Ashley Mac's is taking orders for ham, traditional sides and dessert. Plus, they have a new cookie to try—the Mac cookie, with milk chocolate and semisweet chocolate morsels and pecans.
Meals by Misty
Sooooo many people vouched for Meals By Misty (205.508.5993) in Trussville when I put out feelers for this story on Facebook. Put in your order soon for your homemade Easter meal to go by proprietor Misty Westover, the former fifth-grade teacher turned dinner fairy.
Sorelle
When I think of Easter brunch, I think of quiche. Then I think of Joy Smith at Sorelle (205.914.0388). This homegrown Birmingham catering company is a frequent vendor at the Market at Pepper Place. In addition to the quiches, Sorelle's cheesecakes are to die for.
Beams of Heaven Bakery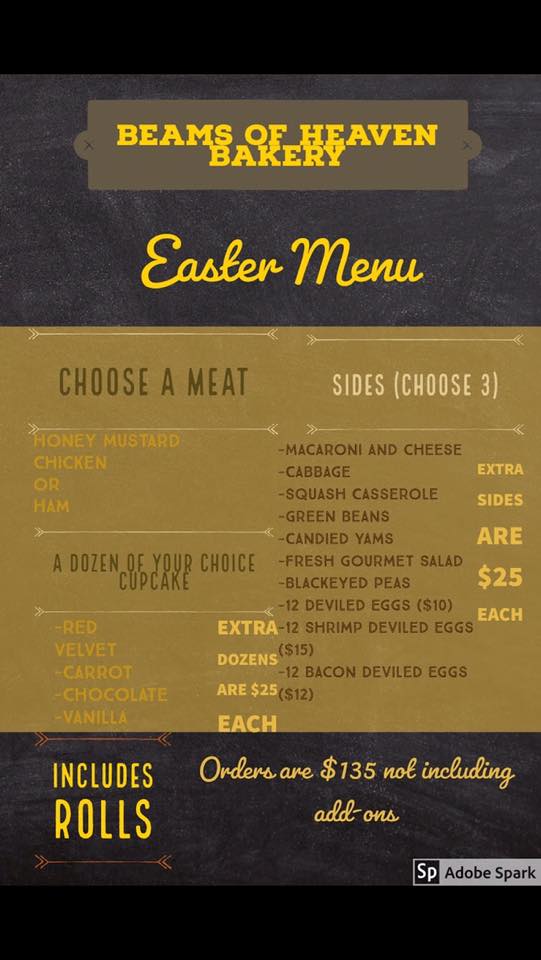 Beams of Heaven Bakery (205.703.1617) is a delivery-based business serving Birmingham metro. They're dishing up an Easter spread for 6-8 for $135, including your choice of honey mustard chicken or ham, three soulful sides, rolls and a dozen cupcakes (options include red velvet, carrot, chocolate and vanilla). My only question: how do you choose between regular deviled eggs, shrimp deviled eggs and bacon deviled eggs?
Closing on a sweet note …
This post is about Easter meals, not desserts, and I've seen so many beautiful Easter cookies by local Birmingham bakeries that it would be impossible to list them all. Nonetheless, I can't stop eyeing this braided, coconut custard-filled Easter bread ($25) available for special order at my fave doughnut haunt, Hero Doughnuts (205.623.1017). I might have to host Easter dinner at my house just to have an excuse to order this puppy.
Did we miss your favorite? Tell us where you're picking up Easter dinner in Birmingham on social @bhamnow (or @now_bham on Twitter).