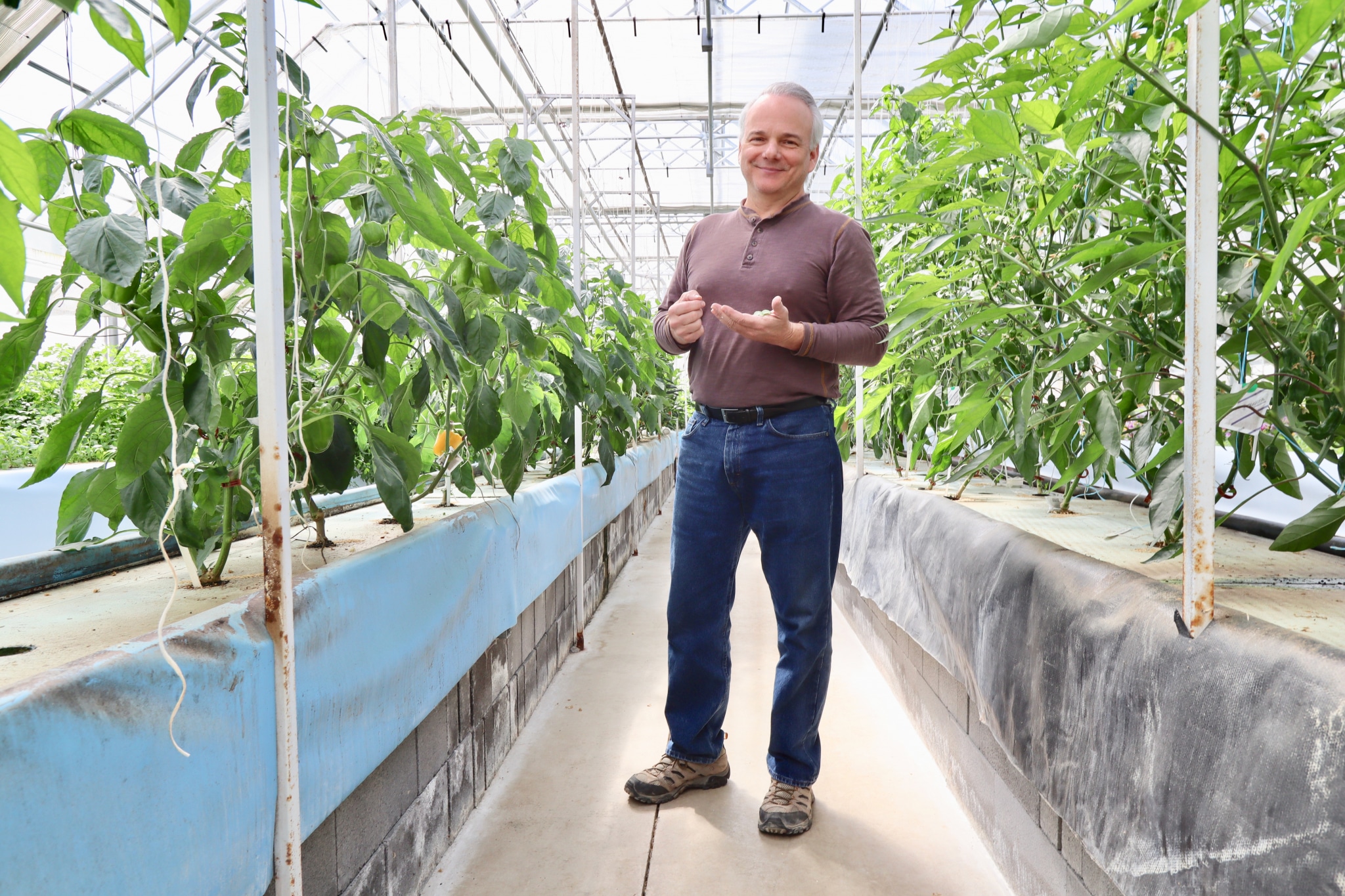 At Southern Organics, Stuart Raburn and his small but mighty staff grow Birmingham's freshest supply of tilapia and all natural produce. How did this Birmingham entrepreneur maven shift from launching high-tech firms to high-end farming? Here's what we found out on our behind the scenes tour at his Columbiana farm.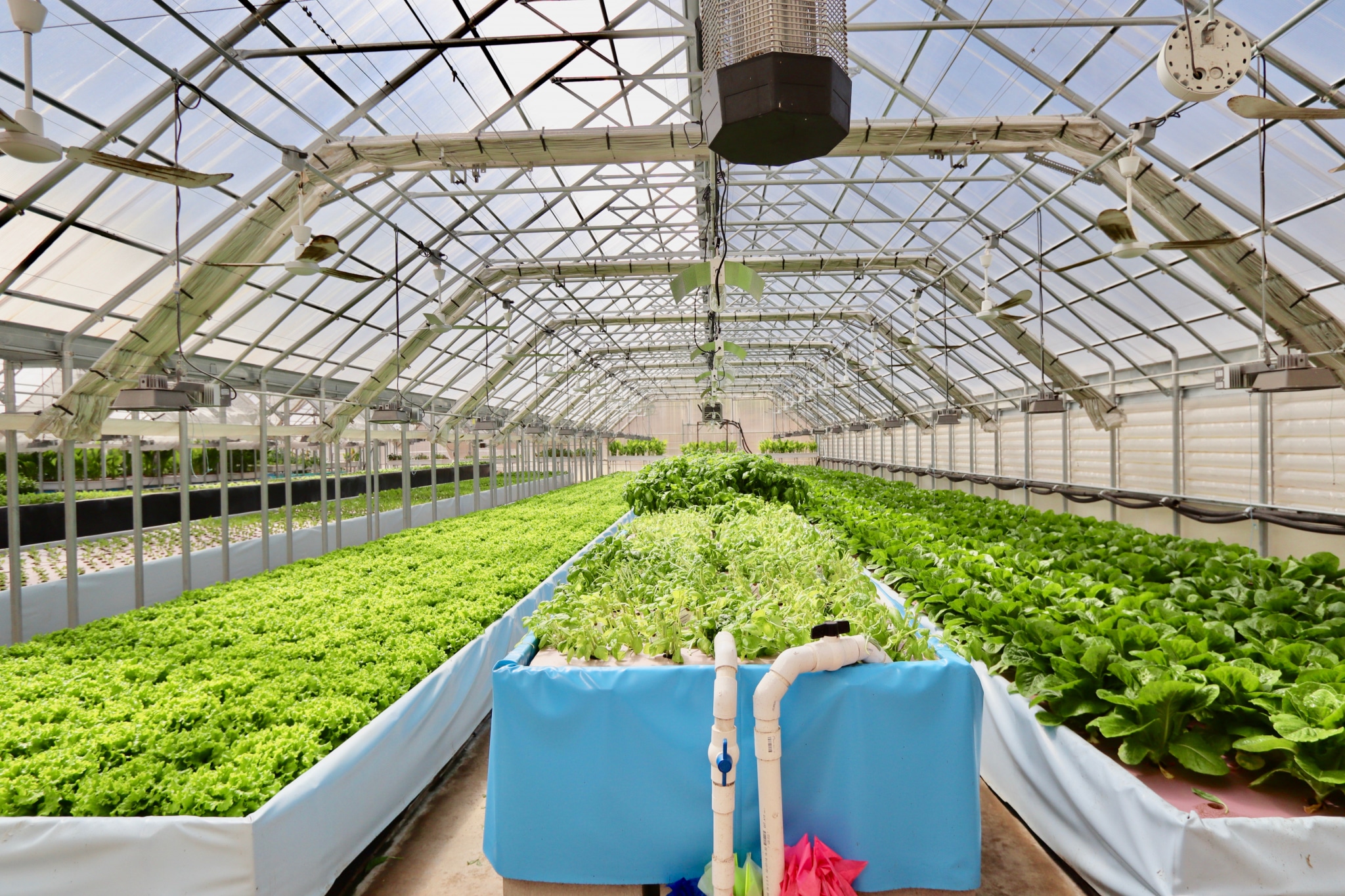 Life on the Farm at Southern Organics
A couple of steps into Southern Organics farm in Columbiana and you might feel as if you've stepped into Willy Wonka's Chocolate Factory. However, there are no oompa–loompas here, no golden ticket. But there are golden mushrooms. (See photos below.)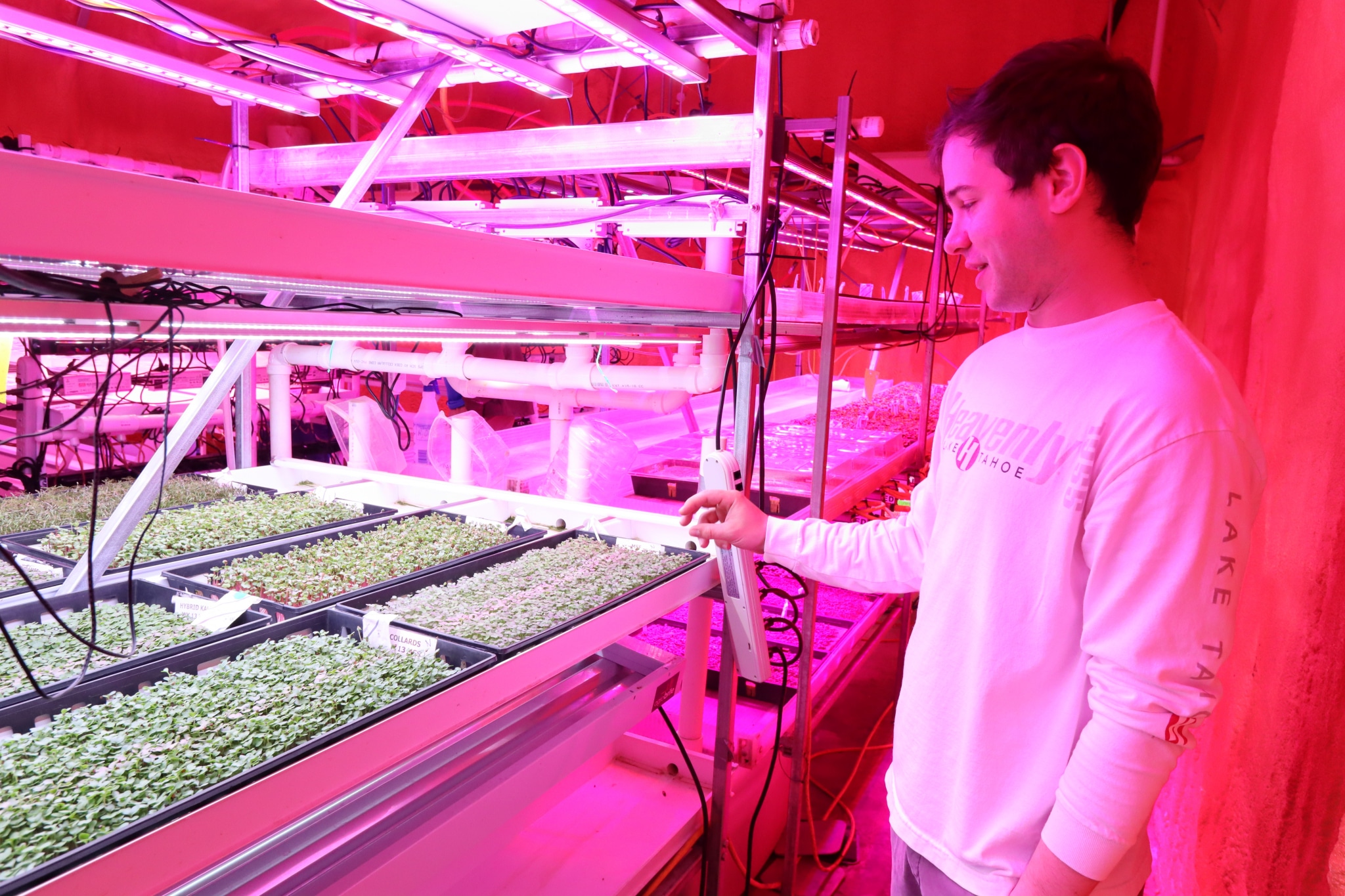 In the greenhouse, there's an entire world of unheard of taste combinations to discover, including wasabi arugula—a crisp leafy green with flavors of wasabi and peppery arugula laced together with a perfect crunch. Then, a few rows over there are the greens with a distinct boiled peanut flavor. Past that, edible flowers—some spicy, some tasting just like cotton candy.
Tilapia at Southern Organics
In the building two doors over, there are a dozen bright blue tanks, filled with hundreds of tilapia. Not just any tilapia though, these are ethically farmed Nile Tilapia, grown in house and sold to Birmingham market the Red Pearl. You can purchase the Southern Organics Tilapia at the Red Pearl daily.
A True All Natural Operation
The most fascinating part of the Southern Organics operation is that they are ENTIRELY pesticide, herbicide and GMO free. Instead of using potentially harmful products to increase their yield or ward off crop harming bugs or disease, Southern Organics uses the power of the ecosystem and science to combat such problems.
For pest control, they utilize the power of tiny but harmless insects Raburn referred to as "good bugs". In the greenhouse, a certain strain of minnow is set out to combat other potentially crop harming issues. The farm is full of problem-solving solutions like these.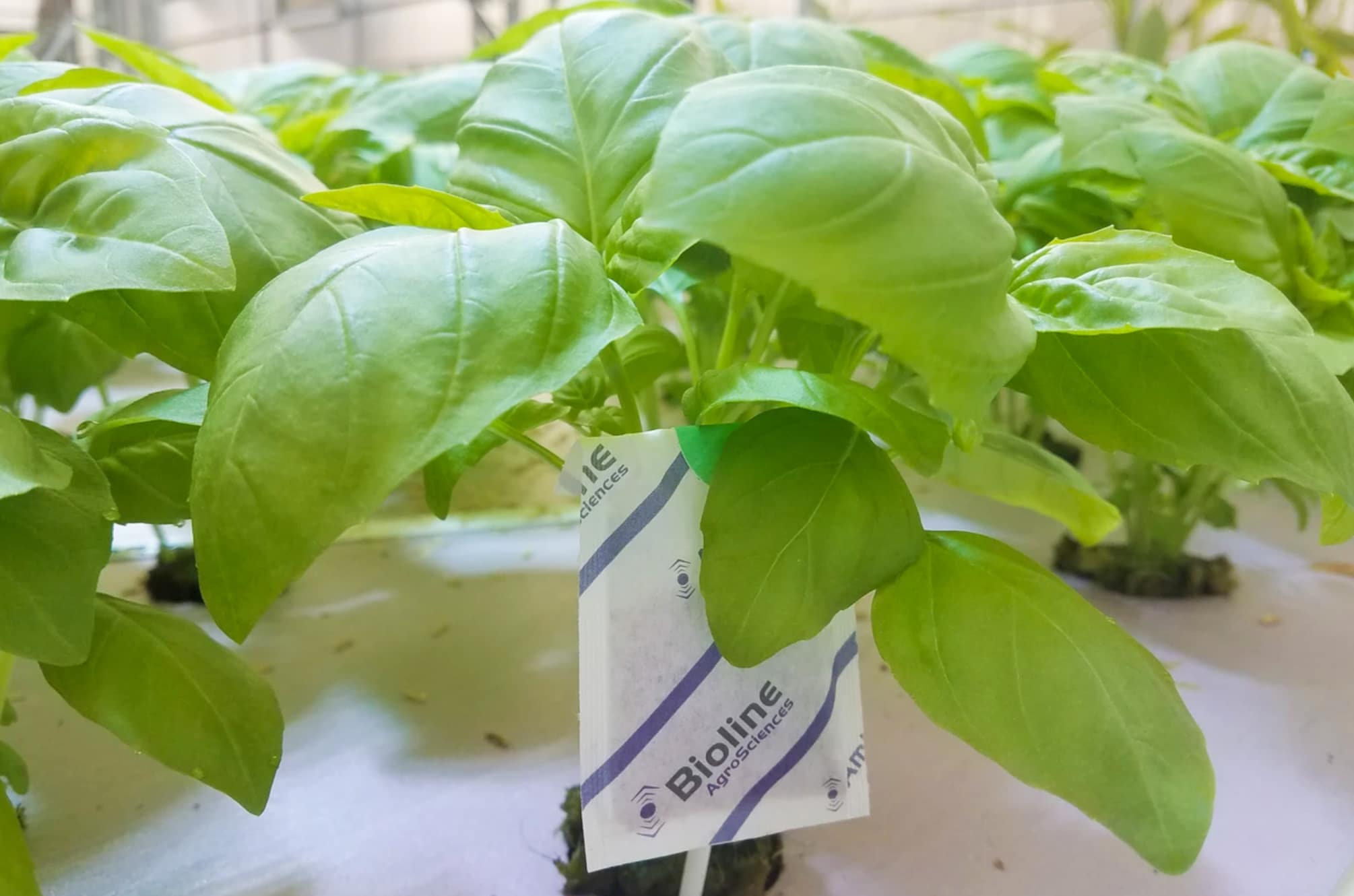 Since their products are not certified organic at this time, they use their Southern Fresh Produce brand for marketing their produce. They put a "wash before eating" sticker on their products, but after a quick tour of the farm, we find that is absolutely unnecessary. With zero dirt or harmful chemicals used on the farm, there's nothing to wash off.
The Learning Curve of Aquaponics
One look inside the intricate Southern Organics operation and you'd swear that Raburn has been doing this his entire life. However, despite his in-depth knowledge and passion about the farm, he's only been in the industry since 2014.
The science behind how they grow their high-end produce is based on aquaponics, a natural technique for growing food dating back to the Incas. While it is old, and natural, it is a very precise craft requiring a significant amount of expertise in the field.
Not Just a Hobby Farm
What started out as a trial and error hobbyist's farm has now turned into a successful operation. The farm has recently expanded deliveries to 5 days per week for restaurants and retailers in the greater Birmingham area.
Southern Organics in the Birmingham Market
With such a unique selection of fresh, all natural produce entirely free of any pesticides, herbicides or GMOs, Southern Organics quickly caught the eye of many chefs from Birmingham's high-end restaurants looking for locally sourced quality products. Currently, they provide their greens, mushrooms, herbs and microgreens to a growing list of over 20 local restaurants, such as Foodbar, Gianmarco's, Whistling Table and Bellinis.
You can find Southern Organic products at several Piggly Wiggly locations, Organic Harvest and various Farmers Markets throughout the spring and summer season.
Raburn Post Tech Life
Raburn made it big in the tech world in 1986 as the founder of AA MicroSystems, a company focused on IT networking for law firms. After selling that company in 1996, he then founded Birmingham based TekLinks, a cloud-based solution company headquartered in Birmingham.
After battling two rounds with cancer, Raburn left the tech world after 26 years and sold Teklinks in 2012. Never one to remain idle, his serial entrepreneurial roots began to take over and he began to search for his next business venture.
Post-cancer, Raburn took a greater interest in leading a healthy, organic lifestyle. It was this lifestyle change and the promise of creating an entirely new business model that piqued his interest in aquaponics farming. It was the perfect opportunity to marry his love for tech and health.
"After two bouts with cancer, I became increasingly aware of how critical the consumption of healthy, chemical-free food is for our health. A small yet high-end farm seemed like a fun hobby and interesting opportunity to marry technology with controlled environment agriculture."

Stuart Raburn, Founder and CEO of Southern Organics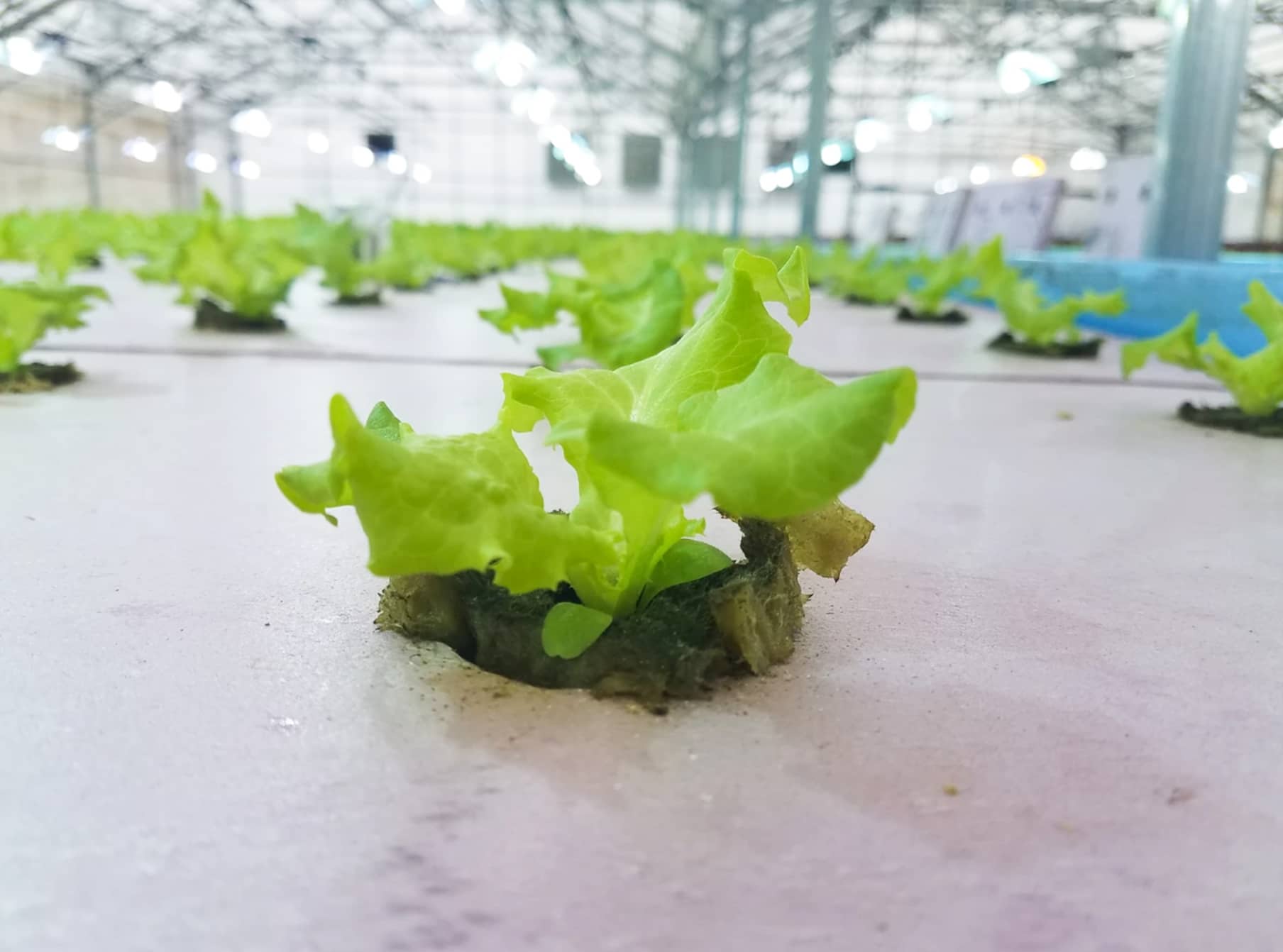 Advice from the Experts
Raburn sought counsel from Dr. James Rakocy, known as the father of aquaponics, who taught and researched the subject at the University of the Virgin Islands for 30 years. It was this relationship, along with uncountable hours of research and trial and error, that got Southern Organics off the ground.

Raburn set up shop for Southern Organics in 2014 on a site next to the Shelby County landfill, a property he happened to already own from a previous venture. This turned out to be a serendipitous start, because it was the perfect spot for this kind of operation.

"Dr. Rakocy told me that when he developed modern aquaponics techniques, he envisioned farms just outside urban areas adjacent to Landfills so they can be powered by the methane."


Stuart Raburn, Southern Organics Founder and CEO
Southern Organics is currently working on a project to power and heat the farm from the Landfill's methane.

For now, Raburn collects logs discarded into the Landfill to help heat his farm. The logs are fed into a giant shredder then burned in a burner. This process proved to be a welcomed challenge for Raburn. Turns out, calculating biomass (like wood) into heat to properly warm an entire farm isn't exactly a walk in the mathematical park.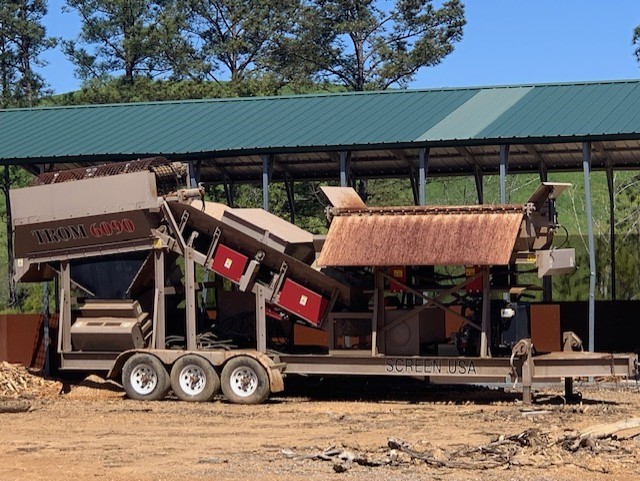 "Winter is a challenge, as we currently heat the farm with wood chips. The dynamic nature of farming presents one of the most difficult math problems I've encountered. We're constantly adjusting," said Raburn.
Problem Solving on the Farm
Another factor that contributes to the success of Raburn's operation? His problem-solving skills and willingness to put in the work.

Take the mushroom stalls at Southern Organics, which are actually refrigerated trailers he bought secondhand from a trucking company. It was Raburn's ingenuity and willingness to experiment that allowed him to find a cost-effective solution to house his mushrooms.

"I had to cut off the undercarriages by hand with a plasma cutter to make it work. My first machine wasn't powerful enough, so I upgraded to finish the job," said Raburn.

The mushroom stalls a la tractor trailer ended up being just right for the job.
Finding Solutions
Raburn says that the tech behind the aquaponic farm has many advantages:
"By growing indoors, we avoid using any pesticides or other harmful chemicals. Nothing goes on our crops that we wouldn't feed our families. And controlling the crop environments allow us to grow year round. Having fresh Italian basil in February or crisp Lettuce in August is something that just can't be done in the field in Alabama."

Stuart Raburn, Founder and CEO, Southern Organics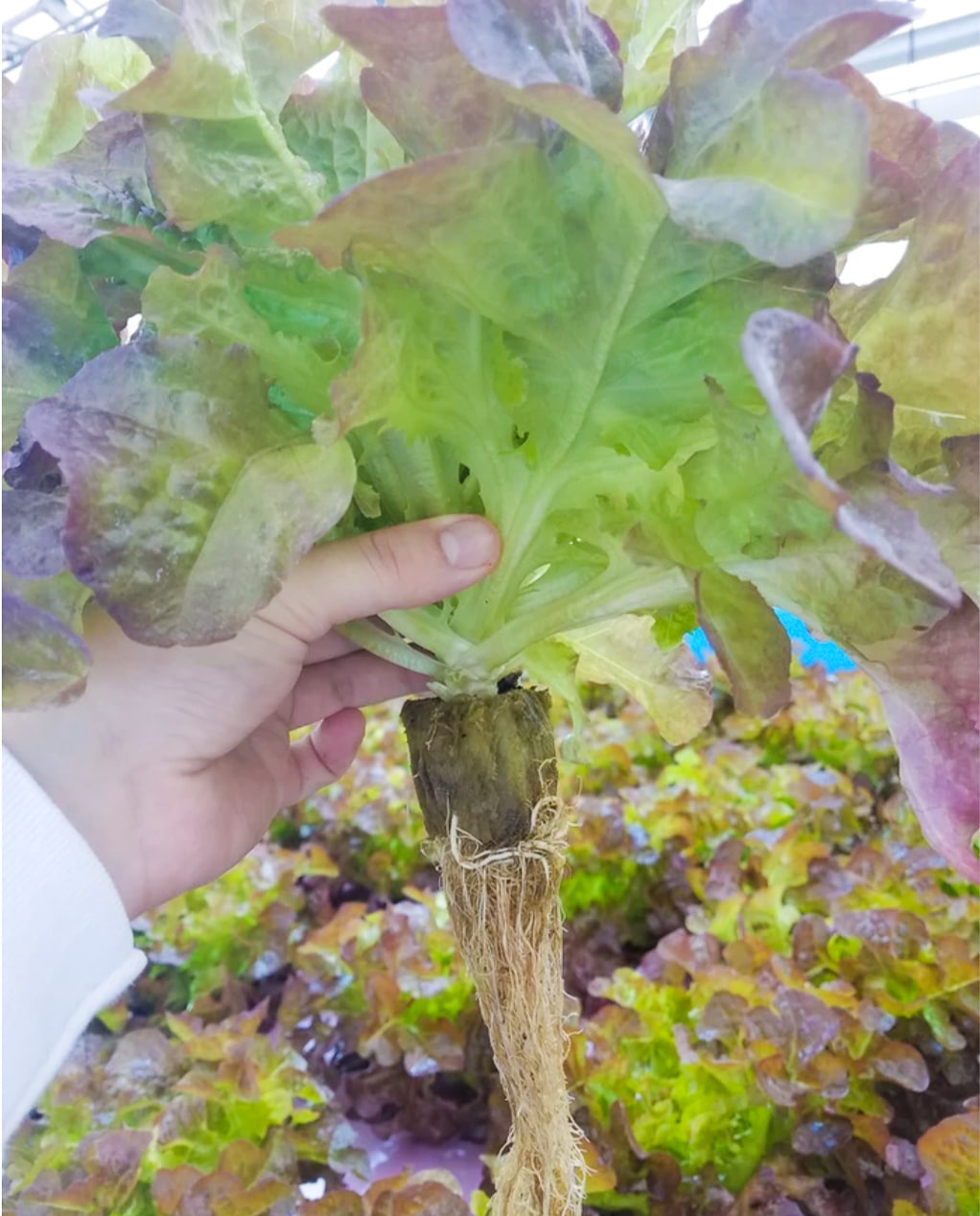 And also, some challenges, including the need for more automation:
"We need more automation so we can focus on what we love to do, bringing in interesting and healthy crops from around the world, like our Polynesian Turmeric, and growing them naturally for the greater Birmingham market to enjoy."

Stuart Raburn, Founder and CEO of Southern Organics
Next Steps for Southern Organics
Raburn, who lives life by planning "no more than 24-months at a time", is now setting his sights on phase two of the Southern Organics aquaponic operation: growing heirloom tomatoes. As you'd imagine, Raburn already researched the methods and has hoop greenhouses set up in preparation for the first spring planting in a few months.
We can't wait to see what's next for this all natural, local operation. Big things, we know, since Raburn is at the helm of this terrific operation.
Have you tried Southern Organics produce? Hit us up on social at @BhamNow and let us know what you think!