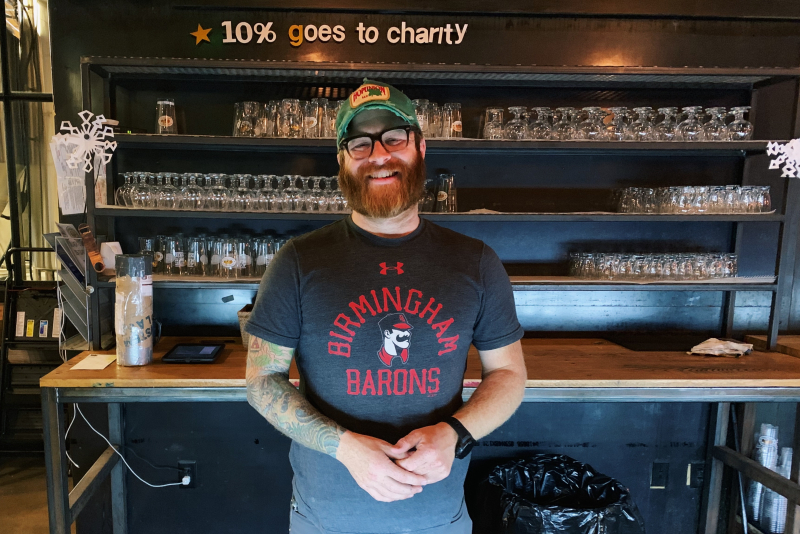 Breweries are founded on a common love for wonderful craft beer, but they are also where communities are built.
Craft beer like any other craft is learned, practiced, and refined. Many of our readers may know the basics of seasonal, fine brews, but we also understand that not everyone will. Here we wanted to share some details about the craft in order to help you learn about a few first-rate selections (don't forget to check out all of Birmingham's great breweries)
A few things to note: craft beer lends itself to explore creative combinations. Flavors focus on seasonality in an effort to keep things adventurous. Stouts and porters are classic winter brews. With lots of variations, they're the heaviest of beers and perfect to keep you warm on cold winter days. In addition to that, generally imperial beer is a warm and extra boozy drink. The extra alcohol kick really fights frostbite. Chocolate and coffee flavors are also frequently added to beer. These dessert beers are dark and delicious. Another additional note to specifically seasonal drinks is that often bartenders bring out the barrel-aged beverages that took a little longer to brew.
1. Good People Brewing Co.
Good People Brewing Company is all about about "a genuine belief in being genuine." As the oldest and largest brewery in the state, they care about great beer and great conversation.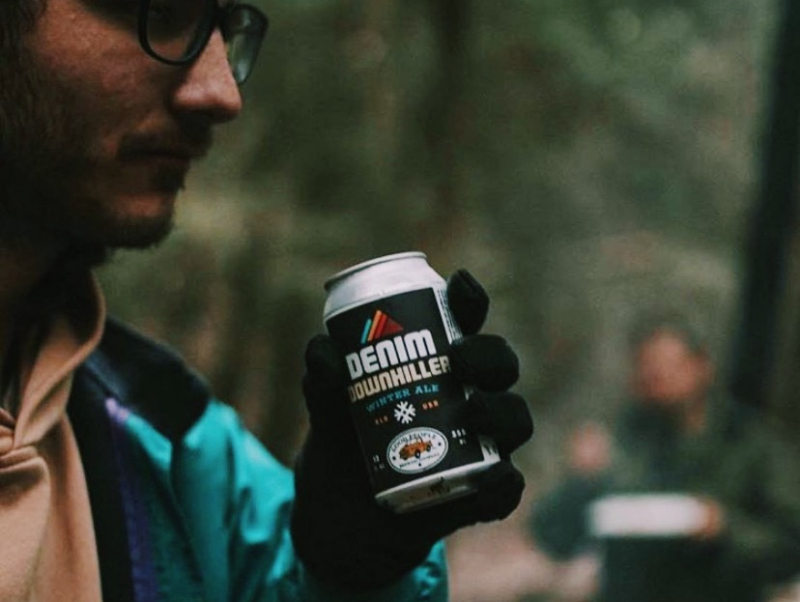 Denim Downhiller
Kyle Hulsey, a Good People tapster, explained the Denim Downhiller, saying "it's our winter seasonal ale with floral and caramel notes."
Hours:
Mon-Wed: 12:00 p. m.-10:00 p. m. 
Thurs-Sat: 12:00 p. m.-12:00 a. m.
Sun: 12:00 p. m.-8:00 p. m. 
Address:
114 14th Street S
Birmingham, Al 35233
2. Birmingham District Brewing Company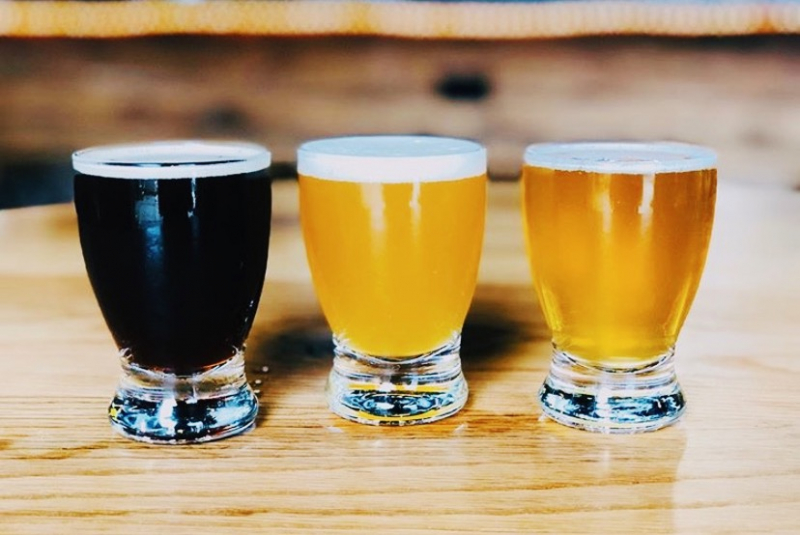 Having opened recently on November 10th, Birmingham District Brewing Company cares about Birmingham's past and honoring all who made our great Magic City. It is located in the Battery, and they make a lot of smaller brew batches so it's first come first serve to all of their guests.
English Dark Mild
With chocolate, coffee tones and a light body, the English Dark Mild (pictured on the far left) is just the right amount of warm for a cool evening.
Double NE IPA
This Double NE IPA (pictured in the middle)  has a dry, hoppy taste that has a light and crisp finish.
Kolsch
Just like the air outside, this beer (pictured on the far right)  is crisp with a clean, champagne-like finish.
Hours:
Mon-Wed: 12 p. m.-10:00 p. m.
Thurs-Fri: 12 p. m.-12:00 a. m.
Sat: 11 a. m.-12 a. m.
Sun: 12 p. m.-8 p. m.
Address:
2201 2nd Ave. South
Suite 102
Birmingham, AL 35233
3. Back Forty Beer Co.
Named after the old farming term, Back Forty Beer Company believes that while that specific portion of land can be hard to take care of it has the best soil, making the whole endeavor worth it. Their meals are considered American pub food and they do it all while supporting local farmers.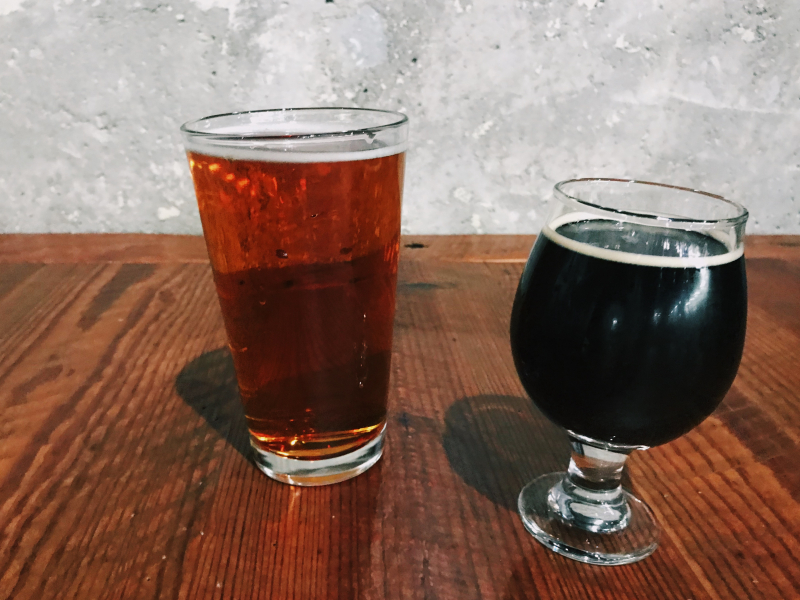 Brrr Baby
Brrr Baby (pictured left) is a white stout with a triple threat of chocolate, vanilla, and coffee.
Peanut Butter Porter
The Peanut Butter Porter (pictured on the right) is considered "comfort food in a can." Blended with real peanuts that give it that perfect creamy flavor.
Hours:
Sunday: 11 a.m.-9 p.m.
Monday: 3 p. m.-9 p. m.
Tuesday: Closed
Wednesday: 3 p. m.-9 p. m.
Thursday: 11 a. m.-10 p. m.
Friday-Saturday: 11 a. m.-11 p. m.
Address:
3201 1st Avenue North
Birmingham, Alabama 35222
4. Trim Tab Brewing Co.
Trim Tab Brewing Company focuses on celebrating excellent craft beer and supporting people who who are making a difference.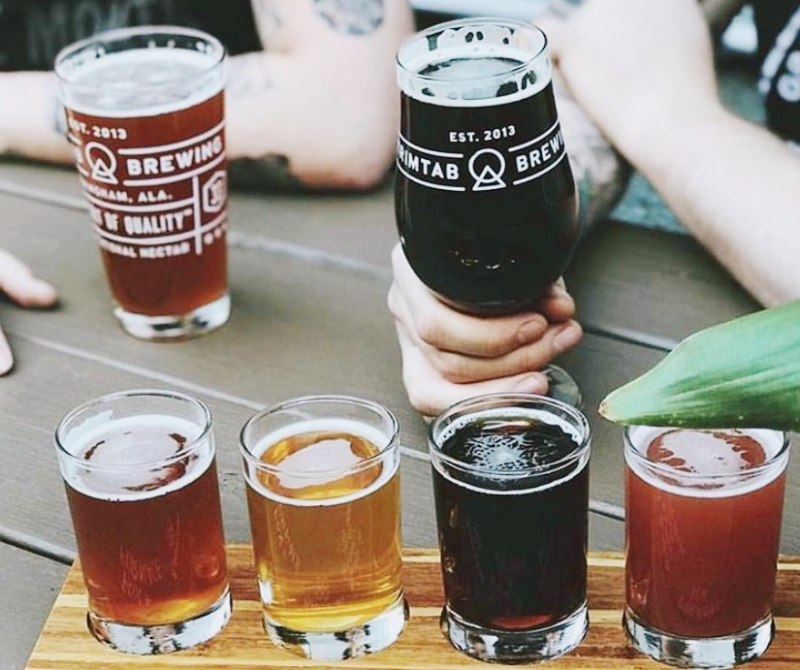 Bourbon Barrel Aged S'mores Stout
Trim Tab has created a small batch of this seasonably warm and delicious drink to remind you of all the nights you've spent cozied up, getting warm around a fire.
Fruit Bomb Berliner Weisse
A bit of cherry, raspberry, cranberry, black currant, pineapple, Meyer lemon, and Tahitian vanilla beans have been added to Trim Tab's classic Berliner Weisse to create a fruity and creamy combo. It's sure to delight on a wild cold winter's night.
Hours:
Mon-Thurs: 12 p. m.-10 p. m.
Fri-Sat: 12 p. m.-12 a. m.
Sun: 12 p. m.-8 p. m.
Address:
2721 5th Ave S,
Birmingham, AL 35233
5. Cahaba Brewing Co.
In September 2012, a few friends with a passion started Cahaba Brewing Company. With a belief in the community, they have a large space built for a variety of events. As for their beer, they keep a few trustworthy, clean, and  consistent drinks while also providing adventurous options.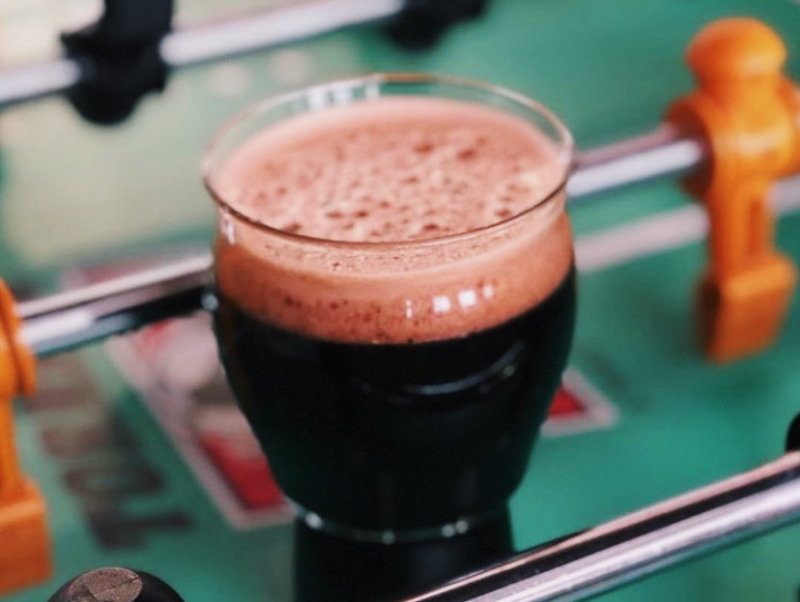 Milk Stout
This beverage (pictured above) is made of creamy goodness with a touch of chocolate to top it all off. You don't want to miss out on the Milk Stout at Cahaba.
Dry Irish Stout
Made from barley and malt, this Dry Irish Stout is a classic. It's smooth and has a hint of fruitiness.
Oak Aged IPA
Given in the name, this Oak Aged IPA is aged to perfection. Each barrel is different. Some samples are bitter and others bring a taste of bourbon. With a classic like this one, you may not know what you'll get, but the surprise is part of the beauty.
Hours:
Sunday: 12:00 p. m.-8:00 p. m.
Mon-Thurs: 3:00 p. m.-10:00 p. m.
Fri-Sat: 12:00 p. m.-12:00 a. m.
Address:
4500 5th Ave South, Building C
Birmingham, Alabama 35222
6. Ghost Train Brewing Co.
Ghost Train Brewing Company came to Birmingham in 2016 with a brewery and a taproom. Often playing live music and hosting Hot Tag Cuisine's food truck, Ghost Train knows how to host a good time.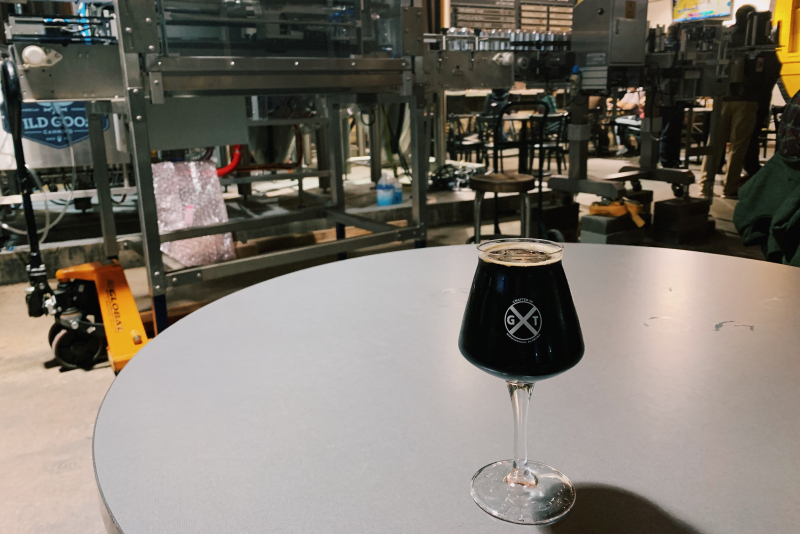 White Mountain Coffee Porter
With British malts, this White Mountain Coffee Porter is hardy and warm. This beer has a touch of chocolate bark with coffee beans from the local Seed's coffee.
Hours:
Sunday: 12 p. m.-8 p. m.
Mon-Wed: 12 p. m.-10 p. m.
Thurs-Sat: 12 p. m.-12 a. m.
Address:
2616 3rd Ave S
Birmingham, AL 35233
7. Avondale Brewing Co.
It all started with a circus elephant at the Birmingham zoo in the 1920's. Miss Fancy would often receive watered down alcohol as medicine whenever she showed signs of sickness, and eventually during the time of Prohibition, city officials gave her confiscated whiskey. This beloved beast inspired Avondale Brewing Company.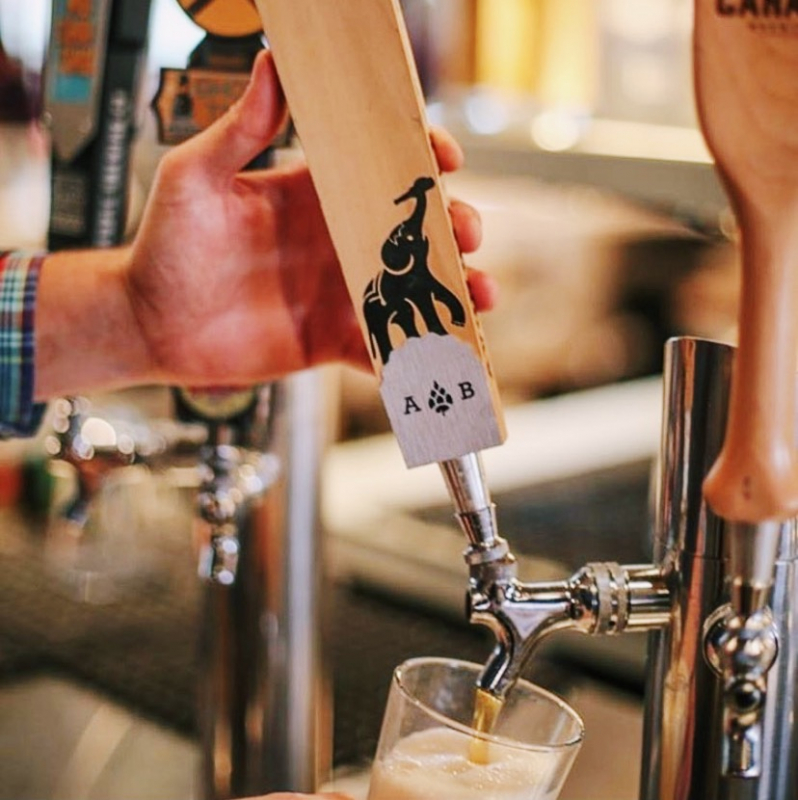 No Joke Mocha
With an oaty base, this stout has a strong coffee taste that is not overly bitter with a chocolate finish. It's title: No Joke Mocha is quite fitting.
Hours:
Sunday: 1 p. m.-10 p. m.
Mon-Wed: 12 p. m.-10 p. m.
Thurs: 12 p. m.-11 p. m.
Fri-Sat: 12 p. m.- 12 a. m.
Address:
201 41st St S,
Birmingham, AL 35222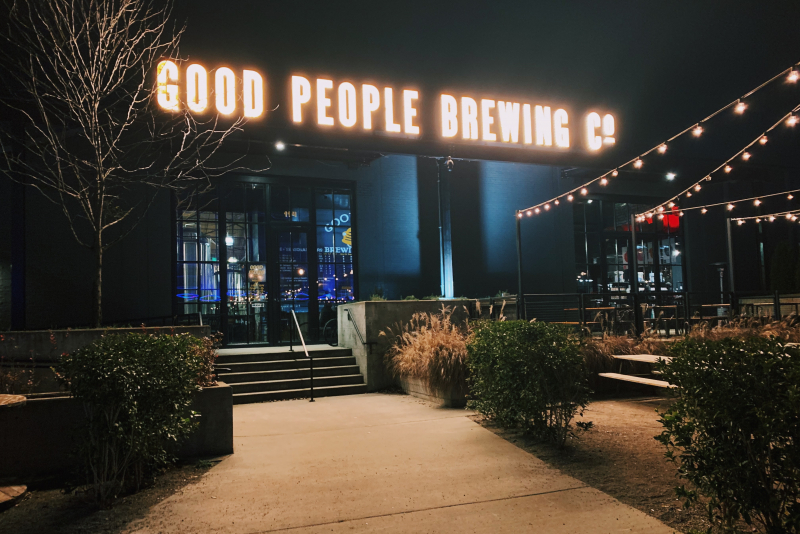 It's always fun to try new beers and when the weather sends you indoors, Birmingham breweries have provided plenty of unique and seasonal options to keep you warm when the cold wind blows.
Please be aware that no one under the age of 21 should consume alcohol and call an Uber if need be.