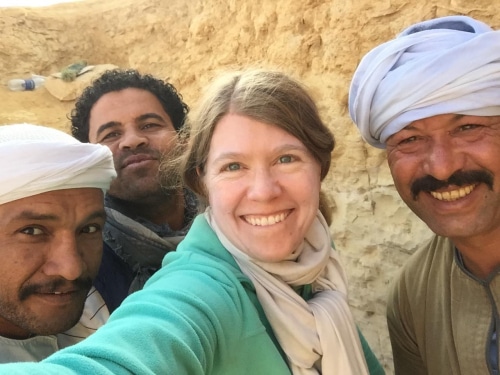 Tickets are limited. Purchase them today – HERE.
Bham Now October BOLD  Series speaker, UAB professor Dr. Sarah Parcak made global news earlier this month, when her team of archaeological adventurers discovered 800 Egyptian tombs, at Lisht, an ancient burial ground.
Dr. Parcak, an Egyptologist, National Geographic Explorer, 2016 TED Prize winner and founder of GlobalXplorer° will be speaking at the Bham Now BOLD Speaker Series event, Thursday, October 18, 5:30-7:00 at Cahaba Brewing Company. Tickets are $20. Included in the ticket price is a beverage of your choice from Cahaba Brewery and tacos provided by Taco Mama.
Proceeds from the event will benefit GlobalXplorer°.
Special Preview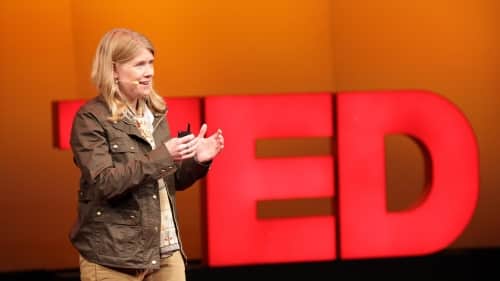 In anticipation of the upcoming October  Bham Now BOLD Speaker series, Dr. Parcak answered questions provided to her by Bham Now, including news about her UAB and Egypt Ministry of Antiquities 800 tomb discovery in Lisht, upcoming book and GlobalXplorer°.
Bham Now: Recently, you discovered 800 Egyptian tombs in Lisht that are 4000 years old, tell  us the significance of this discovery?
Dr. Parcak: Lisht is a fairly well known ancient site, and the location of Egypt's Middle Kingdom Capital, called Itj-Tawy.

Lisht, where our mission works, is the cemetery of the Middle Kingdom Capital. Two pyramids are there from the two founders of Dynasty 12, Amenemhet I and Senwosret I. The Metropolitan Museum of Art worked at the site in the early 1900s and stopped in the early 1990s- they excavated multiple elite official tombs, but the scale of the cemetery simply wasn't known. It is exciting because we have a real opportunity to learn more about the diverse classes and groups of people that lived and then died at Itj-tawy, especially from studying their bones. It's the largest corpus of Middle Kingdom tombs mapped in Egypt in recent times.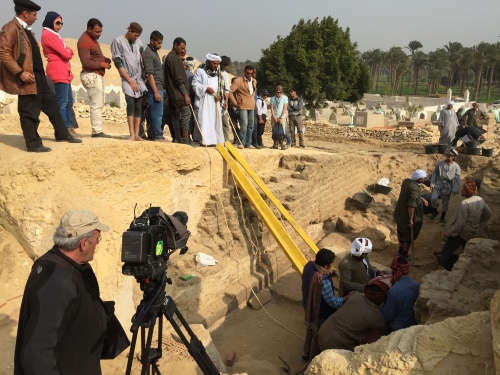 The tombs atop the site now don't look like anything above ground- in antiquity. They would have had mudbrick capping and been covered with stones, called "Mastaba" tombs. The tombs carved into the side of the desert edge would have been roofed, with some having causeways going down the the edge of the ancient riverbank. Given the number and density of tombs, it probably looked a lot like the cemeteries of New Orleans do today.

We don't really know much about the inhabitants of the ancient Egyptian capital of Itj-tawy, and we know very little of the city itself- it has never been discovered. These tombs at Lisht are the places the inhabitants of Itj-tawy would have been buried.

We are beginning to learn a lot more about the Middle Kingdom from the work at Lisht, and compared to the Old and New Kingdoms, we just don't know as much about it. These tombs and the information we get from them will begin to address this gap of information about Egypt's Renaissance period.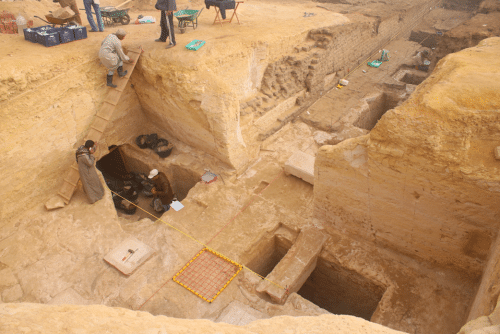 This project is a joint mission between my University and Egypt's Ministry of Antiquities. The mapping work of the 802 tombs was done by an all Egyptian team, Dr Reda Esmay el Arafy and Mahmoud Allam. I work with a diverse and talented archaeological team, with members from the US, Canada, Europe, and Egypt. The diversity of our team means great talent, with specialists in pottery, physical anthropology, architecture, conservation, mapping, and excavation. I'm very proud of my team for this season- these discoveries were made by all of us.
Bham Now: You have made discoveries from ancient Peru to Egypt in the past couple of years. What is on your plate for the rest of 2018 and 2019?
Bham Now: I just finished writing my first popular book, called Archaeology From Space: How the Future Shapes our Past (Henry Holt July 2019). That's been quite a process! I'm so excited for the world to see it. At GX, we are planning the new few countries for the platform- all to be shared when ready. We'll be busy.
What will you be talking about at the upcoming Bham Now Bold Speaker Series on October 18 at Cahaba Brewery.
Bham Now: I want to discuss the importance of the past for what is happening in the world today, and also what platforms like GX can do to unite people from across the globe.
Don't miss this incredible opportunity
Tickets are limited.  Don't  miss seeing Dr. Sarah Parcak at Bham Now BOLD Speaker Series event, Thursday, October 18, 5:30-7:00 at Cahaba Brewing Company.
Support  GlobalXplorer° and purchase today!