Sponsored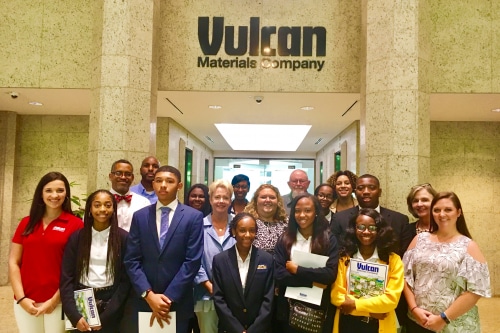 Have you heard of a Cristo Rey school? A Cristo Rey school is a unique institution that combines academic rigor and a corporate work study program to empower students from economically challenged families. In 2007, Birmingham's Holy Family Cristo Rey Catholic High School became the Southeast's first school to earn this distinction, and has benefited both the students and the community.
Cristo Rey's Beginnings And Expansion
According to Kirk Mitchell, director of the Holy Family Cristo Rey Work Study Program, the first Cristo Rey school was founded 22 years ago in Chicago. Cristo Rey schools combine a corporate work study program with college preparatory curriculum, giving students the opportunity to gain real world experiences while continuing their education.
When discussing the program's history, Mitchell said, "The (corporate) work helped the students become better in the classroom. They learned to manage their time and get their work right on the first try."
Today, students are flourishing, and the Cristo Rey school network in the South has expanded into Atlanta, Dallas and Baton Rouge.
"The involvement from the corporate community is key," said Mitchell.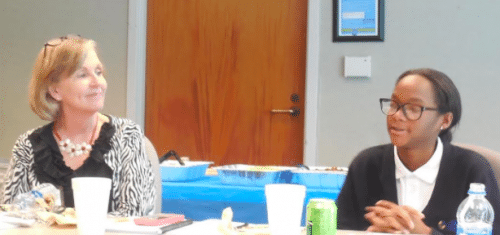 Today, over 70 local businesses and organizations from across the Birmingham metropolitan area employ Holy Family Cristo Rey students. The students work five days each month, performing meaningful and necessary work in a corporate environment. By participating in the Corporate Work Study Program, the students gain important workplace experience, make lasting professional connections and take ownership of their futures by earning a portion of their tuition.
Partnering In The Workplace
As one of Birmingham's founding corporate partners, Vulcan Materials Company has experienced first hand the benefits of having the students work with them during the school year.
"If you challenge the students, they will go above and beyond what you think they can do," stated Luciano Pitts, from Vulcan's Business Solutions Department, who has supervised students for two years.

"My challenge is to think about what I can do to help the students in the workplace and to enrich their lives. I want to challenge the students to get out of their comfort zones. We have a scavenger hunt where the students go to departments throughout the building collecting business items that will familiarize them with Vulcan. We have them introduce themselves to everyone they meet, even to the CEO. This is an example of how we work to develop the professional and life skills of the students."
Mentoring Goes Both Ways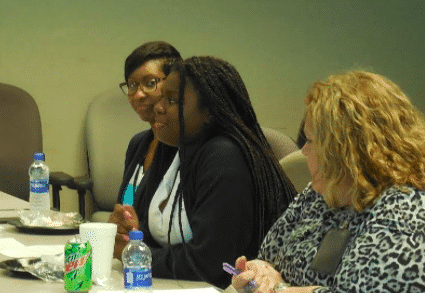 Darren Hicks, Vulcan's VP of Human Resources, has been part of the program for over five years and is currently on the Board of Directors for Holy Family. Hicks stressed the importance of mentoring and how it benefits not only the students, but Vulcan employees.
"We are providing an opportunity for deserving students to learn about corporate culture and expose them to various career possibilities. This program develops students by building character and personal growth, and Vulcan is proud to be a part of helping these students become successful young men and women," said Hicks.
More Than A Job
Vulcan's Crystal Maxena describes how the Cristo Rey partnership fits the family-oriented environment of the company.
"We try to treat everyone like family. We are all interested in developing people. It is our goal to support, uplift and get the students to wherever they want to go. It is our company's culture to take care of our people."
Holy Family Cristo Rey Catholic High School senior Ashlie Holifield, a returning Vulcan work study student, sums up the relationship best.
"I really liked my experience with Vulcan, I felt like I belonged here. It's like a second family."
Results That Speak For Themselves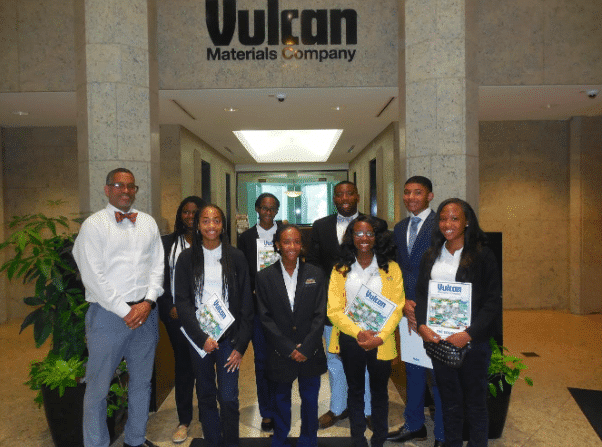 The Cristo Rey model works. Holy Family Cristo Rey students typically arrive in the ninth grade and are several grade levels behind, according to national standards. They make developmental leaps, earn their high school degree and pursue a college degree. Holy Family Cristo Rey proudly boasts a 100% college acceptance rate.
Students rise to every challenge at work and in school to set a foundation for a successful future.
Sponsored by: