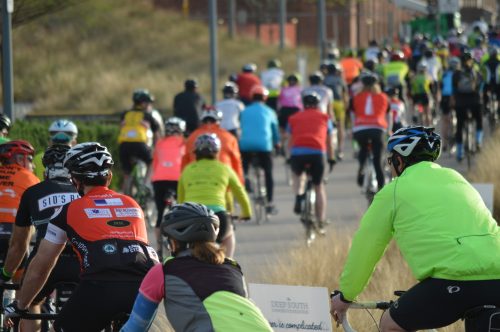 Let's be upfront about this. Riding a bike in Birmingham can sometimes be  very dangerous and that is just plain wrong.
Earlier this week, a video shown by  WVTM NBC 13 of a truck nearly running over a group of cyclists in Irondale went viral.
The scene you are about to see is  jaw-dropping (Warning – there is graphic language).
The alleged driver was apprehended a day after the video aired.  Below is WVTM NBC 13's follow-up story.
We don't know how to prevent someone careening their car or truck into cyclists  stopped at a stop sign waiting for an ambulance to pass, but we can provide our readers some simple tips (which the riders in the video were obeying) to be safer out there.  We also want to remind drivers, that cyclists have right to be on the road.
Here are the some helpful tips from the League of American Bicyclists.
FOLLOW THE LAW
Your safety and image of bicyclists depend on you. You have the same rights and responsibilities as drivers. Obey traffic signals and stop signs. Ride with traffic; use the rightmost lane headed in the direction you are going.

BE PREDICTABLE
Make your intentions clear to everyone on the road. Ride in a straight line and don't swerve between parked cars. Signal turns, and check behind you well before turning or changing lanes.

Commuting to work Via – onroadandmountain.com

BE CONSPICUOUS
Ride where people can see you and wear bright clothing. Use a front white light, red rear light and reflectors when visibility is poor. Make eye contact with others and don't ride on sidewalks.

THINK AHEAD
Anticipate what drivers, pedestrians, and other people on bikes will do next. Watch for turning vehicles and ride outside the door zone of parked cars. Look out for debris, potholes, and other road hazards. Cross railroad tracks at right angles.

RIDE READY
Check that your tires are sufficiently inflated, brakes are working, chain runs smoothly, and quick release levers are closed. Carry tools and supplies that are appropriate for your ride. Wear a helmet.
Alabama Law
Here is a link to the bicycling  laws for the state.
The most important law? Your right to public roads.
In Alabama, bicycles are vehicles according to the statute that defines vehicles and a person riding a bicycle has all of the rights and duties of the driver of a vehicle as provided in Chapter 32-5A.

Source: Ala. Code §§32-1-1.1(81); 32-5A-260
3 Feet Law
In 2015, the state of Alabama did pass a three feet for passing bicycles law. Here is a memorable video that 'drives home" the point.
Be safe out there Birmingham.  Remember the safety tips and obey the rules of the road.