Try to remember everything you need to have before a trip and you will definitely stress out. Fortunately, The Birmingham-Shuttlesworth International airport is an airport that works to make your travel easier, safer, and less stressful! 
Learn the basics 
Established in 1931, The Birmingham- Shuttlesworth International Airport has been serving travelers for over 80 years.
To honor the legacy of the late Birmingham civil rights activist Rev. Fred Shuttlesworth, the airport was renamed Birmingham-Shuttlesworth International Airport in 2008.
In regards to passenger traffic, the Birmingham-Shuttlesworth airport is the largest in Alabama.
4 major airlinesserve the airport: Delta, United, Southwest, and American.
There are 120 daily departures, to 18 airports, in 15 cities.
The airport has 2 runways. One serves as the main runway for all airlines and runs parallel to I-20. The second runway serves as a runway for smaller planes, you most likely won't see large commercial aircrafts using it.
Birmingham-Shuttlesworth airport is the first airport in Alabama to offer EV chargers to guests and passengers.
Airport amenities
Meditation Room:
Escape your worries in the airport's meditation room. Relax in the meditation room

— 

a quiet escape for reflection, meditation, prayer, and relaxation.
Animal Relief Area:
Traveling with your furry friend? Animal Relief areas are located in the airport, where you can find pet waste disposal containers for your convenience.
Hearing Options:
Passengers who are hearing impaired have several options for assistance. On the lower level between baggage claim 1 & 2 and 3 &4, TDDs are located for those needing hearing assistance. Passengers who are hearing impaired can also be visually paged on the flight information display system.
Nursing Rooms:
A quiet relaxing room dedicated exclusively to nursing mothers. Sit in a comfortable glider, use the sink, and enjoy the soft lighting.
Kidzone Play Areas:
Burn off any and all extra energy at the "Kidzone" childrens play area.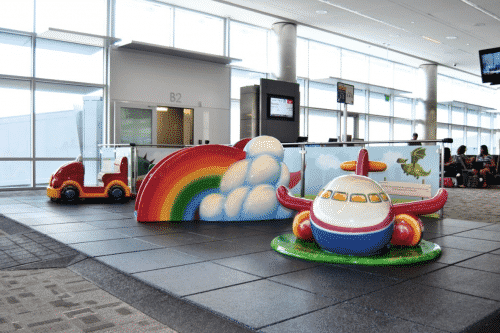 Translation Service, International Medical Assistance:
Mobile translation devices are available at several different spots in the airport: airport operations, information counter, and the Birmingham Airport Authority offices. Through AirMed International and MedJet Assistance the airpot is able to provide emergency medical air transportation.

Electric Car Charging Now Available
Bring your electric car to the airport! There are several EV charging stations in Birmingham, with the newest one being at the airport.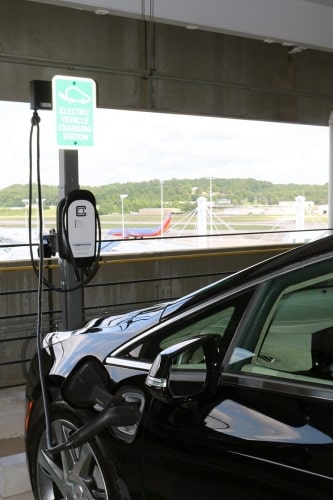 Nine EV chargers are available in the parking deck for passengers and guests to use. The EV chargers are on two levels of the deck: 3 chargers are located in hourly parking area and 6 more EV chargers are in the daily parking section. Charge your car with the EV chargers for free!
Information:
Website: http://www.flybirmingham.com 
Information Desk: (205) 599-0500
Did we miss anything about the airport? Let us know!