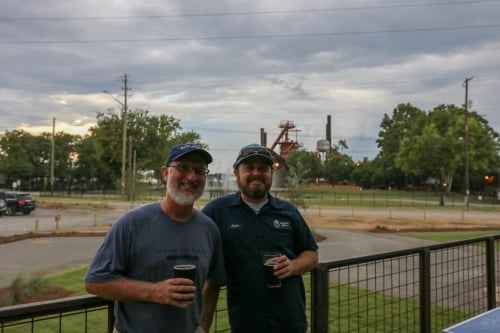 Back Forty Birmingham, the first satellite brewery of Back Forty in Gadsden, welcomed friends and family to its Sloss Docks location for an opening celebration on Saturday, July 7. The brew pub is now officially open to the public, and Bham Now's got the lowdown.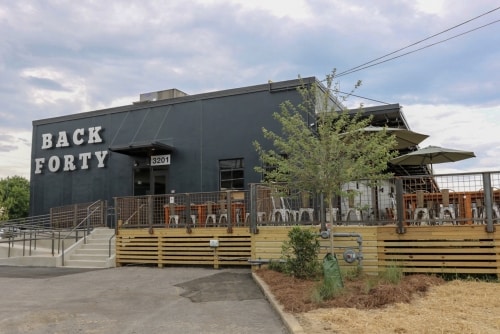 1. Meet the Back Forty Birmingham team.
It's been a decade-long dream of brothers Jason and Brad Wilson to open a satellite of their Gadsden brewery. They found the ideal partner in Doug Brown. After earning an MBA in the early '90s and spending 25 years in the consulting business in Boston, Brown earned a degree in brewing science from Auburn and is fulfilling a lifelong dream as Back Forty Birmingham's owner-operator.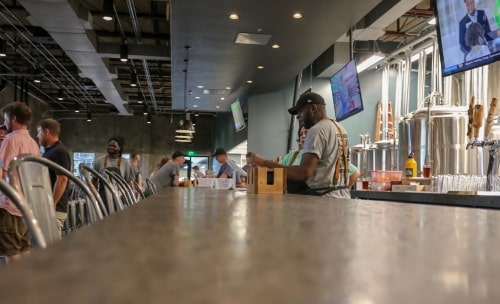 "When I went into semi-retirement, I decided to go back to the dream. I found out about Auburn's brewing science program, and met a lot of great people including Jason Wilson of Back Forty."—Doug Brown, owner-operator, Back Forty Birmingham
The rest is history. Rounding out the Birmingham team are brewers Jamie Ray and Tosh Brown and executive chef Russ Bodner.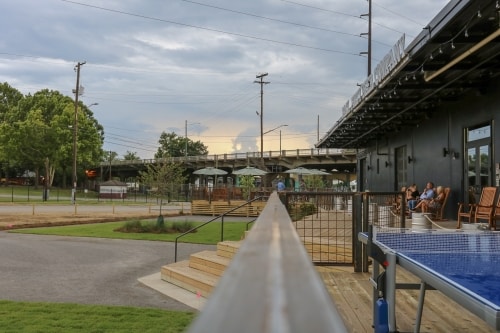 2. Google Maps will do you so wrong.
The brew pub is located at 3201 1st Avenue North in Sloss Docks. Word to the wise: Enter the parking lot at the intersection of 34th Street North and 1st Avenue North. If you follow Google Maps' navigation exactly, you'll see Back Forty—below you, as you drive over it on the 1st Avenue North bridge.
3. It's a family-friendly atmosphere. In the beer garden and on the outdoor patio, it's dog friendly too!
Parents can kick back on the patio and watch the kids run around on the lawn. There's also ping pong and corn hole on the patio.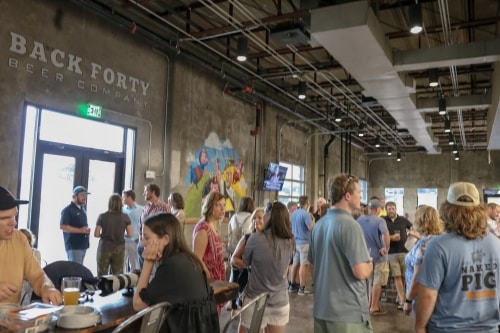 4. The name Back Forty goes to the core of the brewery's philosophy.
"It's the 40 acres that's farthest from the barn, hardest to maintain, hardest to irrigate, where the tractors go to die, because nobody feels like it's worth it to do the work.

"But the irony of the back 40 is that if you're willing to do the work, and you're willing to plow the soil and run the irrigation, you get a bigger yield off those 40 acres than you do any other acres on the farm because they're fresh. They've never been harvested."—Jason Wilson, Back Forty founder
The back 40 in this analogy is the state of Alabama, whose restrictive beer laws kept it behind the curve of the craft beer trend.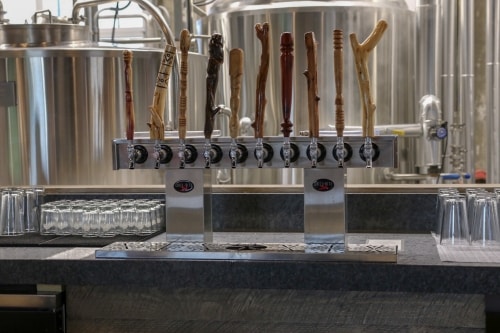 "We believed in this state when a lot of people didn't when it came to beer," Wilson said. "When we started out 10 years ago, the fact that we were opening a packaging brewery in Alabama was a big deal. We were the first packaging brewery and the first contract brewer in Alabama. Now we're the first brewer to open a satellite location."
Back Forty Birmingham is the first of what the company hopes will be many satellite breweries in major markets throughout the South.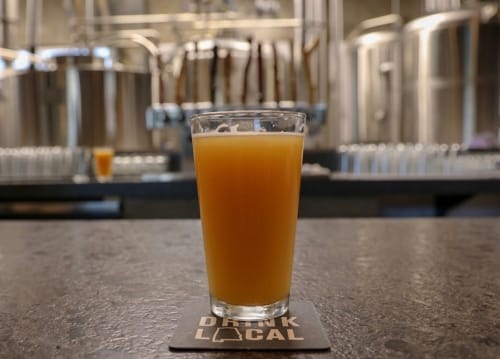 5. Expect Back Forty's most popular beers, plus new ones brewed just for Birmingham.
Brewers Jamie Ray and Tosh Brown will brew popular core Back Forty beers,  such as Naked Pig and Truck Stop Honey, as well as a steady rotation of new experimental beers available only in the local market.
One of the specialty brews on the menu now is War Baby Wheat, a collaboration with About Town, which will also be served at the About Town Pre-Sloss Fest Party on July 13.
"It's a wheat beer brewed with apricots. It's a crowd pleaser—a milder beer with a subtle taste of fruit," Doug Brown said.
6. Local artist Sean Gilder created the murals at Back Forty Birmingham.
Check him out on Instagram @seanMgilder.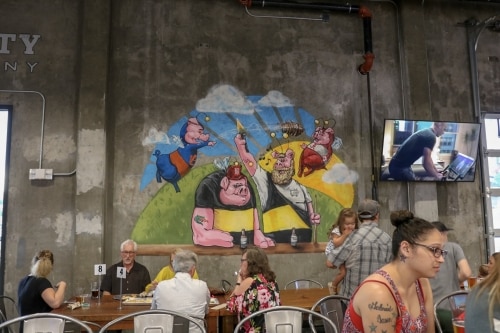 7. Who got the exclusive invite to the friends and family soft opening on July 7?
The Back Forty team from Gadsden, the architect and building team, Sloss Docks landlord Cathy Sloss and her team from Sloss Real Estate, family and friends from Huntsville and Tennessee—and Bham Now!
8. Executive chef Russ Bodner makes the sausage himself.
From the pepperoni on your wood oven-fired pizza to your all-American beef dog, it's all made in house. Yum!
"Chef Bodner is a true culinary genius when it comes to those type of things. He likes to do it all himself."—Doug Brown
The full menu offers a creative variety of American pub foods primarily sourced through local growers.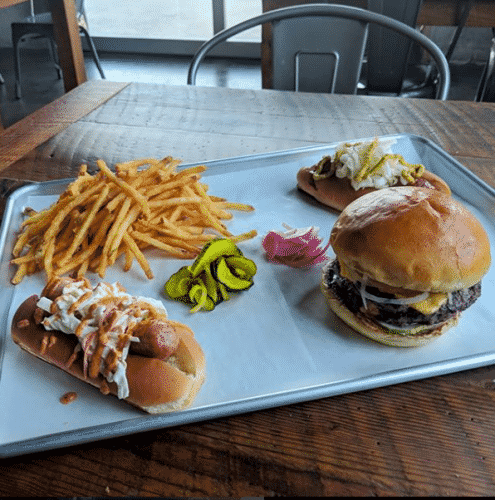 We don't know how you'll choose what to order, but don't skip dessert.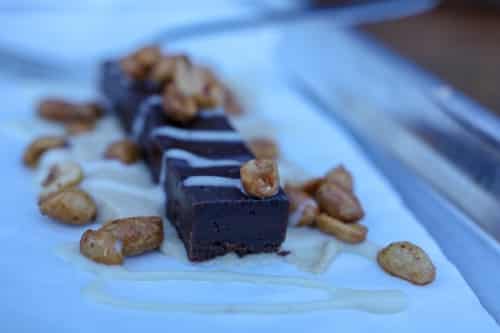 9. What's next for Back Forty? World domination.
At least that's what Brad Wilson hopes for! We think he might be right. However, before world domination comes the official grand opening and ribbon-cutting ceremony on July 21. Follow Back Forty Birmingham on social media for details.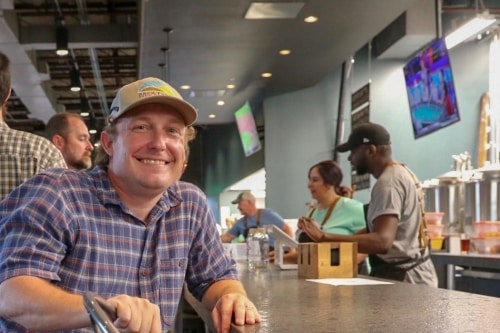 10. Don't forget to stock up on souvenirs.
Back Forty Birmingham sells T-shirts, hats, growlers, pint glasses, sleek bottle openers and more. You can even buy a Back Forty water bowl for your pup.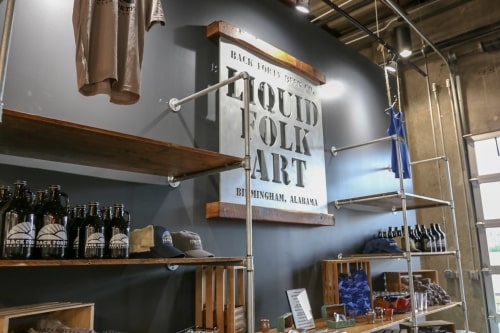 Back Forty Birmingham is now open to the public six days a week and is closed on Tuesdays.