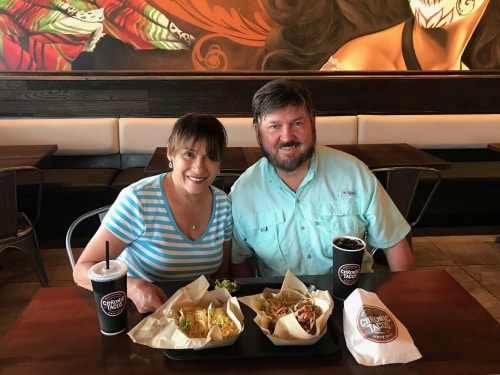 We know it's been a long week, Bham. If you missed Taco Tuesday, no worries! We've got your guide to the 9 best tacos in Birmingham for you to get your weekly taco fix. Check out these trucks and restaurants around the city with our Taco Trail: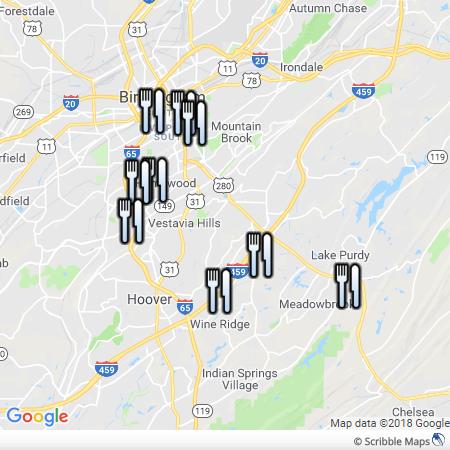 Click here for an interactive map of the Taco Trail!
Taco Mama
First off, Taco Mama is a hot one! Although Taco Mama has a fairly new restaurant in the Summit, they just opened a brand new location off of Highway 119 and U.S. 280! It's a local chain with locations all around the city. Pick your favorite spot! One of their hot menu items is the Taco Basket. Feel free to grab any two tacos with chips, salsa, and your side of choice… and go ham.
Menu • 6801 Cahaba Valley Rd. Suite 124, Birmingham, AL 35242 
Chronic Tacos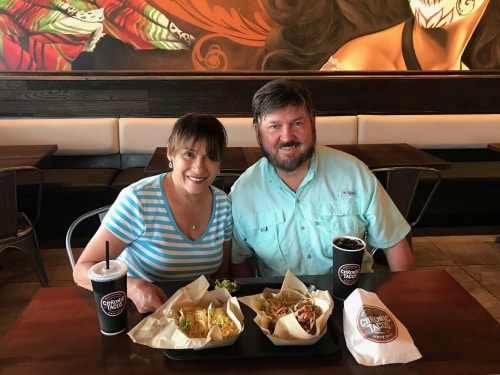 Chronic Tacos recently opened their location in Vestavia. Build your own quick and easy tacos with a myriad of their tasty toppings. From grilled chicken to Mahi Mahi fish, Chronic Tacos has got you covered for one of those grab-and-go lunch tacos. Some of them come with chips, queso, and guac, so don't forget to ask for it!
Menu • 3066 Healthy Way Suite 100, Vestavia Hills, AL 35243
Taco Tech
Moving on, Taco Tech is more of a fusion of tacos and sushi. What a combo! Mexican, Indonesian, and Korean flavors all influence Taco Tech's tacos. Now that's an original take on the typical taco. From a food truck to a fresh location, look for Taco Tech's new taqueria in Vestavia!
Menu • 2409 Acton Rd Suite 129, Vestavia Hills, AL 35243
Taco Casa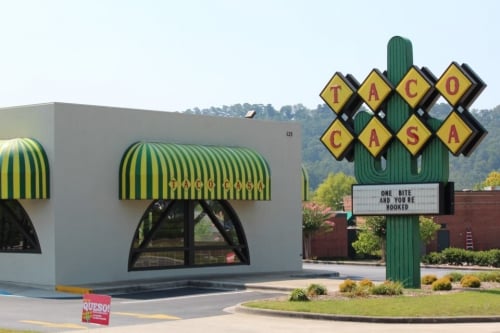 You can make Taco Casa your next taco home. At their Birmingham location, this Mexican restaurant is impossible to miss. Their slogan is "Under the Biggest Cactus in Town," and we have to say, they're not wrong! The local chain displays their sign on a giant green cactus outside the restaurant. From Tuscaloosa to Birmingham, the chicken and beef tacos here don't disappoint.
Menu • 125 Wildwood Parkway, Birmingham, AL 35209
Gordos
One of those "if you know, you know" places, Gordos restaurant is wedged between a bakery and a grocery store. People adore Gordos and regard it as one of Birmingham's hidden gems! When looking for authenticity, this is where to find it. Brush up on your Spanish with their bilingual menu. Feeling adventurous? Gordos sells beyond the regular taco toppings. Try the cabeza, lengua, barbacoa… We'll leave it up to you to translate those. But seriously, try them!
Menu • 433 Valley Ave, Birmingham, AL 35209
Bartaco
An aesthetically popping place, Bartaco in Homewood is a cozy space to satiate your taco cravings. Complete with an extensive outdoor patio, Bartaco vends creative tacos and tapas at this cool, inviting restaurant. The tacos here give us lots of beachy vibes, from the baha fish to the crispy rock shrimp taco. Check out the menu for more! This is one of the perfect daytime summer settings.
Menu • 1017 Oxmoor Rd., Homewood, AL 35209
Los Dos Hermanos Taco Truck
By far one of the local favorites, the Dos Hermanos Taco Truck is a taqueria within (you guessed it!) a food truck stationed towards Homewood. On any given weekend, you'll find the people lined up for one of these delicious street tacos. As far as a menu goes, you'll have to go see for yourself, but rest assured you'll get both traditional and more adventurous toppings. Don't miss it: look for the big, red Guzman truck next to Bailey's Corner gas station.
(256) 734-6690 • 1st Ave North, Birmingham, AL 35203 
Babalu Tapas & Tacos
https://www.instagram.com/p/BeA8APyHU8C/?taken-by=babalubhm
Next on the list, Downtown Birmingham has homed Babalu Tapas & Tacos since 2014. As advertised, Babalu serves gourmet tacos for the Lakeview district to enjoy. Take advantage of their small plate menus and go grab yourself that afternoon taco you're always craving. Who doesn't love tapas?
Menu • 2808 7th Ave S Suite 117, Birmingham, AL 35233
Rojo
Lastly, our final stop is Rojo. Situated in the heart of the Highlands Park Neighborhood, Rojo is a hip Latin restaurant on Highland Avenue sure to suit your taco needs. It's a vibrant place inside and out, so don't miss the chance to enjoy the atmosphere while eating a Latin American style taco!
Menu • 2921 Highland Ave S, Birmingham, AL 35205
---
Happy taco trails! Which of these stops is your go-to? And—who did we miss?