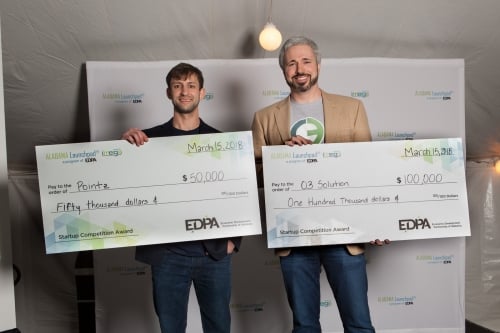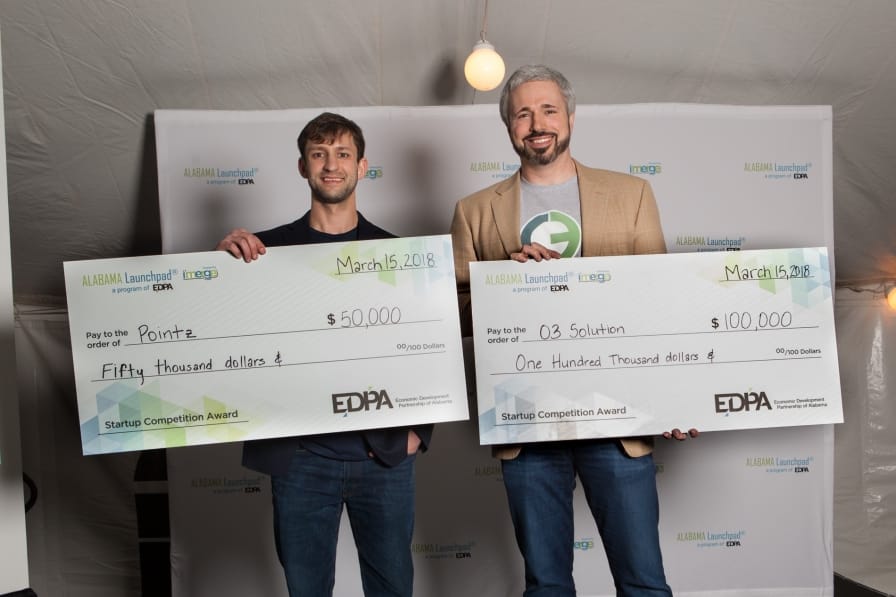 Alabama Launchpad announces Finale Startup competition winners and they are Birmingham startups; Pointz and O3 Solution.
This round of the competition there were 20 applicants from around the state. All were vying for a piece of the $150,000 prize awarded for seed stage projects and concept track startups.
During a two-month process, that list of hopefuls was narrowed down by the judges to just six.  All the entrants participated in valuable feedback and met potential capital providers.
Alabama Launchpad is a program of the Economic Development Partnership of Alabama and the state's most active early-stage investment initiative. The volunteer judging panel consisted of five people; investors, entrepreneurs and corporate stakeholders from across the state.
Winning the concept track and $50,000 was Pointz
Pointz is an app that gives local businesses a way to incentivize customers to shop at their businesses. Customers receive points that lead to rewards. Participating businesses grow their customer base and build loyalty.
Winner of the seed stage category and $100,000 – O3 Solution.
O3 Solution is an agile project management tool for industrial construction. Their management tool helps owners set clear expectations of the desired goals and objectives, set accountability measures and standardize best practices across the entire project.
"Congratulations to the winners. Alabama Launchpad is proud to showcase and help new ventures succeed. The competition is a great opportunity for early-stage companies across the state looking for capital, exposure and valuable mentoring."" said EDPA President Steve Spencer.

Doing more for Birmingham startups
Recently a major business journal reported that Birmingham needs to do more to facilitate startups; provide platforms, accessibility to investors and business partners and to get the positive messages about Birmingham's business and tech-community out there. Alabama Launchpad is modeling all those necessary actions.
Since Alabama Launchpad's 2006 inception, $4 million has been invested in over 70 companies that have created more than 500 jobs and raised $50 million in capital.
Alabama Launchpad is a public-private partnership made possible through support from the state's research universities, the business community,  the Alabama Research Alliance and the Alabama Department of Commerce.
About the Economic Development Partnership of Alabama (EDPA)
Now in its 27th year, the non-profit Partnership represents the private sector's contribution to economic development in Alabama. EDPA is supported by more than 60 partners from across the state and works to attract, retain and grow jobs in Alabama, while also encouraging innovation through its Alabama Launchpad program.
Congratulations Pointz and O3 Solution! We will certainly be watching the great things these startups will accomplish.